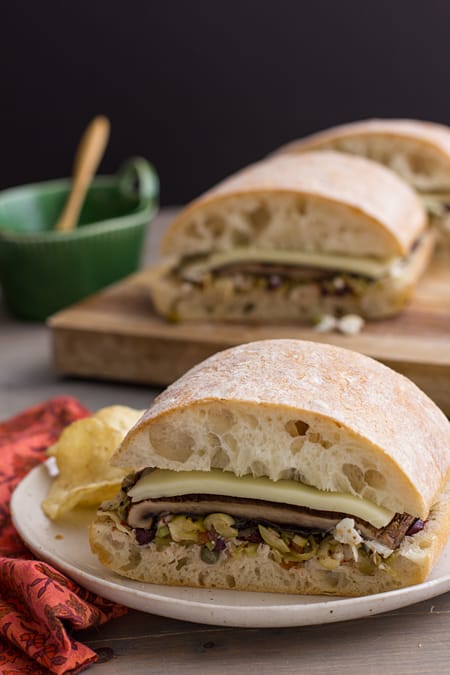 Full disclosure: I have never had an actual muffuletta before, only vegetarian versions. So I can't say, "Hey guys, this tastes just like a real muffuletta!" I really have no idea if it does. But it does taste just like a vegetarian muffuletta.
I decided to try to make this after I had a portabella muffuletta at Sandwhich in Chapel Hill. You know how sometimes you get something at a restaurant and it's so good that you're still thinking about it days later? Yeah, that happened. I figured that it would be easy enough to whip up at home--the grilled portabella was a no-brainer so all I really had to figure out was the olive salad. (If you're a mushroom hater, grilled zucchini or eggplant can be used in this recipe instead of portabellas!)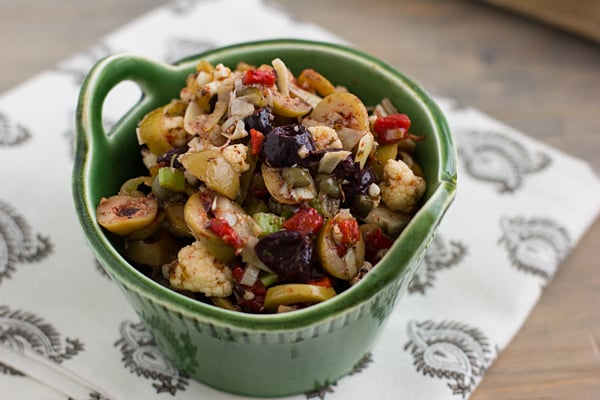 Although muffulettas are named after the bread they're made on, to me, it's the olive salad that makes the muffuletta. So this is my version. As my husband helped me chop things for this (oh, and there's a lot of chopping!), he wondered how something made with so many nasty jarred ingredients could taste so good. Well, it just does! (And for the record, I love olives and marinated artichoke hearts and capers--Chris thinks they're gross, though.) The longer you let the salad sit in the fridge, the better it tastes, so don't hesitate to make this a day or two in advance.
Finding authentic muffuletta bread in Raleigh was a little bit difficult. The first time I made this, I used a round loaf of bread, but muffuletta bread is fairly flat and this bread was tall and fluffy so it just didn't work. So then I switched to ciabatta. It doesn't have the nice round shape of real muffuletta bread, but it's flat and not too bready. Although anyone from New Orleans is probably giving me the side-eye right now, you could also put this on sourdough bread, Kaiser rolls, whatever. If you use slices of bread or rolls, instead of making one big sandwich, just make four individual sandwiches with a mushroom on each.
These vegetarian muffulettas are very picnic friendly. You can cut them up, wrap 'em, and let them sit in the fridge for up to a day. (I store mine upside down so the bread on the bottom doesn't get soggy.)
Recipe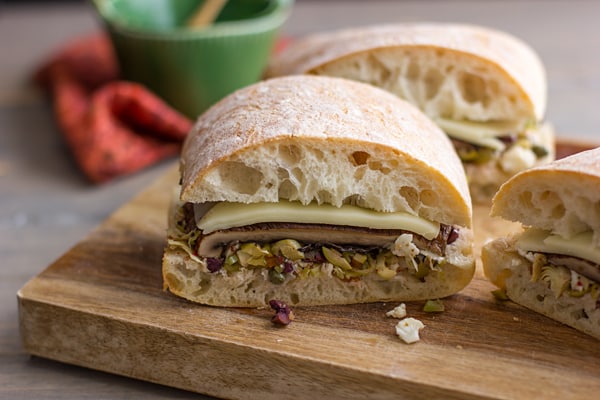 Ingredients
Olive Salad
½

c.

sliced green olives + 1 tbsp. liquid from jar

¼

c.

sliced kalamata olives

¼

c.

cauliflower florets

broken into very small pieces

¼

c.

sliced jarred artichoke hearts

¼

c.

diced roasted red peppers

2

tbsp.

diced celery

5

pepperoncini

thinly sliced

1

garlic clove

crushed

1

tbsp.

capers

1

tbsp.

olive oil

1

tbsp.

red wine vinegar

1

tsp.

dried oregano

freshly ground pepper
Sandwiches
1

large loaf ciabatta bread

halved lengthwise

olive salad

4

large portabella mushrooms

gills removed

olive oil mister or cooking spray

salt + pepper to taste

4

slices

provolone cheese
Instructions
Olive Salad
Combine all ingredients in small bowl. Cover and refrigerate for at least 8 hours (24 hours is best).
Sandwiches
Preheat grill to high. Spray with olive oil and place mushrooms on grill. Season with salt and pepper. Cook mushrooms 5-10 minutes, or until softened. Transfer to plate and cool.

To assemble sandwiches, spread olive salad onto bottom of ciabatta bread. Top with mushrooms and cheese. Press the other half of the ciabatta loaf onto the top and use a sharp knife to cut into 4 equal segments. Serve immediately or wrap and refrigerate upside down for up to a day.
Notes
Prep time doesn't include time that salad marinates in the refrigerator.
Nutrition
Calories:
460
kcal
Carbohydrates:
62
g
Protein:
18
g
Fat:
17
g
Saturated Fat:
5
g
Polyunsaturated Fat:
1
g
Monounsaturated Fat:
9
g
Trans Fat:
1
g
Cholesterol:
13
mg
Sodium:
1788
mg
Potassium:
489
mg
Fiber:
6
g
Sugar:
3
g
Vitamin A:
520
IU
Vitamin C:
25
mg
Calcium:
206
mg
Iron:
1
mg
Craving more veg-friendly recipes?
Shop our collection of vegetarian and vegan cookbooks, including our new Vegan Thanksgiving and Vegan Christmas cookbooks!