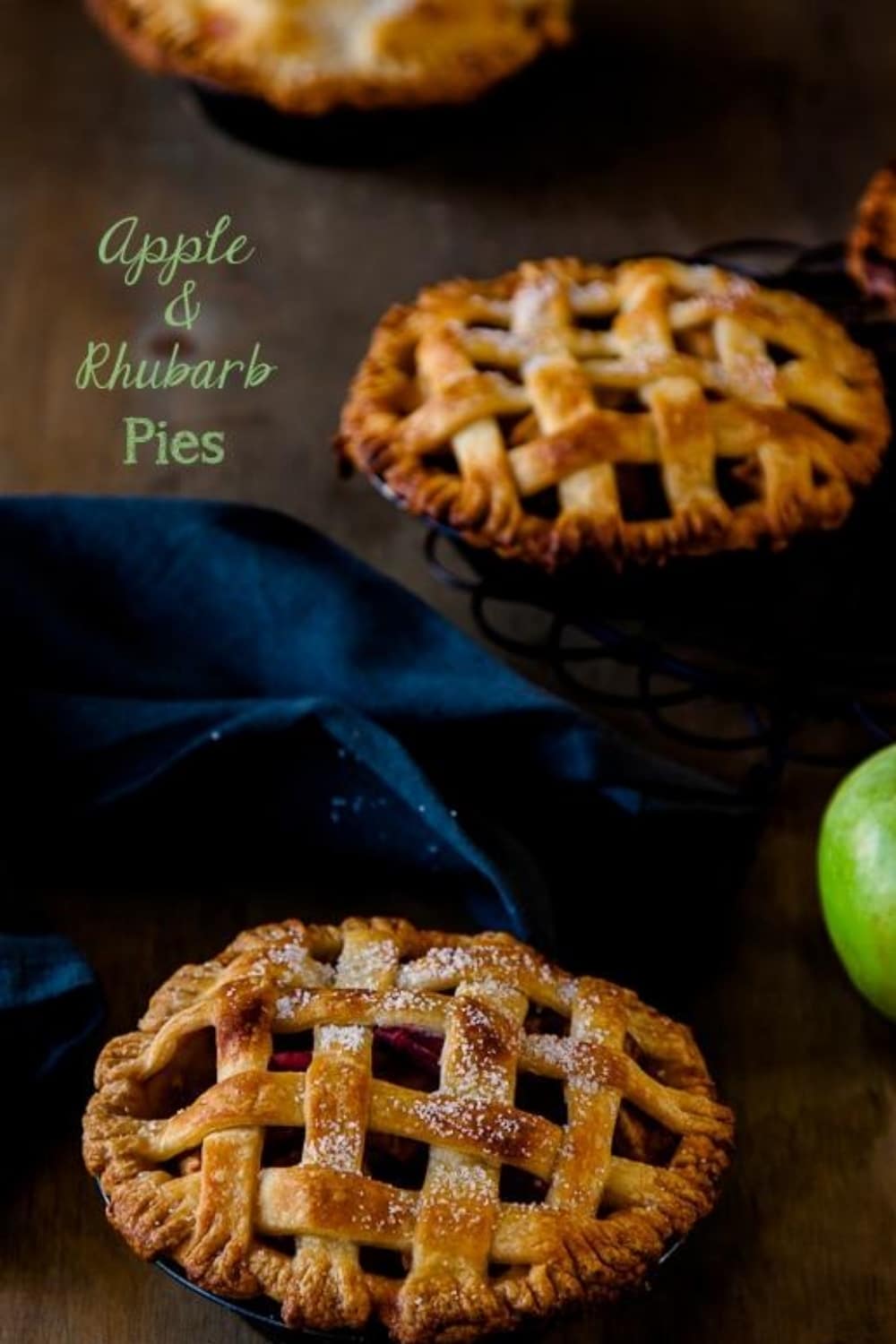 As the days grow colder it's hard to resist the allure of comforting winter desserts, such as these Apple and Rhubarb Pies.
Luckily winters here in Brisbane are relatively mild, but growing up in Tasmania I loathed the long cold winters. Especially the winters while I was at university.
After my first year of university I started a full time job as an undergraduate accountant and continued university part time. Given my work and university commitments I decided to move out of my parents house, which involved an hour long drive to and from work each day, and into a townhouse that was within walking distance to work. I shared the townhouse with a friend, and as much as we both loved our townhouse, we hated it in winter. It was bitterly cold, and seemed determined to stay cold no matter how much effort we put in to heating it. Inside the house it was necessary to wear layers of clothing, and often, on exceptionally cold winter nights, we'd resort to wearing coats and gloves as we huddled around the heater.  The only thing that seemed to warm us was food. So I made big batches of soup, but our favourite winter treat was apple pie and ice cream.
Back then the apple pies were frozen apple pies from the supermarket, but comforting nonetheless. And a warm and comforting dessert was exactly what I felt like last night when the weather report said we were in for a cold night. This time though the pies were homemade, and infinitely more comforting.
So tell me, what is your favourite comforting winter dessert?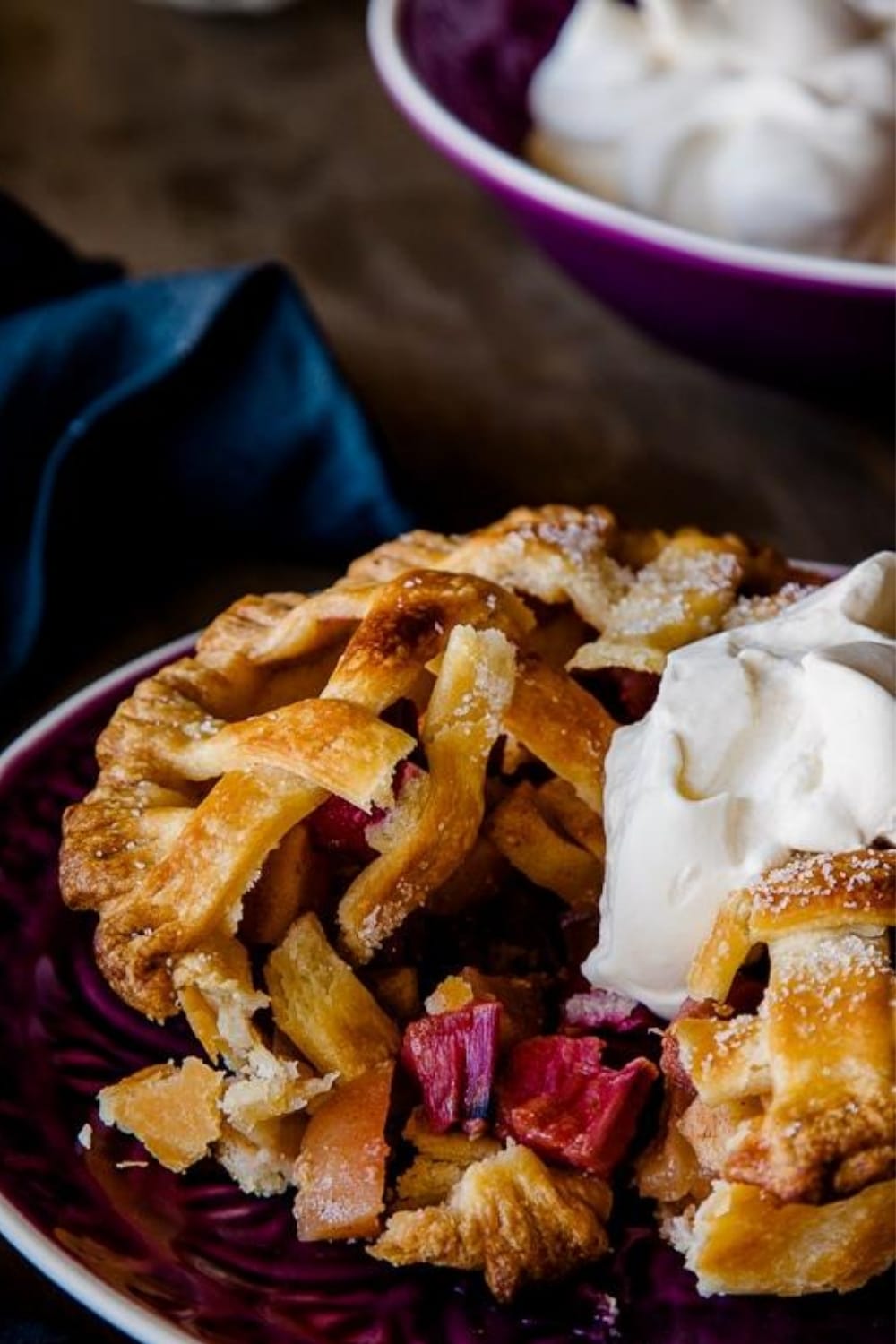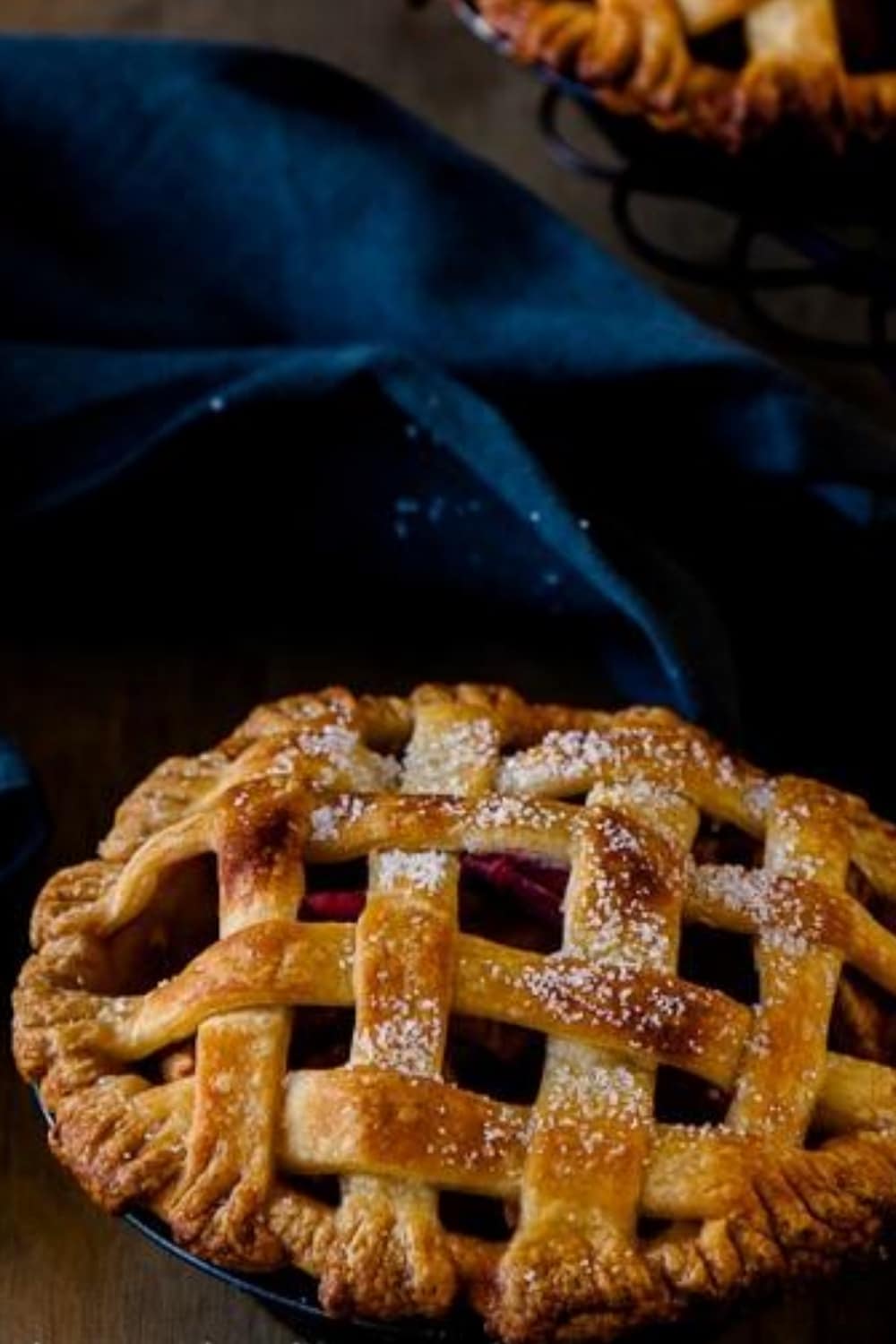 Recipe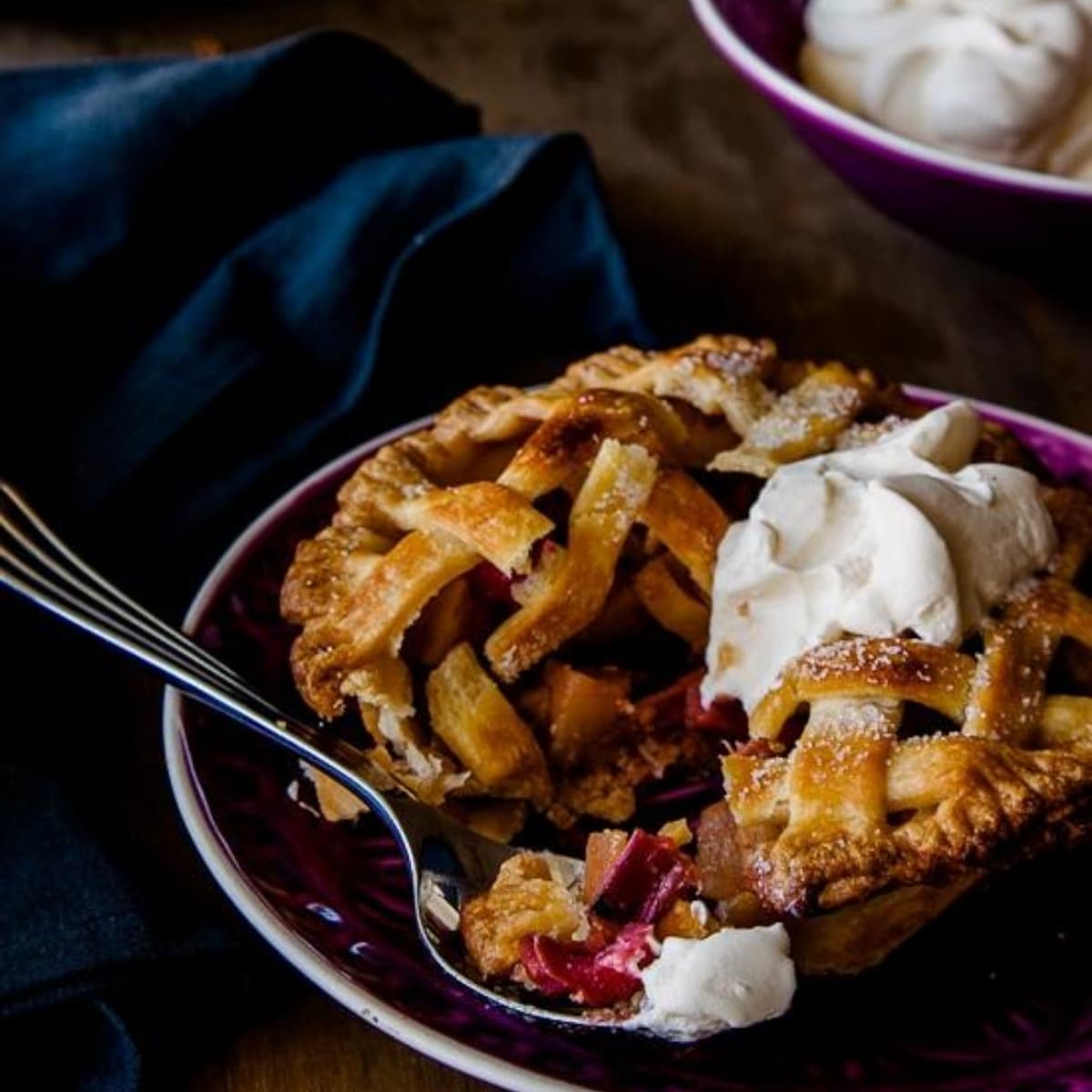 Ingredients
PIE DOUGH:

1 ½

cups

plain flour

all purpose

2

tbs

sugar

pinch of salt

180

g

very cold butter

cut into small cubes, 1 ½ sticks

¼

cup

ice cold water

FILLING:

600

g

granny smith apples

peeled and cored

300

g

rhubarb

⅓

cup

brown sugar

grated zest of half a lemon

½

tsp

ground cinnamon

½

tsp

ground cardamon

pinch of sea salt

1

tbs

almond meal

1

tbs

butter

GLAZE:

1

tbs

milk

1

tbs

sugar
Instructions
Begin by making the pie dough. Place the flour, sugar and salt into the bowl of a food processor fitted with a chopping blade and pulse to combine. Add the butter and pulse until the butter chopped into the flour about the size of peas. Slowly add the ice cold water, pulsing as you go, until the mixture starts to clump together. Remove from the food processor and divide the dough into two pieces. Flatten each into a disc and wrap in plastic wrap and refrigerate for 30 minutes to an hour.

Remove one portion of the dough and place on a piece of baking paper lightly dusted with flour. Lightly dust the top with flour and place another piece of baking paper on top and roll out the dough until roughly 3mm (⅛ inch) thick. Take 4 individual pie dishes and lightly grease with butter and line with the dough, leaving some overhang. Refrigerate. Remove the second portion of dough and roll out to the same thickness as the first portion and place on a baking tray and refrigerate for 30 minutes.

Preheat the oven to 200 celsius (400 Fahrenheit). Meanwhile make the pie filling. Chop the apple and rhubarb into bite size pieces and place in a bowl with the lemon zest, spices, sugar and salt. Set aside.

Remove the lined pie tins and sprinkle almond meal in the bottom and divide the apple and rhubarb mixture, along with the juices, between the bases along with the butter.

Take the second portion of dough out of the refrigerator and cut into strips approximately 10mm (½ inch) thick.

Take 5 strips of the dough a place parallel across the top of the pie, leaving a little gap in between each strip. Fold back every other strip of dough at the top of the pie and place one long strip of dough across the parallel strips, just after the folds. Unfold the fold strips and place over the strip of dough you just added. Now fold back the alternate strips of dough (the strips that weren't folded over previously) and place another strip of dough across the parallel strips. Repeat until the top of each pie is covered. Take a fork and press down the edge of the pie, trimming off any excess.

Place the pies on a baking tray and lightly brush with milk and sprinkle with sugar and bake for 30 minutes, or until lightly golden and the juices bubble up to the top of the crust. Serve with a dollop of cream or ice cream, or both!
Notes
If the top of your pie browns too quickly cover with foil.
Nutrition
Calories:
730
kcal
Carbohydrates:
87
g
Protein:
6
g
Fat:
41
g
Saturated Fat:
25
g
Cholesterol:
104
mg
Sodium:
359
mg
Potassium:
461
mg
Fiber:
6
g
Sugar:
43
g
Vitamin A:
1370
IU
Vitamin C:
12.9
mg
Calcium:
118
mg
Iron:
2.7
mg
Craving more veg-friendly recipes?
Shop our collection of vegetarian and vegan cookbooks, including our new Vegan Thanksgiving and Vegan Christmas cookbooks!