This Plum Earl Grey Ice Cream brings together a mouthwatering combination of flavors in a creamy, refreshing treat. The base features Earl Grey tea, accented with plums that have been poached in a vanilla and cardamom syrup.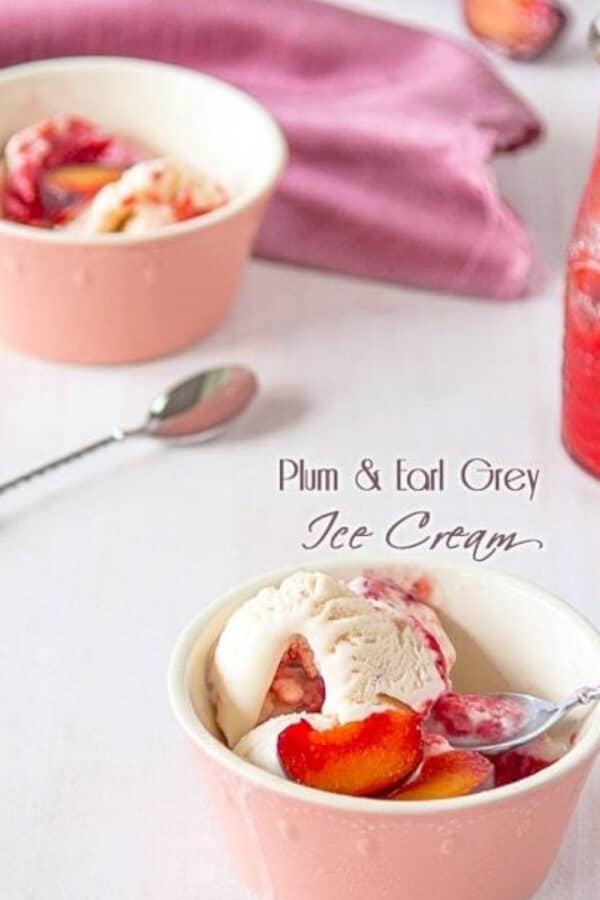 Jump to:
Constant rain and gale force wind kept us in doors for the weekend. But it wasn't all bad, as it gave me an excuse to experiment in the kitchen!
Dreary and miserable weather makes most people feel as dark and broody as the sky outside. But I love it. I love the smell of fresh rain. I love being snug and warm inside my home as it rains buckets down outside.
This type of weather that makes me want to curl up with a good book and a cup of tea and listen to the rain beating down.
It's also the type of weather that has me in the kitchen wanting to cook warm and comforting dishes.
However, even with all the rain, it was still quite warm and humid, and despite my craving for a bowl of soup and some crusty bread to go with it, I had a better idea.
Instead, I settled on the idea of ice cream.
With a bowl of plums, bounty from my latest trip to the farmer's market, staring back at me on the kitchen bench, I decided to make plum ice cream.
But I didn't just want plain plum ice cream. So I sat with my cup of tea, pouring over my copy of The Flavor Bible for ideas, and I came upon the idea of pairing plums with the green Earl Grey tea that I happened to be sipping.
And Plum Earl Grey Ice Cream was born!
In another departure from my regular custard based ice creams, I used another egg-free base for this Plum and Earl Grey Ice Cream.
The base for this recipe comes from Jeni's Splendid Ice Creams at Home. (If you love ice cream - you need this book!)
I've made a couple of batches of vanilla and mint ice cream using Jeni's recipes, and I love the simplicity of egg free ice cream.
I also love that it doesn't leave me with a large batch of egg whites that have to be used. While the end result is not quite as luscious as a custard based ice cream, it's still delicious.
How to Make Plum Earl Grey Ice Cream
The base is infused with green Earl Grey tea, while the plums were poached in a syrup infused with vanilla bean and cardamon.
As with most of my recipes, it's not very difficult to make, but relies on the flavors from fresh, quality ingredients.
I like to buy bags of loose leaf tea, rather than tea bags, as the product is usually fresher and less processed. Davidson's teas are a great choice, or go check out your local tea shop.
For this recipe, I used loose leaf earl grey tea and strained it with a sieve. But I always keep some filter bags around for making cups of loose tea also.
For making the poaching syrup, you will want to find the freshest vanilla beans and cardamom pods that you can. The more flavorful the raw ingredients, the more flavorful your earl grey ice cream will be!
You'll end up with more of the plum sauce than you'll need for the ice cream, but the pureed plums are wonderful poured over the top of the ice cream, or dolloped on top of scones (like these vegan scones).
They would also be equally wonderful on pancakes or in a batch of muffins.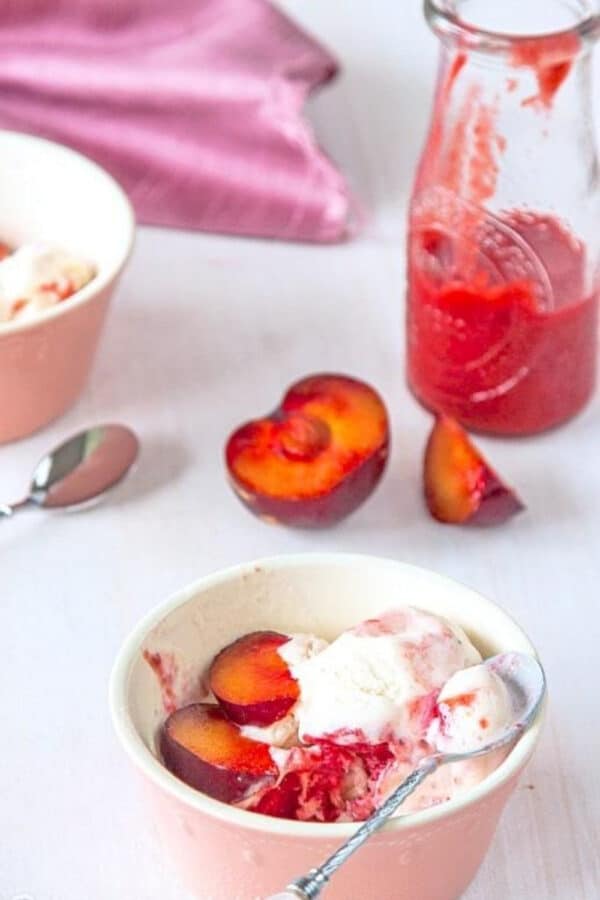 More Ice Cream Recipes
If you love this ice cream, be sure to check out these other homemade ice cream recipes:
Recipe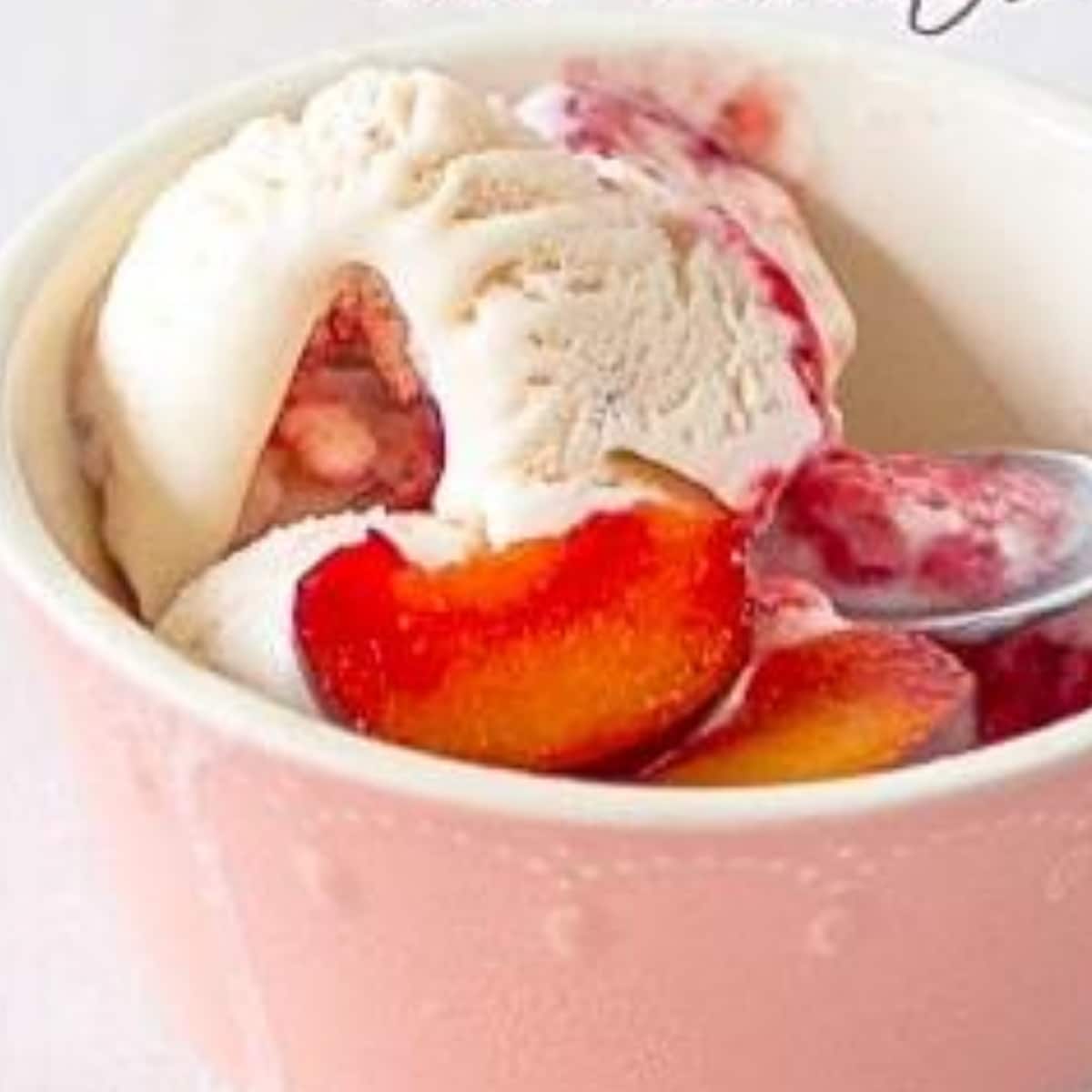 Ingredients
5

plums

½

cup

water

⅓

cup

caster sugar

2

tsp

cardamon pods

½

vanilla bean

split and seeds scraped

475

ml

whole milk

2 cups

1

tbs

cornstarch (cornflour)

1tbs plus 1 tsp, see note

1 ½

ounces

cream cheese

softened, 3 tbs

300

ml

heavy cream

1 ¼ cups

150

g

sugar

⅔ cup

2

tbs

glucose syrup

light corn syrup

¼

cup

Earl Grey tea leaves
Instructions
Begin by poaching the plums. Place the water and sugar in a saucepan over a low heat and stir until the sugar is dissolved. Bring to the boil and reduce to a simmer and add the cardamon pods, vanilla seeds and plums and poach for 10 minutes, or until the plums are softened and the skin starts peeling off. Remove the plums and leave the syrup to reduce for 15 to 20 minutes. Set aside to cool.

In a small bowl add the 2 tbs of the milk with the cornflour (cornstarch) and mix to combine. In a separate large bowl whisk the cream cheese until smooth.

In a medium saucepan combine the milk, sugar, cream and glucose syrup (light corn starch) and bring to a rolling boil over a medium high heat. Boil for 4 minutes before removing from the heat. Add the green Earl Grey tea and leave to steep for 10 minutes.

Fill the sink with cold water and ice.

Strain the mixture through a fine mesh sieve and press the tea leaves to extract all the liquid. Return the mixture to the saucepan and gradually whisk in the cornflour mixture. Return the mixture to a medium high heat and bring to a boil and cook, stirring, until the mixture thickens slightly. Remove from the heat and gradually pour the mixture into the cream cheese, whisking until smooth. Place the mixture into the prepared sink and leave to 30 minutes to cool.

Meanwhile, remove the stones from the plums (and the skins too if you prefer) and place the plums into a food processor and puree until smooth. Add 1 tbs of the poaching liquid, and puree to combine.

Churn the ice cream according to your manufacturers instructions, and when the ice cream is almost ready add 2 tbs of the plum puree to the machine and churn for a minute or two. Remove the mixture from the machine and layer ⅓ of the mixture into a freezer-safe container and drizzle with 1 tbs of the plum mixture. Repeat with remaining ice cream. Place a sheet of baking paper over the top of the ice cream and seal and freeze for 4 hours or until firm.
Nutrition
Calories:
263
kcal
Carbohydrates:
33
g
Protein:
2
g
Fat:
14
g
Saturated Fat:
8
g
Cholesterol:
50
mg
Sodium:
49
mg
Potassium:
147
mg
Sugar:
30
g
Vitamin A:
690
IU
Vitamin C:
3.4
mg
Calcium:
81
mg
Iron:
0.1
mg
Craving more veg-friendly recipes?
Shop our collection of vegetarian and vegan cookbooks, including our new Vegan Thanksgiving and Vegan Christmas cookbooks!