Seared tofu and tender veggies simmered together with Indian spices--what could be better? Forget take-out - this is a spicy veggie vindaloo you can make right at home.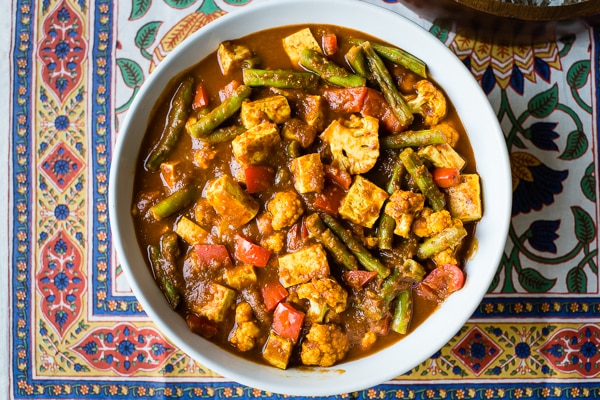 Jump to:
Indian food is my favorite for dining out. Historically speaking, I can't say the same for cooking it at home. I mean, it's always a favorite to eat, but the preparation can be rather intimidating.
For me, this has been the case with many types of foods, and since I started blogging, I realized there's one way to get over these types of fears: you dive right in, head first.
Did that conjure up an image of diving into a giant pot of hot, steaming vegan vindaloo? I hope so, because that sounds delightful, to me anyway.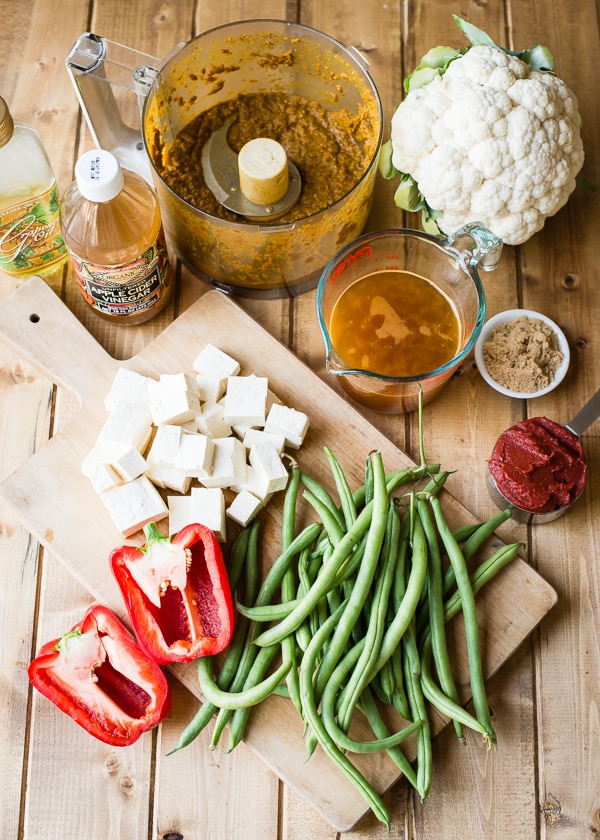 Vindaloo is definitely a favorite Indian dish, sort of. I found out recently that the vindaloos I've dined on haven't been traditional vindaloos, which would contain potatoes.
I think I knew somewhere in my brain that "aloo" translated to "potato," but ignored it, as every vindaloo I've ever eaten was a mix of tender veggies in a spicy sauce, with no potatoes to be found.
I actually prefer my vindaloo this way, as I like a generous serving of rice and naan (I even make my own naan sometimes!) with my Indian food, and the veggies result in a meal that's a bit more balanced when served with these sides.
That's why I went for a mixed veggie dish when I created my own vindaloo recipe. (I never claimed it was authentic, alright? Just delicious.)
I also added tofu, making the dish even more balanced in flavor and nutrition. The tofu is surprisingly reminiscent of paneer (pressed Indian cheese, in case you aren't familiar), so it works beautifully.
So, basically I took what could be a traditional vindaloo recipe and rearranged it all over the place. How's that for diving in head-first?
And even better - this tofu vindaloo is 100% vegetarian and vegan friendly. Woohoo!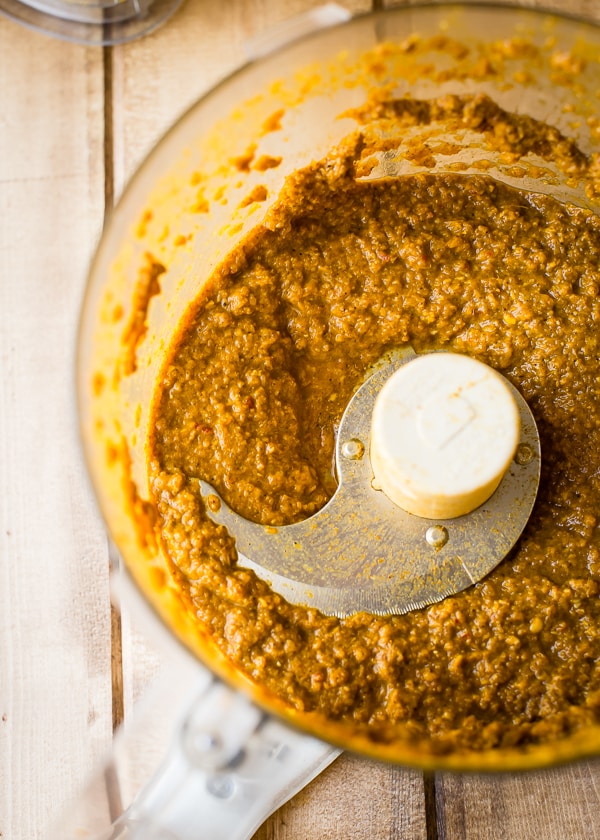 Helpful Tips
Another way this recipe differs from some other vindaloo recipes you may have seen is in the fact that it way simplified.
You'll often find grinding and toasting of spices in Indian recipes. Not here, and I promise you won't taste a difference.
The ingredients list, while on the longish side, is primarily made up of stuff you have in your pantry.
Asian chili paste is the one seasoning that might be iffy to find, depending where you live. Lots of supermarkets stock it in the ethnic foods sections these days. If you can't find it there, you can try an Asian market or get it online.
If you've got absolutely every other ingredient needed to make this dish and are so enticed by reading this that you've got to start right away, just go with some dried cayenne pepper to taste. It should give you the heat you need in what is a traditionally spicy dish.
If you prefer your vindaloo on the spicier side, you can increase the amount of chili paste or add a slivered red chili pepper to the veggies.
More Vegetarian Indian Recipes
If you love this vegan vindaloo, be sure to check out these other Indian-inspired recipes:
Recipe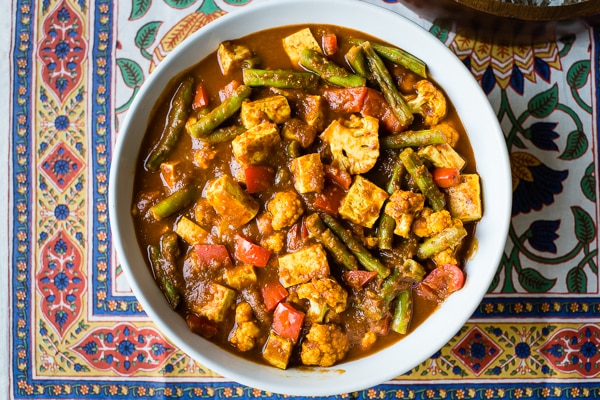 Instructions
To make the vindaloo paste:
Place all of the paste ingredients in a food processor or blender and puree until it reaches a paste consistency, stopping to scrape down the sides of the bowl or pitcher as needed. Set aside.
To make the Tofu Vindaloo:
Add the oil to a large saucepan over medium-high heat. When hot, add the tofu and cook for about 10 minutes, flipping every 2 minutes or so, until it's lightly browned.

Push the tofu out to the sides of the of the saucepan, making a space in the center. Add the vindaloo paste to the center and heat for 1 minute, until fragrant. Add the broth, tomato paste, cider vinegar and brown sugar. Stir gently to combine, then bring to a simmer and add the cauliflower, pepper and green beans.

Reduce heat to low and simmer, uncovered, for 12-15 minutes or until veggies are tender, stirring occasionally. Add up to ½ cup of water during cooking if sauce becomes too thick.

Divide onto plates and serve with rice or naan.
Notes
Vindaloo is one of the spicier Indian dishes. This version is a medium-hot version. If you like super-spicy vindaloo, feel free to up the chili paste. If you're not into spicy, or aren't sure, cut down on the chili paste. You can always add a bit more at the end if it turns out too mild.
Nutrition
Calories:
265
kcal
Carbohydrates:
34
g
Protein:
14
g
Fat:
10
g
Saturated Fat:
1
g
Polyunsaturated Fat:
6
g
Monounsaturated Fat:
2
g
Sodium:
1255
mg
Potassium:
1223
mg
Fiber:
8
g
Sugar:
19
g
Vitamin A:
1987
IU
Vitamin C:
125
mg
Calcium:
131
mg
Iron:
5
mg
Craving more veg-friendly recipes?
Shop our collection of vegetarian and vegan cookbooks, including our new Vegan Thanksgiving and Vegan Christmas cookbooks!