Everyone is all about pumpkin spice right now and while I love pumpkin spice too, I also like pumpkin without the spice. Pumpkin is kind of like tofu in that it doesn't really taste like anything. It's mildly squashy (squashy is a word!), but it's really all about what you add to it. The flavor and scent most people attribute to pumpkin is actually the spices commonly used with it—without those spices, pumpkin can be something completely different.
I've made a few pumpkin pasta recipes in the past two years and one of my favorites is Kitchen Treaty's Creamy Pumpkin Baked Rigatoni. Pumpkin puree makes a great base for a pasta sauce—it's naturally creamy, so it gives you an alfredo-like texture without having to use heavy cream. I adapted Kare's recipe to make it into a baked ziti and added sage both to the sauce and as a topping—the mild flavor of the pumpkin sauce lets the sage really shine in this dish.
I tested this recipe with fontina as a topping at first, but we preferred using a good sharp white cheddar. So between the pumpkin sauce and the cheddar, this is really not an authentic baked ziti. (If you're looking for a more authentic version, I have a Vegetable Baked Ziti recipe too!) That's okay though! Even if it's not authentic, I still think it's the perfect baked ziti for fall.
This post was originally published on September 22, 2014.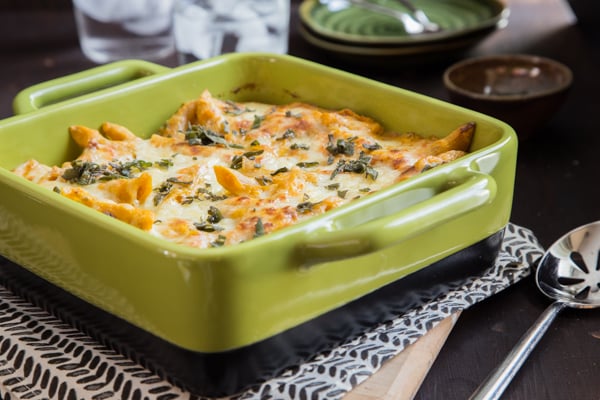 Ingredients
3

tablespoons

+ 2 teaspoons olive oil

divided

2

large shallots

diced

¼

cup

all-purpose flour

2 ½

cups

reduced-fat

2% or whole milk

1

cup

pumpkin puree

¼

cup

grated parmesan cheese

½

cup

thinly sliced sage leaves

divided

Pinch

of nutmeg

Salt and pepper

to taste

8

ounces

whole wheat penne

cooked al dente

¾

cup

shredded sharp white cheddar cheese
Instructions
Preheat oven to 350ºF and spray a square baking dish with an

oil mister

or cooking spray.

Heat 3 tablespoons of oil in a large skillet over medium heat. Add the shallots and cook, stirring often, until just beginning to brown, about 7 minutes. Sprinkle the flour into the skillet and give it a good stir. Cook, continuing to stir often, until golden brown, about 3 minutes. Grab a whisk and slowly pour the milk into the skillet, whisking it into the flour mixture. Once the milk is incorporated and the sauce is smooth, add the pumpkin to the skillet and whisk that in. Let the sauce cook on medium heat until it's thickened, about 7 minutes, continuing to whisk often.

Remove the sauce from the heat and stir in the parmesan cheese, ¼ cup of the sage leaves and a pinch of nutmeg. Season to taste with salt and pepper, then fold in the penne. Transfer to the prepared baking dish and top with the shredded cheese. Cover the baking dish with foil and place it in the oven. Bake for 10 minutes covered, then uncover and cook for 10 minutes more. If you want a browned top, broil for about 5 minutes or until the cheese is golden brown.

While the casserole is baking, make the crispy sage topping. Heat the remaining 2 teaspoons of olive oil in a small skillet over medium heat. Add the remaining sage to the skillet and cook, stirring often, until crispy, about 3 minutes. Keep a close eye on the sage because it will go from crispy to burnt really quickly! When the sage is done, transfer it to a paper towel to soak up some of the excess oil. Sprinkle the crispy sage onto the baked ziti before serving.