There's just something so intensely satisfying about uncovering new-to-me spice blends, dried herbs that I've never heard of and so many colors of sea salt that it puts rainbows to shame. I'm sure it comes as no surprise, then, that my idea of a good time involves choosing a random spice blend from my pantry and then creating a whole meal around it.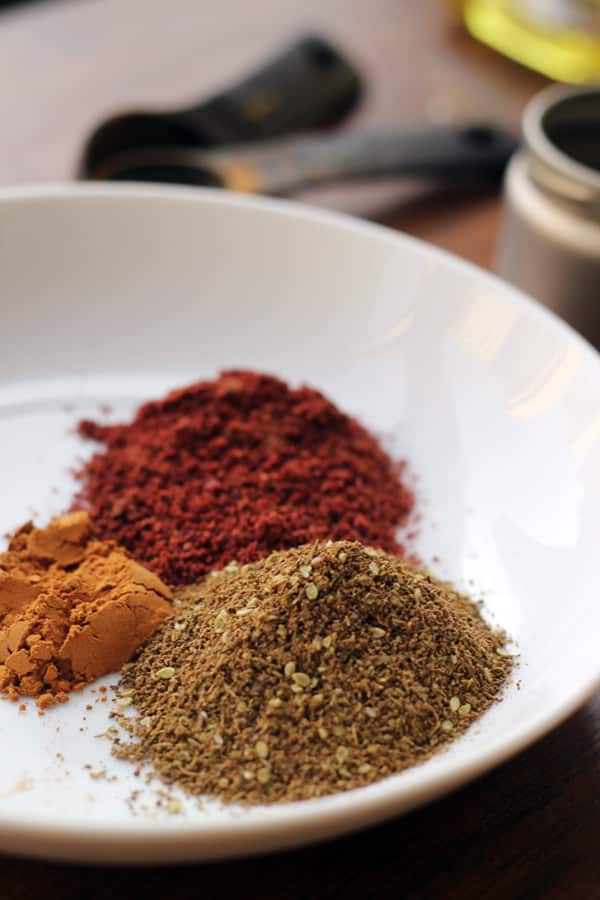 Lately, I've been borderline obsessed with Middle Eastern flavors and spices. I love how this cuisine pairs warm spices, like cinnamon, ginger and nutmeg, with savory dishes. How citrus is used to infuse bright flavor into each and every meal, and how vegetable-driven many of the recipes tend to be.
For those of you just starting to delve into the world of Middle Eastern cuisine, za'atar is a great spice blend to stock in your pantry. Not only does it consist mainly of spices you probably already have on hand (thyme, oregano, marjoram, sesame seeds and salt, plus sumac—more on that later), but its lemony, herbal flavor is great on just about anything. I love tossing it with vegetables and a bit of olive oil before roasting, but it is also great stirred into hummus or sprinkled atop a bowl of Greek yogurt. You can probably find za'atar at most higher-end grocery stores or order it online, but I chose to make it myself using this recipe.
Sumac, which might prove a little bit harder to locate, is also a great addition to any Middle Eastern pantry. It is made from the dried fruits of sumac trees, and has a fruity, lemony flavor, but with less acidity. Again, most higher-end grocery stores should stock it, but if you're really in a bind, you can always order it online (as I did, just to save myself the trouble of having to bounce from grocery store to grocery store in search of it). Alternatively, you can always substitute it with a mix of paprika and lemon zest, though the flavor won't be exactly the same.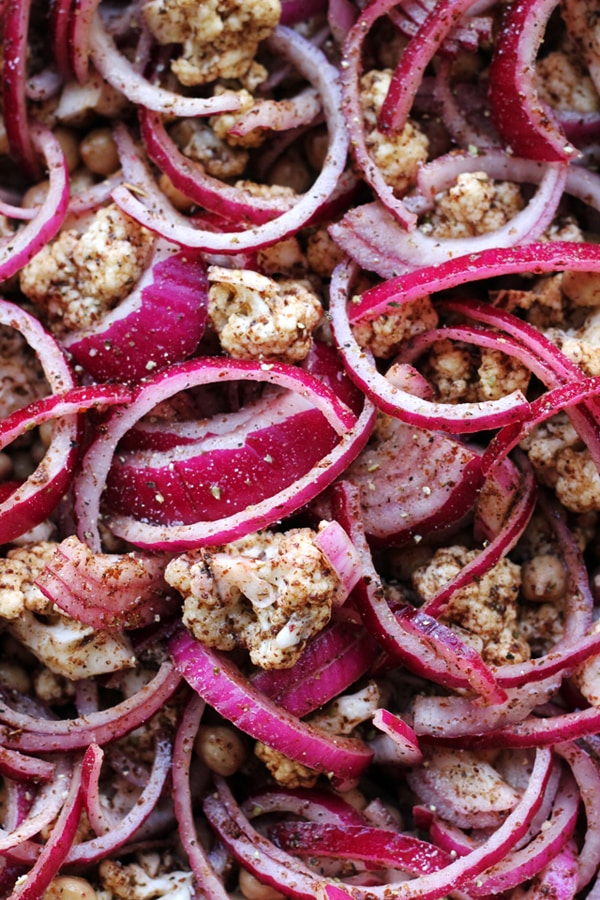 Yotam Ottolenghi is a chef who has recently brought Middle Eastern flavors and cuisines into the mainstream, and given that every recipe of his that I've tried has pretty much blown my mind, when I saw that he had published a recipe for za'atar roasted chicken in a recent issue of Bon Appetit, I knew I had to co-opt it, veggie style.
In place of the chicken, I chose to toss a head of cauliflower, a can of chickpeas and a thinly sliced red onion with Ottolenghi's blend of za'atar, cinnamon, allspice, extra sumac, olive oil, and a touch of broth. After marinating the mixture for a few hours, I roasted it all together in one baking pan while preparing a bed of couscous pilaf and a simple parsley tahini sauce to drizzle on top. The dish is then finished off with a spoonful of brown-butter pine nuts that add just a hint of decadence to this otherwise virtuous veggie bowl.
Recipe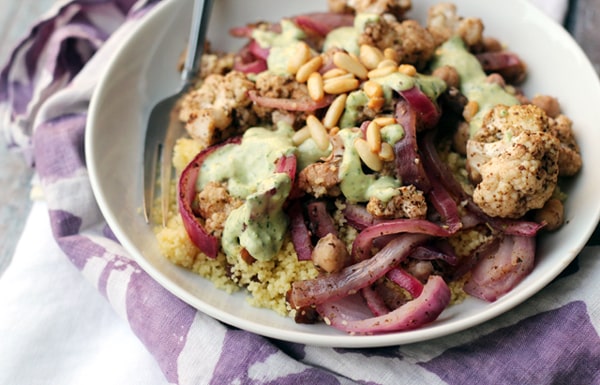 Ingredients
Instructions
Marinate and roast the chickpeas and cauliflower:
In a large zipper bag, combine the cauliflower, onion, chickpeas, za'atar, sumac, cinnamon, 1 ½ teaspoons salt, vegetable broth and olive oil. Marinate in the fridge for 3-4 hours or overnight.

When ready to cook, preheat the oven to 400°F. Pour the contents of the bag into a large baking pan and roast for 40 minutes, stirring once halfway through.
Make the tahini-parsley sauce:
Meanwhile, toss the cooked couscous with the olive slices and dried fruit. Set aside.

To the bowl of a food processor fitted with the S-blade, add the garlic, parsley, tahini, water and lemon juice. Process until smooth, then season to taste with salt. Set aside.
Toast the pine nuts:
Add the butter in a small pan over medium heat and heat until melted. Add the pine nuts and cook, stirring constantly, until starting to brown, 3-4 minutes. Transfer to a small bowl.
To serve:
Divide the couscous among serving bowls and then top with the roasted vegetables, a drizzle of the tahini-parsley sauce, and a spoonful of the pine nuts.
Notes
Prep time includes the hands-off time spent marinating the vegetables.
Nutrition
Calories:
616
kcal
Carbohydrates:
75
g
Protein:
20
g
Fat:
29
g
Saturated Fat:
5
g
Polyunsaturated Fat:
10
g
Monounsaturated Fat:
12
g
Trans Fat:
1
g
Cholesterol:
6
mg
Sodium:
1091
mg
Potassium:
982
mg
Fiber:
14
g
Sugar:
13
g
Vitamin A:
1320
IU
Vitamin C:
81
mg
Calcium:
177
mg
Iron:
8
mg
Craving more veg-friendly recipes?
Shop our collection of vegetarian and vegan cookbooks, including our new Vegan Thanksgiving and Vegan Christmas cookbooks!