This week, we're all about replicating the take-out experience at home. Okay, so making the meals in your own kitchen is a bit more work than ordering out, but we promise these DIY take-out recipes are pretty darn unfussy, plus they're healthier--and easier on the budget too. With meals like Crispy Orange Ginger Tofu and Quinoa Roasted Vegetable Burrito Bowls made at home, you can, say, use the money you saved on a couple of good bottles of wine to serve alongside--or perhaps one or two desserts. Score!
Here's this week's meatless meal plan:
Monday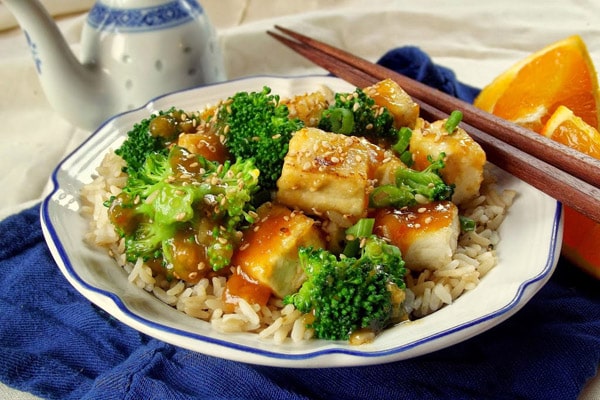 Crispy Orange-Ginger Tofu with Broccoli from Connoisseurus Veg // A tangy-sweet orange sauce coats golden tofu and broccoli. Serve with rice and you're good to go (or stay).
Tuesday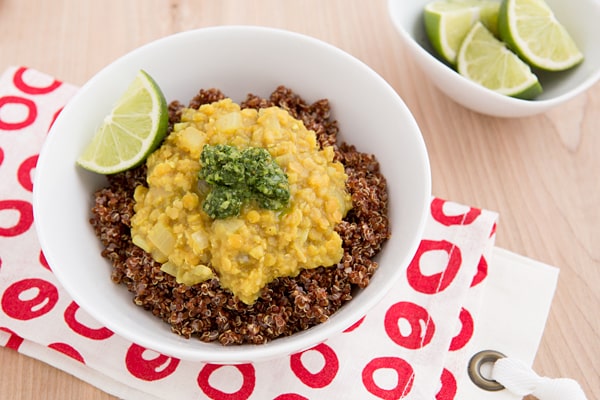 Curried Red Lentil Quinoa Bowls with Cilantro-Mint Chutney from Oh My Veggies // This meal boasts loads of satiating protein, thanks to both lentils and quinoa--so it's sure to carry you through to breakfast. Unless you can't help but sneak back into the kitchen for a little midnight leftover party. Make extra quinoa today to have on hand for Thursday's dinner!
Wednesday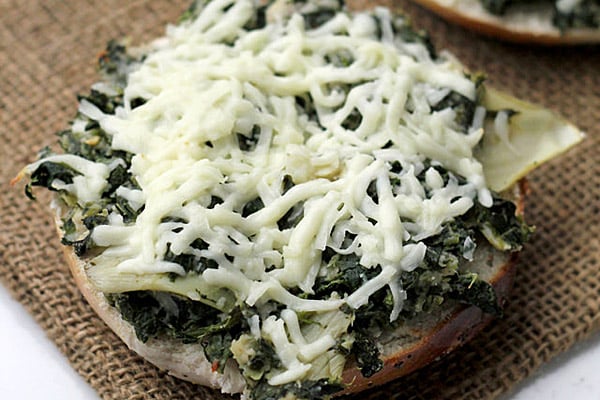 Open-Faced Spinach, Artichoke, and White Bean Grilled Cheese from Eats Well with Others // Sometimes the best dinners are the simplest--and this recipe is the perfect example of that. A hefty bagel base, hearty spinach and artichokes, and white beans make this sandwich a satisfying meal. We like this with a simple salad alongside.
Thursday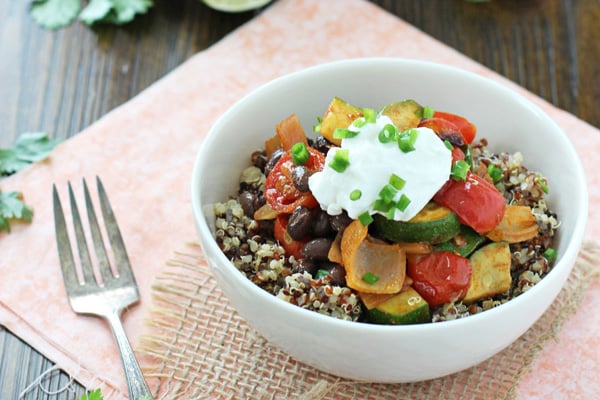 Quinoa Roasted Vegetable Burrito Bowls from Cookie Monster Cooking // We can't get enough of this hearty, veggie-packed bowl. Chipotle say what?
Friday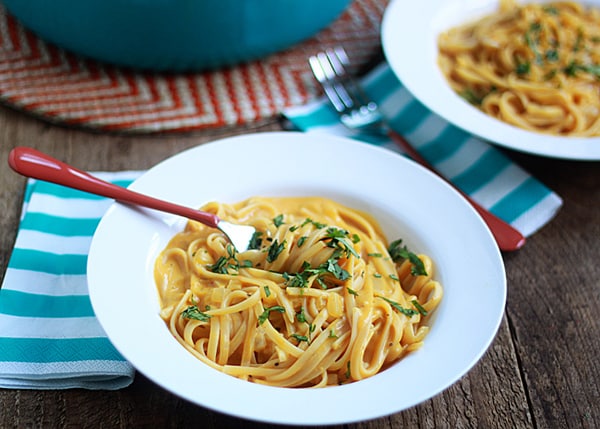 One-Pot Creamy Pumpkin Pasta from Kitchen Treaty // Uber-creamy pumpkin linguine in mere minutes! We like this one with a simple veggie side--a simply dressed green salad does the trick.
Tips for This Week's Plan
The rice on the list is for serving with Monday's Crispy Orange Ginger Tofu. Choose brown or white--your pick!
We didn't include it in the shopping list, but we like the idea of grabbing a bag of salad greens for side salads on both Wednesday and Friday. If you like that idea too, add it to your list!
To save a little time, choose one kind of quinoa to use for both Tuesday and Thursday's dishes, then cook it all up on Tuesday. Divide it in half (both recipes call for an equal amount of quinoa) and refrigerate one half in an airtight container until Thursday. Caveat: Thursday's recipe calls for quinoa cooked in veggie broth; Tuesday's does not. Vegetable broth adds some nice flavor to quinoa, though it's not required--but you do need to choose one cooking liquid. If you go with water, the shopping list should be good as is. If you go with broth, you can leave the shopping list as-is.
The avocado is for Thursday's burrito bowls, so if you're buying everything on Sunday, be sure to grab an avo that's on the less-ripe side so that it will be as perfect as possible for Thursday.
The Creamy Pumpkin Pasta calls for ½ cup of white wine. Grab a (dry-ish) white wine that you love, then enjoy almost all of it all week long--just remember to save that last ½ cup for Friday night's dinner!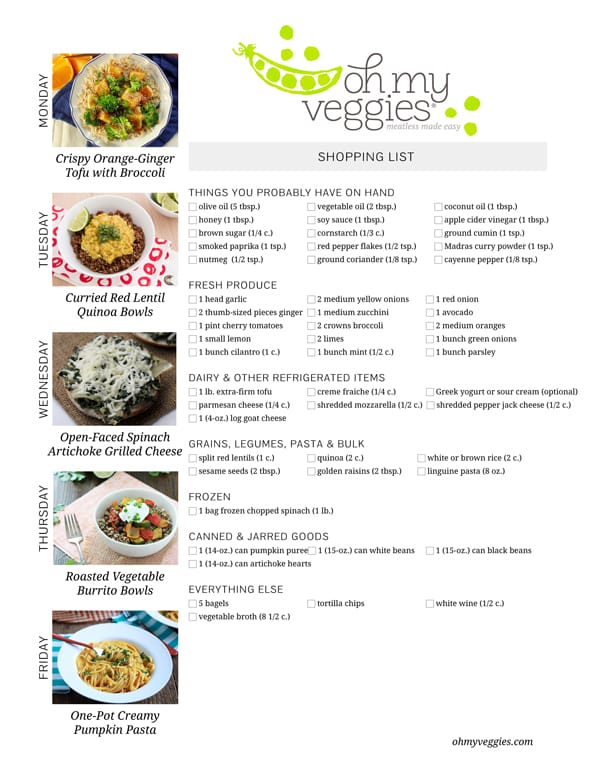 Click here for a printable version of this week's meatless meal plan and shopping list, then click on the links above to print out each recipe. Now you're set for the week!
Find more dinner ideas from our Meatless Meal Plan archives.