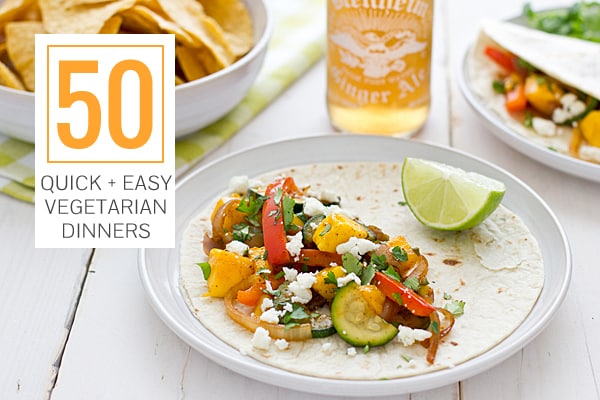 Back in July, a reader asked me to do a round-up of easy vegetarian dinner recipes. I love when you guys give me ideas! And September seemed like the perfect month to schedule it. Summer is winding down and we're getting back to our normal routines; things like time management suddenly matter again. We want to eat homecooked meals, but we don't want to spend 2 hours in the kitchen every night. Especially now that the days are getting shorter!
Here are 50 quick and easy vegetarian dinners. All of these recipes take 30 minutes or less to make--and that includes prep time!
Sweet & Spicy Mango Fajitas
Whole Wheat Rotini with Broccolini and Sun-Dried Tomatoes
Pasta with Cilantro Jalapeño Pesto, Fresh Corn, and Tomaotes
French Bread Pizzas
Broccoli Quinoa Quesadillas
Vegetarian Middle Eastern Pita Sandwich [The Lemon Bowl]
Heirloom Tomato Goat Cheese Tarts [Just a Taste]
Easy Chickpea Curry with Coconut Rice [How Sweet It Is]
Vegetarian Yakisoba [The Fig Tree]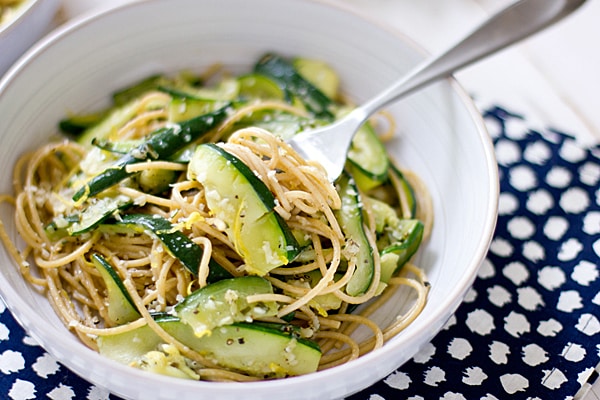 Zucchini and Lemon Spaghetti
Pear & Sharp Cheddar Grilled Cheese Sandwich
Pesto Pizza with Roasted Red Peppers, Cremini Mushrooms & Asparagus
Broccoli Cheddar Pot Pies
Black Bean & Veggie Baked Tostadas
African Peanut Soup
Smashed Chickpea and Avocado Panini [Panini Happy]
Spicy Vegan Peanut Butter Tofu with Sriracha [Kalyn's Kitchen]
15-Minute Brussels Sprout & Tempeh Stir-Fry [In Pursuit of More]
15-Minute Caprese Pasta Skillet [Food Doodles]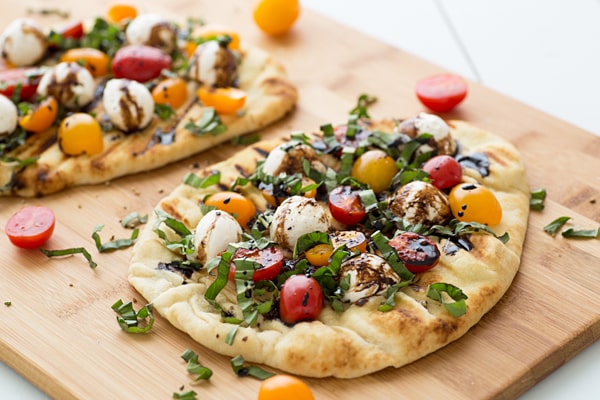 Grilled Caprese Naan Pizza
Tempeh Tacos
Tempeh Sloppy Joes
Pizza Quinoa Stuffed Portabella Mushrooms
One-Pot Pasta Primavera
Whole Wheat Pasta al Pomodoro [Following In My Shoes]
Gnocchi Nudo with Roasted Kale [Eighty Twenty]
Zucchini, Bell Pepper & Edamame Stir-Fry [Bake Your Day]
Bean Burrito Bowls [Savvy Eats]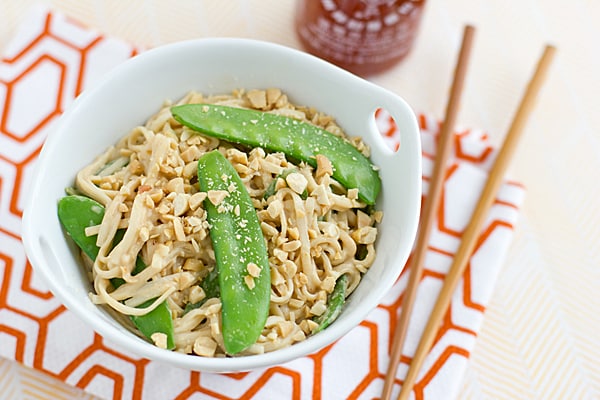 Peanut Udon Noodles with Snow Peas
Seitan Cacciatore
Spicy Mango Pizza with Black Beans & Zucchini
Mushroom & Zucchini Quesadillas
Meatless Monte Cristo Sandwich
Spiced Mushroom Chickpea Tomato Stew [Cookin' Canuck]
Butternut Squash and Black Bean Enchilada Skillet [Ambitious Kitchen]
Spinach, Tomato & Feta Frittata [Cupcakes & Kale Chips]
Ratatouille Sauté [The Roasted Root]
Tom Kha Soup [In Sonnet's Kitchen]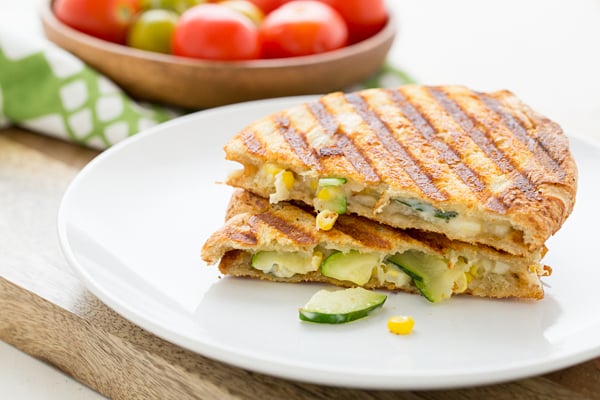 Zucchini Corn Panini with Pepper Jack Cheese
Thai Pizza
Sweet and Sour Tempeh
Loaded Veggie Nachos with Portabella Mushroom Meat
Roasted Red Pepper and Mozzarella Sandwiches with Arugula Pesto
Broccoli Arugula Soup [Joy the Baker]
Lemon Chickpea Stir Fry [Eats Well With Others]
Orzo Salad with Chickpeas & Cherry Tomatoes [Kitchen Treaty]
Easy Cheesy Veggie Salsa Mac [Mom Foodie]
Grilled Zucchini Nachos [Two Peas & Their Pod]
Need some more easy meal ideas? Try making and freezing one of these 50 vegetarian casserole recipes, or throw together a meal-worthy vegetarian salad for dinner!
Vegetarian Dinner Cookbooks!


If you're looking for more vegetarian and vegan dinner recipes, here are some additional resources:
One-Dish Vegan: More than 150 Soul-Satisfying Recipes for Easy and Delicious One-Bowl and One-Plate Dinners
Vegetarian Entrees That Won't Leave You Hungry
The Vegetarian Meat and Potatoes Cookbook
Kristen Suzanne's EASY Raw Vegan Entrees: Delicious & Easy Raw Food Recipes for Hearty & Satisfying Entrees Like Lasagna, Burgers, Wraps, Pasta, ... Cheeses, Breads, Crackers, Bars & Much More!
Cooking Entrees With the Micheff Sisters: A Vegan Vegetarian Cookbook