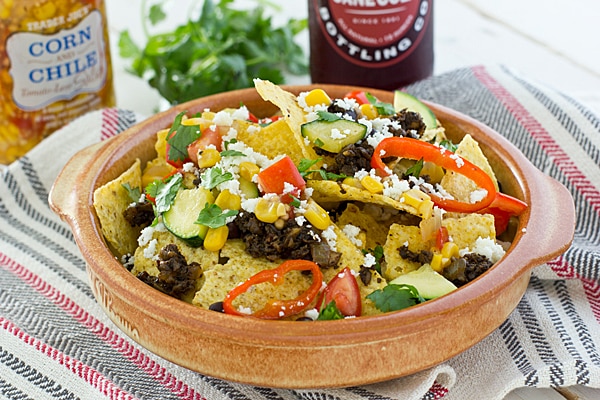 Healthy vegetarian nachos? Yes, it's possible! This Loaded Veggie Nachos recipe is topped with spicy, smoky portabella mushroom meat, veggies, and more.
Nachos: the staple food of teenage boys everywhere. It's not really the type of thing you eat as a meal once you've reached adulthood. If someone asks you what you had for dinner last night and you answer "Nachos," they're bound to make some unkind assumptions about you.
For example, they probably assume that you ate said nachos while sitting on a bean bag chair and using an overturned cardboard box as a table, a bottle of Mountain Dew Code Red by your side.
They might also imagine that this meal took place in front of an episode of Cops. These are the things people think about you if you tell them you eat nachos for dinner.
But nachos can be classy too! And you can make them without the neon orange cheese sauce and greasy taco meat.
Loaded Veggie Nachos are nachos that you can eat as a meal without shame or guilt. Instead of being loaded with bad things, they're loaded with (mostly) healthy and delicious things.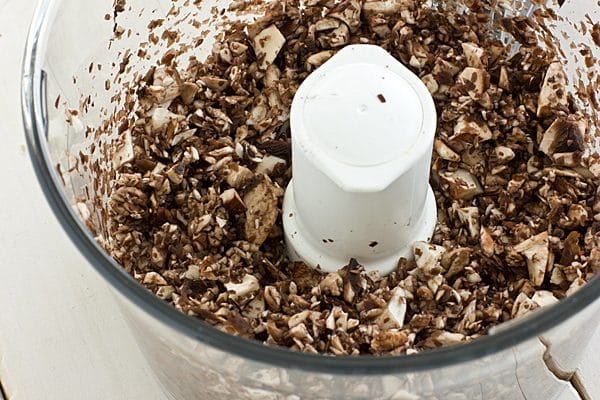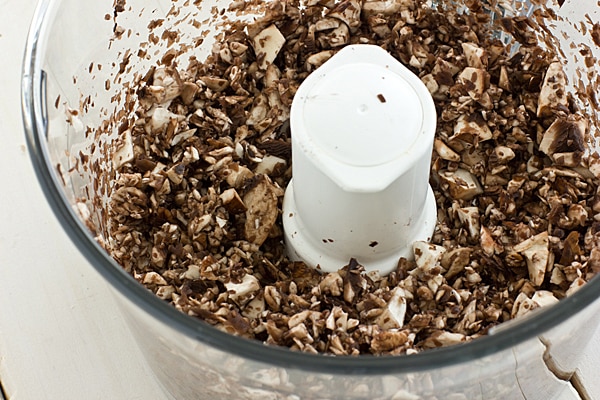 Vegetarian Nacho "Meat"
On the subject of greasy taco meat, I replaced that with coarsely chopped portobello mushrooms. I'm really not big into meat analogues, so I hated using the word "meat" in the name of this recipe, but I didn't know what else to call it.
I used this as the filling for my Baked Portobello Taquitos recipe too and I loved it so much that I made a mental note to try it with nachos.
I put the mushrooms in my food processor and pulse until they're chopped—coarsely, not finely, because you don't want mushroom paste!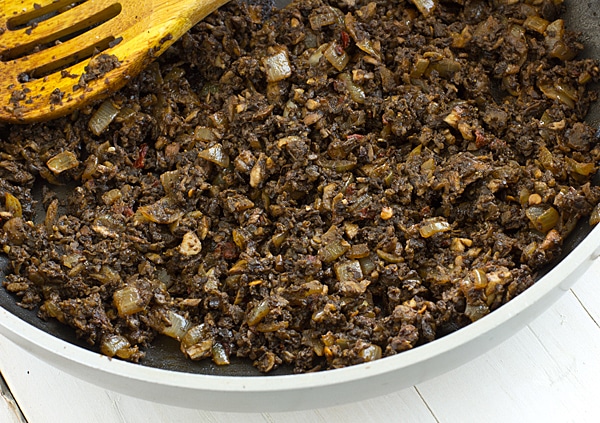 After the mushrooms are chopped, I cook them in a skillet with smoked paprika and chipotle pepper to add a spicy, smoky flavor.
It doesn't look too tasty, I know, but trust me, this is good stuff.
Once you've got your mushroom meat all cooked up, you can go to town on your nachos. We topped ours with black beans, chopped tomatoes, Trader Joe's Corn and Chile salsa (the best salsa ever!), cilantro, sautéed zucchini and red peppers, and queso fresco.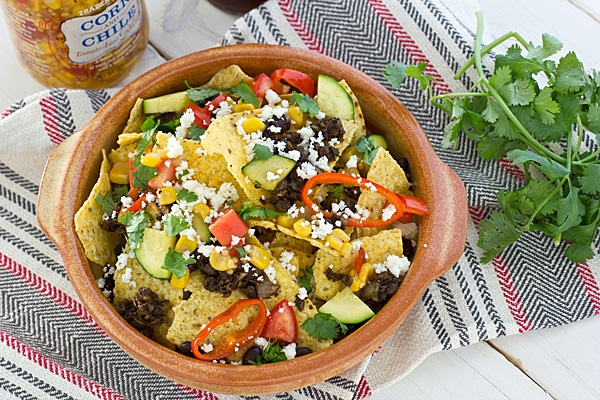 If you tone down the chipotle, this is a great kid-friendly Meatless Monday meal too - set out bowls of toppings and let everyone assemble their own plate of nachos.
See? Nachos can be a totally acceptable meal. 😉
Recipe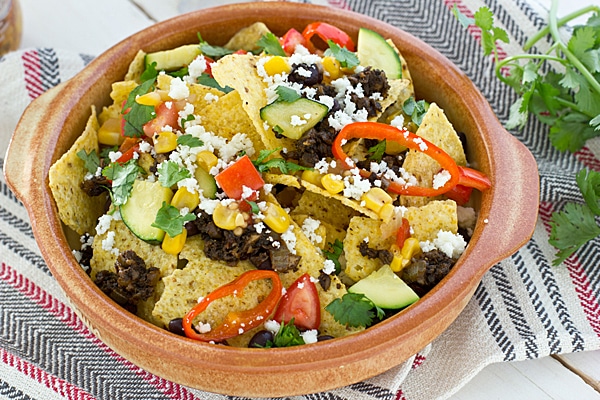 Ingredients
Loaded Veggie Nachos
tortilla chips

Portobello Mushroom Meat

black or pinto Beans

shredded cheese or crumbled queso fresco

salsa

sautéed veggies

like zucchini, green or red peppers, corn, etc.

sour cream

cilantro

jalapeno peppers

green onions

chopped tomatoes

anything else you like on your nachos!
Instructions
Portobello Mushroom Meat
Heat olive oil in a large skillet over medium-high heat.

Add onion and cook until softened, about 3 minutes.

Add garlic, cumin, and paprika; cook 1 minute.

Add mushrooms and chipotle and cook until liquid from mushrooms evaporates, about 8 minutes more.

Remove from heat. Stir in salt and pepper.
Loaded Veggie Nachos
Top tortilla chips with mushroom meat and other toppings.
Nutrition
Calories:
63
kcal
Carbohydrates:
6
g
Protein:
2
g
Fat:
4
g
Saturated Fat:
1
g
Polyunsaturated Fat:
1
g
Monounsaturated Fat:
3
g
Trans Fat:
1
g
Sodium:
56
mg
Potassium:
293
mg
Fiber:
2
g
Sugar:
3
g
Vitamin A:
441
IU
Vitamin C:
2
mg
Calcium:
15
mg
Iron:
1
mg
Craving more veg-friendly recipes?
Shop our collection of vegetarian and vegan cookbooks, including our new Vegan Thanksgiving and Vegan Christmas cookbooks!