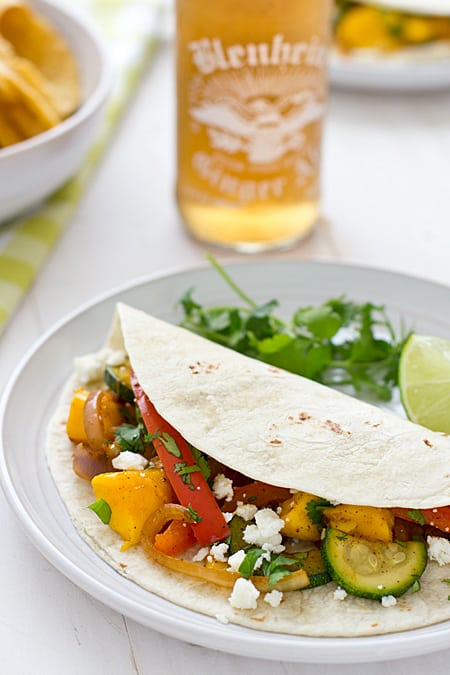 There's no need to buy seasoning packets when you can make your own homemade fajita seasoning mix! Use the following recipe to make these Sweet & Spicy Mango Fajitas.
Love Affair with Mangoes
Champagne mangoes are heeeere! I knew they'd be in season again soon, so I've been stalking Whole Foods waiting for the glorious day when there's a huge crate of them front and center in the produce section. Every week, I've been disappointed. And last week, I was prepared to be disappointed again when I didn't see that big huge crate, but I managed to find the champagne mangoes in a small crate at the back of the produce section.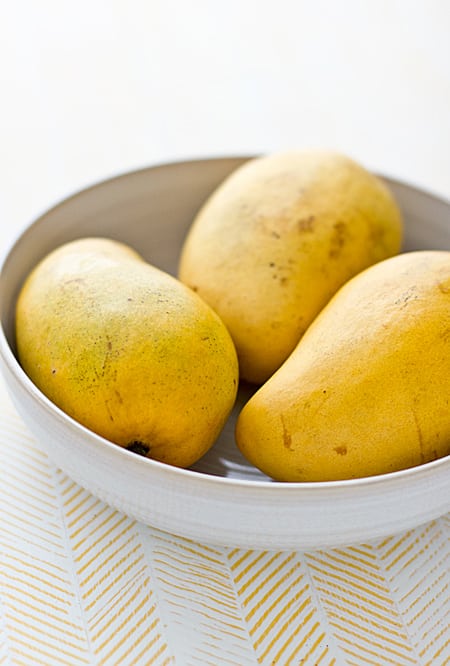 Then I did a little dance. And for once it wasn't because of the peppy instrumental version of "Big Country" playing over the PA system. No, it was because I finally had my precious champagne mangoes and I could make my Sweet & Spicy Mango Fajitas.
I keep a huge running list of recipe ideas on my computer and mango fajitas has been on there for at least a year now. Oh sure, I could have made them with regular mangoes, but I wanted to wait for the champagne mangoes because: a) they're cheaper than regular mangoes when they're in season, b) they're tastier than regular mangoes, and c) I have never bought a bad champagne mango, but it seems like every other regular mango I buy is brown in the middle.

Make Your Own Seasoning
In addition to the mangoes, I added red bell pepper, zucchini, red onion, and jalapeño for a little kick; I seasoned them with a homemade fajita seasoning mix I've been using for about a year now. Although those pre-made seasoning packets are handy, they're also expensive for what you're getting and full of unnecessary ingredients like corn syrup, corn starch (I don't think this is needed when you're making veggie fajitas, so I leave it out), and artificial colors. I'm including my fajita seasoning recipe here; it makes more than you'll need for these fajitas, but you can put it in a bag or container and keep it for several months—it's good for any veggie fajita recipe, not just this one!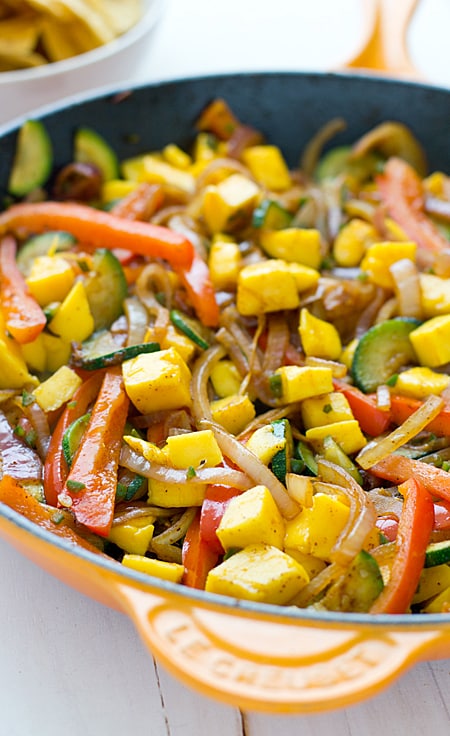 I had really high expectations for this recipe. Sometimes I'm not sure how a dish will turn out, but I just knew this one would be delicious. Because: mangoes! Luckily, it did not disappoint. And then I did another little dance: the tasty fajita dance.*
*Which is basically the robot because that's the only dance I know how to do.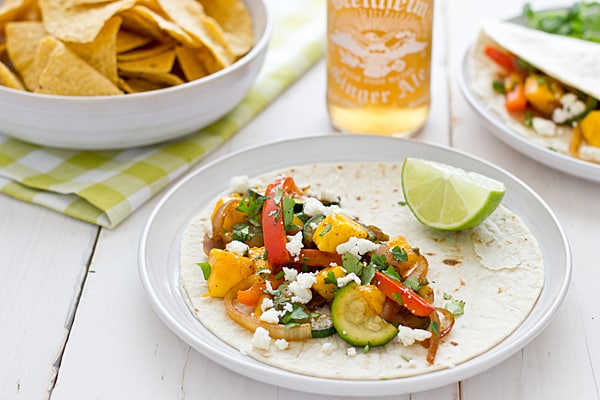 Ingredients
1

tbsp

olive oil

1

tbsp

fajita seasoning mix

1

red onion

thinly sliced

1

red pepper

seeded and cut into strips

1

zucchini

halved lengthwise and sliced

1

jalapeño

seeded and diced

2

mangoes

peeled and cubed (use champagne mangoes if you can find them)

about 8 medium tortillas

warmed

coarsely chopped cilantro

lime wedges, crumbled queso fresco and salsa for serving
Instructions
Heat olive oil in a large skillet over medium high heat.

Add fajita seasoning and cook until fragrant, about 30 seconds.

Add onion and cook until softened, about 5–7 minutes.

Add red pepper, zucchini, and jalapeño; cook about 5 minutes more, or until veggies are just starting to brown. Stir in mangoes.

Serve on tortillas with cilantro, lime wedges, queso fresco and salsa.
Nutrition
Calories:
132
kcal
Carbohydrates:
24
g
Protein:
2
g
Fat:
4
g
Saturated Fat:
1
g
Polyunsaturated Fat:
1
g
Monounsaturated Fat:
3
g
Sodium:
8
mg
Potassium:
460
mg
Fiber:
5
g
Sugar:
18
g
Vitamin A:
2251
IU
Vitamin C:
91
mg
Calcium:
87
mg
Iron:
2
mg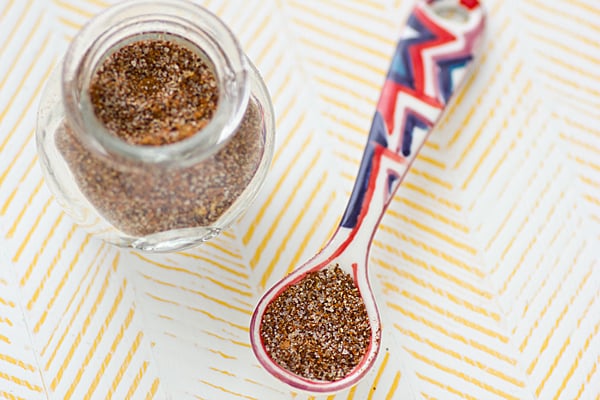 Ingredients
2

tbsp

chili powder

1

tbsp

salt

1

tbsp

smoked paprika

1

tbsp

sugar

2 ½

tsp

crushed vegetable bouillon cube

1 ½

tsp

onion powder

½

tsp

garlic powder

½

tsp

cayenne pepper

½

tsp

cumin

¼

tsp

crushed red pepper flakes
Instructions
Combine all ingredients in small bowl. Store in zip-top bag, jar, or resealable container.
Nutrition
Calories:
44
kcal
Carbohydrates:
8
g
Protein:
1
g
Fat:
2
g
Saturated Fat:
1
g
Polyunsaturated Fat:
1
g
Monounsaturated Fat:
1
g
Sodium:
2338
mg
Potassium:
142
mg
Fiber:
2
g
Sugar:
4
g
Vitamin A:
2192
IU
Vitamin C:
1
mg
Calcium:
25
mg
Iron:
1
mg