This vegan blueberry cobbler is bursting with fresh flavor from ripe blueberries and a crispy, buttery biscuit crust. It's the ultimate summer dessert!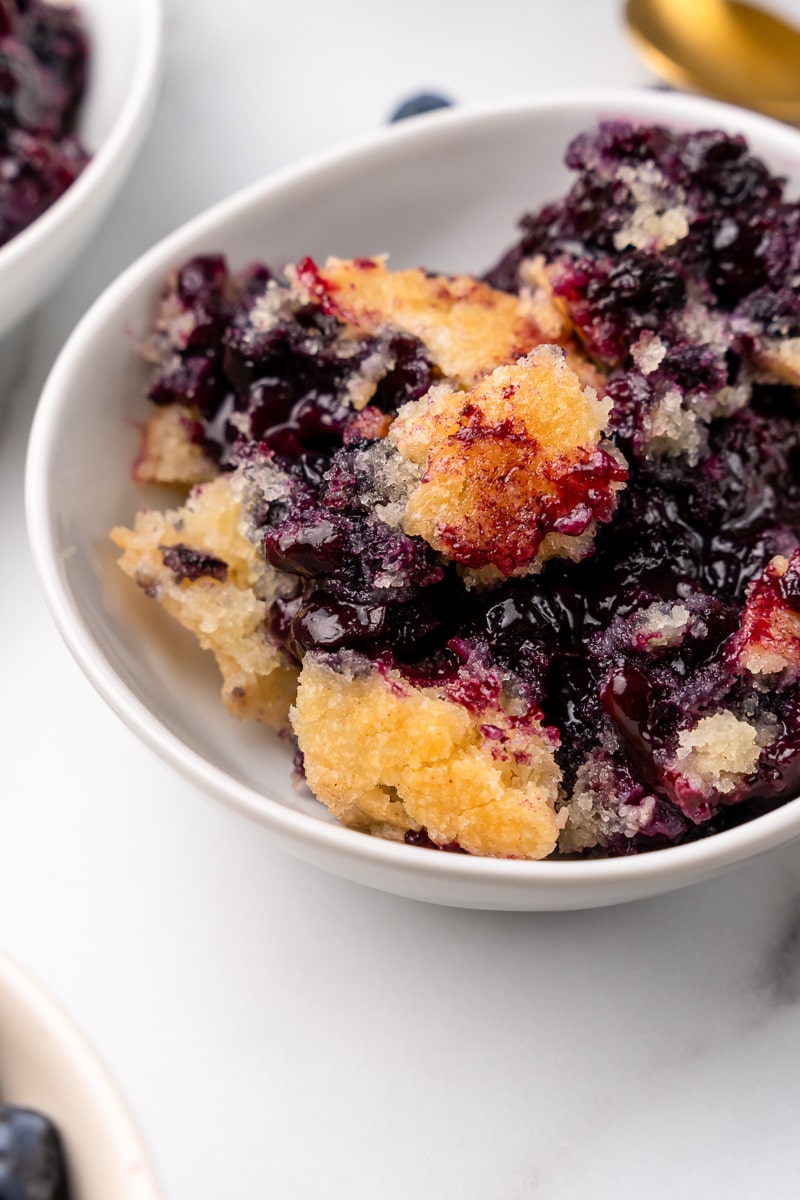 I've always been a sucker for dessert, and recently I 've been craving a good old fashioned blueberry cobbler. The combination of juicy blueberries with that crunchy biscuit topping is just irresistible, right?
But I decided to try my hand at making a completely plan based version of this classic dessert. And with just a few simple modifications, I was able to pull off this totally delicious vegan blueberry cobbler!
This vegan blueberry cobbler is:
Total comfort food.
Easy to make with simple ingredients.
Ready in under an hour.
Perfect for summertime!
100% Vegan & Vegetarian
This cobbler has quickly become a family favorite in our home - right next to my reader favorite vegan peach cobbler. Let's get baking!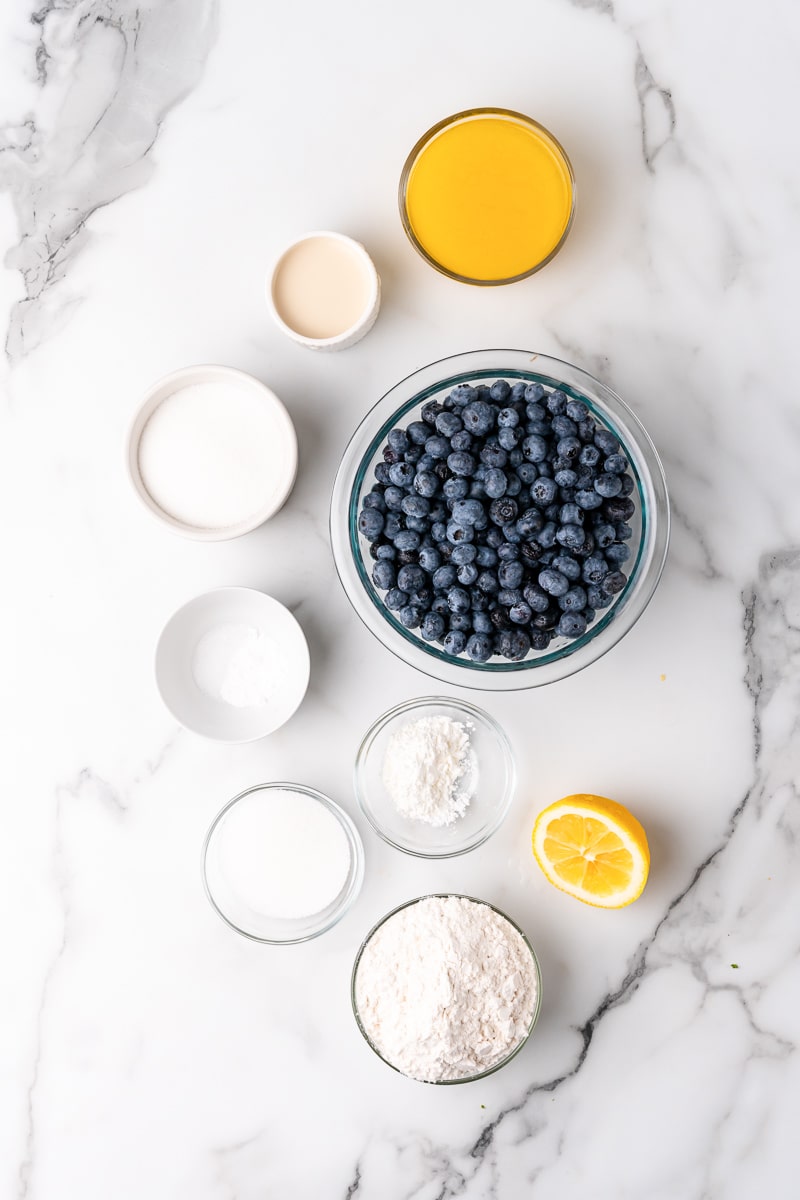 Ingredients & Supplies You'll Need
To make this delicious Vegan Blueberry Cobbler, I gathered the following ingredients:
Blueberries - I prefer fresh, but you can also use frozen. If using fresh, be sure to wash and dry them well.
Sugar - Choose organic to be sure it is vegan.
Cornstarch
Lemon juice
Flour - Basic all purpose flour will work just fine here.
Baking powder
Salt
Melted vegan butter - I am a big fan of the Earth Balance Brand for its meltability.
Almond milk - Or the plant based milk of your choice.
Aside from the ingredients, you will also need a couple of mixing bowls for combining the ingredients, a stirring utensil to mix everything together, a measuring cup for precise measurements, and an 8x8-inch baking pan to bake the cobbler. I'm a fan of this set that comes with a lid for easy storage!
With everything ready, I couldn't wait to start making this Vegan Blueberry Cobbler. It's not only a delicious treat, but it's also a more health-conscious option for those following a vegan and dairy-free diet!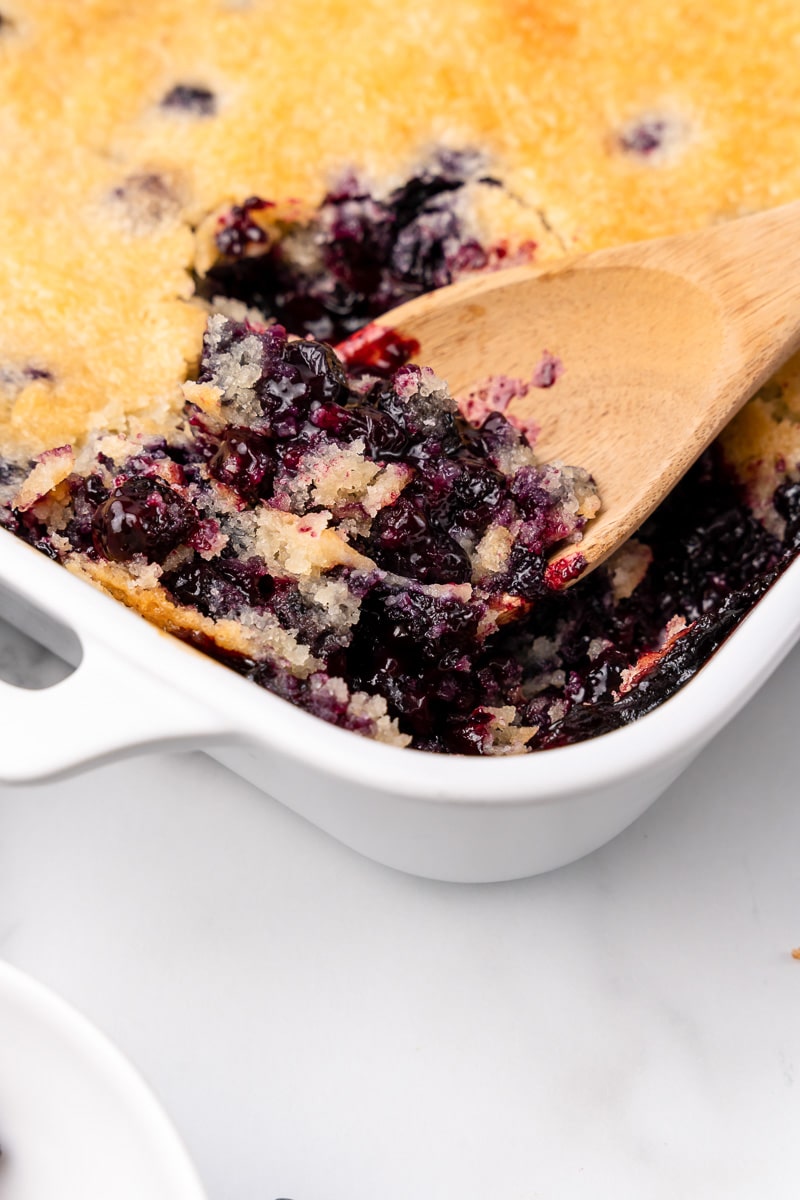 How to Make Vegan Blueberry Cobbler
I recently learned how to make a delicious Vegan Blueberry Cobbler, and I am so excited to share the recipe with you! It's super easy and perfect for satisfying your sweet tooth while keeping it vegan. Here are the steps to make this amazing dessert:
First, I preheat my oven to 375°F. It's important to have the oven ready to go, so the cobbler will bake evenly and the timing will be just right.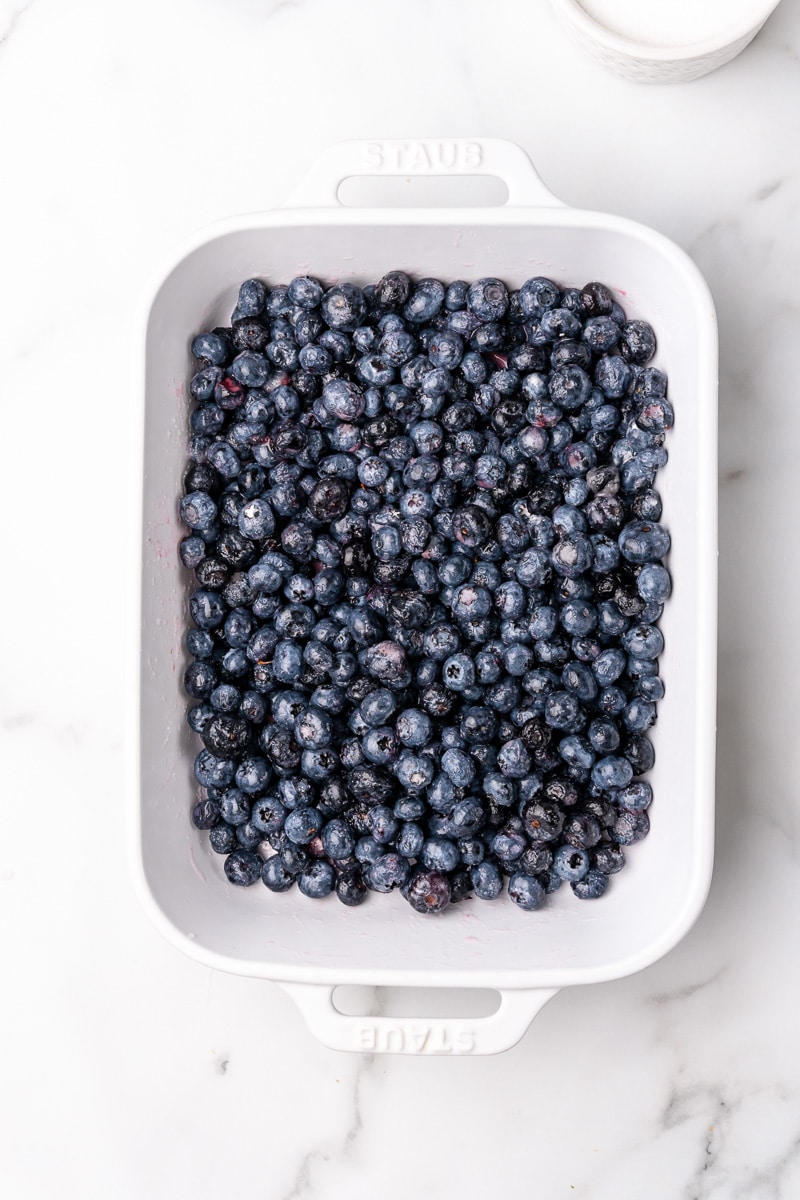 Prepare the blueberry filling.
Start off by combining the blueberries, sugar, cornstarch, and lemon juice in a large mixing bowl.
Prepare the biscuit layer.
Next, stir together the dry ingredients - flour, sugar, baking powder, and salt. After that, I mix in the vegan butter and almond milk until a thick dough is formed. This will be the topping for the Vegan Blueberry Cobbler!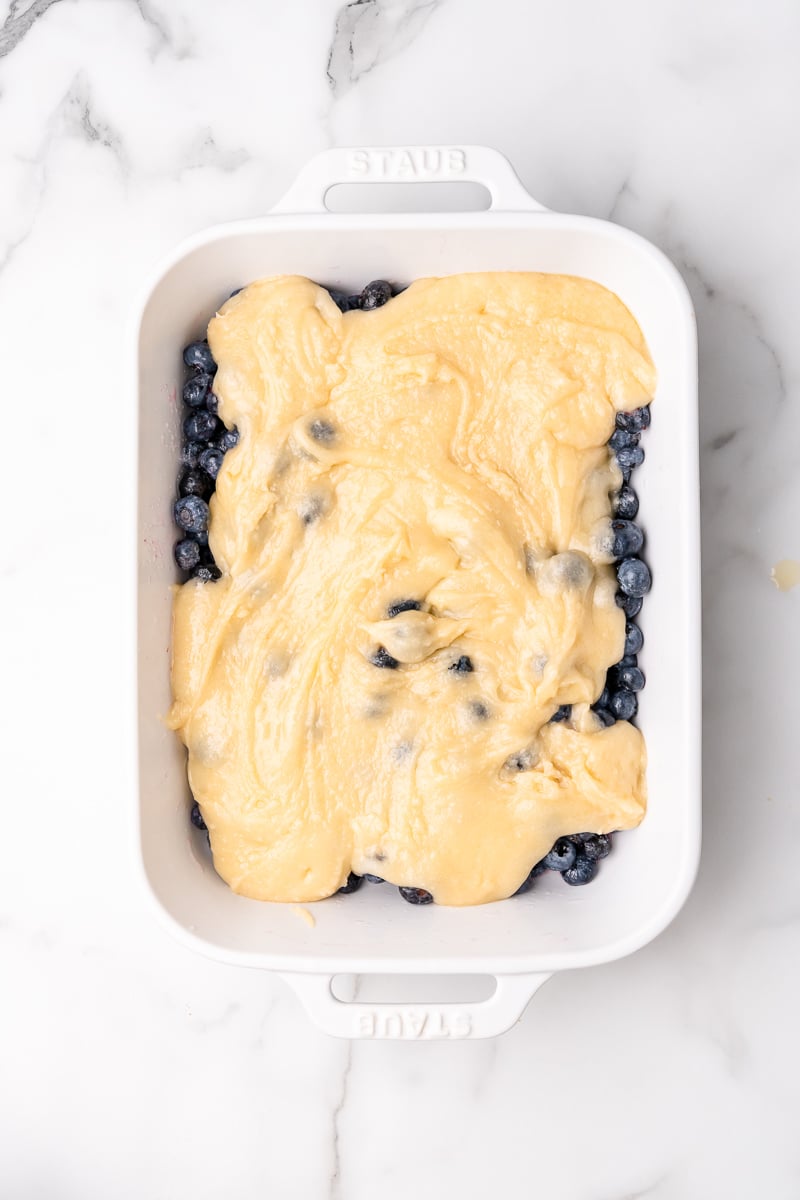 Assemble the cobbler.
Pour the blueberry mixture into a lightly greased casserole dish. This will be the base of the cobbler. Now comes the fun part! I take the biscuit batter and drop it in large scoops all over the surface of the cobbler. It doesn't have to be perfect - the rustic look adds to the charm!
Bake it!
Bake the cobbler in the oven at 375°F for 45-55 minutes, or until the filling is bubbly and the topping is golden brown. Let the cobbler cool for at least 10 minutes before digging in. Patience is essential here, but trust me, it's worth the wait!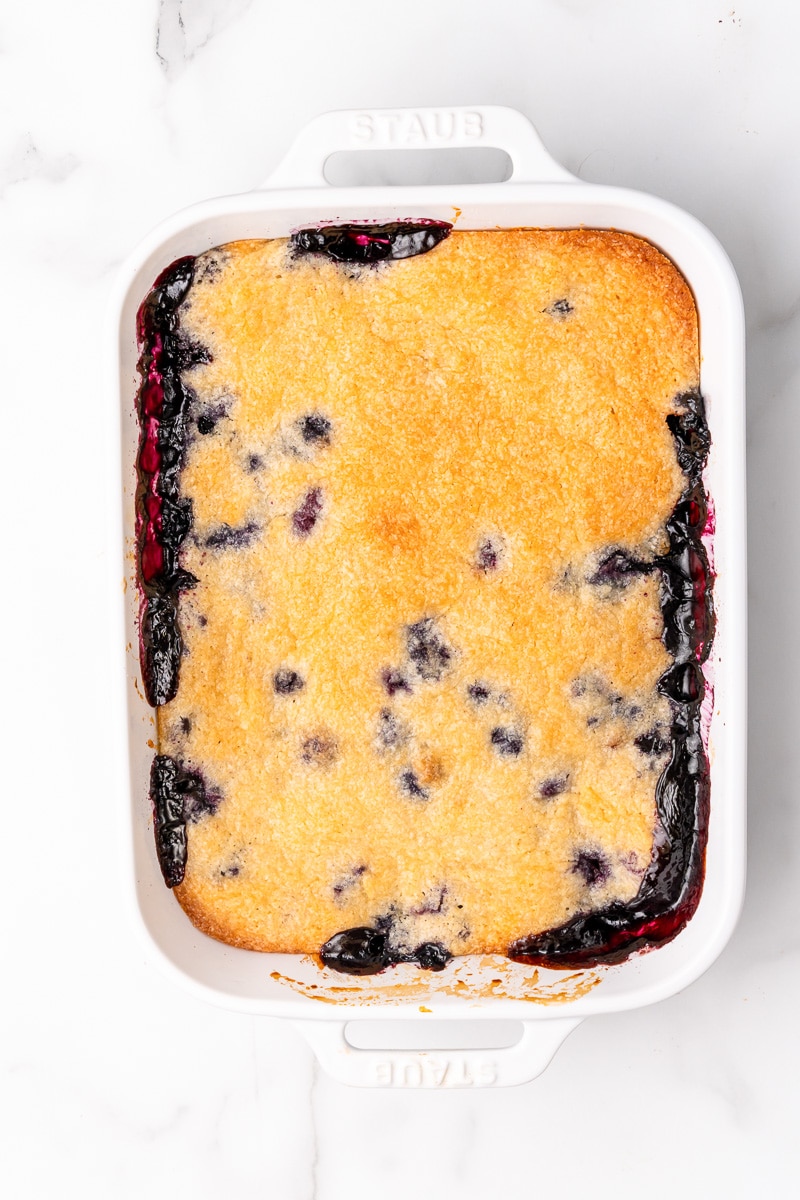 So there you have it, a quick and delicious Vegan Blueberry Cobbler recipe that's sure to please. Enjoy!
(As always, scroll down to the recipe card for more detailed instructions, measurements, and step by step images.)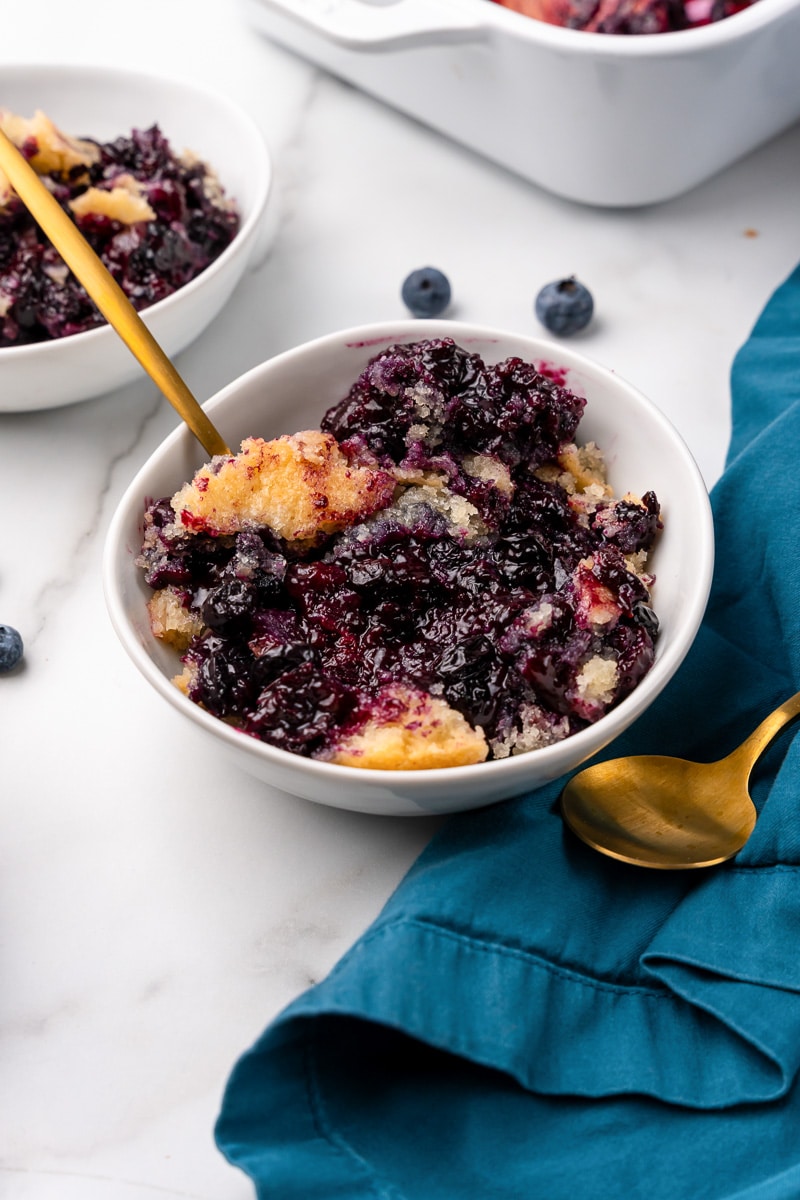 Tips & Tricks
Fresh vs frozen berries.
The blueberries are the star of the show here, so I prefer using fresh blueberries when they're in season during the summer months. However, if fresh berries are not available, frozen blueberries work just as well. Just make sure to thaw the berries and drain the excess liquid before using them in the recipe.
Don't overmix.
I've also learned it's essential to not overmix the dough. It should be slightly crumbly and dropped in dollops over the berry filling. This helps create that classic cobbled texture that everyone loves.
Serve the cobbler warm.
Cobbler is traditionally served warm, and that's how I always recommend you enjoy it! It just taste so much more comforting and indulgent when it's fresh from the oven.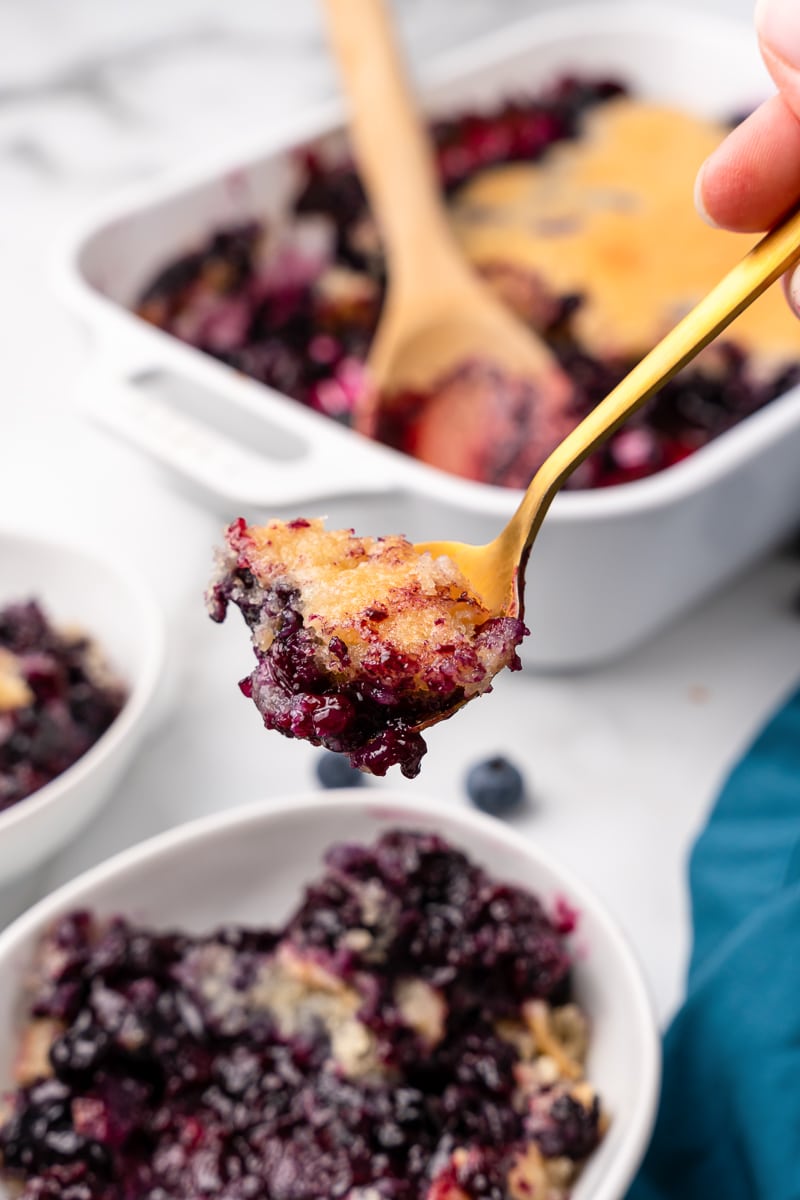 Vegan Cobbler Toppings
This cobbler shines on its own, but it's even more decadent when served up with one of these toppings:
Dairy free ice cream. Choose your favorite vegan ice cream flavor and serve a scoop on top of warm cobbler for a classic dessert combo. This homemade banana nice cream is a perfect match! Or grab your favorite store bought vegan ice cream brand.
Coconut whipped cream. Whip up some vegan coconut cream with a touch of sweetener and vanilla extract for a creamy and indulgent topping.
Nut butter drizzle. Melt some almond or peanut butter and drizzle it over the cobbler for a rich and nutty flavor. Or try it with this homemade vegan Nutella.
Caramel sauce. Make a vegan caramel sauce using coconut cream and coconut sugar for a decadent topping.
Vegan Honey. This vegan apple honey is a perfect match for ripe summer fruits.
Vegan Yogurt. Top your cobbler with a dollop of dairy-free yogurt for a tangy and refreshing contrast to the sweet fruit filling. Coconut yogurt is my favorite!
Chopped nuts. Sprinkle some chopped nuts, such as pecans or almonds, on top of the cobbler for a crunchy texture and nutty flavor.
Fresh fruit. Add some fresh fruit on top of the cobbler for a pop of color and extra sweetness. Try sliced strawberries, raspberries, or peaches.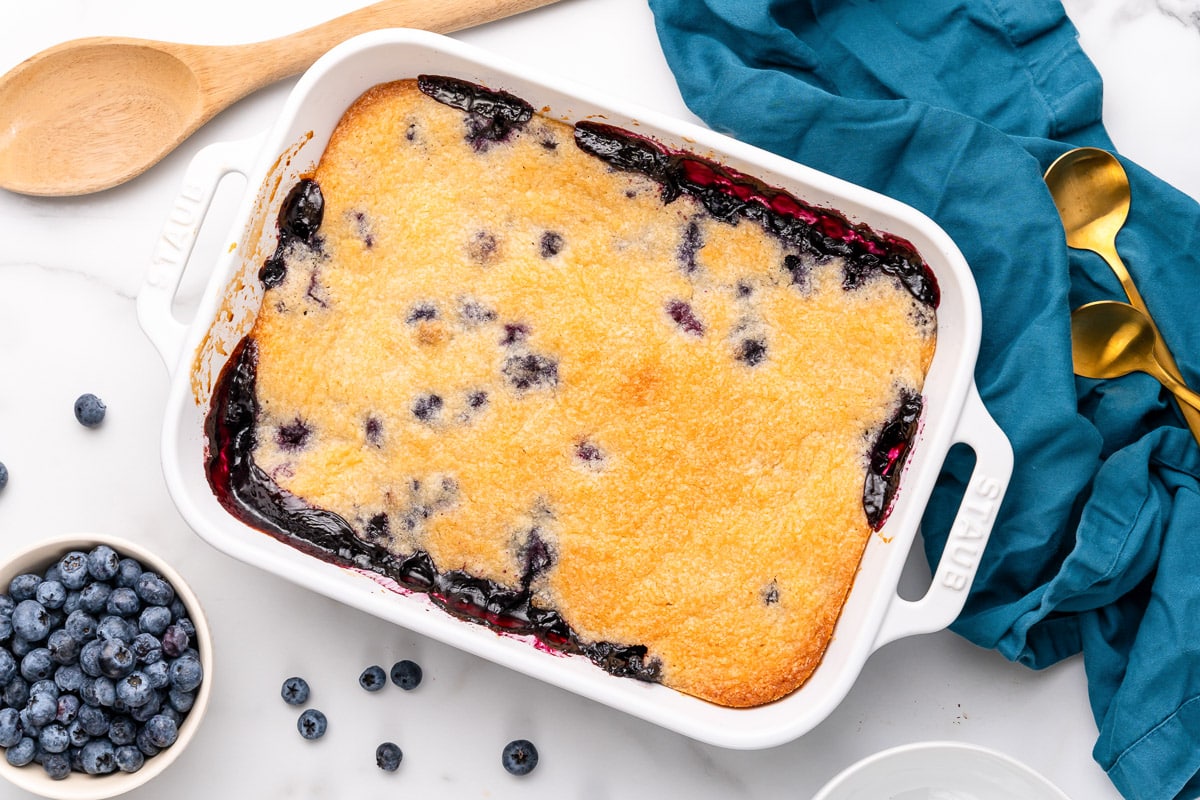 Storing the Cobbler
In the refrigerator
Store the cobbler in an airtight container or cover tightly with plastic wrap, and store in the fridge for 3-5 days.
In the freezer
You can also freeze the cobbler in an airtight container for up to 3 months. I like to store mine in individual sized portions, so I can just defrost a single serving when I'm craving something sweet.
Reheating
You can reheat the cobbler in the oven or microwave before enjoying. It tastes best warm!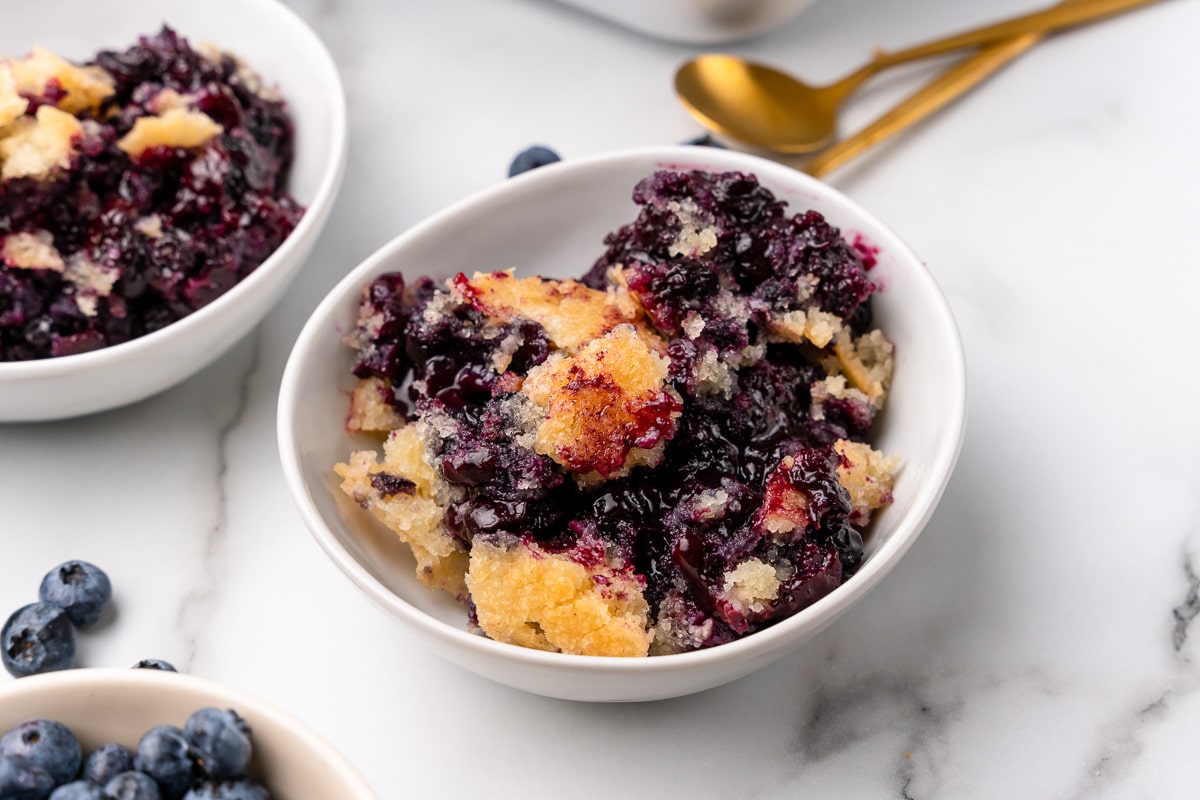 Variations & Substitutions
Use other berries or fruits!
This makes a great base cobbler recipe that works well with many other types of fruits. Besides blueberries, I've tried incorporating blackberries, raspberries, and strawberries. Peaches, apples, or even rhubarb would also be delicious. Yum!
Add some zest or herbs.
Try adding a bit of fresh orange or lemon zest for an extra burst of flavor. Fresh mint is also a delicious addition that pairs well with summer fruits.
Make it gluten free.
This recipe is easily made gluten-free by substituting a 1:1 gluten free baking flour for the all purpose flour.
Make it lower carb.
You can substitute the all-purpose flour with almond flour for a lower carb (and also gluten free) version of this vegan blueberry cobbler.
Replace the sugar.
I used organic white sugar for my vegan cobbler, but you can also use brown sugar, coconut sugar, or even maple or agave syrup as a sweetener.
Replace the vegan butter.
I like using Earth's Balance vegan butter for this type of recipe, but melted coconut oil is a great substitute if you can't find a great dairy free butter brand near you.
Use any plant based milk.
I use almond milk in most of my baking recipes, but you can also use soy, cashew, or any dairy free milk that you prefer.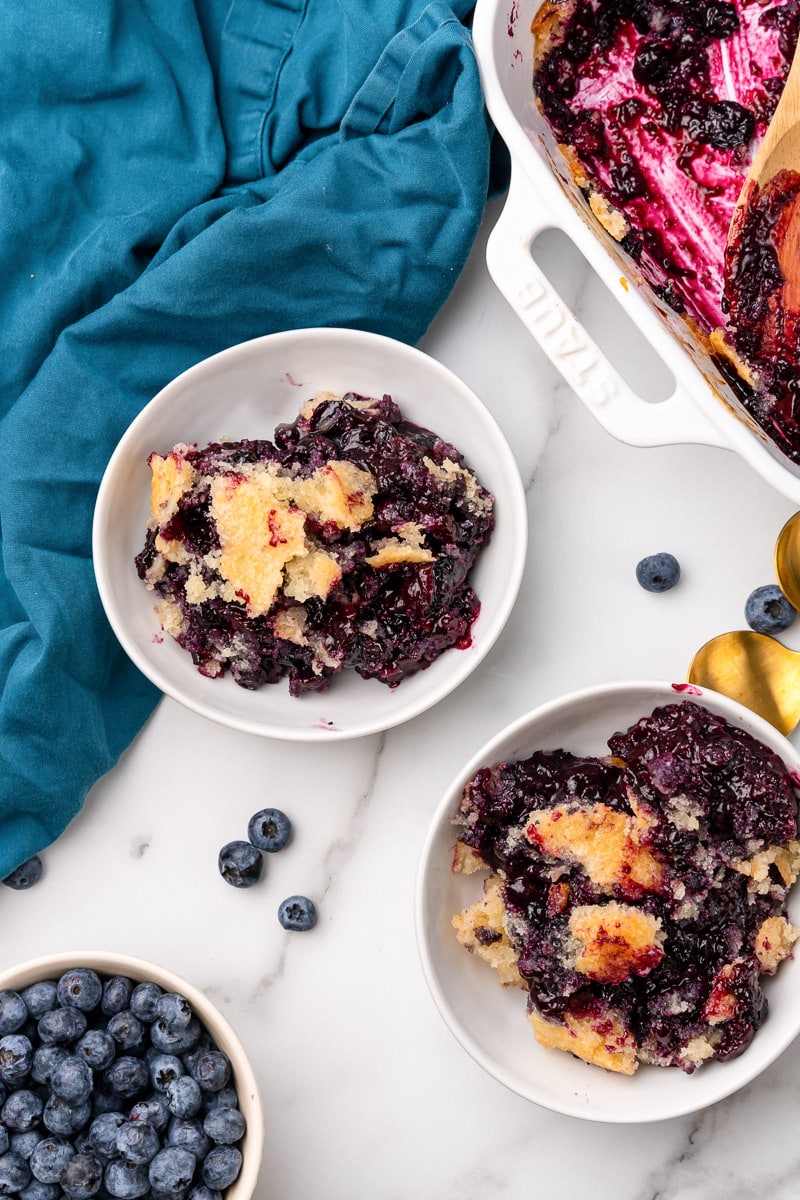 More Tasty Vegan Recipes
If you love this vegan blueberry cobbler, be sure to check out these other delicious ideas:
Recipe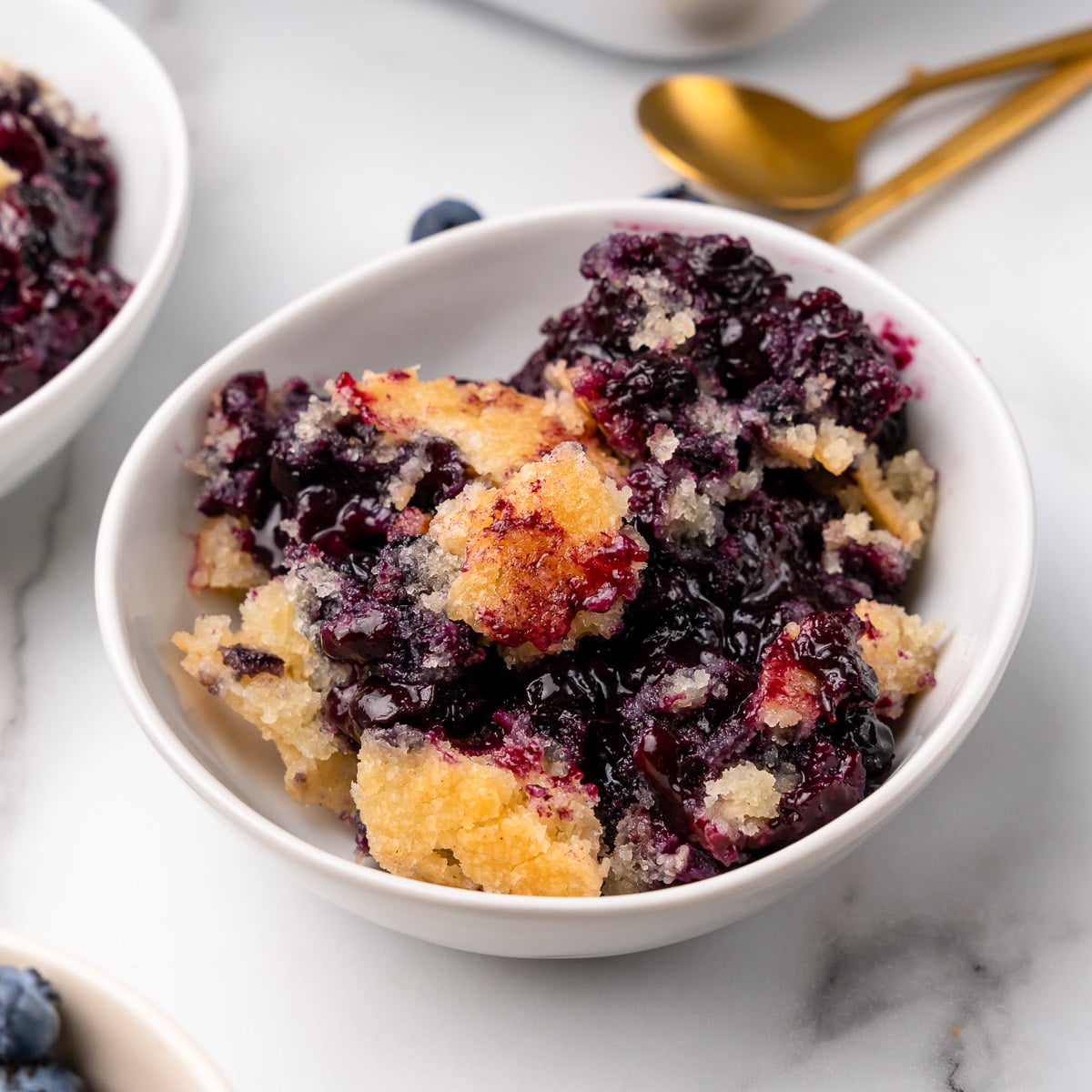 Instructions
Preheat oven to 375 F

In a large bowl, combine blueberries, sugar, cornstarch, lemon juice

Pour into a lightly greased 2 quart casserole dish

In a separate bowl, stir together the flour, sugar, baking powder and salt,

Then mix in the vegan butter and almond milk until a thick batter is formed

Drop the batter in large scoops on the surface of the cobbler,

Bake in the preheated oven for 45-55 minutes, or until the filling is bubbly and the topping is golden

Allow to cool at least 10 minutes before serving
Nutrition
Calories:
325
kcal
Carbohydrates:
52
g
Protein:
3
g
Fat:
13
g
Saturated Fat:
3
g
Polyunsaturated Fat:
4
g
Monounsaturated Fat:
5
g
Trans Fat:
0.1
g
Sodium:
329
mg
Potassium:
86
mg
Fiber:
2
g
Sugar:
32
g
Vitamin A:
759
IU
Vitamin C:
8
mg
Calcium:
44
mg
Iron:
1
mg
Craving more veg-friendly recipes?
Shop our collection of vegetarian and vegan cookbooks, including our new Vegan Thanksgiving and Vegan Christmas cookbooks!