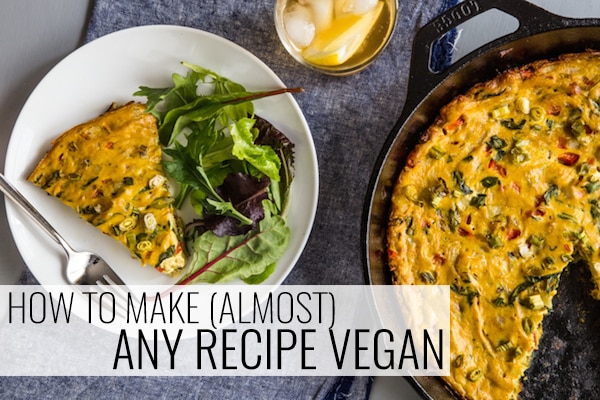 If converting your old favorite dishes to meatless is daunting, making them vegan has got to seem near impossible! Fortunately, we dealt with the issue of how to replace meat in your recipes a while back, and that's half the battle. Today we're talking about how to create vegan versions of your favorite recipes, with a focus on meals. (For baked goods, check out our guide to vegan baking!)
Obviously, there are a ton of animal ingredients that you'll find lurking in recipes, but in this post I'm dealing with those that tend to be the most common and challenging, like milk, eggs, and cheese.
It's easier than you think, and with a few simple swaps, you can easily enjoy veganized versions of your favorite non-vegan recipes.
Replace Milk Non-Dairy Milk
The simplest way to replace milk in most recipes is with soy or nut milk. Okay, so this seems like a bit of a no-brainer, but the trick is in knowing when you can get away with it, and what type of non-dairy milk to use. For stuff like soups, stews and sauces, unflavored, unsweetened soy or almond milk works out just fine, and you can swap it out for dairy milk on a cup-for-cup basis.
If you have a recipe that specifically calls for whole milk or heavy cream, homemade cashew milk is usually your best bet, since it's quite a bit richer than other types of non-dairy milk. Just soak 1 cup of raw cashews in water for 4 to 8 hours, then stick them in the blender with 3 cups of water, and blend like crazy.
Try this: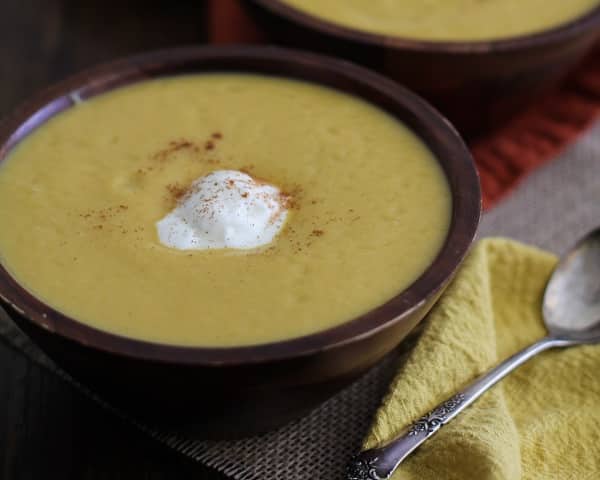 Roasted Acorn Squash Soup
Creamy Vegan Mushroom Barley Soup
Coconut Milk
Be careful with coconut milk. It has a much higher fat content than dairy-milk, so it's much richer, and it behaves differently from other types of milk in most recipes. It'll also make your recipes taste like coconut, so unless you're making something that goes with the flavor of coconut, I'd avoid it. One place it can work out nicely is in a curry. Most Thai curries call for coconut milk. Indian curries typically call for yogurt or heavy cream, but the coconut flavor often works too, so you can usually use coconut milk instead.
Try this: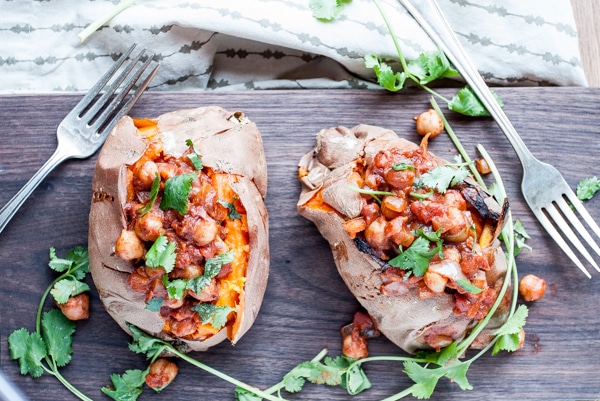 Chana Masala Stuffed Sweet Potatoes
Thai Red Curry with Asparagus and Tofu
Cheese Substitutes
This is often the toughest for people, because: cheese. I hear you! The key to replacing cheese without feeling super deprived is by finding something rich, creamy, and flavorful in its own right. It doesn't necessarily have to taste like cheese. Hummus, avocado, and tahini are a few of my go-to ingredients for this. Take a look at your recipe and figure out which of those three ingredients works best with the other flavors in the dish.
Hummus, with its rich and creamy texture and tangy flavor, is a favorite for sandwiches and pizzas. I like to make my own hummus and include seasonings that compliment my toppings or fillings.
Try this: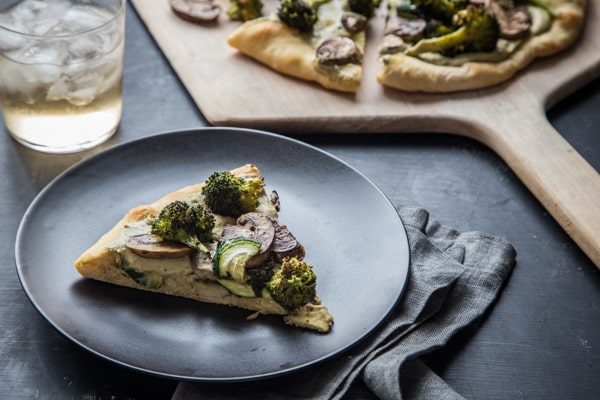 Roasted Vegetable and White Bean Pesto Hummus Pizza
Hummus Veggie Wraps
Tahini is great for replacing cheese sauce. It works well on its own, but if you add in just the right seasonings, it can taste surprisingly cheesy.
Try this: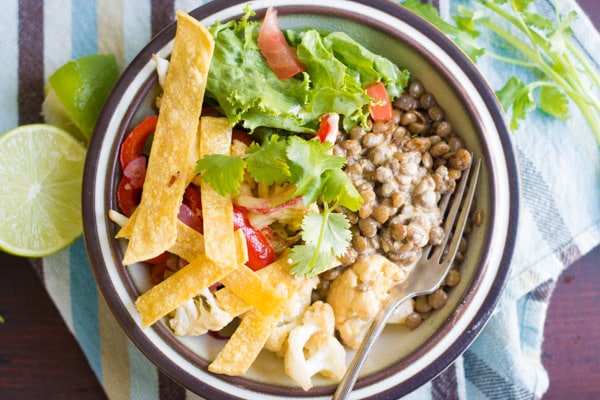 Lentil Taco Bowls
Black Bean Spinach Enchiladas
Avocado slices are my quick go-to topping when a recipe calls for shredded cheese. Avocado dressing or guacamole makes a fantastic topping for the right recipe though.
Try this: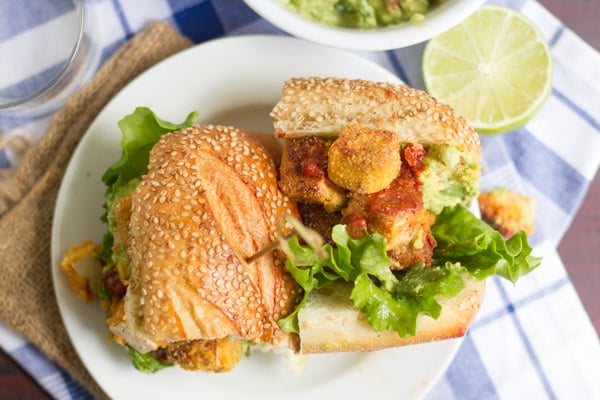 Spicy Cornmeal Crusted Tofu Sandwiches
Black Bean Flautas with Avocado Dipping Sauce
Cashew Cheese
If you've got a bit of lead time, cashew cheese makes an awesome (and pretty darn believable) substitute for dairy-based cheese. The method is similar to the cashew milk method I mentioned above. Just soak raw cashews in water until they're nice and soft – 4 to 8 hours. If you're short on time, you can boil them in water for 15 minutes, but I find the extended soak time to works a bit better, so if you've got the time, do that. Drain the cashews, put them in the food processor, and blend until smooth. Then you can add in some other ingredients for cheesy flavor. Nutritional yeast adds a savory, nutty flavor. Vinegar or lemon juice works great for tartness. Herbs, garlic and hot sauce are great for amping up the flavor. And don't forget salt – cheese is very salty! You'll end up with a creamy, spreadable cheese that gives anything from a deli a run for its money. For some more details on how to season cashew cheese, check out our guide to vegan cheese.
There are ingredients you can add to make your cheese solid and sliceable, like tapioca starch and agar, but to be honest I usually can't be bothered, and I find the results are hit-or-miss.
Try this: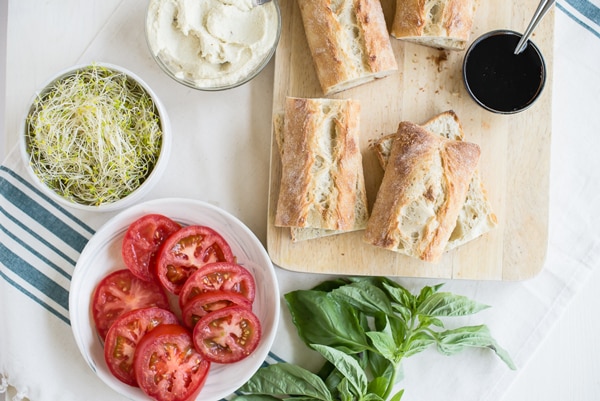 Vegan Caprese Sandwiches with Garlic Cashew Cheese
Replace Eggs with Tofu
Even if you're not a fan of tofu, you've got to admit that the texture isn't that far from that of eggs. Since tofu is pretty much flavorless, that leaves you with the challenge of adding ingredients to make it look and taste eggy. Nutritional yeast adds a savory taste, while kala namak, also known as Indian black salt, imparts just the right amount of sulfury flavor. A tiny bit of turmeric can be undetectable in terms of taste, but it will give tofu yellow color to make it look like eggs.
Try this: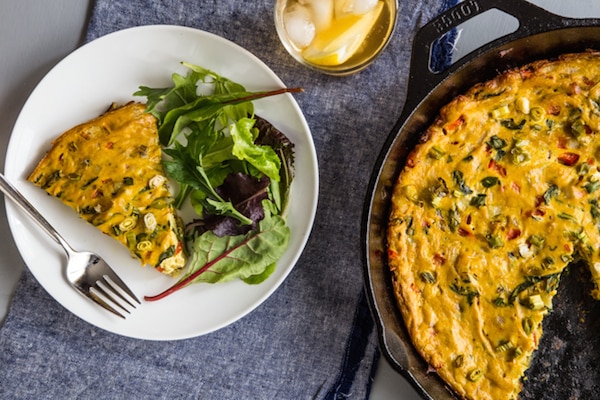 Tofu Frittata with Spinach and Peppers
Vegan Quiche
Freezer Friendly Greens & Tofu Scramble Wraps
Mediterranean Tofu Scramble
Replace Eggs with Chickpea Flour
Chickpea flour has a naturally savory flavor, yellow color, and can be turned into a batter that, when cooked up, has a surprisingly eggy texture. It's a bit easier to work with than tofu, and can be used to make a great vegan omelet without whipping out the blender or food processor.
Try this: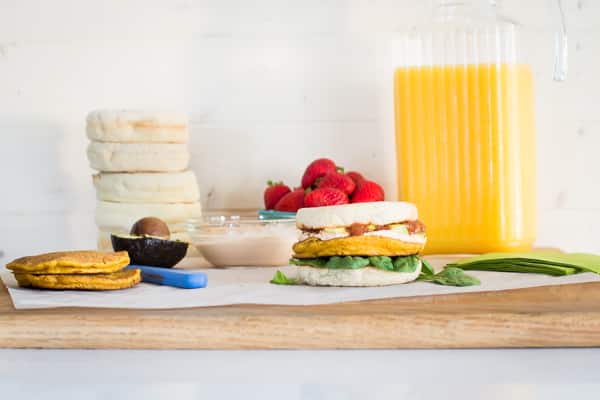 Vegan Breakfast Sandwiches with Cholula Cashew Cheese
Veggie Stuffed Vegan Omelet
For more vegan recipe ideas, check out our vegan recipe archives.