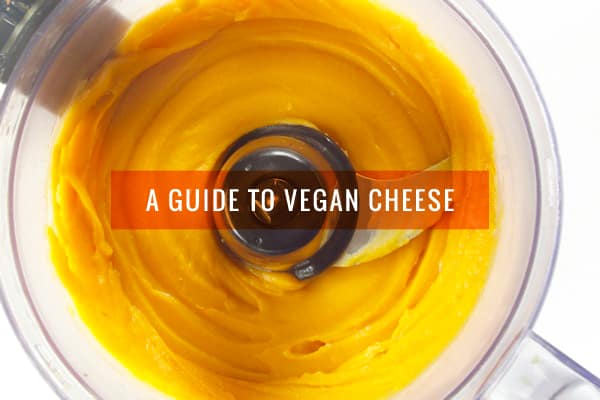 The first time I tried vegan cheese I was not impressed. Cheese flavored something or other was about the best I could describe it as. That was a long time ago, and that vegan cheese was nothing like the stuff that's available for purchasing and home production today. Food companies and home cooks are getting smarter, and with a little guidance, lots of folks are now able to live dairy-free and enjoy their old cheesy favorites.
There are a few essential elements to making your own vegan cheese at home.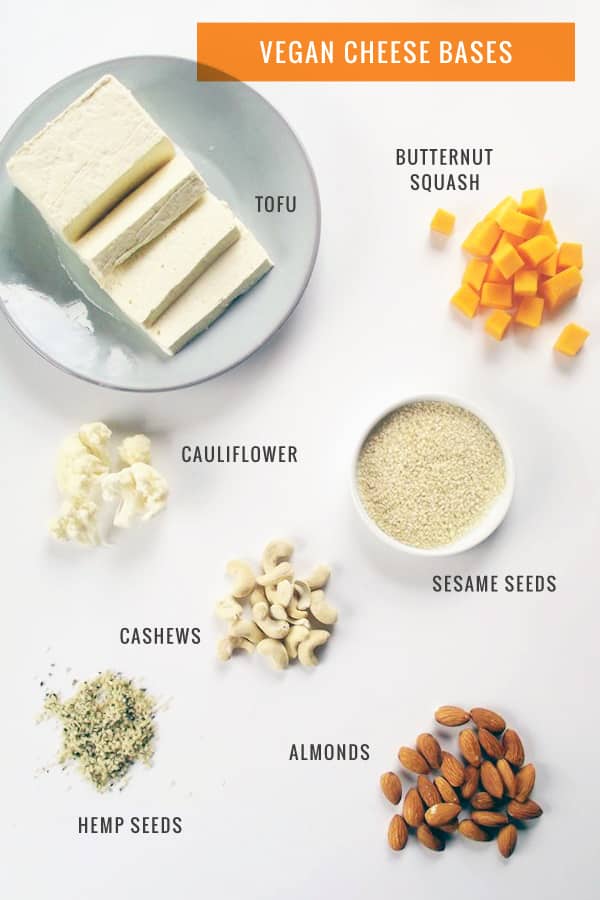 Cheese Bases
The base is what makes up the bulk of your cheese and gives it substance. It's your blank slate ingredient, which you either use as-is, or blend up in the food processor. You want the flavor to be neutral or somewhere in line with the cheese you're trying to replicate.
Nuts and Seeds
Unless this is your first time stopping by this site, I'd imagine you've seen at least a few dairy-free recipes that involve tinkering with cashews. Cashews are a great beginner cheese base, but lots of other nuts and seeds work too. This seemed weird to me at first. I thought I'd end up with something that tasted more…well, nutty. The key is to use raw nuts. What we think of as "nutty" flavor actually comes out during roasting. Before roasting, many nuts have a milder, slightly sweeter flavor. Of course, some cheeses, like Parmesan, have a nutty flavor, so roasting might be appropriate, as with this sesame seed Parmesan and this cashew Parmesan.
Another reason nuts work so well is because like cheese, nuts are naturally fatty, so they're good at replicating a nice rich, cheese-like texture. Blend them up and you have something with a mild flavor and a creamy mouthfeel that resembles spreadable cheese.
Once you've gotten comfortable with cashews, you can branch out and add variety with some other nuts and seeds, choosing your base according to the texture of the cheese you're trying to create. Cashews and macadamia nuts blend up thick and creamy, so they make great spreadable cheeses, like this one. Almonds are a bit on the harder side, so they blend up more crumbly and are often used for feta. Hemp seeds blend up smooth, taking on more of a buttery texture in this spreadable cheese.
Larger nuts generally benefit from a few hours of soaking in water, to help soften them up for easier blending, while with smaller nuts and seeds you can usually skip that step.
Vegetables
Did I say making cheese out of nuts seemed weird? That idea went out the window the first time someone suggested I make cheese out of potatoes. Amazingly, vegetables work beautifully as cheese bases. Like nuts, veggies are blended smooth in the food processor to undergo their cheese transformation. Where nuts generally get some soaking before blending, veggies are typically cooked for softening up. Some veggies, like potatoes, have a neutral flavor, so you have the advantage of being able to season them as you like. Other veggies have flavors that work with other seasonings in creating a cheesy taste. A browse around the web will reveal vegan cheeses made from the likes of sweet potatoes, butternut squash, cauliflower, and even eggplant. Most often you'll see veggies used in dipping cheese recipes, but with the right texturizing ingredients, which we'll talk about below, veggie cheeses have the potential to become sliceable and diceable.
Tofu
Tofu is the easiest and perhaps most convincing cheese base. In fact, tofu ricotta is the only vegan cheese I can claim to personally have been fooled by. This makes sense. If you read our Guide to Tofu a while back, you may have gotten that tofu is a lot like cheese, only it's made with blended up soybeans instead of milk. As a result, practically all that needs to be done to cheezify some tofu is add a bit of flavor. While ricotta is probably the most commonly replicated tofu cheese, other moist cheeses with a crumbly texture like feta work well too – the resulting feta will be moister and softer than the almond feta I mentioned above.
Flavorings
You didn't think you were going to just blend up some nuts or cauliflower and end up with cheese, did you? Once you've got the base down, you need to add some flavorings, so you end up with something that actually tastes like cheese. While I've addressed some of the most common flavorings individually below, what usually works best in any vegan cheese recipe is a combination of flavorings.
Nutritional Yeast
This one certainly doesn't sound like the most flavorful stuff, but when it comes to making things taste like cheese, it is quite likely your best bet. Nutritional yeast is simply deactivated yeast. It has a savory, slightly nutty, and, for back of a better term, cheesy flavor. You'll see nutritional yeast in lots of vegan recipes where some savory flavor is desired, and sometimes you'll even see nutritional yeast used on its own as a cheese substitute, say by sprinkling a bit on pasta or popcorn in place of Parmesan. Adding a few spoonfuls of nutritional yeast can transform some mushy veggies or nut butter into a bowl of cheesy goodness.
Acidic Flavorings
Acidic or sour flavors are crucial. They enhance the other flavors and hit an important part of the palate when it comes to making things taste good. This is especially true when it comes to vegan cheeses, as cheese has a natural tartness. If you've got a blend that almost tastes cheesy but seems to be missing something, a few splashes of vinegar or lemon juice might just balance out the other flavors and give you that cheesy tang you're looking for.
Fermented Ingredients
Part of what makes cheese more challenging to replicate than, say, a glass of milk, is that distinct sharp flavor that's so unique to cheese. Much of that flavor comes from fermentation. As cheese ages, fermentation takes place, and the flavor gets more intense. Some folks have gotten clever in recent years and decided to try adding fermented ingredients to vegan cheeses as flavorings. Rejuvelac is a common ferment that's made by fermenting sprouted grains in water. The taste and smell are freakishly cheesy, so it can work wonders when added to a batch of vegan cheese, like this vegan take on sharp cheddar. Miso is another common fermented ingredient you'll see vegan cheese recipes. Keep an eye open and you may even find recipes calling for the likes of sauerkraut, kimchi and kombucha.
Other Seasonings
Soy sauce, dried spices and mustard may seem out of place in a batch of cheddar cheese, but when it comes to vegan cheese, you're working from a different starting point. Flavors similar to these ingredients are already present in dairy cheese – it's just that there are so many flavors going on, you don't detect each one individually. So basically nothing much is off limits. Okay, maybe some things are. I've yet to use coffee. (It might work though!)
Texturizers and Solidifying Agents
While not all vegan cheeses require ingredients for texturizing and solidifying, they can be useful if you're trying to replicate something specific or create a cheese for a particular use. You may have produced the most realistic tasting cashew cheddar on the planet, but if you want to slice it up for a sandwich, you're going to need something more than nuts and seasonings.
Agar and Carrageenan
Yes, we're getting into unusual ingredient territory, but that's nothing to worry about, as both of these can be easily purchased online. These two ingredients do essentially the same thing – they work to solidify your vegan cheese. Both are similar to gelatin, but derived from plants. The biggest difference between the two is that carrageenan does a much better job of melting once solidified. Still, agar seems to get more use, as carrageen has a bit of a bad rap due to possible health concerns pertaining to inflammation and being a digestive irritant.
Oils
Lots of vegan cheese recipes call for a bit of oil added to the mixture. Most of the time this is to give the cheese a smoother, more buttery texture. In some cases, oils that are solid at or below room temperature, like coconut oil, can help firm up a batch of vegan cheese. It won't likely result in a sliceable cheese, but in some cases it can give you something more spreadable or even moldable, as might be desirable with something like a cheese ball.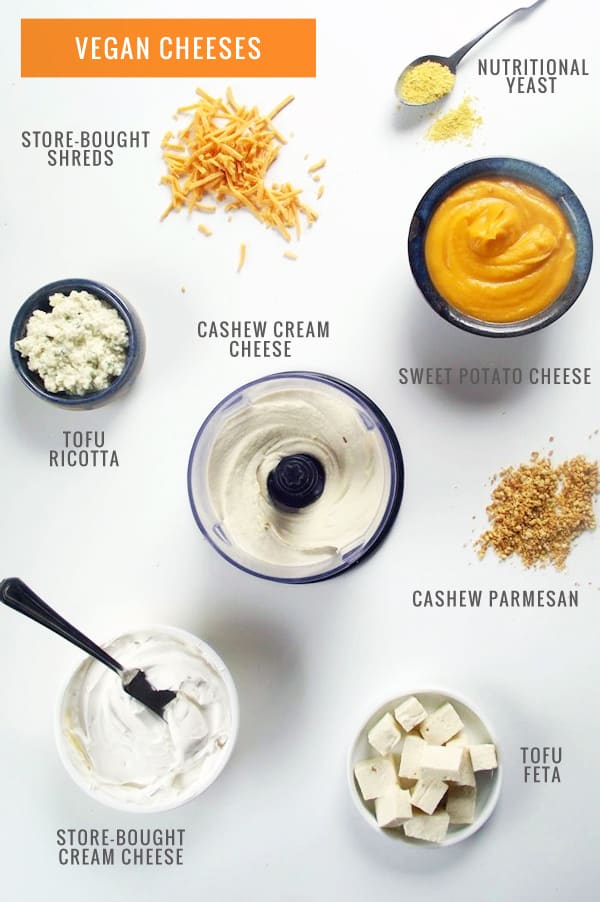 Commercial Vegan Cheeses
Of course, if you're not up for making your own, there are plenty of options available at the supermarket these days. While I don't use commercial vegan cheeses often, they do come in handy when I'm seeking a quick and easy cheese fix for a meal. Many widely available vegan cheeses are designed just for that purpose, and they do a pretty good job of mimicking dairy cheese texture and flavor. The downside is that the ingredients, while not necessary bad for you, aren't likely as nutritious as say, veggies, tofu and nuts. Over the last couple of years though, smaller companies that do make vegan cheeses from these ingredients have been emerging. So if you're too lazy to make your own vegan cheese (and aren't we all too lazy to make our own vegan cheese sometimes), keep an eye out – some almond feta just might be arriving at your supermarket in the near future.
Getting Started
Now that you know everything there is to know about vegan cheese, are you ready to whip up a batch using your very own recipe? Probably not. Check out the recipes I've linked you to, and try the ones that sound interesting. Go out and explore what's available commercially, give some products a shot, and decide what you like and what you don't. It won't take long for you to get comfortable with the flavors and ingredients, and before long you'll be whipping out your own vegan cheese originals.