Photos by Emily Caruso
Most people love to eat, so when you love to cook, dinner company is never too tough to come by. There's always been one group of friends and family members that seem a little nervous about eating my cooking; this would be, namely, folks who are afraid to have a vegetarian cook for them. The usual explanation has to do with some apprehension over what I'll put in the food—in particular, whether tofu will be an ingredient. My standard response is to vow to make pasta. Nobody's afraid of pasta, and pasta doesn't generally have tofu in it. Well...except this one does.
Interestingly enough, the pasta those guests are most likely to request is the one that I've decided to throw tofu into: fettuccine Alfredo. The thing that sets this one apart from any that I've ever served is that it's vegan, so there's bound to be some unexpected ingredients in order to create the rich, creamy goodness my dinner company generally seeks.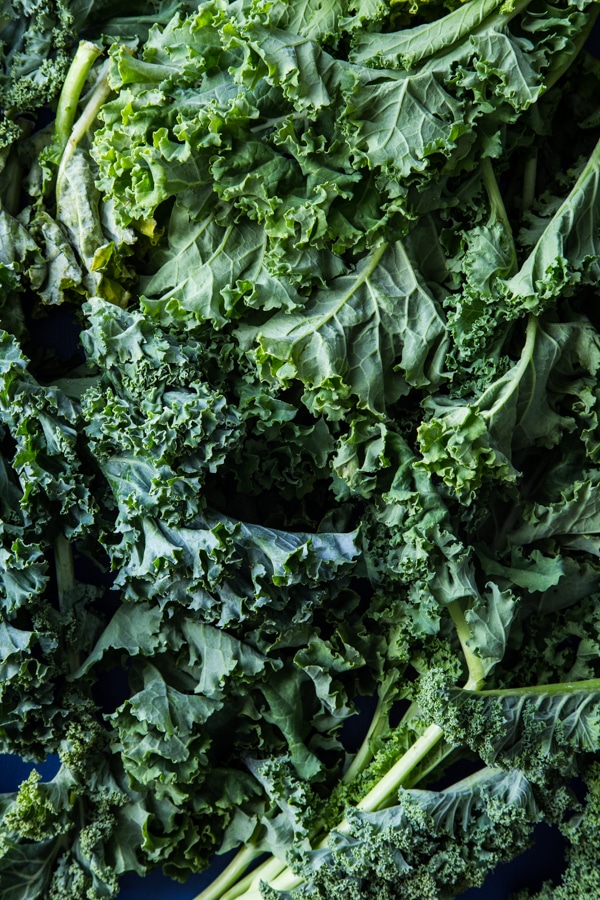 Cashews were an obvious choice for a vegan Alfredo sauce. They blend up smooth and milky, making an ideal substitute for the heavy cream found in classic Alfredo. The tofu is a bit less obvious of a choice, but it gives the sauce a nice body, so it coats the noodles thickly, just like dairy versions (which sometimes include an egg yolk). To really replicate the fettuccine Alfredo we've all grown to love, I included some optional cashew Parmesan in the recipe. This part isn't an absolute requirement, but if you're one who goes for heaps of extra cheesiness on your pasta, you'll appreciate the texture and mild tang that this adds.
If the tofu doesn't scare your dinner guests off (you know, assuming you admitted there's tofu in here), I'm betting they'll be a-OK with some kale in their vegan fettuccine Alfredo. And the kale is a welcome addition indeed—not just because the inclusion of some greens makes me feel better about eating one of the most decadent pasta dishes in existence, but because the flavor of some garlicky sautéed kale goes amazingly well with the mild creaminess of the Alfredo sauce.
This post was originally published on October 23, 2014.
Recipe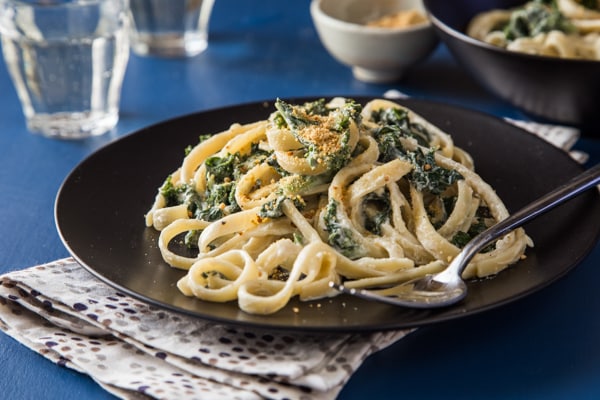 Ingredients
Instructions
Make the vegan Alfredo sauce:
Place cashews in a food processor fitted with an S-blade and blend until smooth, stopping to scrape down the sides of bowl as needed. Add the tofu, milk, lemon juice and a pinch of salt and blend until creamy. Taste and add additional salt if desired.
Make the Cashew Parmesan:
Preheat oven to 350°F.

Place all of the ingredients in a food processor fitted with the S-blade and pulse a few times, until the cashews are finely ground.

Distribute the mixture in an even layer on an ungreased baking sheet. Bake for 3-5 minutes, until the mixture darkens slightly. Remove from the oven and allow to cool.
Make the Fettuccine Kalefredo:
Heat the olive oil in a large saucepan over medium heat. Add the garlic and sauté for about 1 minute, until fragrant.

Add the kale and vegetable broth. Gently toss the kale a few times to coat with olive oil and broth. Cover and cook about 5 minutes, until kale is tender, uncovering and tossing again once or twice during cooking.

Remove the cover from the saucepan and add the cooked fettuccine, Alfredo sauce, salt and pepper. Quickly mix everything using a fork and cook about 1 more minute, just until everything is heated through.

Divide onto plates and top with cashew Parmesan, if using.
Notes
This is best eaten right away, as that's when the sauce is creamiest. If you wait a few minutes or have leftovers, add a few splashes of soy milk or almond milk to regain some of the creaminess.
Nutrition
Calories:
539
kcal
Carbohydrates:
64
g
Protein:
23
g
Fat:
24
g
Saturated Fat:
4
g
Polyunsaturated Fat:
5
g
Monounsaturated Fat:
13
g
Trans Fat:
1
g
Cholesterol:
48
mg
Sodium:
751
mg
Potassium:
1011
mg
Fiber:
4
g
Sugar:
4
g
Vitamin A:
11645
IU
Vitamin C:
144
mg
Calcium:
296
mg
Iron:
5
mg
Craving more veg-friendly recipes?
Shop our collection of vegetarian and vegan cookbooks, including our new Vegan Thanksgiving and Vegan Christmas cookbooks!