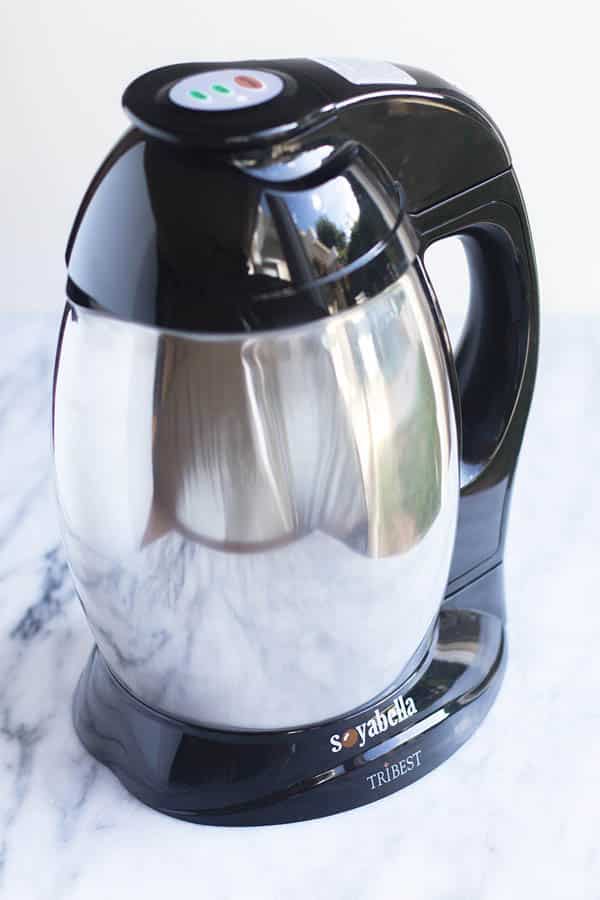 The Soyabella Automatic Soymilk & Nut Milk Maker from Tribest makes whipping up a batch of homemade nut milk or soy milk a cinch. Living in a home where we go through almond milk almost as fast as we drink water, I am constantly soaking and straining nut milk for us to drink.
 The Soyabella whipped up consistently creamy and delicious batches of almond milk with almonds that had been soaked for 4 hours in about 30 seconds. We also tested this machine with almonds that hadn't been soaked and the Soyabella still produced a deliciously smooth and creamy batch of almond milk. No need for nut milk bags or cheese cloth lined strainers - the Soyabella comes equipped with its own milk screen to make straining literally effortless and we didn't have to fumble around trying to clean the almond pulp out of the seams of the nut milk bag - just a simple wash and we were done.
The Soyabella also makes quick work out of the laborious task of making homemade soymilk. With the Soyabella you can skip having to remove the outer skins of the soy bean after soaking and again - there is no need to strain since the Soyabella does it for you and the Soyabella cooks the soy milk as well. Taking my normal prep/cook time for homemade soy milk from about 45 minutes to an easy 20 minutes total. The Soyabella also works for making fresh rice milk, rice paste, sesame paste and porridge. It can even be used as a coffee grinder and mill by using the accessories that come with it. You can also order a tofu kit to make your own tofu with it.
It's fast, easy and takes up about as much room on your kitchen counter as a tea kettle (a big bonus when when buying any kitchen gadget). The only con being that it can get a little loud when it is grinding the nuts and beans. Overall though, a great product and a must-have if your family goes through non-dairy milk as fast as ours.
how to buy soyabella
Order online at tribest.com or amazon.com.
Disclaimer: We received a samples from Tribest in order to try the Soyabella, but this had no influence on our opinion and this isn't a sponsored post.