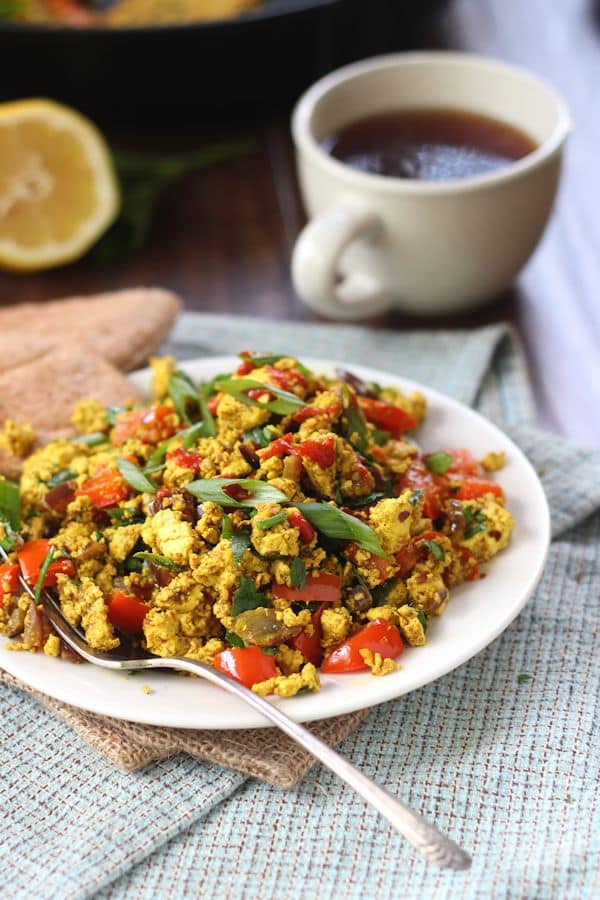 You know how in most households sweet breakfasts, like pancakes and waffles, are usually reserved for special occasions? Like, only on holidays or Sundays or when we have brunch guests will we break out the griddle or waffle iron. Well, I've found that in vegan households the opposite is true: savory breakfasts tend to be more unusual and challenging, so they end up being the choice for weekends and holidays and such.
My own home is kind of like that, even if not totally vegan. My husband eats eggs, but I do not. Our "typical" breakfasts usually involve stuff like toast, granola and occasionally pancakes. Savory breakfasts are not the norm, and Saturday morning tofu scrambles are something that we can spend the greater part of a week getting psyched up over.
Tofu scrambles, while simple in concept, are a bit more work than throwing a couple of eggs in a pan, but all that extra work is devoted to things that make it better, like chopping veggies and measuring out spices and seasonings. If anyone ever told you that tofu takes on the flavor of the ingredients it's cooked with, tofu scramble is the ultimate example of that truth. Lots of fresh ingredients and bold flavors are just the ticket to transforming a bland block of tofu into a mouthwatering, protein-packed vegan breakfast.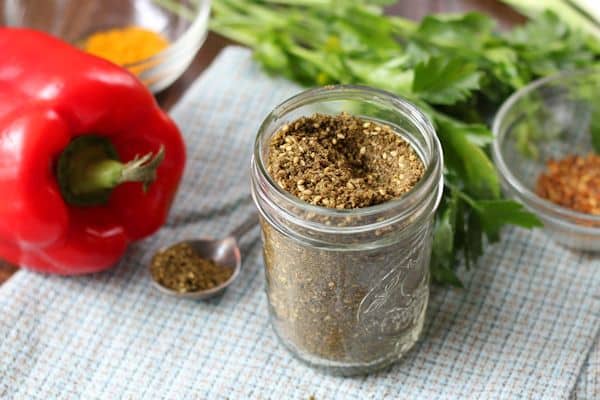 I usually go for southwestern flavors in my tofu scrambles, as I find a lot of people do. This time around I tried adding some Mediterranean flair instead, and loved the result. Za'atar, if you aren't familiar, is a Middle Eastern blend of savory spices, sesame seeds and pungent sumac. I'm a big fan of sprinkling it on veggies, hummus, flatbread, and to my recent discovery, tofu. I went and added some other Mediterranean-inspired flavors, including red pepper flakes, plenty of garlic, scallions and fresh parsley
Just like any other tofu scramble (or just like scrambled eggs if that's a better analogy for you), this can be eaten pretty much however you feel like it. I made a big batch and enjoyed it for several meals, on its own, topped with hot sauce, scooped up on toast and stuffed into a pita with hummus.
Recipe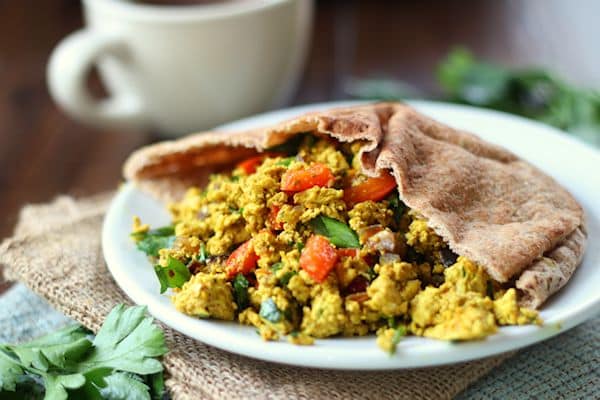 Ingredients
For the Mediterranean Tofu Scramble:
Instructions
Coat the bottom of a large skillet with olive oil and place it over medium heat. When the oil is hot, add the onion and sauté until softened, about 5 minutes. Add the garlic and cook 1 minute more.

Crumble the tofu into the skillet and add the bell pepper, soy sauce, lemon juice, za'atar and red pepper flakes. Continue to cook, flipping with a spatula, until bell pepper pieces are tender-crisp, about 5 minutes. Remove from heat and fold in the parsley and scallions.

Serve with toast, pita, hot sauce and/or hummus.
Nutrition
Calories:
215
kcal
Carbohydrates:
13
g
Protein:
14
g
Fat:
13
g
Saturated Fat:
2
g
Polyunsaturated Fat:
3
g
Monounsaturated Fat:
7
g
Sodium:
780
mg
Potassium:
493
mg
Fiber:
3
g
Sugar:
5
g
Vitamin A:
1894
IU
Vitamin C:
65
mg
Calcium:
105
mg
Iron:
5
mg
Craving more veg-friendly recipes?
Shop our collection of vegetarian and vegan cookbooks, including our new Vegan Thanksgiving and Vegan Christmas cookbooks!