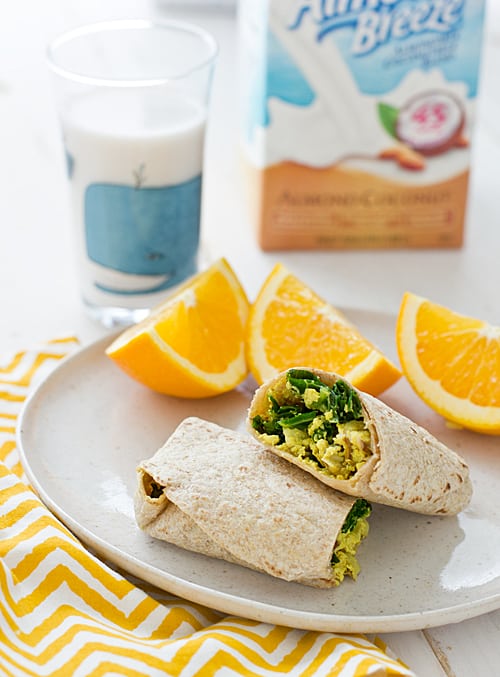 These Greens and Tofu Scramble Wraps are a quick vegan breakfast (or lunch or dinner). The recipe is easy to make in advance, freeze, and reheat later too.
Easy Recipes
It's always my goal to create recipes that aren't just tasty, but that are doable. For me, part of "doable" is ingredients that are readily available. This isn't just about you, it's also about me—I live in a smallish town and I don't want to be schlepping all over the place for ingredients either. But I was working on a tofu scramble for a while and it just wasn't coming together and I finally had to acknowledge the fact that I needed to go to Raleigh to get some nutritional yeast.
Nutritional yeast is a flaky little deactivated yeast that tastes like cheese. So it's great for vegan cooking. It's a good source of vitamins (some brands, like Bob's Red Mill, are fortified with Vitamin B12) and even contains some protein. If, like me, you can't find it at your local grocery store, you can buy nutritional yeast on Amazon.
Nutritional Yeast and Cats
But since I needed the nutritional yeast right away, I didn't order it online and went to Earth Fare, 40 minutes away, to get it. I got home and since I was going to use it the next day, I decided to leave it on the countertop, as I sometimes do. And then Chris woke up the next morning to find the bag of nutritional yeast on the stairs.
One of the cats stole my nutritional yeast.
Oh, but he (and I say he because I know it was Miso) didn't just steal it. No! He stole it, brought it over to the stairs, tore the bag open, and then peed on it.
He peed on my nutritional yeast! THE HORROR!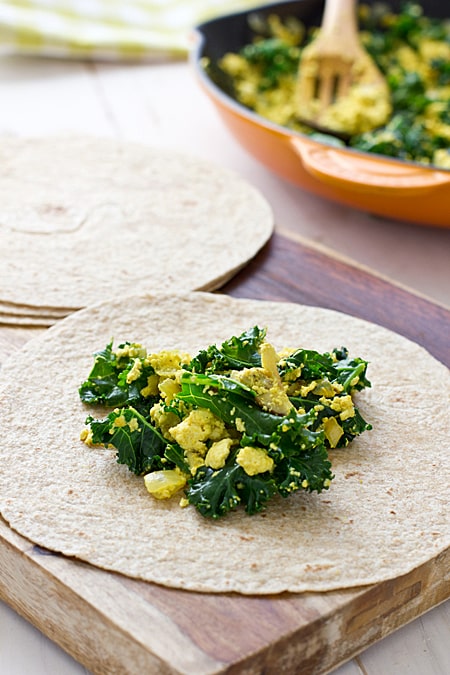 So the tofu scramble wraps had to be put on hold for another week. But this time when I got my nutritional yeast, I hid it well. And it was worth all the hassle and pee because the nutritional yeast was definitely what was missing from this recipe. Now if you don't want to buy nutritional yeast, you can always omit it and add cheese (vegan or otherwise) to these wraps instead.
And if you do buy nutritional yeast, make sure you hide it from your cats. Lesson learned.
Recipe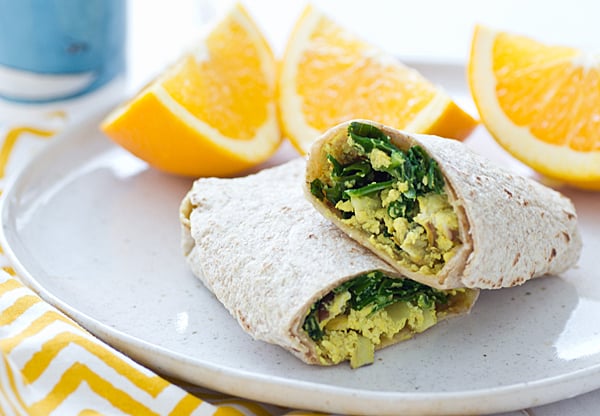 Instructions
Combine tofu, nutritional yeast, turmeric, and garlic powder in a large bowl. Set aside.

Heat olive oil in a large skillet over medium heat. Add onion; cook 5–6 minutes or until softened, stirring occasionally. Add mushrooms and cook 2 minutes more. Stir in greens and tofu. Continue to cook, stirring often, until greens have wilted, 2–5 minutes.

To freeze, wrap tightly in a layer of plastic wrap and place wraps in freezer bag. To reheat, remove plastic and loosely wrap in paper towel. Microwave for about 1 minute on each side. If center is still cold, continue to microwave for 15 seconds at a time until heated through.
Nutrition
Serving:
1
wrap
Calories:
247
kcal
Carbohydrates:
31
g
Protein:
13
g
Fat:
9
g
Saturated Fat:
2
g
Polyunsaturated Fat:
2
g
Monounsaturated Fat:
3
g
Sodium:
304
mg
Potassium:
288
mg
Fiber:
5
g
Sugar:
3
g
Vitamin A:
3347
IU
Vitamin C:
42
mg
Calcium:
220
mg
Iron:
3
mg
Craving more veg-friendly recipes?
Shop our collection of vegetarian and vegan cookbooks, including our new Vegan Thanksgiving and Vegan Christmas cookbooks!