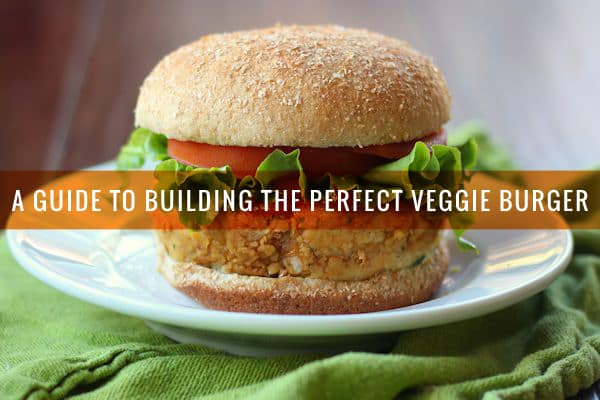 Veggie burgers are my go-to lazy weeknight meal. They're super easy, always delicious, and by customizing my burgers with different toppings, it's like having a totally new meal every veggie burger night.
In my younger years, veggie burger night meant throwing a couple of frozen patties on the skillet or (eek!) in the microwave. That was before I discovered the art of the DIY veggie burger, which is easily more delicious than anything from a supermarket freezer, way cheaper, and with a little advance planning, just as easy. The best part? I usually have everything on hand to make a delicious batch of homemade veggie burgers, which is due, at least in part, to the fact that I almost never follow a specific recipe. There's an actual formula to creating a perfect veggie burger, and you can master it pretty darn easily.
And yes, this means food bloggers have been holding out on you.
Getting Started
Like I said, I usually have the ingredients necessary to make a batch of homemade burgers on any given night, but it certainly helps to keep the types of ingredients I'll need in mind, namely, some type of cooked or canned legume, fillers like panko or quinoa, flax seeds and seasonings like onions, garlic and dried spices. See, you've probably already got those things on hand!
The other thing to keep in mind is equipment. While a food processor isn't necessary for crafting a veggie burger, it makes things a lot easier. It doesn't have to be fancy; almost any cheapie full-sized food processor is capable of mixing up a bunch of beans. A nonstick skillet is crucial if you're going to pan-fry your burgers, and I recommend a well-seasoned cast iron one. If you're baking your burgers, keep parchment in stock, as it really helps with sticking.
Make Your Veggie Burger Mix
If you've got a food processor, get it ready by fitting it with an S-blade. If not, grab a cutting board, knife, mixing bowl and fork or potato masher.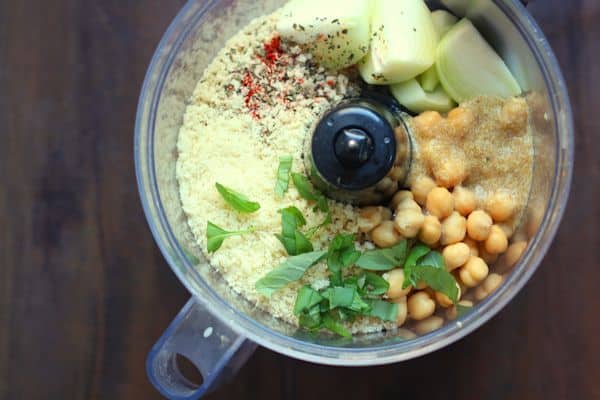 Add the following to your food processor or mixing bowl:
Beans
Just about any type of cooked legume will do. Chickpeas and black beans are two of my favorites, and they're both super easy to work with. Other good choices are kidney beans, lentils and black-eyed peas. Whatever you go with, make sure your beans are fully cooked, or from a can and rinsed well. You'll need a 14 ounce can or 1 ¾ cup.
Filling
I call this category of ingredient "filling" because it fills up some space so your burgers don't get overly dense from the beans. (Beans are dense!) The filling also functions to suck up some of the moisture that gets released when your beans are broken up, so your burger mixture doesn't end up overly soft and mushy. Panko, regular breadcrumbs or oats are the easiest to work with, and you'll need about a cup. Cooked quinoa makes a great filler as well, but because it isn't very absorbent, you'll need to add just a bit of another type of filling or some type of flour to pull moisture. I like chickpea flour, but rice flour and oat flour are also good choices. Start with 1 cup of quinoa plus a quarter cup of flour.
Binder
The binder is your sticky ingredient that helps your burger patties hold together. Since we're working without a recipe, you'll want to safely taste test, so a flax egg is your best bet. Whisk together one tablespoon of ground flax seeds and three tablespoons of water. Let it sit for a few minutes and it will take on a gelly, egg-like consistency. If you're not concerned with keeping your burgers vegan you can use a chicken egg, but you won't be able to taste test, so I'd suggest sticking with flax until you've got your recipe down.
Flavorings
Now the fun part. This is all about how you want your burgers to taste. There are a few categories of flavor ingredients; some are optional, some aren't.
Alliums
Throwing in at least one allium vegetable is optional, but highly recommended. Onions, garlic, shallots and scallions all fall into this category. One small onion and two garlic cloves is a good place to start. If you're using a food processor you'll want to quarter your onions so they fit nicely, and mince the garlic to ensure it gets fully incorporated into the mixture. If you're going with a mixing bowl, simply chop and add.
Dried Spices
Dried spices are what I rely on for creating a distinctively flavored veggie burger. I've always got them on hand, and they store well. If you don't know where to start with dried spices, simply scope out your supermarket's spice aisle and grab a blend. Cajun, Mexican, Jamaican jerk, curry and Italian seasoning blends are all readily available and work great in a burger. Consider what type of bean you're using when picking a blend. Mexican spices might work particularly well with black beans, while Italian seasonings might taste good with white cannellini beans. Start by adding about a teaspoon to the mix.
Fresh Herbs
Fresh herbs are by no means necessary, but they will add a nice flavor punch to your burgers. Again, use herbs that pair well with your other ingredients. Fresh cilantro goes great with Mexican and curry flavors, while basil or parsley might work best with Italian. You can use most fresh herbs generously without them becoming overpowering, so starting with quarter cup of loosely packed leaves should be just fine.
Sauces
Sauces are totally optional, and as always, if you do use one, make sure the variety you pick works with your other flavorings. I tend to take the viewpoint that hot sauce works with everything and always makes things better, but maybe that's just me. Soy sauce adds some savory flavor and saltiness (keep this in mind when adding salt), and curry paste works great for adding some exotic Thai flavor. Start with about a tablespoon of whatever you select.
Acidic Ingredients
A little tartness may already be present in your burgers, depending on what other flavorings you've added. If not, throw in a tablespoon or two of something sour. Lemon juice is a good all-purpose souring agent, but lime juice and vinegars are great too.
Salt
Don't forget the salt! Salt is a flavor enhancer, so without it your burgers are likely to be bland, even if you load up on the spices.
Other Ingredients
If you're a homemade veggie burger noob, I'd say stop here, until you get a feel for the process and ingredients. Once you're comfortable, feel free to experiment a bit with adding fresh veggies, grains and vegetarian proteins like tempeh and tofu. Once you really get rolling you can even experiment with using some of these ingredients in place of beans.
Blend
If you're using a food processor, pulse until everything is well chopped and mixed, stopping here and there to scrape down the sides of the bowl. Whatever you do, don't blend on full power continuously, or you'll end up with burger dip!
If you're using a mixing bowl, hit everything with a potato masher until the beans are nicely broken up, but not totally mashed. Then dig in with a spoon or your hands and mix it up.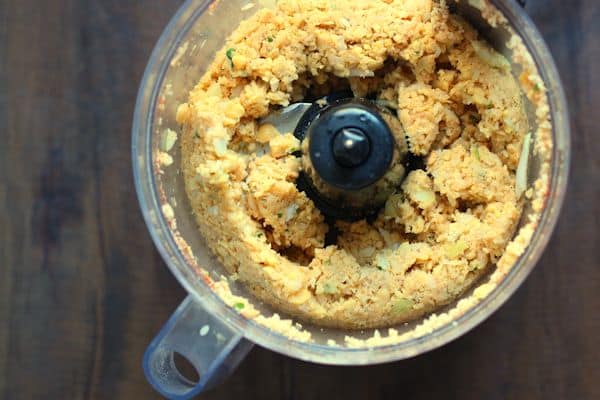 Test and Adjust
Give the mixture a visual, taste and feel inspection, so you can make any adjustments before cooking.
Too dry? Add a few splashes of water or milk.
Too moist? Add some more filler, namely, panko, oats or flour.
Too crumbly or doesn't hold together well enough to shape into patties? Add another flax egg.
The mixture should taste good. While ingredients like onions and garlic might be a bit stronger before cooking, whatever the mixture tastes like is essentially what your burgers will taste like, so you want to make any needed adjustments in this department now as well.
Too bland? Add some more seasonings, like dried herbs, fresh herbs and sauces. If you can taste those ingredients pretty well but something still isn't quite right, you probably need a bit of acid. Throw in a teaspoon at a time until the flavor is balanced. If the mixture is plenty sour but still needs a little something, try a bit more salt.
Are the flavors too strong? Add some more beans. Go with a quarter cup at a time until you hit a nice balance.
Cook
Shape your mixture into patties and cook it up. You should get anywhere from four to six patties from the batch size we've been working with.
My preferred method of cooking is pan-frying. Coat your nonstick skillet with a bit of oil, place it over medium heat and cook the burgers until nicely browned on both sides. I like to use a spatula to pull in the sides a bit and shape the burger during cooking.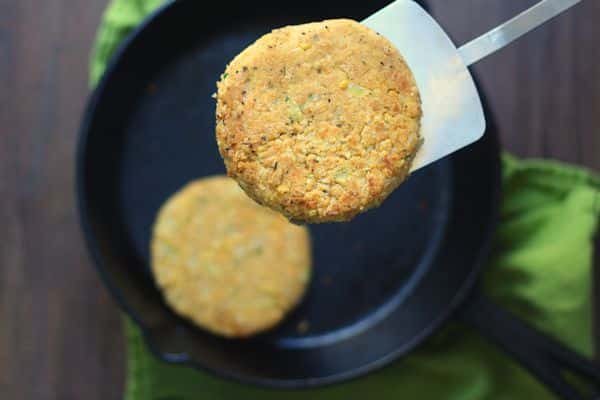 Baking will yield a firmer burger. Place your patties on a parchment lined baking sheet and bake at 400 °F for about 30 minutes, flipping halfway through. The tops should be lightly browned and a bit crusty when done. For a little extra crispness, brush your patties lightly with oil before baking.
Grilling, while doable, is tricky, so I usually try to avoid it. Veggie burger patties tend to be quite a bit more delicate than conventional burgers, so you run the risk of having your ultimate veggie burger that you worked so hard on falling apart and crumbling through the grate. If you're totally fixated on getting your burger on the grill, bake it in advance to firm it up and lay down some lightly oiled foil to help support it.
Serve
Stuff it in a bun and pile on the toppings. I know, you've got this part.
Tempeh Burger How-To Video
Want to see how to make a fabulous savory tempeh burger? This video from Kin Eats has the step-by-step instructions:
[uliveplayersingle id="3b6b3351-b8a6-43dd-ab9f-6bdaf069e647"]