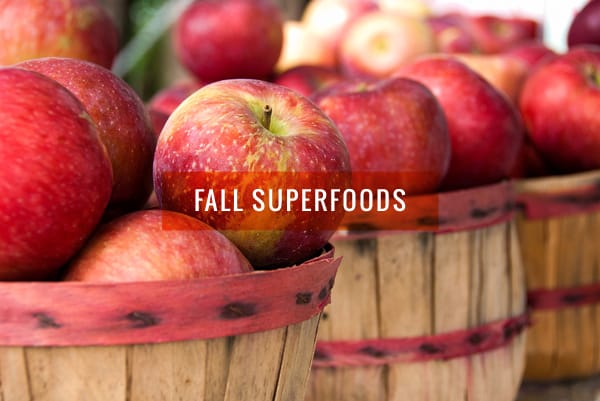 Autumn is here and with it comes some of the best produce of the year. Never mind about goji berries and maca root, these five fall favorites are superfoods in their own right!
Sweet Potatoes
Orange fleshed sweet potatoes are incredibly rich in beta-carotene, a precursor to the all important vitamin A (we need this so we can see). In fact, some studies have shown that sweet potatoes contain even more bioavailable (easily used by our bodies) beta-carotene than most leafy green vegetables.
Sweet potatoes also contain storage proteins called sporamins, which have unique antioxidant properties. Also valuable for their anti-inflammatory benefits and blood sugar regulation, sweet potatoes are loaded with fiber, which helps steady the pace of digestion and regulate glucose uptake in our bloodstreams. Sweet potatoes are a great source of vitamin C, manganese, vitamin B6, potassium, dietary fiber, niacin, vitamin B1, vitamin B2, and phosphorus complex carbohydrates.
Apples
They say an apple a day keeps the doctor away. One thing for is for sure; they're definitely good for our hearts, with well-documented cardiovascular benefits. This is due to the very high pectin content in apples, a water-soluble fiber, as well as the polyphenol mixture in most apples. Due to this heart-healthy combination, both total cholesterol and LDL (bad) cholesterol are decreased through regular consumption of apples.
Another health benefit of apple consumption is blood sugar regulation. This occurs in a number of ways, including reduction of glucose absorption, slowing down of carbohydrate digestion, stimulating the pancreas to produce more insulin, and stimulating insulin receptors so that more sugar flows out of our bloodstream and into our cells.
Apples may have anti-cancer benefits when it comes to breast, colon, and lung cancer. Apples are a good source of dietary fiber (both soluble in the form of pectin, and insoluble), and vitamin C. The nutrients in apples are concentrated skin, so buy organic when possible, give them a good wash, and keep the skin on when you eat 'em!
Winter Squash
Pumpkin, butternut, acorn, spaghetti, delicata and other yellow-fleshed winter squashed are jam packed full of nutrients! And they're far from being just starchy vegetables. Carotenes, the compound responsible for their colour, is a pre-cursor to vitamin A – remember, important for our vision!
Winter squash is also one of the richest available sources of plant based anti-inflammatory nutrients such as omega-3 fatty acids, which are important for a strong immune system. But in addition to that, winter squash are host to several important antioxidants such as carotenoids, vitamin C, and manganese. Add to that a good dose of blood-sugar regulating dietary fiber, vitamin B6, B2, copper, potassium, folate, vitamin K, magnesium, and niacin. Phew!
But we're not done there! Don't throw away those edible seeds you scooped out from the center. They're a great source of healthy oils and fats including linoleic acid, a polyunsaturated omega-6 fatty acid, and oleic acid, which is the same monounsaturated fatty acid found in olive oil.
Pears
Apples aren't the only tree-fruit ripening at this time of year. Pears, a member of the rose family, are a concentrated source of phenolic phytonutrients, flavanols, anthocyanins (in red-skinned pears), and carotenoids, including beta-carotene and lutein.
Sometimes what's on the outside does matter – the skin of pears contains at least three times as many phytonutrients as the flesh, including antioxidants and anti-inflammatory flavonoids. The skin of the pear may also contain up to half of the pear's total dietary fiber! Why is that a big deal? Eating foods rich in dietary fiber is a well-established factor in reducing our risk of both type 2 diabetes and heart disease, and when it comes to pears, this benefit may be even stronger due to the harmonious combination of soluble and insoluble fiber in this seasonal fruit.
Pears are also a good source of copper, vitamin C, and vitamin K.
Cranberries
Cranberries, also called "bounceberries," (because ripe ones bounce – try it!) are at their peak from October through December. Tart cousins to blueberries, cranberries provides outstanding assortment of phytonutrients. Among them are phenolic acids, anthocyanins, and flavonoids. Many cranberry phytonutrients offer antioxidant, anti-inflammatory, and anti-cancer health benefits.
Cranberries have long been used to help prevent urinary tract infections. The acidity of cranberries was thought to be what was so protective against UTIs, but we now know that it is the proanthocyanidin content. This phytonutrient has a structure that makes it difficult for certain types of bacteria to latch on to our urinary tract linings, as well as the lining of our digestive tracts.
But their protective benefits don't stop there! Cranberries provide important anti-inflammatory benefits for the cardiovascular system thanks to their complement of phytonutrients. Eating fresh cranberries has also been shown to reduce inflammation in the stomach and large intestine.
Last but not least, cranberries are a great source of vitamin C, dietary fiber, and manganese, as well as a good source of vitamin E, and vitamin K.
Apple photo via Shutterstock