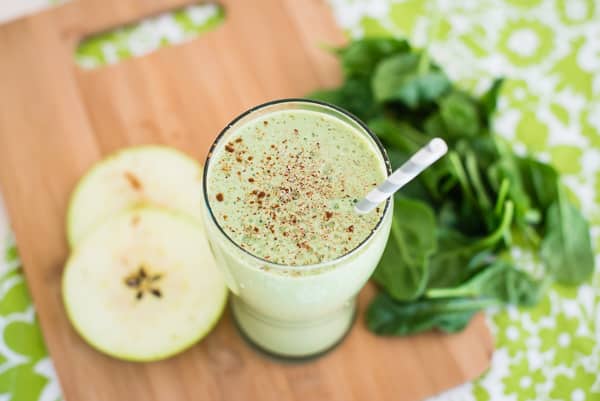 Smoothies are a great way to pack fruit and vegetables into your diet, and a perfect quick fix for busy mornings. Here are 10 perfect smoothie hacks to simplify your morning routine and make it even easier to get nourishing smoothies into your life.
1. Prep in advance
If you set aside a day each week for meal prep, add smoothies to your list. You can wash, chop, and sort ingredients for a week (or month!) worth of smoothies and portion them into freezer bags for individual servings. Label each bag with the type of smoothie it will make, and indicate the liquid that should be added to each batch. Then, when it comes time to make your smoothie, simply pull a bag out of the freezer, pop the ingredients into the blender, add the liquid, and blend! Two-minute morning smoothies are a breeze this way!
2. Stockpile bananas
Every Friday before I leave work, I scoop up any neglected bananas from the office fruit bowl and bring them home. I usually leave them out for a few days to get a nice brown speckle going, then I peel them and toss them into a large freezer bag to be used for baking and smoothies throughout the week. If they're already peeled then when it comes to smoothie time all you need to do is grab a frozen banana, break it into chunks with your hands, and add it and whatever other ingredients you choose into your blender. A thick, creamy smoothie is never more than a few minutes away! Not into banana? You can also freeze ripe avocado chunks in a single layer, then toss them into a freezer bag once they're frozen solid.
3. Frozen greens!
I used to go through bags and bags of baby spinach in my green smoothies before I figured out I could use frozen spinach for a fraction of the price. Look for bags with cubes of frozen spinach or kale – not the blocks of frozen spinach - and simply toss a small handful into the blender (or into each smoothie pack). Not only is this a great money saving tip, but if, like me, you live somewhere where local greens aren't available year round, this is a great way to source them locally throughout the winter. You can also freeze your own greens while they're abundant and portion them for individual servings.
4. Use a mason jar
Taking your smoothie to go? Blend it right into a mason jar! Although I've read that small-mouth mason jars will screw onto most blender bases, turning a loaded mason jar upside down with out the ingredients spilling out is not a ninja-move I've yet mastered. Instead, when I'm blending to go I use my immersion blender. The wand fits perfectly into most mason jars, so I blend right in the jar, screw the lid on, and head out the door. A perfect grab-n-go smoothie with minimal cleanup!
5. Protein power
Liquid meals clear the stomach four times faster than solid foods, so if you're looking for a smoothie with some staying power, boost the protein content. Protein powder, nut butters, seeds, Greek yogurt, tofu, and beans are all great add-ins to pump up the protein content in your smoothie. Also try adding oats, either cooked, soaked, or blitzed into a powder before you blend. They add a bit of protein, thickness, and complex carbohydrates that really stick to your ribs.
6. Freeze your liquids
If you like thick icy cold smoothies but don't want them watered down with ice cubes, freeze your liquid of choice in ice cube trays instead. You can pop the frozen cubes into a freezer bag so you've got an assortment of frozen liquids to blend in at any time. You can freeze any milk (dairy, almond, soy, coconut), coffee, yoghurt, coconut water, or whatever else you like to blend into your smoothies.
7. Fill up the night before
If you know your morning is going to be frantic, load your blender the night before. Simply pop the blender jar in the fridge fully loaded, and in the morning pull it out, blend, and you're good to go. Quick and easy smoothies in a flash!
8. Blend and freeze
Did you know you can freeze your smoothies? Of course you can! There are a few different strategies you can use here. First, you could blend up a week's worth of smoothies, portion them into mason jars with lids, and pop them into the freezer – just be sure to leave some space at the top of each jar for the liquid to expand into. You can also blend up a big batch of smoothie and pour it into muffin cups to freeze in smoothie pucks. These can be tossed into a blender to break up, or into a to-go jar to thaw. Lastly, you can freeze smoothie mix into popsicles for a quick (and fun!) breakfast.
Layer your liquids
Did you know there's a correct way to layer your smoothie ingredients into your blender? I discovered I'd been doing it wrong for years, but now that I've seen the light I'll never go back! Always start with about half of your liquid at the bottom of the blender. Then add your soft ingredients (greens, fruits, etc), followed by harder ingredients (anything frozen, nuts and seeds, etc), and finish with the other half of your liquid. Layering in this way allows your blender to work most efficiently, so not only will your smoothie be done faster, but it'll extend the life of your blender.
10. Blend to clean
To make cleanup a cinch, simply give your blender a quick rinse, then add a little bit of warm water and a couple of drops of soap. Blend on high speed for about 30 seconds, then stop, drain, and rinse. Poof! Your cleanup is done!
Ready to blend? Check out these 8 tips for making your smoothie extra fabulous.
[ulive type='ctp' id='53244e89-9884-4739-92c3-5ac5fe2a6d2d']