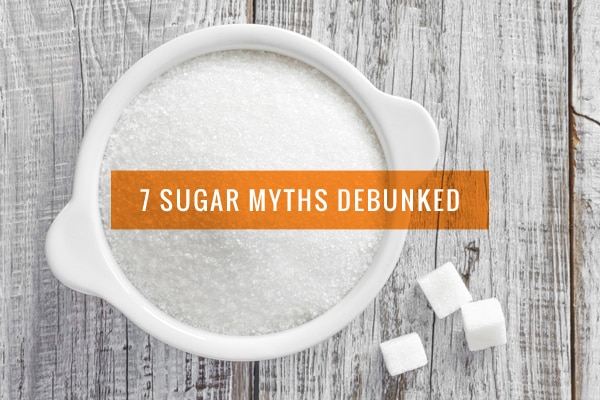 Sugar image via Shutterstock
In the '80s and '90s, fat was the enemy, and we were eating Snackwell's cookies by the box. Now the pendulum has swung and sugar is the devil, while we're eating coconut oil by the spoonful. Have we lost our minds, or are we on to the next big thing?
Sugar has been blamed as the cause of everything from obesity to cancer and many things in between. The fact is there's nothing inherently wrong with sugar; our brains and nervous systems rely almost entirely on sugar for energy.
But let's hold up for a second: Not all sugar is created equal, and the term "too much of a good thing" definitely applies in this case. When I say there's nothing inherently wrong with sugar, I'm not giving you a pass to eat Mars bars for dinner!
This is a confusing topic, so lets start with the basics. Sugar is a molecule comprised of carbon, hydrogen and oxygen. Like all compounds made from CHO, sugar is a carbohydrate. Carbohydrates are macromolecules that can be simple (such as table sugar) or complex (such as starch). All carbohydrates, whether from a peach or a Pop-Tart, are broken down into sugar in the gut to supply the body with energy. In chemistry terms, most sugars end with the letters "-ose," such as sucrose, fructose or lactose.
The problem with sugar is that these days it's added to everything from fruit juice to pasta sauce. To try and help better understand this very complicated subject, I've debunked some popular sugar myths below.
1. Sugar causes hyperactivity
This is a popular myth, and how timely with Halloween just around the corner. Sugar has been studied extensively in relation to hyperactivity, and this myth has been solidly disproven.
The thing is, people often consume sugar at celebrations or events where they're stimulated by a lot of other things going on, so they're actually just excited, not high on sugar. This belief is a hard one to shake, but it could all come down to a mind game. In one study parents who were told their children had consumed sugar were more likely to classify the child's behavior as hyper or problematic (it turned out none of the children in this study had been given sugar).
2. Sugar causes diabetes
This probably one of the biggest nutrition myths there is. Here's what's what: If you have diabetes, either Type 1 or 2, you definitely need to watch your sugar and carbohydrate intake in order to manage blood sugar levels. However, if you don't have diabetes, sugar intake alone won't cause you to develop it. The main risk factors for Type 2 diabetes are being overweight or obese, an inactive lifestyle, and a diet high in overall calories from any source.
3. Brown sugar is healthier than white sugar
The idea that brown and white sugar have big differences is another common nutrition myth. Brown sugar is actually just white sugar with molasses added back into it. It does contain very tiny amounts of some minerals due to the molasses content, but unless you eat a massive amount of brown sugar every day (please don't), the nutritional difference between brown sugar and white sugar is a moot point.
Note that raw or unrefined sugars, which can be brown in color, are not the same as the brown sugar you find in the baking aisle of your grocery store. Which leads me to…
4. 'Natural' sugar is healthier than refined sugar
Coconut sugar, date sugar, agave nectar and other natural sugars are touted as healthier and more nutritious alternatives to refined sugar.
Real talk: Sugar is still sugar. Regardless of the fact that it is less refined, it still contains around the same calories as white sugar and is metabolized in the same way. These natural sugars do contain some minerals, but you'd have to eat a LOT of the sugar in order to reap any nutritional benefits… which kind of defeats the purpose of using a natural sugar, no?
The bottom line is that desserts made with natural sugars are still desserts and should be consumed in moderation.
5. Sugar-free is healthier
This really depends. Are we talking sugar-free because this item has actually been made without sugar? Then yes. But if we're talking sugar-free because an artificial sweetener as been used instead of sugar, then hold up.
There seems to be a new study published on artificial sweeteners published practically ever other week linking everything from disrupted gut bacteria to weight gain and diabetes to consumption of these sweeteners.
This is a big area of nutrition research and one I know well. As many of the physiological reactions to sweeteners begin with taste receptors in the mouth, even 'natural' no or low-calorie sweeteners like stevia and xylitol are outside of my comfort zone. The reality is there is no magic bullet, and if it seems too good to be true, it probably is. You have to decide what's best for you, but my advice would be consume the real thing less often rather than reaching for an artificial or low-calorie sweetener.
6. There's no sugar in this product
Just because it says so doesn't mean there isn't sugar added, and labelling laws can make it tricky to identify if that's the case. Just last week I picked up a box of granola that said "no added sugars!" on the front only to list oligofructose in the list of ingredients. (Remember, "ose" = sugar.)
Sugar has a plethora of disguises used on food labels, such as dextrose, fructose, fruit juice concentrates, glucose, invert sugar, maltose, corn sweetener, corn syrup, high-fructose corn syrup, lactose, raw sugar, sucrose, sugar syrup, cane crystals, cane sugar, crystalline fructose, evaporated cane juice, corn syrup solids, and malt syrup.
That's a lot of words for essentially the same thing! Learn your sugar synonyms and don't let the labels fool you.
7. Avoid eating too much fruit
Fruit contains carbohydrates, mainly in the form of the naturally occurring sugar, fructose. Vegetables also contain carbohydrates, but typically much less than fruits, and therefore they contain fewer calories.
The idea that fruit is loaded with sugar needs to be put into perspective. Yes, there is sugar in fruit, but it's not like it's a sack of empty calories.
That naturally occurring fructose is coupled with fiber, vitamins, antioxidants and anti-inflammatory compounds that help guard against disease. The soluble fiber in fruit helps lower cholesterol; the insoluble fiber helps moderate the absorption of sugar into the blood stream, stabilize blood sugar and keep you satiated.
The bottom line:
Rather than demonize an ingredient, we need to focus on the food as a whole.
Learn to read nutrition labels and stay away from unnecessary added sugars, and keep consumption of the refined stuff to a minimum. Try to limit your sugar consumption to sugar you actually know about—like a batch of homemade cookies or a slice of birthday cake—and eat it mindfully. And enjoy it! Life deserves to be a little bit sweet from time to time.