When selecting recipes for our meal plans, we opt for those that keep prep and cooking time to a minimum. Weeknights are tight, we know (oh how we know)! With the help of the slow cooker, a little ahead-of-time prep and a handful of key convenience foods, this week's menu features some particularly easy recipes that will have you and your family fed and the kitchen spic-and-span before you know it.
Here's this week's meatless meal plan:
Monday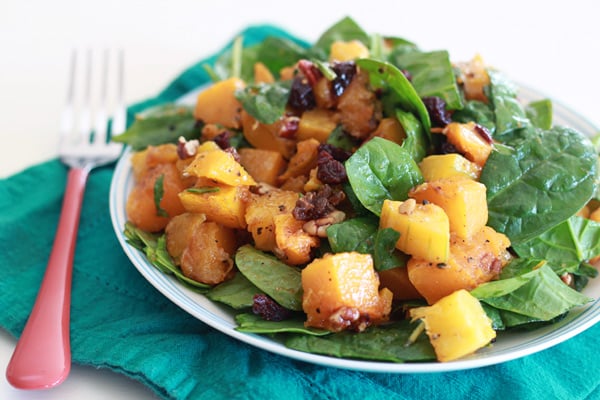 Warm Roasted Butternut Squash Salad from Minimalist Baker // This simple yet hearty salad couldn't be more perfect for fall - or a Monday, for that matter.
Tuesday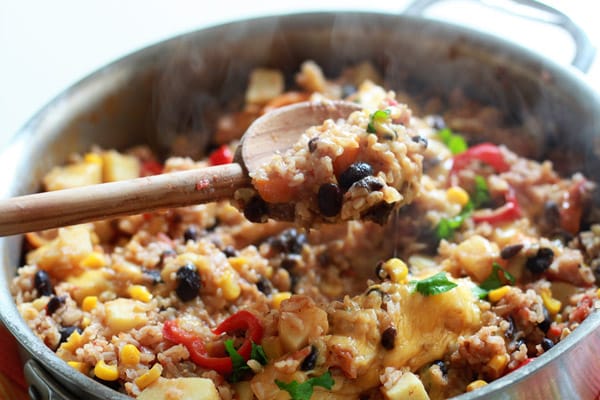 One-Skillet Sweet Potato Burrito Bowls from Chelsea's Messy Apron // Tender rice, black beans and sweet potatoes cook up in a single skillet. It's plenty delicious without the cheese, but with that melty layer on top? Mmmm.
Wednesday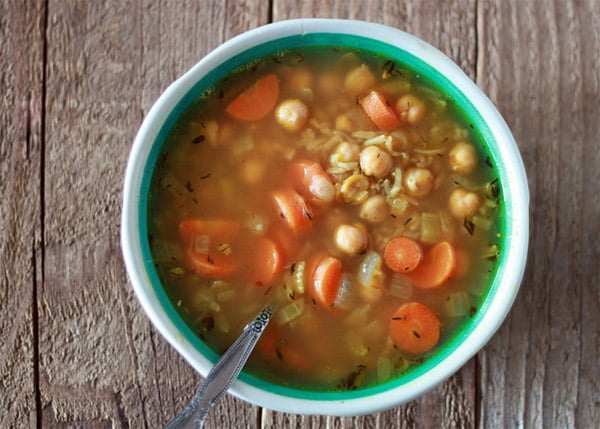 Chickpea & Rice Soup from Kitchen Treaty // This comforting meatless take on chicken and rice soup is easy, tasty, and, if you happen to be trying to kick a case of the sniffles, it's a bit of an elixir too. We usually supplement with some crusty bread and/or a green salad.
Thursday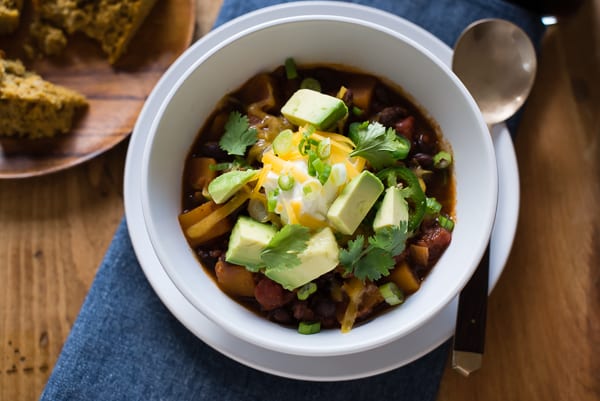 Slow Cooker Butternut Squash Chili with Porter // Beer and chili: BFFs. This simple and smoky fall chili brews up in the slow cooker all day for minimal weeknight work.
Friday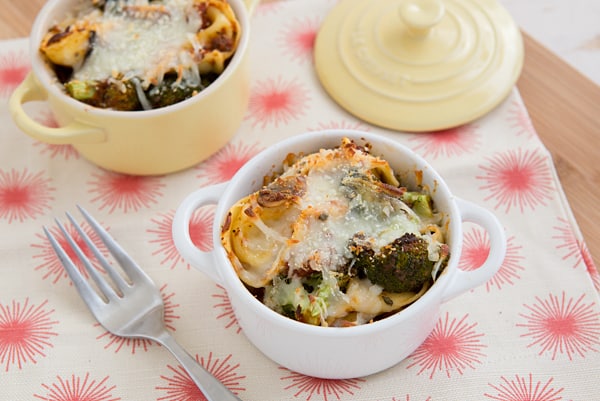 Cheese Tortellini Bake with Roasted Broccoli // Hello Friday! I can't think of a better way to usher in the weekend than with this easy cheesy pasta bake.
Tips for This Week's Plan
The butternut squash salad doesn't call for a specific amount, so I assume 4-ish cups, which is just about equivalent to a 2-pound squash. If you buy one large squash, you can cut up all your butternut squash now and then refrigerate half of it for Thursday's chili.
Another salad note: the balsamic vinegar is optional, so if you don't have any on hand and you don't use it much, you might consider going without.
For the burrito bowls, if you prefer brown rice over white, Chelsea recommends you cook the rice ahead of time instead of incorporating it into the skillet. I did this and reduced the broth by half, and it was terrific. Plus, if you make one big batch of rice now, you'll have enough for the Chickpea & Rice Soup!
If mornings are a little too tight to prep Thursday's chili, consider assembling the night before. If your slow cooker has a removable crock, just plop all the ingredients in, seal and refrigerate. Then it's easy to just transfer the crock from fridge to cooker where it can simmer all day.
Check the optional toppings for the burrito bowls and the chili and add what you'd like to your shopping list.
The broccoli is for Friday's recipe, so if you do your shopping on the weekend, make sure to pick healthy-looking broccoli that will last that long.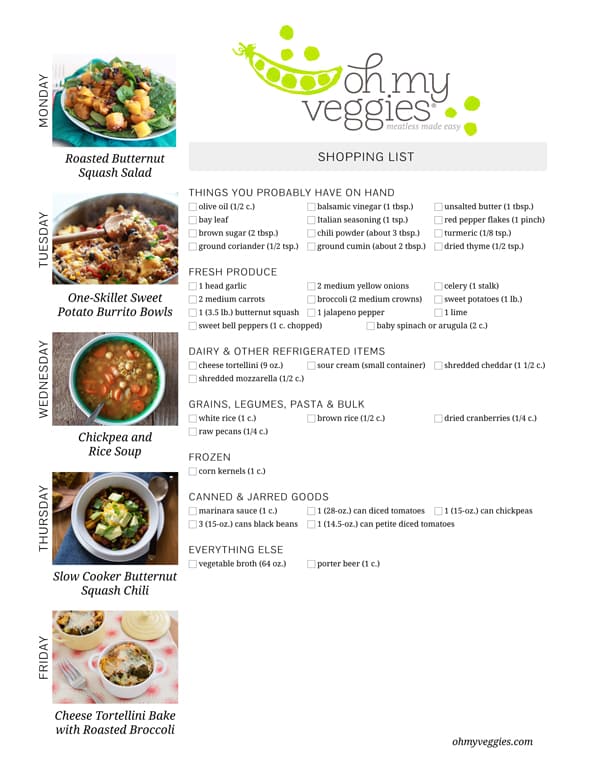 Click here for a printable version of this week's meatless meal plan and shopping list, then click on the links above to print out each recipe. Now you're set for the week!
Find more dinner ideas from our Meatless Meal Plan archives.