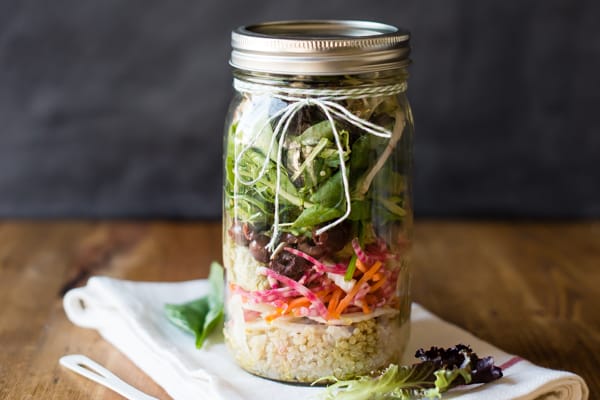 Summertime brings with it warm weather, long days, and usually, a fair amount of travel. Whether you're off on an epic road trip or hitting the skies for a far away vacation, it can be tough to eat well while traveling. Of course part of the fun of going new places can be indulging in local treats – after all, what's a trip to Italy without a healthy amount of pizza and gelato? But so often we can find ourselves succumbing to junky convenience foods when on the go, and if you're on a long trip they can leave you feeling pretty weighed down and lethargic. But road trip foods don't have to be junk and mile-high meals don't have to be bland! Here are some of our favorite tips for eating well while on the go this summer:
BYO
It goes without saying that the most reliable way to eat well on the go is to bring your own food. Whether you're traveling by car and have a big cooler to fill up with healthy snacks, or you're flying economy and can only bring what will pass through airport security, a little advance planning can go a long way.
Most wraps and many sandwiches travel well, depending on what sort of fillings you use. If you don't have access to refrigeration and are going on a longer trip, consider shelf-stable ingredients like peanut butter that will keep at room temperature. Legume-based ingredients such as hummus tend to do well at room temperature for several hours, as do hard cheeses and sturdy vegetables like carrots, red peppers, and cucumbers. Soft cheeses and produce such as tomatoes won't last nearly as long and tend to make your bread or wrap a bit soggy, so pass on those if you're on a long trip.
Mason jar salads are a great way to take a healthy meal on the go, and since they're layered up with the dressing at the bottom of the jar, not only will more delicate ingredients like your salad greens remain intact, but you also don't have to worry about how to get your jar of dressing through airport security. Another fuss-free way for traveling with salads is to skip the jar or container and bake salad rolls using rice paper wrappers, collard greens, or even sheets of sushi nori. Any sauce you might use gets slicked right in the wrapper so you don't need to think about carrying an extra jar, and they're easy to eat while on the move.
Whole grain muffins and bars make for great snacks on the go, and will usually last a few days so even if you're going on a longer road trip you can bring your own. Also consider home-made energy bars or date balls, which will last longer in an air-tight container, and are so much better than grabbing for store-bought bars.
Hydrate, hydrate, hydrate.
Whether you're in the air or on the road, you gotta stay hydrated! It's hot out there in the summer months, so be sure to take bottles of water (fill up your own!) if you're on the road. Remember that flying is quite dehydrating due to the dry air on board, so it's especially important to either fill up a bottle once you've passed through security, or buy a couple of bottles before you board your flight - because they never give you enough on board! They say that one drink in the air is the same as three on the ground, so as tempting as it can be to load up on those cute little single serves of booze, it's best to stick to water.
Protein and produce
As great as it would be to always pack your own food, there are times when it's not convenient or possible to do so. A great healthy eating strategy is to seek out a combination of protein and produce, as it tends to be satiating and keep your blood sugar stable. It's easy enough to load up on apples, carrot sticks, dried fruit, and nuts, all of which travel well. If you're not going to be able to wash your produce, stick with things you can peel such as oranges and bananas.
This is also a good strategy when buying pre-made meals to go or eating in those ubiquitous airport restaurants. Load up on veggies and proteins when you can, avoid excessively salty foods that'll only dehydrate you more, and skip the dressings and greasy sides.
Have fun!
But most importantly, remember to relax and enjoy! Food is always a special part of the travel experience when you get to your destination.