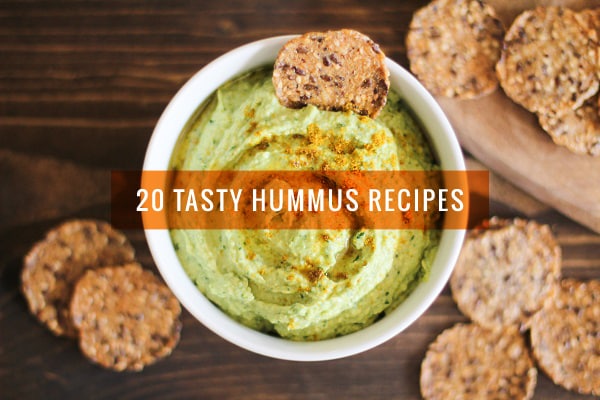 In Arabic, the word "hummus" translates to "chickpea," which, you know, makes sense. And darnit if I don't love a good chickpea (or several - especially in hummus). Classic hummus is made with chickpeas, tahini, lemon, garlic, and salt, and it's pretty extraordinary just like that. But did you know you can add all kinds of things to hummus to vary things up a bit? Or you can replace the chickpeas with other foodstuffs altogether? It's possible. Hummus is your oyster. Or the world is your hummus. Either way, these 20 creative hummus recipes prove that the word "hummus" also translates to another word: "delicious." It's a fact.
Roasted Cauliflower Hummus
Cauliflower is so good in so many things - including this hummus! This version replaces chickpeas with roasted cauli for a lighter - but still plenty tasty - spread.
Green Lentil Hummus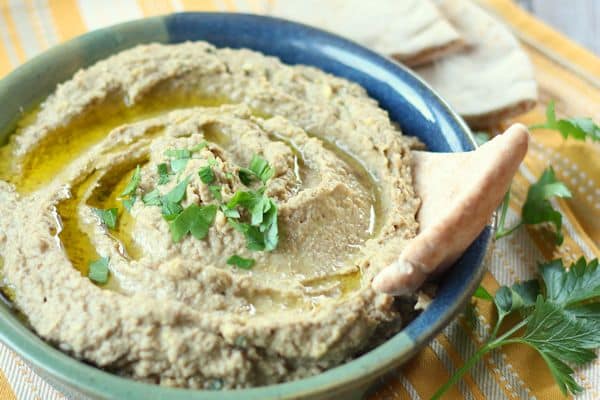 Using green lentils gives this spread a savory, earthy flavor. I always find I have a hard time describing the taste of legumes, but trust me, make this and you'll pick up on the lentily flavor in there. I
Smoky Red Pepper Hummus
Roasted red peppers and smoked paprika add sass to classic hummus in this recipe from An Edible Mosaic. Bonus: it comes together in a flash!
Basil Pesto Hummus with Toasted Pine Nuts
Two great dips go great together. In this case, The Lemon Bowl combines pesto and hummus for an attractive and addicting dip.
Pumpkin Hummus
If you have leftover pumpkin puree on hand this fall, whip up a batch of this savory pumpkin hummus from The View From Great Island!
Better-Than-Trader-Joe's Edamame Hummus
Who needs chickpeas? This hummus is made with edamame, fresh herbs, and lemon juice, and makes the perfect sandwich spread aside from being a delicious dip.
Sprouted Saffron-Basil Hummus
Raw chickpea sprouts make this colorful hummus from Can Caramelo a nutritional powerhouse.
Thai Coconut Curry Hummus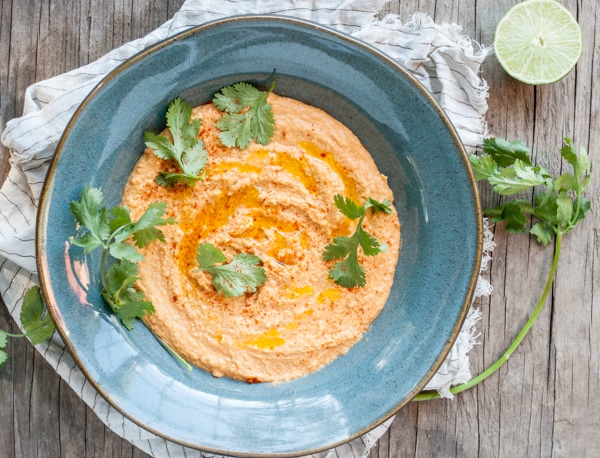 A creamy homemade hummus bursting with sweet and spicy Thai flavors. We've had this dip with plenty of crackers and raw vegetables, but I think my favorite way to enjoy this is to spread it on a thick slice of toast and top it with shredded coconut, raisins and plenty of minced cilantro.
Jalapeño Lime Hummus
Here's another hummus recipe that doesn't need tahini. Food, Faith, Fitness brings us this kicky version spiced up with jalapeño peppers. Olé!
Roasted Beet Hummus
Think pink! Beets transform hummus's boring beige to a shocking magenta in this garden-fresh hummus from Kitchen Treaty.
Slow-Roasted Tomato & Basil Hummus
Cherry tomatoes - slow-roasted to flavor-peaked perfection - join up with fresh basil for a tasty dip or sandwich spread.
Hot Wings Hummus
The perfect marriage of buffalo sauce + healthy! Diethood brings us this hummus inspired by spicy hot wings - but no worries, there's no chicken involved in this one.
Hatch Chile Hummus
What better way to celebrate the all-too-short hatch chile season than with this delicious dipper from What Jew Wanna Eat? Bring on the heat!
Smoky Grilled Eggplant Hummus
Eggplant, grilled to caramelized perfection, gives a smoky vibe to this creative hummus from Clean Wellness. We love the touch of fresh mint!
Sriracha Hummus
Rooster sauce makes everything better - even hummus! Savory Simple swirls in some Sriracha for a spicy take on the dip.
Roasted Garlic Kale Hummus
Everyone's favorite superfood, kale, greens up this hummus that's not only full of nutrients, but flavor too - thanks to a generous whir of roasted garlic.
Kalamata Hummus
Pretty, purple, and party-ready! Tapenade meets hummus in this Kalamata-enhanced spread from Cook the Story. Olive you, hummus!
Cumin Roasted Carrot Hummus
The Girl in the Little Red Kitchen roasts a good amount of carrots and blends them into hummus to make this boldly orange version. Beta carotene for the win!
Smoky Sweet Potato Hummus
Pureed sweet potato and smoked paprika spice up this tasty version from Dishing Up the Dirt. Perfect for snacking on the go!
Pistachio Hummus
We're nuts for this hummus from The Healthy Maven. Pistachios whirred into the mix and then a bunch more dotting the top - yep, it's good to go green!