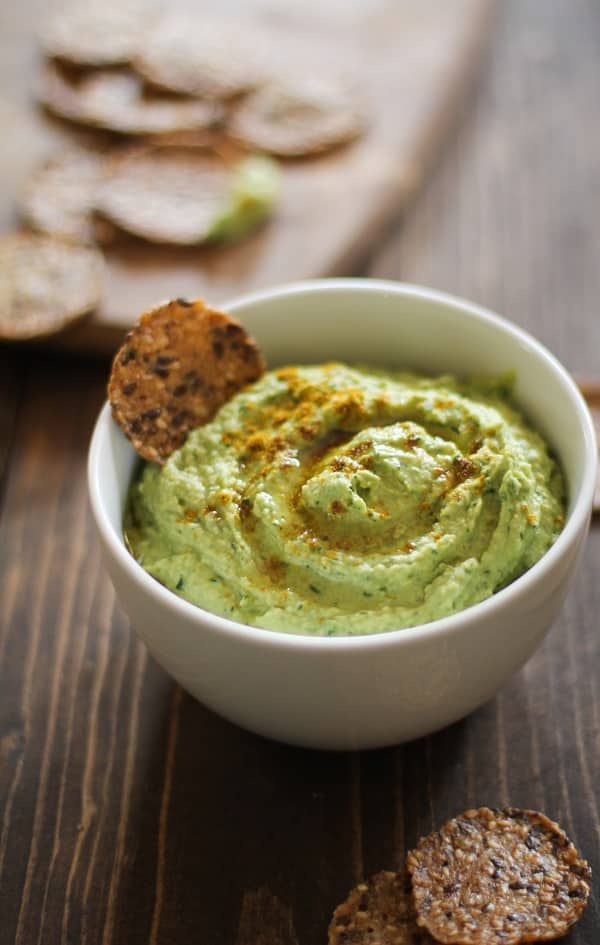 Kale: It's not just for garnish.
If you are anything like me, you found kale to be utterly boring and unpalatable until you really began cooking with it. After some experience with the leafy green, your cooking horizons broadened to the extent that kale became incorporated into just about everything you prepared. You realized there are many options for kale that don't involve a lifeless leaf laying next to the burger on your plate. So many, in fact, that you could just go ahead and write a whole cookbook about it!
And that's precisely what I did! I'm thrilled to announce my second cookbook, Let Them Eat Kale!
, has been published! If you missed it, you can read about my first cookbook, Delicious Probiotic Drinks, in my Grapefruit Rosemary Kombucha post.
In order to kick off the release, I'm sharing my kale hummus recipe, straight from the book. And what cookbook release would be complete without an exciting giveaway? I'll tell you all about the giveaway later, but first: the book.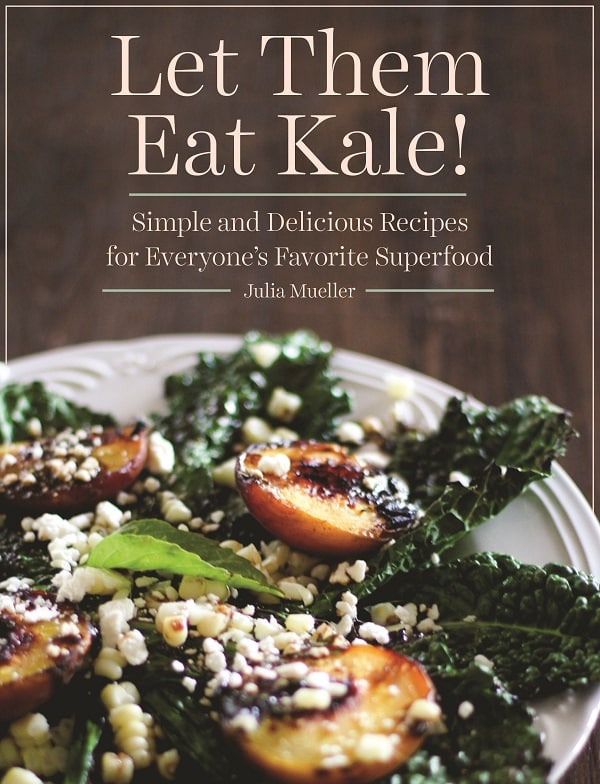 Let Them Eat Kale!
includes tips on the various methods of cooking with kale, nutritional information, and 75 recipes to welcome kale into your daily eats. While kale may be intimidating to some, I assure you the recipes are as simple as they are healthful. This isn't just-another-kale-salad kind of book. It's a helpful resource for getting kale in your belly in the most tasty and inviting ways.
Of all the topics one can write a cookbook about, why kale?
What's the Deal with Kale?
To the merriment of some and the dismay of others, kale is one of the biggest food trends right now. Salads made with kale instead of lettuce are popping up on restaurant menus, and everyone seems to be juicing it, blending it, massaging it, and using it as a baby name. While I understand that kale has its place and that place is not necessarily in your batch of banana bread, there are substantial reasons why kale is so popular.
Kale is one of the most nutrient-dense superfoods in the world. It contains a high concentration of vitamins, minerals, and antioxidants. It is low in calories, boosts immunity, and helps fight disease. Kale is a part of the cruciferous vegetable family (Brassicaceae), which also includes cauliflower, bok choy, cabbage, broccoli, and Brussels sprouts. Although cruciferous vegetables can be difficult for some people to process, they are full of fiber and can help maintain regularity in your digestive system.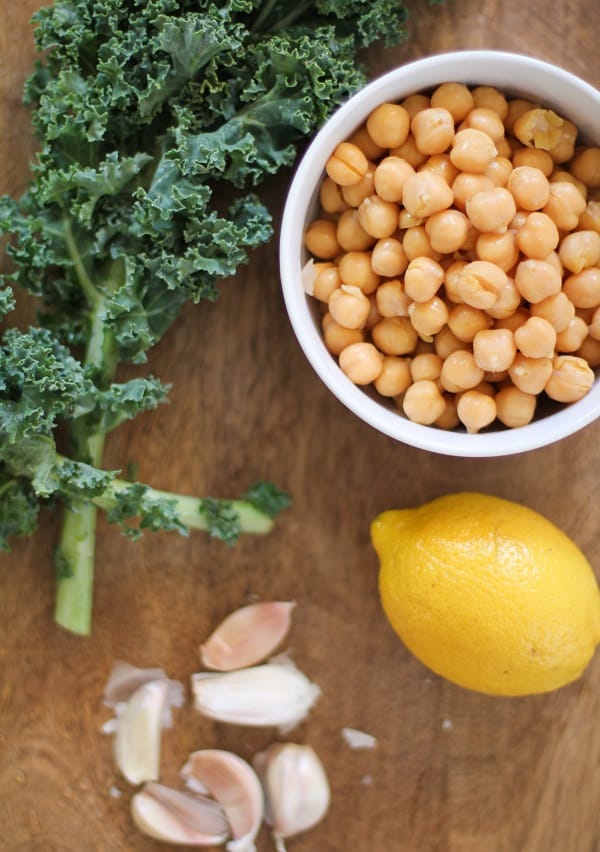 Just one cup of chopped kale earns you 684% of your daily value of Vitamin K, 206% of Vitamin A, and 134% of Vitamin C. It also contains beta-carotene and antioxidants. All of these factors contribute to kale's ability to help keep your immune system strong and prevent disease.
Embracing Kale
While kale has the reputation of being fibrous and bitter, it can be easily incorporated into your everyday cooking. All it takes is some getting used to, and then it becomes second nature to add the leafy green to your recipes for an extra vitamin boost. You can serve it up in your entrees, soups, or salads, or hide it in your smoothies, sauces, and even your desserts.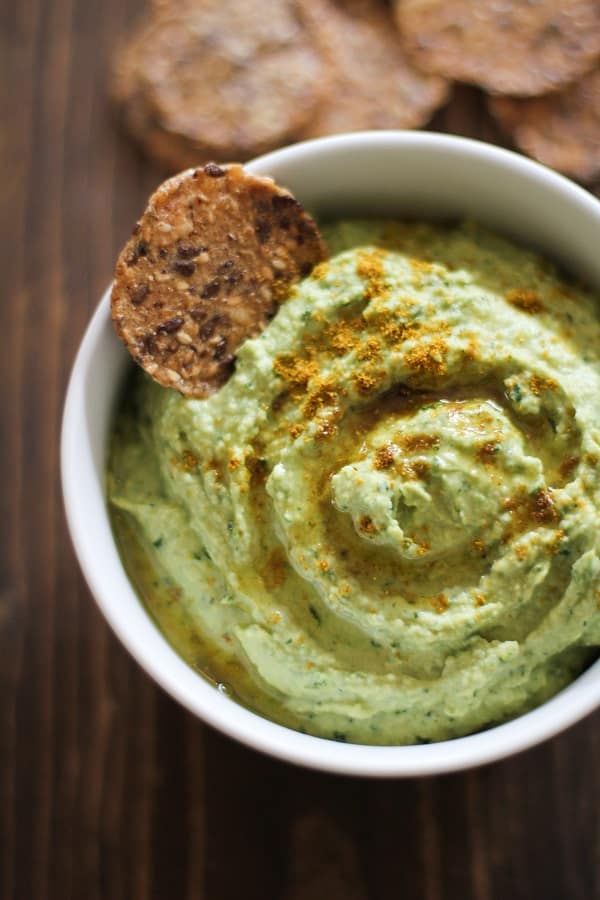 Take this Roasted Garlic Kale Hummus, for instance. Blending kale into your favorite hummus recipe is a great way of adding more nutrients to the snack. Can you taste the kale? Yes, but it isn't overpowering or unpleasant –- it's actually a great hummus! Enjoy the kale hummus as a snack with crackers and fresh vegetables or use it in your sandwiches and wraps!
Who This Book is For
Let Them Eat Kale! is a great book for the health-conscious individual or for those who are looking to become more in tune with their nutrition. It contains meat recipes as well as vegetarian and vegan recipes, and the whole book is gluten-free with the exception of a burger bun here or there. From the kale newbie to the seasoned kale connoisseur, the book has recipes that anyone can enjoy –- with or without kale! For the person who is looking to add more nutrition to his or her repertoire or the person who maintains a high-nutrient diet, this book is perfect. I even encourage kale naysayers to take a peek, as there are so many ways kale can be added to your food while keeping its palatability.
Recipe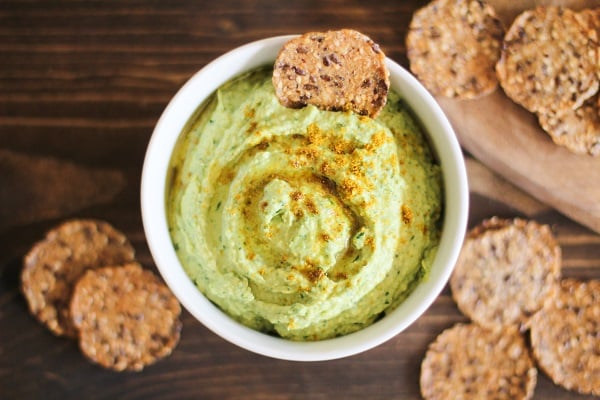 Ingredients
7

cloves

garlic

1

15-ounce can chickpeas, drained and rinsed

1

cup

tightly packed kale leaves

finely chopped

¼

cup

fresh lemon juice

3

tablespoons

water

¼

cup

tahini

½

teaspoon

kosher salt

or to taste

Olive oil for serving
Instructions
Preheat the oven to 400°F.

Wrap the cloves of garlic in foil and place in the oven until soft, 20 minutes. Remove from the oven and allow garlic to cool. Peel off the papery skin and add the cloves to a blender or food processor along with the remaining ingredients. Blend until smooth. Note: You can leave small bits of kale leaves in the hummus, if desired, or blend until completely smooth.

Transfer to a serving bowl and drizzle with olive oil, if desired. Serve with veggies, crackers or pita bread, or smear it on your favorite sandwich or wrap.
Nutrition
Calories:
109
kcal
Carbohydrates:
8
g
Protein:
4
g
Fat:
8
g
Saturated Fat:
1
g
Polyunsaturated Fat:
4
g
Monounsaturated Fat:
3
g
Sodium:
304
mg
Potassium:
189
mg
Fiber:
1
g
Sugar:
1
g
Vitamin A:
1685
IU
Vitamin C:
28
mg
Calcium:
57
mg
Iron:
1
mg
Craving more veg-friendly recipes?
Shop our collection of vegetarian and vegan cookbooks, including our new Vegan Thanksgiving and Vegan Christmas cookbooks!
Disclosure: The links to Amazon in this post are affiliate links. Go buy Julia's book!