Bless you.
No seriously, kombucha! Have you heard of it? Have you tried it? Do you love it? Would you make it at home? Puuuuuhlease! Doesn't that require beakers, test tubes and Bunsen burners? Sounds complicated! But it's not, I promise!
Kombucha is a probiotic-rich drink, naturally fermented with sugar, black tea, and a Symbiotic Culture of Bacteria and Yeast (SCOBY). It can be flavored using an array of fresh fruit, herbs, spices, and juices, and it becomes effervescent during fermentation, making it a bubbly tasty treat (and a very healthy alternative to soda!).
What's the buzz about probiotics? They help maintain healthy microflora in your gut, which ensures efficient digestion and aids in nutrient absorption. Essentially, they help you get the most out of the food you eat.  Probiotics prevent bad bacteria from attaching to the gut, which starves them of the nutrients they need to survive. This strengthens your immune system, fights disease, and boosts your metabolism and energy level. Folks who suffer from digestive ailments such as Crohn's Disease, Celiac Disease, ulcers, Irritable Bowel Syndrome, Candida, etc. may find their symptoms improve with regular consumption of probiotic-rich food and drink.
I began brewing my own kombucha three years ago when I realized how much cold hard cash I was spending on the store-bought stuff. It required a bit of research and planning, but the initial investment was very small and it took very little time to learn how to do it! I currently brew 2-gallon batches at a time, and each batch takes about 7 days to brew. After the initial brew, I flavor the kombucha using seasonal fresh fruit (and herbs!), then bottle it and allow it to go through a secondary fermentation.
I recently published a cookbook called Delicious Probiotic Drinks, which includes detailed instructions on brewing kombucha along with other probiotic-rich beverages, such as ginger beer, kefir (and yogurt!), lacto-fermented lemonade, cultured vegetable juice, and more. These drinks may be probiotic-rich, but they're also chock full of vitamins, minerals, and enzymes, making them superstar elixirs for health and longevity. The book holds 75 recipes for flavoring these drinks in order to make them fun, tasty, and nutritious.
My goal for the book was to facilitate the brewing process for folks who are interested in DIY probiotic drinks. The drinks may seem intimidating, but I assure you, they're easy and fun! The book is great for people who are newbies to fermentation, as well as seasoned brewers.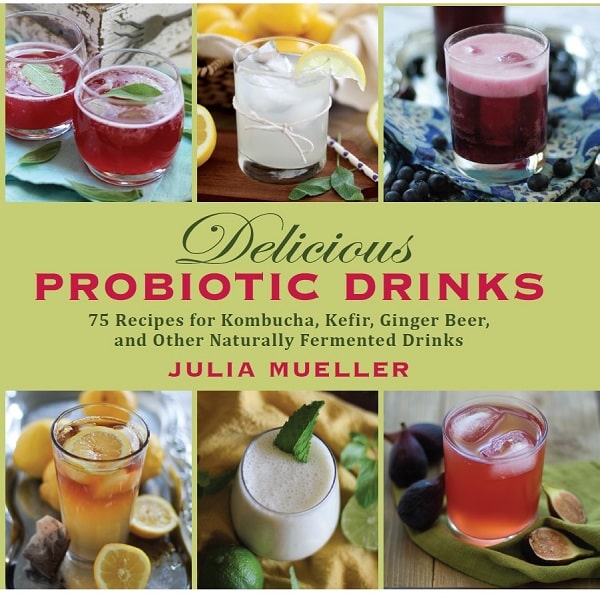 Through experimenting with flavors for my book, I came to realize combining fresh fruit and herbs results in the tastiest drinks! Because citrus fruits are in season, I made a batch of Grapefruit Rosemary kombucha and loved the way it turned out! You can also use navel or blood oranges in place of grapefruit and still achieve delicious results.
Note that the recipe calls for 1 gallon of homemade kombucha.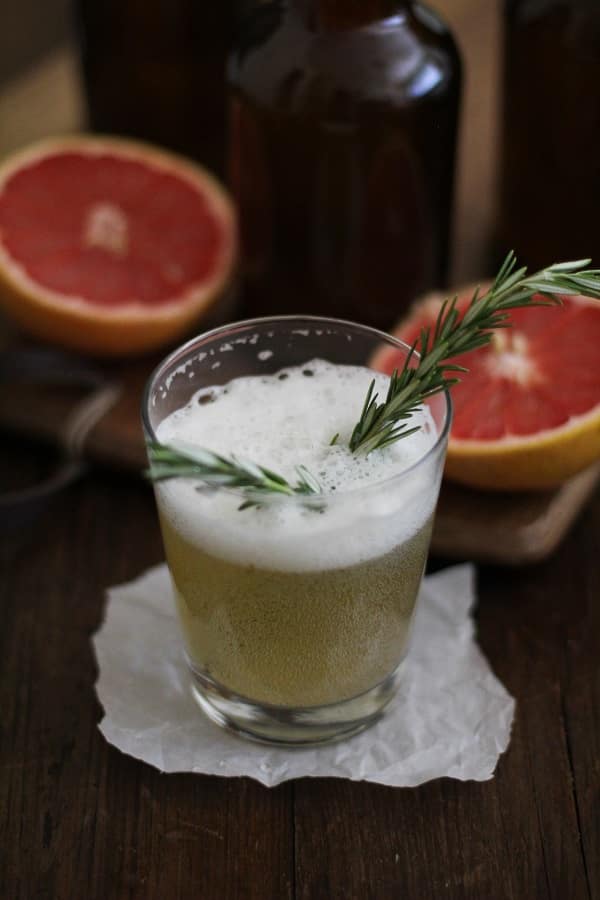 And nowwww...Go get your Grapefruit Rosemary Kombucha brewing!
Recipe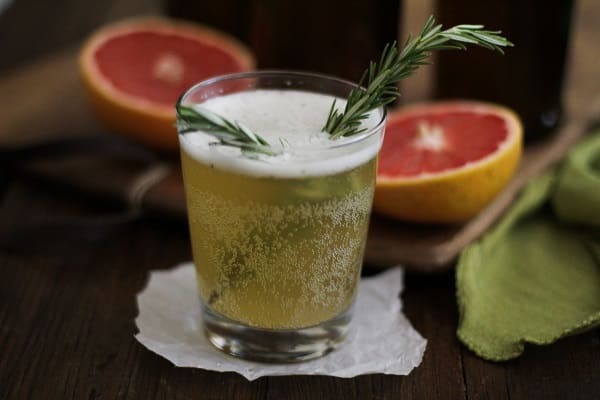 Servings:
1
gallon homemade kombucha
Ingredients
4

cups

spring or well water*

3

green tea bags**

2

tablespoons

fresh rosemary

2

grapefruit

juiced
Instructions
In a small pot, heat the water to a boil. Add the teabags and sugar, stirring to dissolve. Remove pot from heat.

Allow the tea to steep until very strong, about 8 to 10 minutes. Remove the tea bags and discard.

Add the grapefruit juice, plus grapefruit pulp if desired (adding the pulp will result in a fizzier kombucha). Let the tea mixture cool to room temperature.

Pour the tea mixture (including the grapefruit pulp and rosemary) and the kombucha into a large pitcher (depending on the size of your pitcher, you may have to do this in two batches, using half of the tea and half of the kombucha). Stir well and pour into sealable glass bottles (flip-cap bottles recommended).

Keep bottles in a warm dark room, closet, or pantry for 3 days to allow the kombucha to go through secondary fermentation.

After 3 days, place bottles in the refrigerator. This will slow the fermentation down, but the kombucha will continue to ferment and become fizzier.

When ready to drink, open the bottles carefully because they will have built pressure from the gasses produced during fermentation (look away from the bottles and point them away from your face).

Using a fine strainer, strain the kombucha into a glass–this will catch the grapefruit pulp, rosemary, and the small SCOBY that will have formed during secondary fermentation.

Keep kombucha for up to a month in the refrigerator.
Notes
*it is important to use spring or well water because tap water tends to have chlorine and other additives that don't bode well for fermentation.
**Make sure the tea bags are 100% green tea and don't have any other added peels/spices/ingredients
Nutrition
Calories:
607
kcal
Carbohydrates:
155
g
Protein:
4
g
Fat:
1
g
Saturated Fat:
1
g
Polyunsaturated Fat:
1
g
Monounsaturated Fat:
1
g
Sodium:
49
mg
Potassium:
720
mg
Fiber:
9
g
Sugar:
135
g
Vitamin A:
6005
IU
Vitamin C:
161
mg
Calcium:
155
mg
Iron:
1
mg
Craving more veg-friendly recipes?
Shop our collection of vegetarian and vegan cookbooks, including our new Vegan Thanksgiving and Vegan Christmas cookbooks!