There are a handful of staple foods that I absolutely cannot be without at any time. Hummus is number one on that list. It's delicious, healthy, and works for just about any meal, or as a snack. I've made entire meals out of hummus plenty of times. And yes, a few of those meals include breakfast.
When I first discovered hummus it wasn't that easy to find, so I'd stockpile it in my fridge whenever I stumbled upon a store that carried it. Eventually it became more readily available, and then I started making my own hummus. One fateful day, I went to whip up a batch of hummus and was out of chickpeas. This was a game changer. As it turns out, chickpeas are totally not essential to creating a delicious hummus-esque dip. ("Hummus-esque" because I know plenty of people who'd argue with me that anything made of any legume other than chickpeas is technically not hummus. Point taken. It's delicious, whatever you call it.)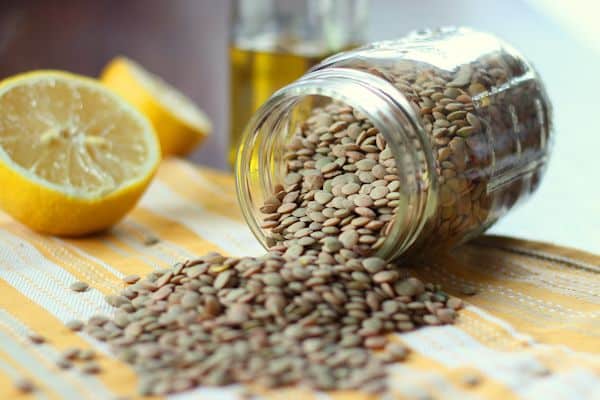 This is the first time I went with lentils as a hummus base, probably because I usually have cans of black beans, kidney beans or the like hanging around, but not lentils. I tend to buy lentils in dried form. Apparently I've been missing out all these years, because (1) lentil hummus is delicious, and (2) lentils cook up relatively quickly and don't require soaking, so lentil hummus is almost as easy to throw together as all those other hummuses (hummi?) I've been making for years.
Using green lentils gives this spread a savory, earthy flavor. I always find I have a hard time describing the taste of legumes, but trust me, make this and you'll pick up on the lentily flavor in there. I also added a bit of cumin to my batch, as it really brings out this flavor. If you don't have any cumin on hand, just skip it, or better yet, experiment with your favorite hummus add-ins. Hot peppers, Kalamata olives and scallions would all be delicious choices for this blend.
Recipe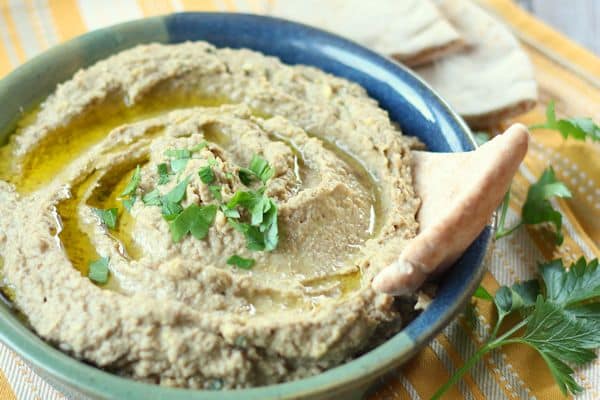 Instructions
Place the lentils and broth or water into a medium saucepan over high heat. Bring the liquid to a boil. Lower heat and simmer, uncovered, until the lentils are tender but not mushy, about 30 minutes.

Drain the lentils in a colander and return them to the saucepan. Cool completely, about 20 minutes.

Place the lentils, garlic, olive oil, tahini, lemon juice, cumin (if using), and salt into the bowl of a food processor fitted with an S-blade. Process until smooth, stopping to scrape down sides of bowl as needed.

Transfer the finished hummus to a bowl and drizzle with olive oil. Serve with pita wedges, crackers or veggies for dipping.
Notes
Feel free to include your favorite hummus stir-in in place of, or along with the cumin.
Nutrition
Calories:
784
kcal
Carbohydrates:
71
g
Protein:
30
g
Fat:
44
g
Saturated Fat:
6
g
Polyunsaturated Fat:
10
g
Monounsaturated Fat:
26
g
Sodium:
1429
mg
Potassium:
1100
mg
Fiber:
31
g
Sugar:
5
g
Vitamin A:
822
IU
Vitamin C:
12
mg
Calcium:
112
mg
Iron:
9
mg
Craving more veg-friendly recipes?
Shop our collection of vegetarian and vegan cookbooks, including our new Vegan Thanksgiving and Vegan Christmas cookbooks!