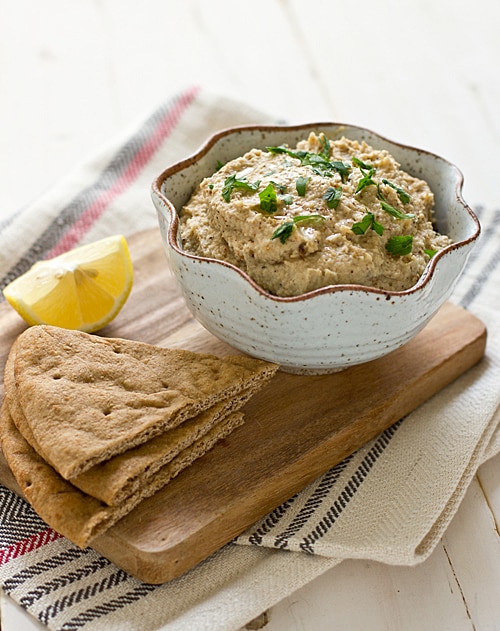 I trimmed the calories from regular hummus by using roasted cauliflower instead of chickpeas. This vegan hummus recipe makes a great snack!
Low-Calorie Hummus
You know what I hate? Suggested serving sizes.
I love hummus. I don't make usually make hummus myself (unless it's Edamame Hummus) because it ends up being a disaster, so I buy the little tubs of hummus at the grocery store. And I totally want to eat half the tub in one sitting. But a serving size is almost always two tablespoons.
Two tablespoons. Which is nothing! Who eats two tablespoons of hummus?!
I am totally a volume eater. Hummus is a healthy food, but the calories really add up when you want to eat more than two tablespoons. So I thought I'd try replacing the chickpeas with roasted cauliflower. Oh sure, my hummus wouldn't have as much protein, but I'd be able to eat a lot more of it, which is nice too, right? As usual, I thought I was being super innovative, but then I Googled it and about a gajillion recipes for paleo hummus made with cauliflower came up. Oh snap.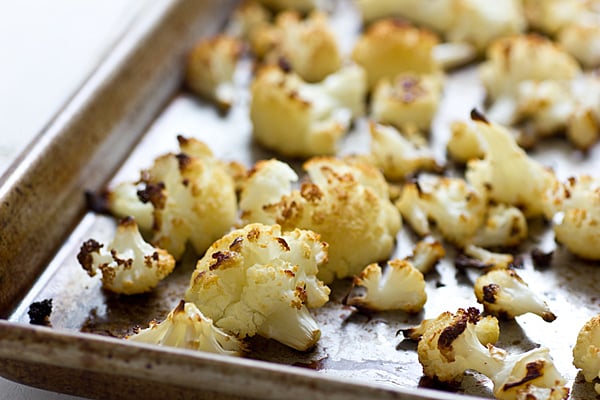 Anyway, if you divide this Roasted Cauliflower Hummus into four HUGE SERVINGS (see, all caps means the servings are big), you end up saving about 90 calories per serving. I kind of wanted to have a more impressive number for you, but 90 calories is better than nothing, right? Each HUGE SERVING is a little over 200 calories, so if you serve this with some whole wheat pita bread and fresh veggies, it makes a nice light lunch.
Oh, and I bet you're wondering how it tastes. Does Roasted Cauliflower Hummus taste like real hummus? Well, yes and no. With the garlic, lemon juice, and tahini, it does taste like hummus, but because it's made with roasted cauliflower, it has a subtle sweetness and nuttiness that regular hummus doesn't have. If you've ever added caramelized onions to hummus, it's kind of like that.
Recipe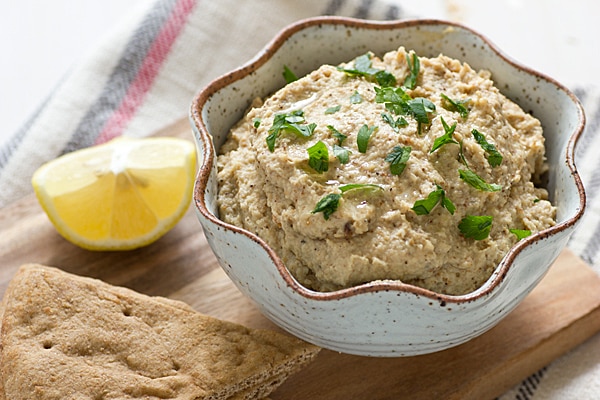 Instructions
Preheat oven to 400°F. Line a rimmed baking sheet with parchment paper or spray with oil or cooking spray.

Place cauliflower florets on baking sheet. Spray with additional oil or cooking spray. Roast for 40 minutes, stirring halfway through cooking time. Remove from oven and cool.

Combine cauliflower, garlic, tahini, lemon juice, olive oil, salt, and pepper in food processor. Process until smooth. Add water one tablespoon at a time for a thinner consistency, if desired.

Drizzle with olive oil and sprinkle with parsley, if desired. Serve with lemon wedges, pita bread, and fresh veggies.
Nutrition
Calories:
219
kcal
Carbohydrates:
12
g
Protein:
6
g
Fat:
18
g
Saturated Fat:
3
g
Polyunsaturated Fat:
5
g
Monounsaturated Fat:
9
g
Sodium:
50
mg
Potassium:
532
mg
Fiber:
4
g
Sugar:
3
g
Vitamin A:
14
IU
Vitamin C:
73
mg
Calcium:
62
mg
Iron:
2
mg
Craving more veg-friendly recipes?
Shop our collection of vegetarian and vegan cookbooks, including our new Vegan Thanksgiving and Vegan Christmas cookbooks!