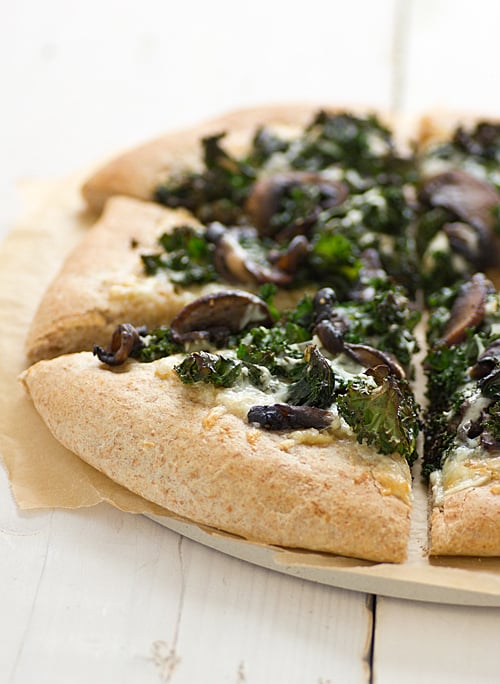 Do I post too many pizza recipes?
I hope the answer to this question is no, because I'm about to post another. A portobello pizza with garlic sauce and kale, to be exact.
I just couldn't help myself! I'm feeling pretty jazzed about pizza lately since I made two discoveries:
1) The best whole wheat pizza crust recipe in existence.
2) The magic of pizza stones.
The Crust
So let's talk about the crust. In all of my previous pizza recipes, I've called for pre-made crust. When I've tried making my own pizza crust in the past, it never turned out well and it always took so much time to do—I mean, isn't the point of pizza that it's supposed to be a quick meal? And you expect me to make my own crust? Psshh. But after overcoming my fear of baking with yeast, I started experimenting with pizza crust. And then I found this recipe: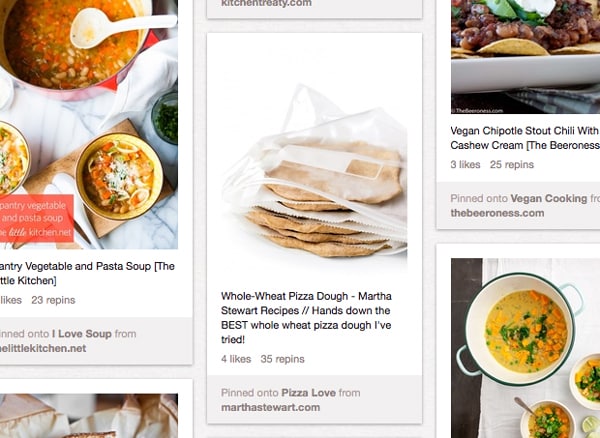 Bookmark it, print it, pin it, whatever you need to do. Because this recipe is awesome. It tastes good, it's easy (even with the yeast!), and the best part is, Martha Stewart includes instructions for making these crusts ahead and freezing them. So then when you want to make a quick pizza dinner, you'll already have the crust ready to go. Brilliant, right?
The Pizza Stone
And then I finally got a pizza stone. Being the shallow food blogger that I am, I bought it solely for aesthetics. My round stainless steel pizza pan is never photo-worthy, so I figured a stone would look much better in my pictures. But apparently these things aren't just for looks because my crust turns out far better on the stone. Imagine that! No more unevenly baked crust. And here's a little secret—you're supposed to use cornmeal on your stone to prevent your pizza from sticking, but a little bit of parchment paper works much better.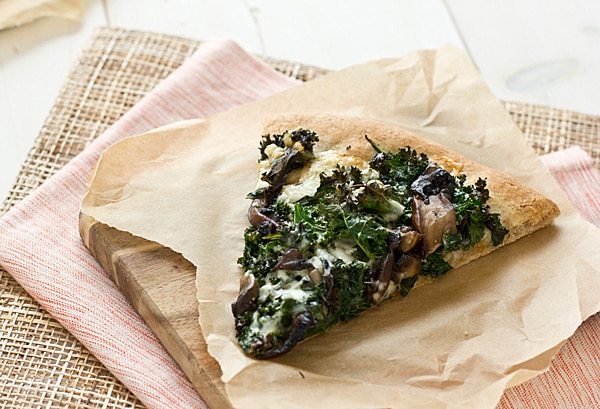 So in summary, Martha Stewart Whole Wheat Pizza Crust + Cheapo Pizza Stone = Best Pizza Ever. And if you want to put my theory to the test, try this Portobello Pizza with Roasted Garlic Sauce and Kale. (Even if you don't want to put my theory to the test, you should make this pizza. It works with pre-made crusts too!)
Recipe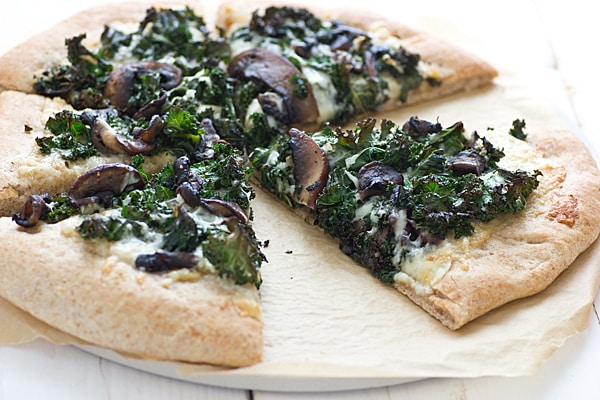 Ingredients
1

large head roasted garlic

2

tbsp

olive oil

divided

salt and pepper

to taste

1

large portobello mushroom

thinly sliced

3

cups

kale leaves

torn (not tightly packed!)

1

prepared pizza crust or about 10 oz pizza dough

rolled into 13-inch circle (or less dough for a thinner crust, more for thicker)

1

cup

fontina or mozzarella cheese

shredded
Instructions
Preheat oven to temperature indicated on pizza crust package or, if you're using dough, preheat to 450°F. Place pizza stone or baking sheet in oven.

Remove roasted garlic cloves from skins and place in small bowl. Add 1 tablespoon of olive oil and mash with fork until smooth. Season with salt and pepper. Set aside.

Heat remaining olive oil in a large skillet over medium-high heat. Add mushroom slices and cook until softened, 3–5 minutes. Add kale and cook until wilted, about 3 minutes more. Remove from heat and season with salt and pepper.

Place pizza crust on parchment paper. Spread roasted garlic sauce onto crust, leaving a 1-inch edge on all sides. Top with half of cheese, mushrooms, and kale, then remaining cheese.

Carefully transfer pizza on parchment paper to

pizza stone

or baking sheet. Bake for time indicated on crust package or 10–15 minutes if using dough, or until crust is golden brown and kale is just beginning to crisp.
Notes
You can roast the garlic a few days in advance to shorten prep time; otherwise, allow another 45 minutes or so to make this recipe. Read my tutorial on roasting garlic here.
Nutrition
Calories:
427
kcal
Carbohydrates:
47
g
Protein:
18
g
Fat:
21
g
Saturated Fat:
7
g
Polyunsaturated Fat:
1
g
Monounsaturated Fat:
8
g
Cholesterol:
38
mg
Sodium:
697
mg
Potassium:
347
mg
Fiber:
4
g
Sugar:
1
g
Vitamin A:
5321
IU
Vitamin C:
61
mg
Calcium:
259
mg
Iron:
1
mg
Craving more veg-friendly recipes?
Shop our collection of vegetarian and vegan cookbooks, including our new Vegan Thanksgiving and Vegan Christmas cookbooks!