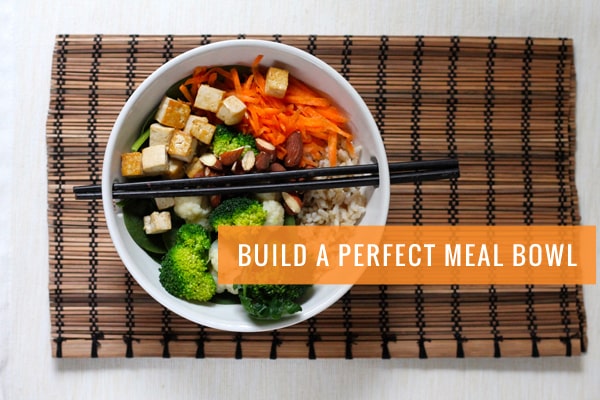 We love meal bowls! They're an easy, versatile and nutritious way to think about breakfast, lunch or dinner. Just follow the basic formula of grain + green + protein, and the possible combinations are endless. Putting together a meal bowl is easy, and we've assembled some tips and inspiration to make it even easier.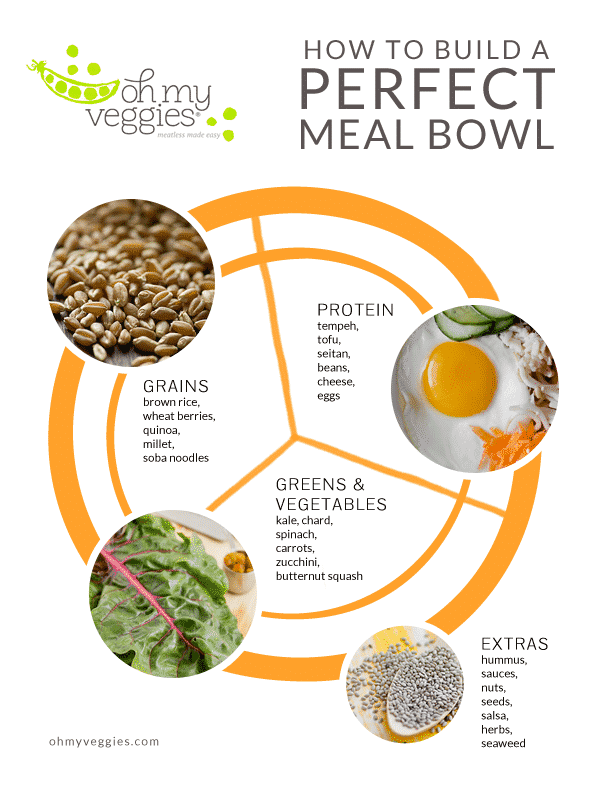 The Base
Start building your bowl with a sturdy foundation. Whole grains, seeds, noodles and starchy vegetables are all good choices. The base should make up about a third of your bowl or less. Try whole grains such as brown rice, wheat berries, spelt berries, barley or oats. Seeds such as amaranth, millet and quinoa also work well, and are good choices for grain-free meals. Similarly, starchy root vegetables such as yams, sweet potatoes and parsnips make a great base when roasted, steamed or mashed. If you're going with noodles, try buckwheat, rice or kelp noodles for something different.
Tip: If you're cooking whole grains for your meal bowl, cook extra and freeze the extra in individual portions. And, if you'd prefer a lighter meal bowl, you can always skip the base and go straight to the greens! Speaking of…
The Greens
They don't necessarily have to be green, but try to make vegetables at least one-third of your bowl. Leafy greens such as spinach, kale and chard can be quite bulky, so they make for a good middle layer to be topped with other vegetables. Try adding vegetables in various forms: raw, shredded, steamed and stir-fried are all great options.
Tip: Sturdier greens like kale will soften up a bit when they are added to a hot grain base. A more delicate green (like arugula) may wilt more than you like, so it might be better added to a cold or room-temperature base.
The Protein
The world is your vegetarian oyster when it comes adding protein – the remaining third of your meal bowl. If you're keeping it vegan, try baked, stir-fried or roasted tofu, tempeh or seitan. Beans and pulses also work, either whole or whirled into a hummus or dip. Other protein options include cheeses such as feta, halloumi, paneer or cottage cheese. Or you could top your meal bowl with a poached or fried egg.
The Extras
A good dressing can really make your bowl sing. There are so many choices, from hummus and tahini, to salsa and hot sauce, to a salty soy-based sauce. You can also sprinkle your bowl with nuts and seeds, which add both crunch and extra protein. Or, try crumbling fresh herbs or dried seaweed over the top of your bowl for something a little different.
Looking for meal bowl inspiration? Here's a round-up of some of my favorite nutritionally balanced vegetarian bowls:
Thai Peanut Empowered Noodle Bowl
This noodle bowl from Oh She Glows gets a protein boost from edamame. It's dressed in a delicious, savory peanut sauce.
Kale Breakfast Bowls
Kale for breakfast? Yes, please. Savory meal bowls are perfect for any time of day—including this one from The Roasted Root.
Meze Bowl
So many favorite flavors in these Meze Bowls from The Muffin Myth.
Buddha Bowl with Spinach & Marinated Tofu
Kimchi and a tangy miso dressing add a kick to this veggie-laden bowl from An Avocado a Day.
Slow Cooker Brown Rice & Veggie Bowl
Use up garden or farmers market veggies with this feta-topped bowl from Kalyn's Kitchen.
Macro Bowl
The carrot-ginger-almond sauce in this bowl from Coconut and Berries is a nice twist on a classic rice + beans + greens combo.
Southwestern Veggie Bowl
Consider this bowl from The Messy Baker Blog Taco Salad 2.0.
Balancing Buddha Bowl
The curry-pecan dressing in this tempeh-based Buddha bowl from Clean Wellness sounds like a dream.
Peanutty Quinoa Bowls with Baked Tofu
Use store-bought or homemade tofu in this satisfying, peanutty quinoa bowl.
Honey Lime Quinoa Salad Bowl with BBQ Chickpeas
Get a taste of the tropics with this honey-lime quinoa bowl topped with sweet, smoky BBQ chickpeas. (via Jessiker Bakes)
Veggie Sushi Bowls with Creamy Wasabi Sauce
Dishing Up the Dirt's take on sushi is to throw it all into a bowl and top with a creamy wasabi sauce. Done and done.
Curried Red Lentil & Quinoa Bowls with Cilantro-Mint Chutney
Lentils, quinoa, cilantro and mint. What's not to like?
Soba Noodles with Roasted Tomatoes, Mushrooms & Eggs
Eggs play well in meal bowls, too. Especially when paired with tomatoes, mushrooms and tasty soba noodles. (via Cookie Monster Cooking)
Raw Root Vegetable Bowls with Zesty Orange Dressing
Raw kohlrabi, beets and carrots add a perfect amount of crunch to The Roasted Root's bowl recipe.
Hallelujah Bowl
This super-easy recipe allows you to mix and match veggies, protein and grains. Hallelujah indeed.