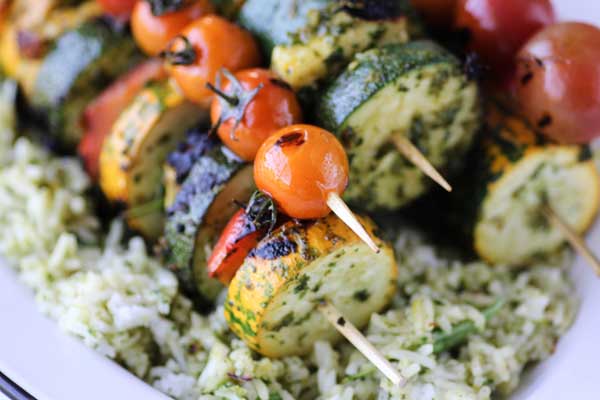 Grilling season is upon us, and with it the age-old question of what in the heck to throw on the grill for vegetarians. As glorious as a grilled portabella mushroom can be, they're pretty sparse in the protein department. And although there are some great commercially prepared veggie burgers on the market, you've got to read the label with a keen eye as many are packed with fillers and a laundry list of questionable ingredients. So what does the grill savvy vegetarian hankering for a bit of protein on their plate throw on the barbeque? Here are some of our favourite options:
Tofu
For barbecuing, tofu is a no brainer, yet it seems to be passed over for more fashionable grillables time and time again. Maybe because tofu can be thought of as being quite bland, or maybe because it's more often an ingredient than a main event. But it's time to change perspective! Softer tofus such as silken aren't great for grilling, but firm and extra firm work like a charm. And since tofu is basically a sponge for soaking up flavors, it can be marinated in a host of different barbeque-friendly tastes. Even a quick lick of good old-fashioned barbeque sauce will do the trick in a pinch! Be sure to oil your grill well, as tofu is notorious for sticking.
Tempeh
Tempeh is tofu's whole grain cousin. Made from fermented whole soybeans pressed together in a cake, this vegan gem of Indonesian heritage makes for excellent grilling fodder. Tempeh has a natural nutty flavour that is complemented by a range of marinades and rubs. Left whole and tossed on the grill, or thinly sliced and barbequed to a bacon-like crisp, tempeh is king for grilling season.
Paneer
If you've never tried making your own paneer – an Indian style pressed cottage cheese – now is the time. It's as simple as making your own ricotta (which really is simple) and pressing it into a block. Or, you could simply visit your local international foods market and pick up a package of paneer. Sliced, brushed with oil, and grilled, it's pretty much perfect. Or, cut it into cubes and build a batch of veggie kabobs.
Halloumi
This salty, squeaky cheese hailing from Cyprus has a high melting point that makes it wonderfully grillable. Marinated or a simple brush of olive oil, with a few minutes on a hot grill you'll have the perfect burger filling, salad topper, or finger-burningly good snack eaten right off the barbecue. Like paneer, cubed halloumi also works great on veggie kabobs (pictured above).
Panisse
Ever made socca? The thin, crisp crepes made from chickpea flour have a thick and sturdy cousin that's perfect for the grill: panisse. This Mediterranean staple is made in the same way as polenta is, by whisking chickpea flour into boiling water or stock, stirring until thick, and then pouring into a greased pan to chill. Once cooled, this can be sliced into thick slabs, brushed with oil, and grilled to perfection.
Seitan
Seitan is a vegetarian mainstay made from vital wheat gluten kneaded until it develops an elastic meaty texture and simmered in a vegetable broth. A veritable sponge for flavours and sturdy as it comes, seitan is a stand-up vegetarian protein on the grill. Make it yourself or pick up a package at your favourite natural foods store, and get the barbeque lit!
Quesadillas
Sometimes you just want some grilled beans, you know? But containing them can be a bit of a trick. If you're looking for something quick and easy to throw on the grill, consider using our old friend the tortilla to contain your proteins – beans, tofu, tempeh, cheese, vegetables… almost any and everything can stuffed into a tortilla, brushed with oil, and tossed on the grill. Consider the quesadilla your little black dress for the grilling season - it goes with everything!