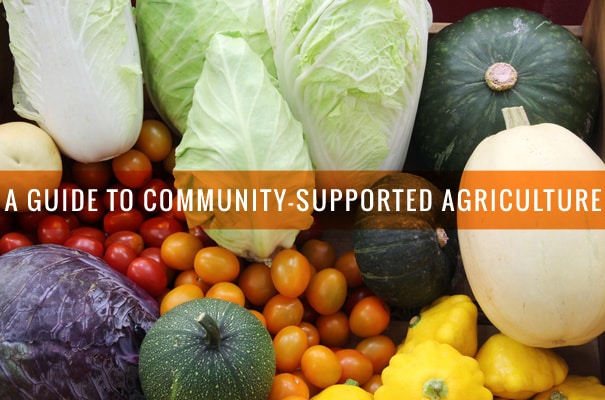 If you shop the farmers market or tend to look for local produce in the summer, you've probably heard of CSAs. That stands for Community-Supported Agriculture, a distribution model in which consumers purchase "shares" (don't worry, the stock market is not involved) from farms at the beginning of the growing season. In return, subscribers get CSA boxes—usually distributed weekly to a central location—containing local and often organic produce and other goods, straight from the farm.
These up-front funds give an influx of cash to the growers, taking some of the pressure off them to sell their wares at markets and ensuring none of their product goes to waste. Subscribers get access to super-fresh (as in, the dirt's still on it) produce they couldn't buy anywhere else. Some CSA programs are run through the farms themselves, while some operate via a network of farms, or through a partnership with a co-op, farmers market or outside agency. Basically, they're a great way to get fresh produce all summer long. Before you sign up, though, here are some good questions to ask!
Where Can I Find a CSA?
Your local farmers market or natural foods store will probably have the details on local CSA programs, as many of them operate as an intermediary and/or pick-up site based on their existing relationships with the growers. (My co-op in Minneapolis has a "CSA fair" every spring where members can get a quick overview of all available programs.) A quick web search should net you some good options, and the USDA has a CSA database you can search by location, payment method and product availability.
How Do I Pay and Get My Food?
Most CSAs require you to pay part or all of your subscription fee up front. Chances are there will be a preselected pick-up location and time, although you may be able to choose between a couple. Since you're receiving food right after it's harvested, you'll probably get a box every week or at least every other week.
What Will My CSA box contain?
This totally depends on the grower and the weather. Veggies are the most common, but some CSAs offer fruit, herbs, dairy and eggs, honey, jams, baked goods or other homemade goodies. Sometimes they'll offer different configurations (only veggies, half produce/half dairy, etc.) for you to pick from. Some farms include recipes with their boxes, too.
How Many Pounds of Okra (or Zucchini or Kale) Can I Use—or Stand?
To paraphrase Forrest Gump's mom, the thing about CSAs is that you never know what you're going to get. To the fly-by-the-strings-of-your-apron cook (or for those who love eating one kind of food) that can be exciting. A plethora of potatoes? No problem. Hashbrowns for the next seven meals. But for those who have picky eaters in the house or are more meticulous meal planners, it can be exhausting to try to use up a bunch of produce you might not love, or that you might be sick of. Some CSAs will allow you to denote preferences in advance, and some will even let you customize to a certain extent, but for the most part the nature of a CSA is that you're getting whatever is growing that week. The flipside is that it's not difficult to find recipes using an unfamiliar food—or new recipes for something you've had a million times. Plus, you just might find a new favorite in the process. (Mizuna, who knew?)
Can I Pickle That?
If canning, preserving or pickling is on your summer bucket list, a CSA can be a great way to get your hands on a boatload of pickle-ables like green beans, carrots, cucumbers, zucchini and, yes, okra. Read up on how to can without giving your loved ones botulism. If you have a ton of berries, you can make traditional jam (or an easy, no-pectin-required chia seed jam) with them or freeze them for smoothies.
Do I Have Freezer Space?
Individual fruits and vegetables can be blanched and frozen for later--this guide from The Little Kitchen will show you how. Freezer meals are another brilliant way to get the most bang for your buck. A little time spent prepping them right after you get your delivery will mean your weeknight dinners are as easy as pressing some buttons on the microwave. You can also start a lunch or dinner swap with a friend or coworker so you're not eating the same batch of zucchini lasagna forever. Get the OMV Guide to Freezer Cooking and read our healthy dinner system guide to see just how easy it is to make meatless meals ahead of time and freeze them.
What's Affordable?
Most CSAs are not super cheap, and with good reason: Growing sustainably raised food isn't cheap! Farmers have tons of variable expenses, and your CSA share helps take the burden off of them so you can enjoy the fruits (and veggies) of their labor—and help keep them in business. Many will offer different share tiers (1 to 3-person, 3 to 5-person, etc.) and some operate on a sliding scale or have "scholarship" programs. Shop around for one that fits into your budget and priorities. For example, if eating local eggs is more important to you than having tons of produce on hand, consider just joining a dairy CSA this year and shopping the farmers market or grocery store for your veggies.
Can I Spread the CSA Love?
If you have a roommate, neighbor or friend who's also into the idea of a CSA, you could buy a share as a group and split everything up yourselves. I have a friend who, once she's gone through her box, uses Facebook to send out a link to Google form where people can sign up to buy her CSA extras (at cost, of course). She then coordinates a time for them to stop by and grab the goods. They can even just use Square or Google Wallet to send her the money—no cash required. It's a little extra work, but it means she doesn't waste any food or money, and those who are CSA-curious (or might not be able to afford to commit to a share) can give the products a try.
Is the Pickup Convenient?
This detail sneaks up on a lot of people. If it's ultra annoying to pick up your CSA box, try finding one that delivers (this is somewhat rare) or that drops at a more central location. You can also alternate pickups with a fellow CSA-er, or find one that will drop at your local co-op or grocery store—so you can take care of two trips at once.