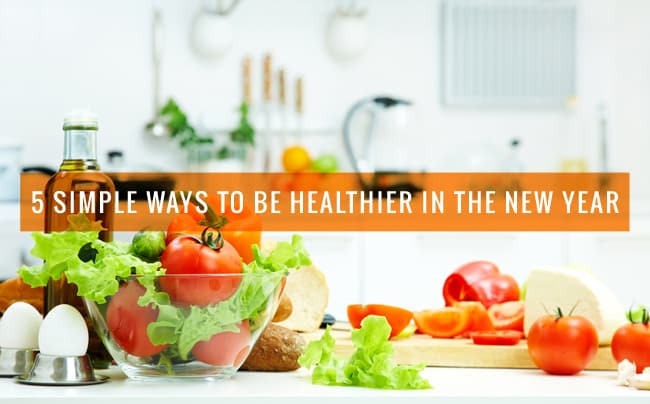 At this time of year many people are making New Year's resolutions. I'm not a fan of resolutions per se as so many of them tend to be extreme or unsustainable. I do, however, believe that the start of a new year is a good time to make realistic, attainable changes for the better, and so here are 5 simple ways to be healthier in the New Year.
Choose water
Choosing water is a simple, inexpensive, and effective measure for a healthier year. We all have different hydration needs (did you know that the whole 8 glasses of water a day thing is a myth? There's absolutely no science that backs it up) so I'm not necessarily suggesting that you drink more water. Rather, I'm suggesting you choose water. Choose water over soda. Choose water over juice. Every once in a while choose water over a cup of coffee or tea. Maybe swap out a glass of wine for a glass of water. And if you find yourself reaching for those pouches of artificially sweetened powders to flavour your water, choose pure water instead. You can fancy up your water with slices of orange, cucumber, fresh herbs, or a squeeze of lemon -- try some of these infused water ideas from Hello Natural.
Eat more vegetables
You're probably already eating lots of vegetables, right? Let's all eat more! Last year a study was published in the BMJ that demonstrated a significant reduction in all-cause mortality in participants that were eating 7 or more servings of vegetables and fruits a day. This prompted the UK's National Health Service to suggest increasing the recommended daily intake of fruits and vegetables from 5 a day to 7 a day.
We all could probably benefit from adding more vegetables to our diet. I did an exercise during an assessment techniques course in nutrition where I had to weigh everything I ate or drank for three days. I was surprised to find out that my vegetable and fruit consumption only just barely met the recommended 500g/day; I had long considered myself a super vegetable eater! Since then I've taken measures to add extra veg into my diet each day by adding vegetables into my smoothies and packing cut up vegetables for snacking.
Pack your lunch
Packing your own food along to work or school will help you save time, save money, and eat much healthier than if you were buying your lunch. If you're used to buying your lunch every day, try brown-bagging it just one or two days a week to start with. If you're already a dedicated lunch packer, keep up the good work! You can plan your meals so that leftovers easily become lunch, or set aside some time for lunch packing each week. Which leads me to…
Plan a prep day
Meal prep takes time, but it will also save you time in the long run and you'll be glad to have it done. If you can set aside one day each week to do some meal prep it will help you to eat healthier throughout the week. I can't tell you how many times I've come home hungry and tired and been saved from popcorn for dinner by a healthy meal stashed away in the freezer.
Foods like whole grains and dried beans take time to cook, but if the cooking's already done putting together a healthy meal becomes a cinch. Why not roast up a pan of vegetables, chop up some crudités for snacking, and whirl together a hummus while you're at it?
Get more sleep
This is nutrition advice? Yes, yes it is.
Studies have shown that even short-term sleep deprivation can cause significant alterations in our glucose tolerance, and when our bodies don't take glucose into our cells efficiently we end up feeling more tired and hungry than we should. Impaired glucose tolerance also makes us more likely to develop diabetes and cardiovascular disease.
Inadequate sleep has also been shown to lower leptin, an appetite-suppressing hormone, and increase ghrelin, a hormone that stimulates hunger. We also tend to reach for sweet, salty, and carbohydrate-dense foods when we're tired.
I know getting those 8 hours (or whatever your optimum amount of sleep is) is often easier said than done, but in 2015 try prioritizing sleep for overall better health.
Healthy food image via Shutterstock