Photos by Rikki Snyder
Being the lone vegetarian in a family of carnivores on Thanksgiving can be, well, hard. Everyone tries to make it seem like it's not a big deal and reminds you that you can at least eat the side dishes! Until, that is, it comes to light that the mashed potatoes contain chicken broth, the green bean casserole is made with pancetta, and the stuffing is dotted with bacon.
"But it's really not that much bacon," your cousin offers as reassurance.
At least we'll always have cranberry sauce.
This year, let's take matters into our own hands and make a totally vegetarian Thanksgiving feast with all kinds of plant-based delicious.
The first task at hand is to decide what the main dish will be. Whenever I'm cooking for a room full of non-vegetarians, I try to avoid using any imitation meat products. It sounds a bit counter-intuitive, but even though Tofurkey may taste meaty to those of us who haven't eaten animal protein in years, those who eat meat every day are definitely going to be able to taste the difference. Instead, I like to make things that are naturally meat-free so that they will not be written off as a less-delicious version of something else, but rather appreciated in their own right. In years past, I've dabbled in savory tarts, hearty salads and cheesy casseroles, but this year I've decided to learn how to strudel.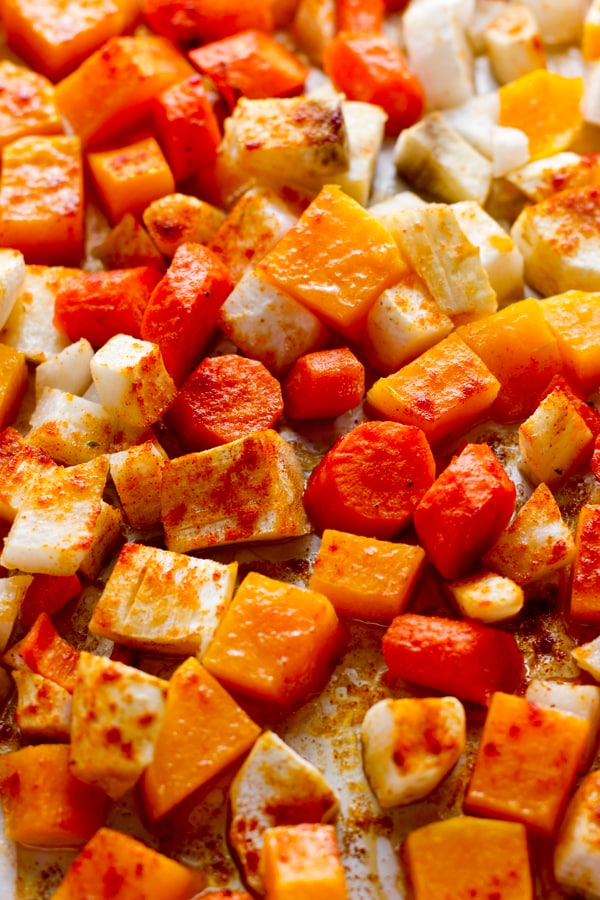 Strudels are Austrian pastries with layers of crust rolled up with a filling, usually sweet (think apple strudel), but occasionally savory. As much as I love eating dessert for dinner, I decided to go the savory route for our Thanksgiving main dish. Between sweet, smoky roasted root veggies, earthy lentils, nutty pesto and creamy goat cheese, this vegetable strudel is filled with a mix of textures and flavors that all come together to taste like fall. And really, what more could you ask of your Thanksgiving dinner?
Even though it seems like there is a lot going on here, don't freak out! Most of the filling components can be made ahead of time, so on Turkey Day (Strudel Day), all you'll have to do is pull them from the fridge, roll them up in a phyllo crust and bake for 20 minutes, leaving you more time to focus on everything else that needs to spend time in the oven—and hopefully leaving you with a few free to minutes to stop and smell the strudel in the oven.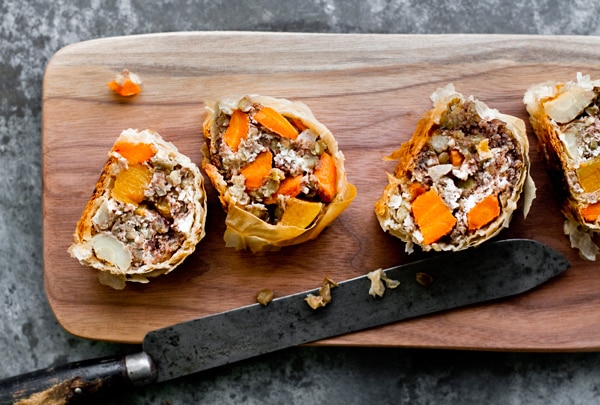 Ingredients
For the roasted vegetables:
1

pound

butternut squash

peeled, seeded and cut into ½-inch cubes (about 2 cups)

½

pound

carrots

peeled and cut into ½-inch pieces

½

pound

parsnips

peeled and cut into ½-inch cubes

½

pound

turnips

peeled and cut into ½-inch cubes

3

tablespoons

olive oil

2

teaspoons

smoked paprika

1

teaspoon

salt
For the lentils:
1

cup

dried brown lentils

4

cups

water

Pinch

of salt
For the pecan pesto:
¾

cup

pecans

¼

cup

grated Parmesan cheese

2

tablespoons

olive oil

Salt and black pepper

to taste
For the strudel:
6

sheets of phyllo dough

¼

cup

olive oil

1

4-ounce log goat cheese, crumbled
Instructions
Roast the vegetables:
Preheat oven to 400°F.

In a large bowl, toss together the butternut squash, carrots, parsnips, turnips, olive oil, smoked paprika and salt. Spread out in a single layer on a parchment-lined baking sheet. Roast, turning once or twice while cooking, until tender, 30-40 minutes.
Cook the lentils:
In a large pot, combine the lentils, water, and a pinch of salt. Set over high heat and bring to a boil. Lower heat to medium low and simmer, covered, until lentils are tender, 30-40 minutes. Drain and set aside.
Make the pesto:
Add the pecans, Parmesan cheese and olive oil to the bowl of a food processor. Pulse until crumbly. Season to taste with salt and black pepper. Set aside.
Assemble the strudel:
Preheat oven to 400°F.

Once all of the filling components are ready, remove the phyllo dough from its packaging and cover it with a damp cloth or paper towel. The phyllo dough dries out quickly, so it is important to keep it damp and work quickly. Place one sheet of phyllo on a parchment-lined baking sheet. Brush with the olive oil. Put another sheet of phyllo on top of it and brush with more oil. Repeat with remaining sheets.

Spread the roasted vegetables over the phyllo, leaving a 1-inch border around the edges. Sprinkle the lentils, pesto and crumbled goat cheese over the top. Fold the short sides of the dough in towards the center until they meet the filling. Repeat with the long sides and then roll the entire strudel lengthwise into a long log shape. Bake until golden brown, about 20 minutes. Let cool for 5 minutes before cutting into slices and serving.
Notes
The roasted root vegetables, lentils, and pecan pesto can all be made ahead of time. Just store them in the fridge until you are ready to stuff and roll your strudel!
Phyllo dough can be a bit finicky, but the trick to make it easy to work with is to make sure it stays moist. Drape a damp cloth over the sheets whenever you are not actively using them.
Nutrition
Calories:
1336
kcal
Carbohydrates:
192
g
Protein:
33
g
Fat:
49
g
Saturated Fat:
9
g
Polyunsaturated Fat:
8
g
Monounsaturated Fat:
30
g
Cholesterol:
4
mg
Sodium:
1888
mg
Potassium:
1188
mg
Fiber:
22
g
Sugar:
8
g
Vitamin A:
14736
IU
Vitamin C:
34
mg
Calcium:
185
mg
Iron:
13
mg
Craving more veg-friendly recipes?
Shop our collection of vegetarian and vegan cookbooks, including our new Vegan Thanksgiving and Vegan Christmas cookbooks!