If Thanksgiving prep has you feeling overwhelmed, check out this complete holiday menu and our three day game plan to get it all done! All vegetarian friendly, of course.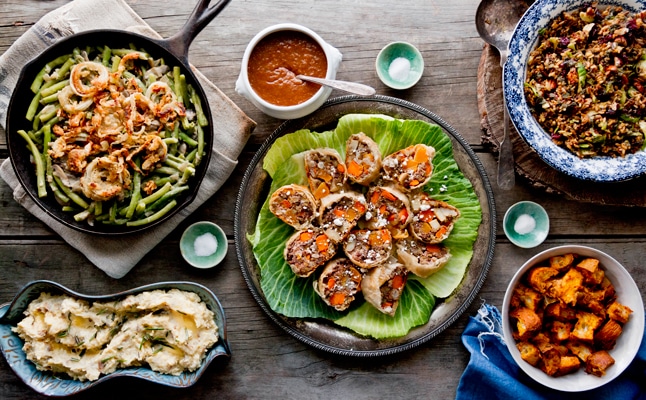 Photos by Rikki Snyder
Thanksgiving meal planning can be stressful. Making so many vegetarian dishes for thanksgiving all at once and timing everything perfectly is a feat for even the most accomplished cook.
To make things easier for you, we've put together a full menu of vegetarian entrees for thanksgiving, minus the dessert. (You'll have your hands full cooking dinner — go to a good bakery and buy a pumpkin pie!)
If you're here planning your holiday menu, don't miss our new Vegan Christmas and Vegan Thanksgiving cookbooks. They're packed with all my favorite holiday-worthy recipes for a plant-based feast.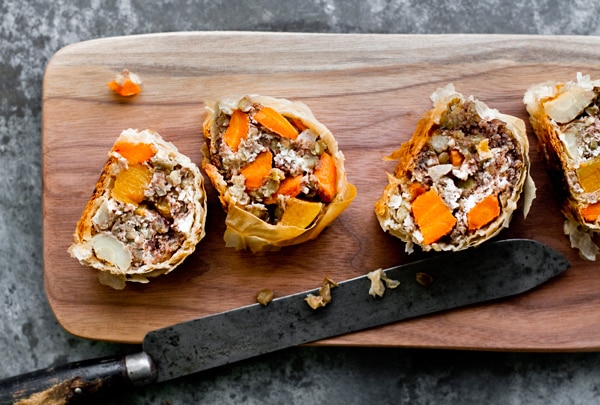 Lentil and Roasted Root Vegetable Strudel // Lentils, roasted vegetables, goat cheese and pecan pesto rolled up in a layer of flaky phyllo dough.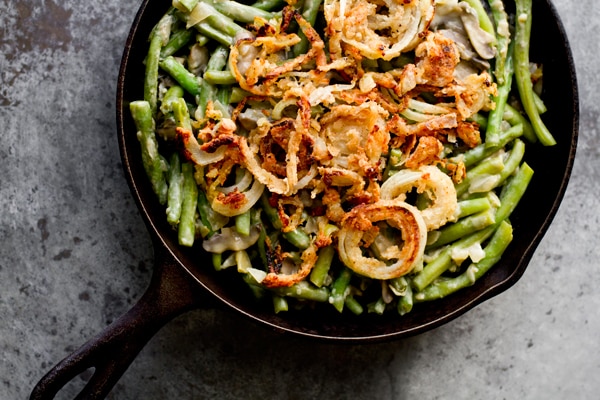 Vegan Green Bean Casserole // Tender green beans baked in a creamy mushroom sauce, topped with homemade French-fried onions.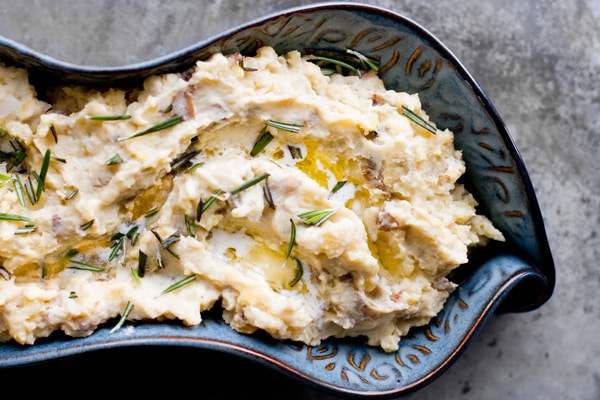 Slow Cooker Rosemary Garlic Mashed Potatoes // Rosemary and garlic adds flavor to this easy mashed potato recipe.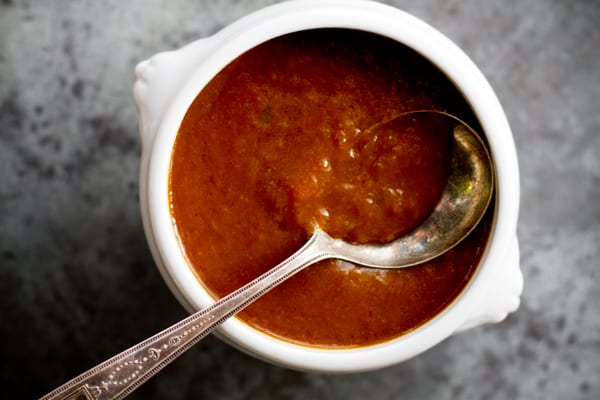 Caramelized Onion Gravy // Because you can't have mashed potatoes without gravy!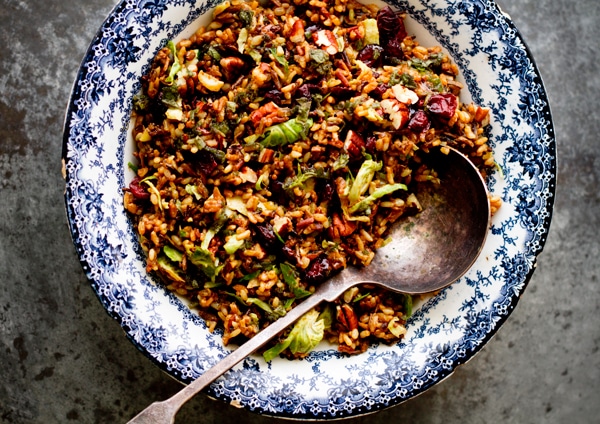 Wild Rice Pilaf with Brussels Sprouts and Sage Vinaigrette // A lighter side dish that can be served warm or cold.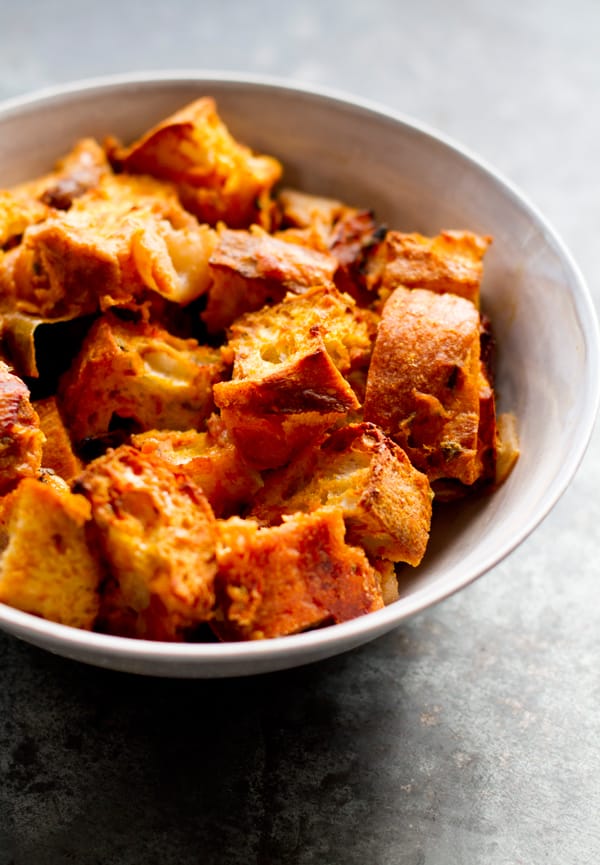 Pumpkin Cheddar Stuffing // Apples, cheddar and pumpkin make this stuffing a show-stopper. Or for a completely plant based option, check out this vegan stuffing.
These recipes all make about 6 servings, so they're perfect for a smaller Thanksgiving celebration. But don't worry — if you're going to be serving a crowd, all of these dishes can easily be doubled.
3-Day Thanksgiving Prep Game Plan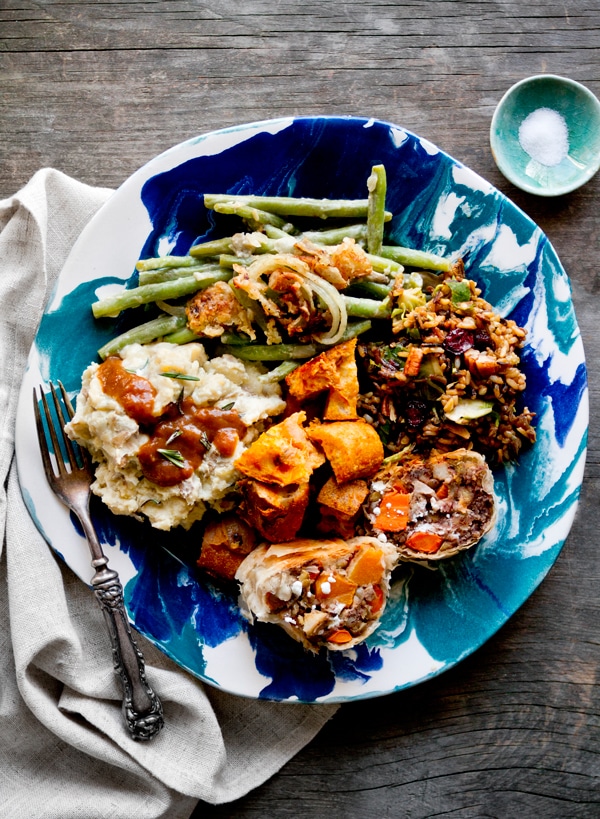 Making a large meal for a crowd can be stressful, but it doesn't have to be! The key is to do as much of the prep work as you can in advance. Here's a 3-day game plan to help you organize your time:
2 Days Before Thanksgiving
Go grocery shopping for the ingredients you'll need.
Prepare the Wild Rice Pilaf and Caramelized Onion Gravy and refrigerate.
1 Day Before Thanksgiving
Cube the bread for the stuffing and store it in a paper bag — this way, the bread will be nice and stale before Thanksgiving.
Make the roasted vegetables, lentils and pesto for the strudel; refrigerate.
Prepare the casserole portion of the Green Bean Casserole and store it in a baking dish in the refrigerator.
Thanksgiving Morning
Soak the onions for the Green Bean Casserole in the soy milk mixture; refrigerate.
Start the Slow Cooker Rosemary Garlic Mashed Potatoes.
Thanksgiving Afternoon
Prepare the stuffing and put it in the oven about 1 hour before you plan on serving dinner if you have a double oven, or 1 hour and 20 minutes before you plan on serving dinner if you have a single oven.
Start baking the Green Bean Casserole 40 minutes before you plan on serving dinner if you have a double oven; cover and keep warm while you finish everything else. If you don't have a double oven, stick the casserole in with the strudel — the strudel bakes at a higher temperature, so you'll want to shave 5-10 minutes off the cooking time for the beans and keep an eye on them.
Wrap the strudel filling in the phyllo; if you have a double oven, bake that 20 minutes before you plan on serving dinner, after the Green Bean Casserole is done. If you only have one oven, after the stuffing has finished, cover it to keep it warm, then bake the strudel.
Start the onion topping for the Green Bean Casserole 10-15 minutes before the casserole is done baking.
Finish the mashed potatoes and warm the gravy.
Take the Wild Rice Pilaf out of the refrigerator and transfer it to a serving dish. Serve your Thanksgiving dinner!
We have another full vegetarian Thanksgiving menu here. If you're looking for more ideas, we have a Pinterest board just for vegetarian Thanksgiving dishes, and all of our Thanksgiving recipes and round-ups are on this page.
P.S. Don't miss our complete Vegan Thanksgiving Cookbook, for the ultimate plant based feast!