A traditional comfort food gets a plant based makeover in this delicious vegan green bean casserole. It's flavorful and creamy and packed with healthy veggies - all topped with crunchy fried onions!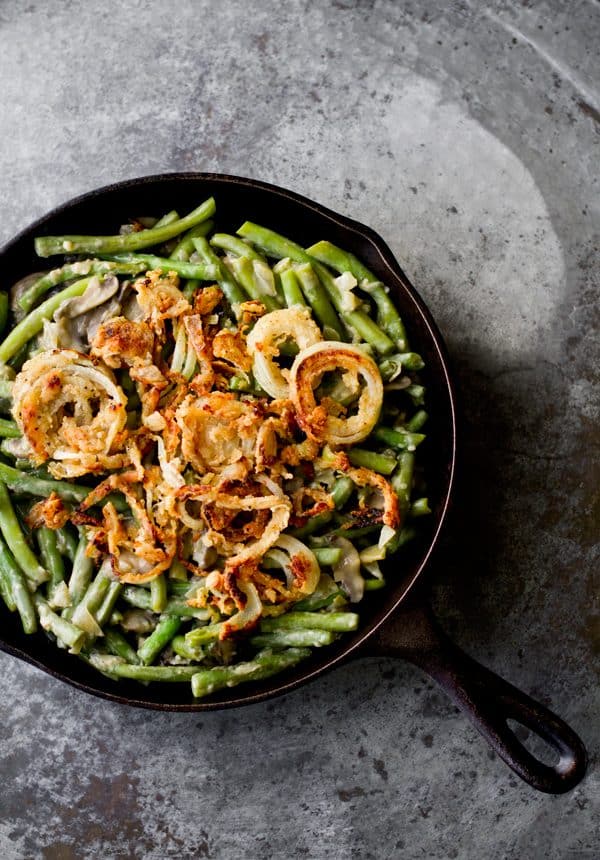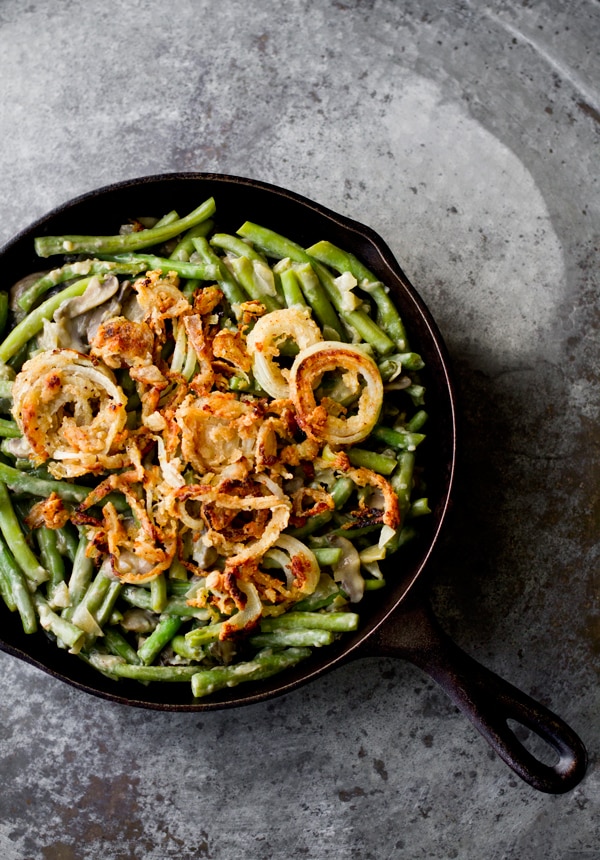 Jump to:
Just because something is a classic doesn't necessarily mean there's no room for improvement. Case in point: When I was a kid, my family spent Thanksgiving one year with the neighbors, including their gourmet-cook grandmother.
Said grandmother was put in charge of the green bean casserole; imagine the gasps from my family members as she tipped a bottle of chardonnay into the bubbling pot of canned cream of mushroom soup.
Half an hour later though, there were more gasps—this time of delight. She'd taken green bean casserole to a whole new level. Amazing!
If you're here planning your holiday menu, don't miss our new Vegan Christmas and Vegan Thanksgiving cookbooks. They're packed with all my favorite holiday-worthy recipes for a plant-based feast.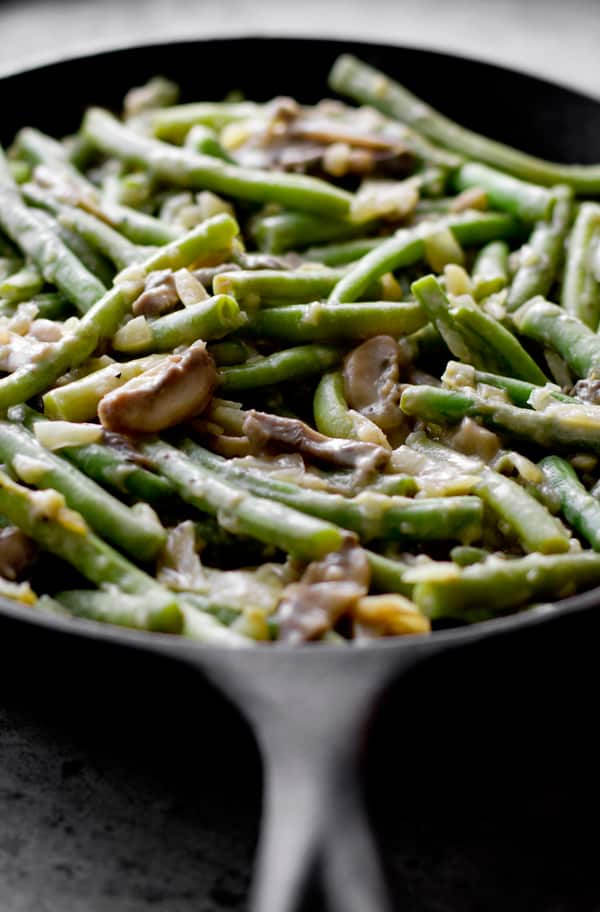 Why use water when you can use wine? That was the gourmet grandma's rule of thumb, and that's the lesson I remember from that day.
Okay, maybe that substitution doesn't work all the time, but let's just say wine is at least worth a shot in dishes like savory veggie casseroles.
I've taken that lesson a few steps further and classed up the old green bean casserole even more. Why use cream of mushroom soup when you can use homemade vegan mushroom sauce? Why use prepackaged French-fried onions when you can fry your own onions?
I kid you not when I say these changes made the best dang green bean casserole I've ever tasted. This stuff was amazing. Not "there might not be any leftovers" amazing, but, "there might not be any casserole that actually makes it to the table" amazing.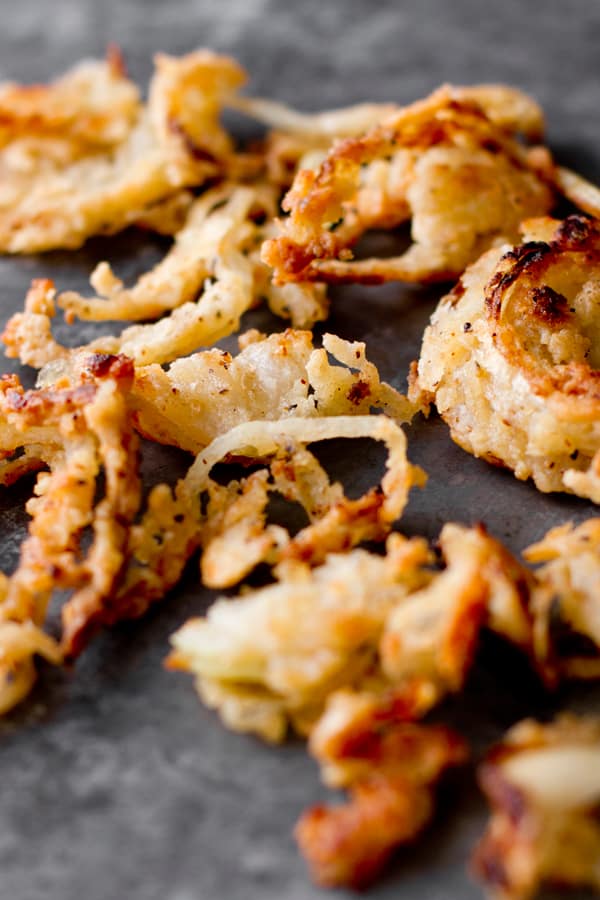 Tips & Tricks
The work required for this vegan green bean casserole is a bit more extensive than with the traditional version, but it's worth it. Not just to make the dish vegan, but to knock the socks off of every attendee at dinner.
You can do a few things to mitigate that extra work. First, the French-fried onions need to soak for at least 30 minutes. Why not start them early in the morning or even the day before? Stick them in a storage container and refrigerate until ready to serve.
You can also mix up the flour coating for the onions ahead of time, so when you're ready for frying, they're ready for you.
You can also chop your veggies, or even do all of the stovetop steps for the casserole portion of this recipe, ahead of time. Put the casserole into a baking dish and stick it in the fridge until you're ready to bake.
Better yet, if you've got a cooking vessel that can handle the stovetop and baking steps, use it, and avoid having to transfer the casserole and dirty another dish. A 10" cast-iron skillet works perfectly here.
And if you love this green bean casserole, be sure to check out my other vegan-ized comfort foods - like these vegan biscuits and gravy.
More Thanksgiving Ideas
Looking for some more holiday inspiration? Check out these other delicious recipes:
P.S. Don't miss our complete Vegan Thanksgiving Cookbook, for the ultimate plant based feast!
Recipe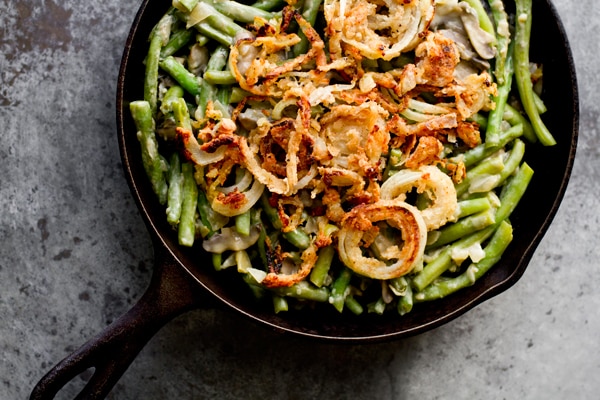 Ingredients
For the French fried onion topping:
Instructions
Make the French fried onions:
Stir the soy milk and vinegar together in a medium bowl. Add the onion rings and submerge as many as possible. Allow onions to soak in the milk mixture for at least 30 minutes.

Mix the flour, salt, pepper and cayenne together in medium bowl or large zipper bag.

Remove the onions from the soy milk mixture, discarding any excess liquid. Transfer the onions to the flour mixture and toss to coat.

Heat ¼ cup of oil in a large skillet over medium-high heat. Once the oil begins to shimmer, add the onions in an even layer, only adding as many as you can without too much overlapping. Cook 2 minutes and gently toss once or twice with a spatula. Cook another 2 minutes and flip again, using the same technique. Once the onions begin to turn brown and crispy, after about another 2 minutes, remove and transfer to paper towel lined plate.

If any onions remain after the first batch, repeat, adding a bit more oil to the skillet if needed.
Start the casserole:
Add the olive oil to a medium skillet over medium heat. When it's hot, add the onion and sauté until softened, about 5 minutes. Add the garlic and the mushrooms. Sauté until the mushrooms are tender and release their juices, about 5 minutes more.

Pour in the white wine and simmer, stirring occasionally, until liquid is reduced by half, about 2 minutes.

Add the flour and stir to form a paste with the remaining liquid in the skillet. Slowly pour in the soy milk, stirring constantly. Stir in the soy sauce, pepper and green beans, then bring to a simmer and reduce heat to medium-low. Simmer, stirring occasionally, until the sauce is thick and the green beans are bright-green and tender-crisp, about 10 minutes.

Preheat oven to 350°F while the sauce and green beans simmer.

Transfer the bean mixture to a 9-inch baking dish and place it in the oven (or if you're using a cast-iron skillet, you can transfer it directly to the oven). Bake for 20 minutes and top with the French fried onions before serving.
Notes
The green bean casserole portion of this dish can be prepared in advance up to the baking step. Allow the casserole to cool after it's finished simmering and either transfer it to a storage container or refrigerate in the dish you plan to bake it in.
You can begin soaking your onions and mix the flour coating early in the day. Start the coating and frying process when your casserole has about 10 minutes of baking time left.
Nutrition
Calories:
295
kcal
Carbohydrates:
31
g
Protein:
8
g
Fat:
16
g
Saturated Fat:
2
g
Trans Fat:
1
g
Sodium:
300
mg
Potassium:
645
mg
Fiber:
7
g
Sugar:
9
g
Vitamin A:
1551
IU
Vitamin C:
29
mg
Calcium:
141
mg
Iron:
3
mg
Craving more veg-friendly recipes?
Shop our collection of vegetarian and vegan cookbooks, including our new Vegan Thanksgiving and Vegan Christmas cookbooks!
This post was originally published on November 13, 2014.
Photos by Rikki Snyder