This caramelized onion and apple cider gravy is made almost entirely in the slow cooker. It's the perfect pairing for all your Thanksgiving side dishes.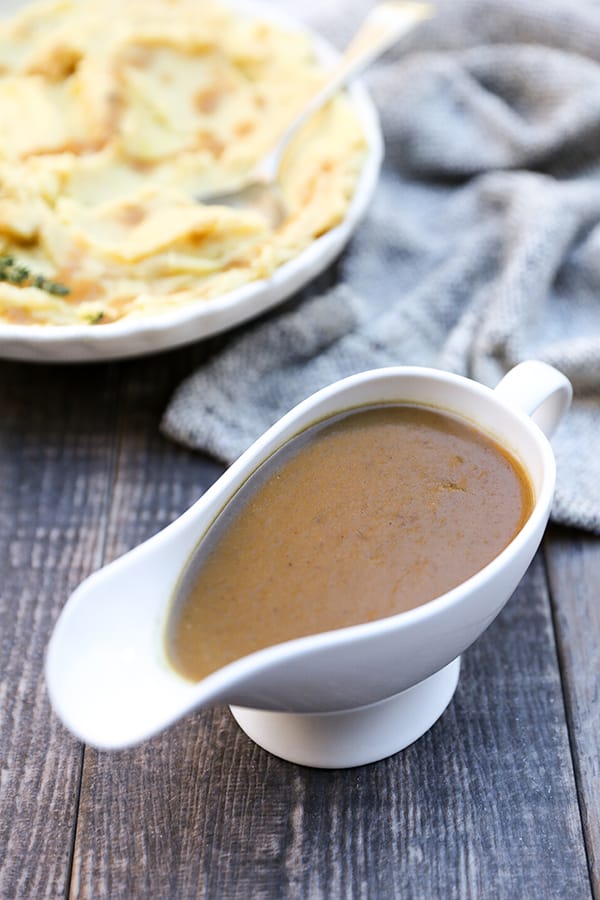 If you're here planning your holiday menu, don't miss our new Vegan Christmas and Vegan Thanksgiving cookbooks. They're packed with all my favorite holiday-worthy recipes for a plant-based feast.
Hi! I'm Liz. I'm the new kid on the block here at Oh My Veggies. And I'm so excited to start bringing you all some veggie-licious recipes!
I live in a small seaside New England town with my dog. And I have a food blog called Floating Kitchen. I love creating healthy, beautiful dishes with fresh, seasonal ingredients. But I also have a penchant for chocolate and bourbon. So you'll find a little bit of everything on my site. I'd be thrilled if you stopped on over at some point to check it out!
But enough about me at the moment. Let's talk about Thanksgiving. Which is only one week away. Are you feeling prepared? Overwhelmed? Somewhere in between?
I'm actually feeling pretty relaxed about the whole situation. My Mom is hosting Thanksgiving dinner at her house this year, so I definitely don't have as many responsibilities as I've had in years past when I've been the host.
Although she did put me in charge of one very important Thanksgiving staple: the gravy. Which is a dish you definitely don't want to mess up. Because nobody should be forced to consume naked mashed potatoes on Thanksgiving day. That's just wrong.
Luckily for me, I've got this recipe for Caramelized Onion and Apple Cider Gravy in my back pocket. And the best part is: it's made almost entirely in the slow cooker!
One of my favorite ways to increase the richness of almost any dish is with the addition of caramelized onions. So it's no surprise that they do wonders to help create a luscious, complex tasting vegetarian gravy as well.
But caramelizing onions can be a time consuming process that requires a bit of attention at the stove. Which is the last thing we need to worry about on Thanksgiving day.
So when I was creating this recipe, I decided to caramelize the onions overnight in my slow cooker. This was a good decision on my part. Because not only did the onions come out perfectly caramelized with minimal work, but my house smelled AMAZING as well!
Once the onions were caramelized, I continued cooking them with some hard apple cider, vegetable stock and herbs.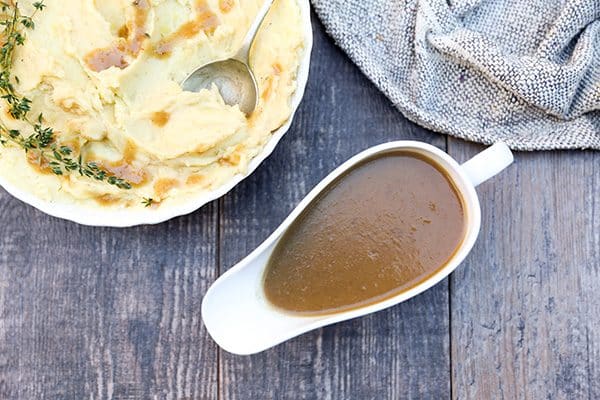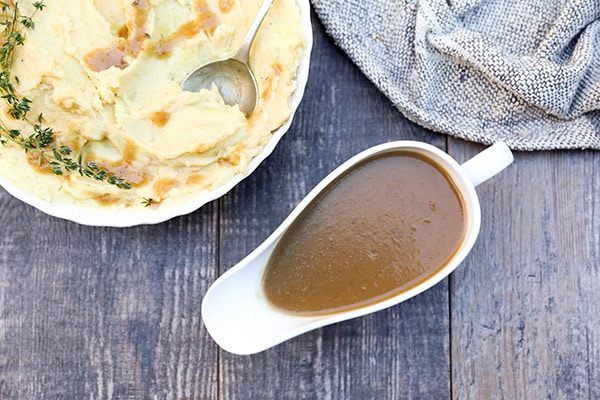 Then I blended everything together for a smooth finish. This whole process couldn't be any easier. And no one will guess you didn't use any turkey drippings for this gravy!
If you love this vegetarian gravy, be sure to check out these other holiday staples:
P.S. Don't miss our complete Vegan Thanksgiving Cookbook, for the ultimate plant based feast!
Recipe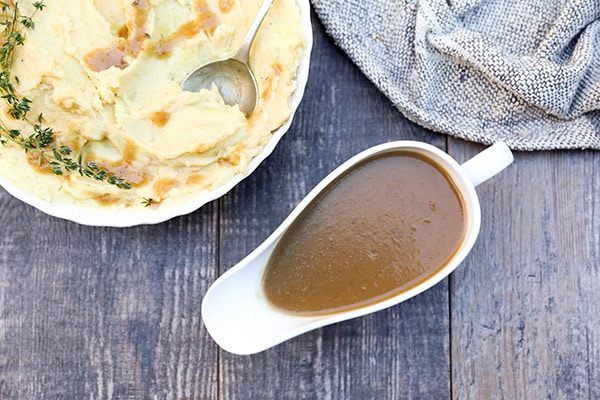 Instructions
Add the sliced onions, garlic, butter, brown sugar and balsamic vinegar to the insert of your slow cooker. Cover and set your slow cooker to low. Cook the onions for at least 8 hours, or up to 12 hours. The onions will be very soft and browned when they are finished cooking.

Remove the cover from your slow cooker. Add the cornstarch and stir until the onions are coated. Then stir in the apple cider, vegetable stock, thyme and the bay leaf. Cover, set your slow cooker to high and cook for an additional 1 hour.

After an hour, remove the cover from your slow cooker. Using a pair of tongs, remove and discard the thyme sprigs and the bay leaf.

Transfer the contents of your slow cooker to your blender and blend on high until the gravy reaches your desired consistency. Depending on the size of your blender, you may have to work in batches, being very careful when transferring and blending hot liquids.

Return the gravy to the slow cooker. Taste and add salt, if desired. Keep the gravy warm (set your slow cooker to either the warm or low setting), until you are ready to serve it. Alternately, the gravy can be made 1 to 2 days in advance, refrigerated in an airtight container and then reheated before serving.
Nutrition
Calories:
302
kcal
Carbohydrates:
40
g
Protein:
3
g
Fat:
15
g
Saturated Fat:
10
g
Polyunsaturated Fat:
1
g
Monounsaturated Fat:
4
g
Trans Fat:
1
g
Cholesterol:
40
mg
Sodium:
330
mg
Potassium:
419
mg
Fiber:
4
g
Sugar:
22
g
Vitamin A:
704
IU
Vitamin C:
19
mg
Calcium:
72
mg
Iron:
1
mg
Craving more veg-friendly recipes?
Shop our collection of vegetarian and vegan cookbooks, including our new Vegan Thanksgiving and Vegan Christmas cookbooks!