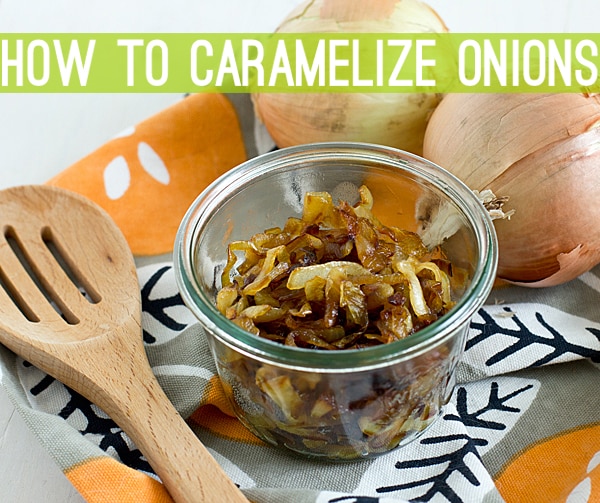 If you've been a reader for a while, you've probably noticed that I include caramelized onions in a lot of my meals and recipes. Maybe they're a bit of a crutch for me, cooking-wise--if I make a meal and it's lacking a little something, nine times out of ten, I end up adding caramelized onions. But hey, they're delicious! So why not add them to everything, right?
Over the years, I've read lots of different methods for caramelizing onions. Some call for a little bit of sugar; others are made in slow-cookers. They have varying times and temperatures. My biggest problem when it comes to caramelizing onions is trying to speed up the process--it just doesn't work! If you cook them at a high temperature, they end up sautéing instead of caramelizing. And don't get me wrong, sauteed onions are still good. But they're not caramelized!
The secret to caramelizing onions is have patience. Lots and lots of patience. Because good things come to those who wait and if you cook them low and slow, you will be rewarded with perfect caramelized onions in a little over an hour. Yes, I said over an hour! But let's go back to the beginning. Here's how to caramelize onions, step-by-step.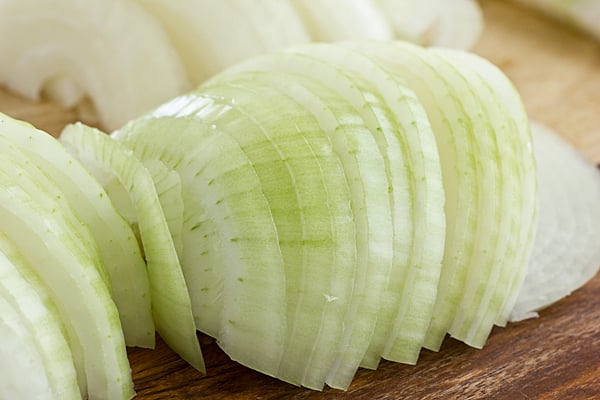 Thinly slice your onions. They should be pretty uniform in size.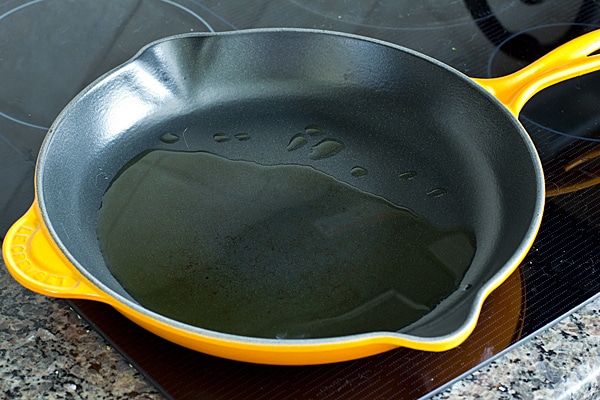 Heat oil in a skillet on low heat. Low! Not medium-low, low-low! For every large onion you're caramelizing, add one tablespoon of oil and a pinch of kosher salt to your skillet. I'm doing two large onions here and I'm using two tablespoon of olive oil. Adjust the size of your skillet based on the amount of onions being cooked.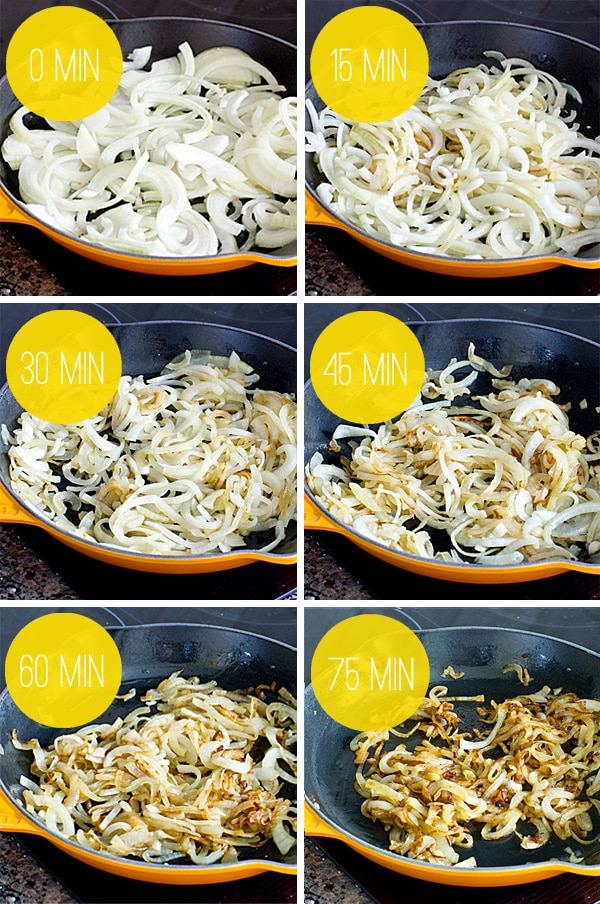 Here's where the patience comes in. Your onions won't do much for a while. As you can see, after cooking for 15 minutes, the onions are hardly even softened. This is the point where you'll say to yourself, "Kiersten is completely nuts. I'm turning up the heat!" Don't do it! I implore you! And when 30 minutes rolls around and your onions still haven't done much, resist that urge and keep the heat on low. Stir your onions every five minutes or so, and more often once they start to brown (that will start happening after about 45 minutes).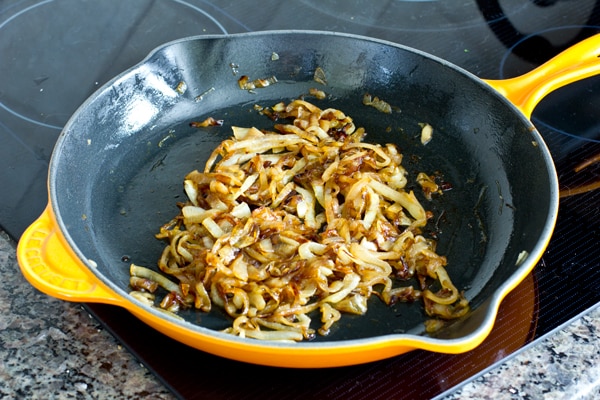 You were patient and now you have yummy caramelized onions! This picture was taken exactly an hour and thirty minutes after the onions were put in the skillet. Although they were caramelized after an hour and fifteen minutes, I like them really caramelized, so I let them go a little longer. Season with additional salt if needed and pepper.
Some things to note: I have an electric range and I've heard from people using gas ranges that it doesn't take them nearly as long to caramelize onions. So keep an eye on the onions and be aware that different types of stoves can make the cooking time vary. You can store your caramelized onions in a refrigerator for about a week or even make a big batch to freeze.

Here are some ideas for using your caramelized onions:
Butternut Squash & Caramelized Onion Flatbread
Caramelized Onion & Eggplant Puff Pastry Tart
French Onion Soup Sandwiches
Mediterranean-Style Rotini with Toasted Garlic Panko
Sweet Potato Pizza with Kale & Caramelized Onions