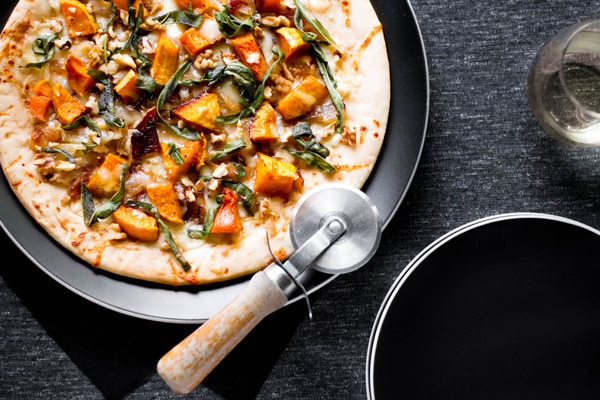 Cook once, eat twice! You can get two meals out of this recipe: Butternut Squash and Caramelized Onion Flatbread and Butternut Squash Penne.
Beautiful Food
I'm pretty excited about this post. It features some of my favorite ingredients: butternut squash, caramelized onions, and sage. And it's perfect for fall! But best of all, it's a collaboration with an amazing food photographer, Rikki Snyder. Oh, and it has a concept too! A concept!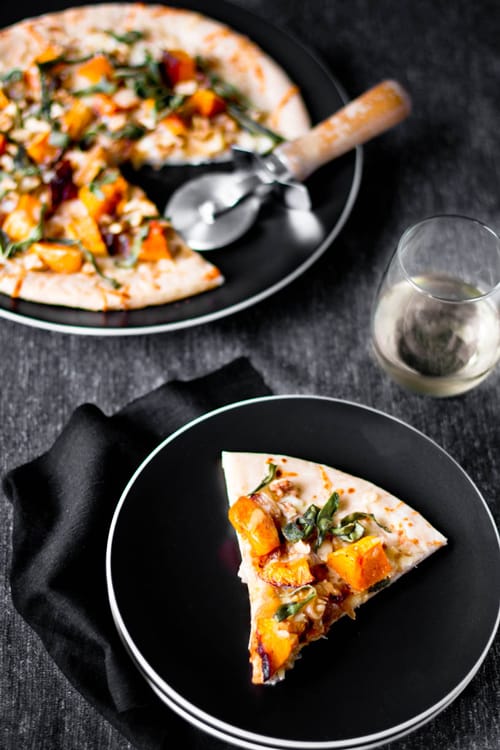 After emailing back and forth for a while, Rikki and I decided to work together on a few posts. I've always felt that my strength as a food blogger is recipe development; while I love taking pictures, I'd be lying if I said it wasn't a struggle at times. And since Rikki takes gorgeous photos, it seemed like a fun idea for me to develop some recipes and for Rikki to photograph them.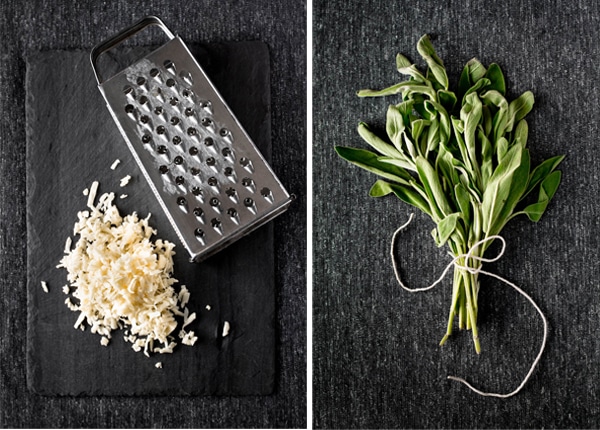 The common denominator in the recipes? Butternut squash! (And caramelized onions too.) Fall is typically a busy time. The lazy, relaxed days of summer are over. Now the kids are back in school, days are shorter, and easy meals are much-needed. Well, here are two meal ideas to make life a little bit less hectic—at least around dinnertime.
About the Recipe
Both the pasta and the flatbread start with roasted butternut squash and caramelized onions. You can make these over the weekend or the night before. You'll use half of them in each recipe. While the roasted squash and caramelized onions take a little bit of time to make, they're fairly hands-off recipes. With both of those prepared in advance, the pasta and flatbread are each done in 20 minutes or less.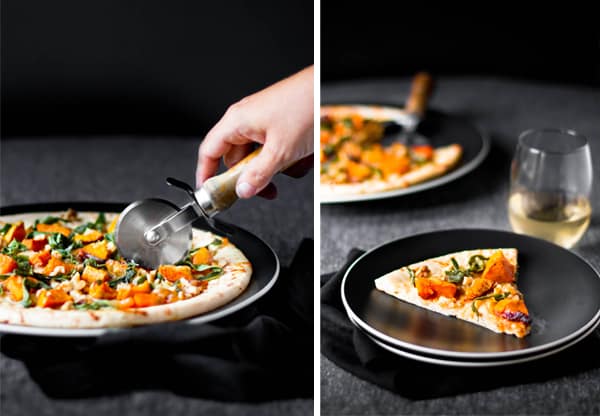 The best thing about these two meals is that not only are they easy, but they're delicious. Because even though fall is a busy time, rushed meals don't always have to come out of a box or a can—with a little bit of planning, you can have a quick homemade meal like this rustic butternut squash flatbread. And trust me, having eaten many meals from a box in my day, this flatbread is way better.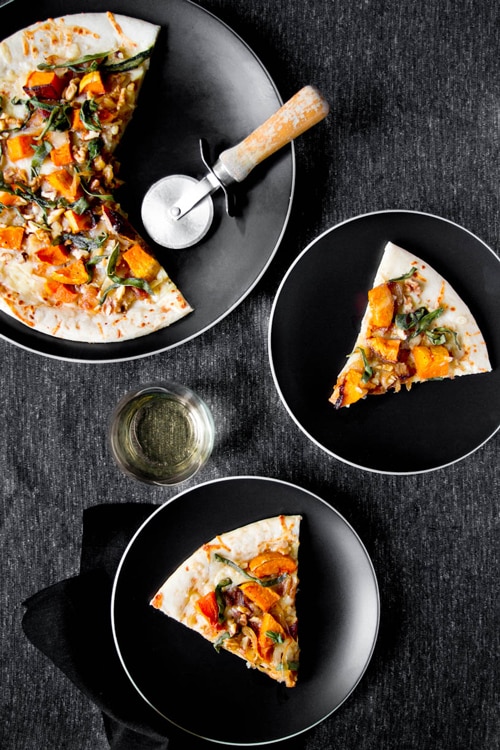 Recipe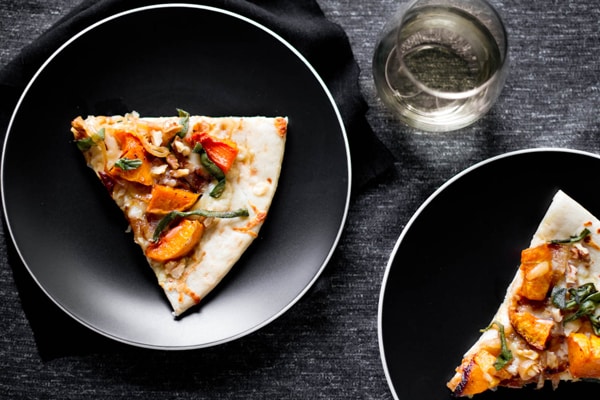 Ingredients
Instructions
Roasted Butternut Squash
Preheat oven to 400°F.

Divide squash onto 2 rimmed baking sheets; drizzle each sheet with 1 tablespoon of olive oil, sprinkle with salt and pepper and toss to coat.

Bake for 45–50 minutes or until tender.

Reserve half for penne recipe.
Caramelized Onions
Heat oil in a large skillet over low heat.

Add onions and a pinch of salt. Cook until completely caramelized, stirring occasionally at first and more often as onions begin to brown. Depending on your stove, this could take anywhere from 30 minutes to over an hour.

Season with freshly ground pepper.

Reserve half for penne recipe.
Flatbread
Preheat oven to temperature indicated on pizza crust package.

Top crust with caramelized onions, cheese, and squash.

Bake for time on package or until squash is heated through and cheese has melted.

While pizza is baking, heat oil in small skillet over medium high heat. Add sage leaves and saute, stirring constantly, for about 3 minutes or until leaves are crispy, but still green.

Sprinkle sage leaves and walnuts on pizza before serving.
Notes
Prep and cook time are for flatbread only. If you're making the caramelized onions and butternut squash on the same day you're making the flatbread, allow about an extra hour.
Nutrition
Calories:
672
kcal
Carbohydrates:
90
g
Protein:
18
g
Fat:
29
g
Saturated Fat:
8
g
Polyunsaturated Fat:
4
g
Monounsaturated Fat:
14
g
Cholesterol:
19
mg
Sodium:
672
mg
Potassium:
1156
mg
Fiber:
9
g
Sugar:
12
g
Vitamin A:
30050
IU
Vitamin C:
65
mg
Calcium:
359
mg
Iron:
5
mg
Craving more veg-friendly recipes?
Shop our collection of vegetarian and vegan cookbooks, including our new Vegan Thanksgiving and Vegan Christmas cookbooks!
This post was originally published on 24 September 2012.