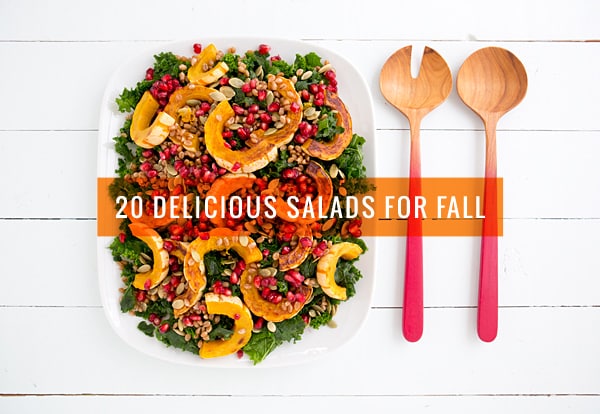 Sure, classic comfort foods make a welcome reappearance this time of year, but we think that the true stars of the table are these gorgeous jewel-toned numbers. Made with the finest produce of the season -- think rich roasted butternut squash, ruby pomegranate seeds and emerald-green kale, just for starters -- these 20 Delicious Salads for Fall have us forgetting that macaroni and cheese even exists. Well ... almost.
Kale and Delicata Salad with Citrus-Maple Vinaigrette
The colors of this salad mimic fall trees at their peak, making it a gorgeous choice for the Thanksgiving table. And a tasty one, too, with massaged kale, roasted delicata and pomegranate in a orange maple dressing.
Spicy Thai Carrot and Kale Salad
An irresistibly creamy peanut Sriracha sauce coats this creative salad from Running to the Kitchen. We love those carrot strings!
Apple Fennel Salad Stack
This vertical salad from Tasty Yummies is a stack of pure scrumptiousness. Apple, fennel, arugula and blue cheese, baby. Things are looking up!
Bulgur Wheat Salad with Pomegranate and Walnuts
It's pomegranate season, and we couldn't be happier! This salad from An Edible Mosaic makes us pretty happy too. Tender bulgur in a pomegranate molasses dressing, with a smattering of ruby pomegranate arils and fresh walnuts on the top. Yum.
Roasted Pear and Fennel Salad
Nosh and Nourish brings us this delicious salad made with roasted fennel and pears tossed with beet greens and an Asian-inspired dressing. Yup, we're there!
Roasted Beets with Edamame & Arugula
Peppery arugula, toothsome edamame and earthy beets make up a simple salad that couldn't be more perfect for fall if it tried.
Loaded Raw Kale Salad
This refreshing fall salad from Cafe Johnsonia features all kinds of crunchy goodies on a bed of kale - apples, golden beets, sunflower seeds and cucumber. We'd happily load our plates with this loaded salad!
Warm Cauliflower & Israeli Couscous Salad
This salad is full of complex flavors, but it's wonderfully simple - roasted cauliflower, kalamata olives and Israeli couscous tossed in a citrus vinaigrette.
Autumn Fruit Salad with Cinnamon Greek Yogurt Dressing
A healthier spin on creamy fruit salad from Kitchen Treaty. Crisp pears and sweet apples in a maple-syrup-sweetened dressing make an easy seasonal side (or health-conscious dessert, even).
Squash, Lentil, and Kale Salad with Tahini Dressing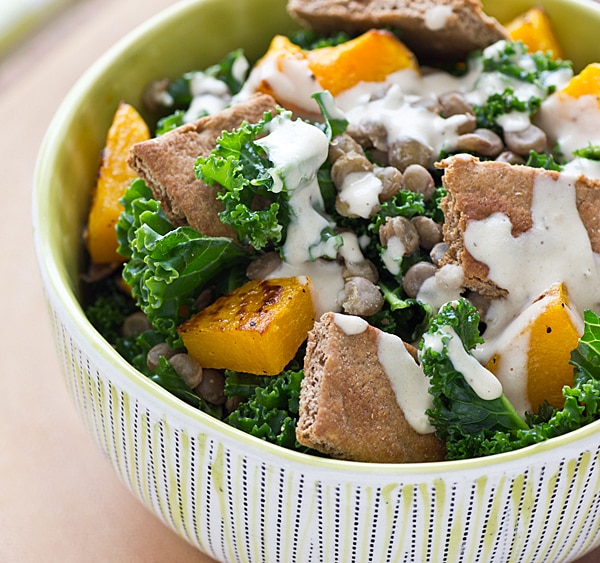 A hearty  salad made with kale, butternut squash, and lentils. Inspired by Real Simple's Chicken, Squash & Chickpea Salad.
Butternut Squash, Lentil & Kale Salad with Tahini Dressing
A creamy tahini dressing tops this hearty salad made with fall-favorite butternut squash, lentils, kale and - for an unexpected crunch - pita chips.
Frisee Salad with Roasted Mushrooms
Crunchy frisee joins up with earthy roasted mushrooms (three different kinds!) and crunchy garlic croutons in this thoroughly tasty salad from Brooklyn Supper.
Sweet Potato Salad with Blood Orange Vinaigrette
A bed of winter greens topped with roasted sweet potatoes and drizzled with an orange vinaigrette. This salad from Little Ferraro Kitchen has us loving the season more than ever.
Butternut and Cranberry Freekeh Salad
Nutty freekeh pairs perfectly with roasted butternut squash and dried cranberries in this seasonal offering from Taste, Love and Nourish. The sprinkle of pecans has us swooning too.
Pomegranate, Persimmon and Pistachio Wild Rice Salad
A red miso and honey vinaigrette dresses this colorful fall salad from Aida Mollenkamp. Fuyu persimmons, salty pistachios, wild rice and kale ... can it be fall forever?
Roasted Sweet Potato, Pomegranate, and Massaged Kale Salad
Those colors! Sweet potatoes join forces with massaged kale and garnet-hued pomegranate seeds for a seriously awesome autumn salad.
Roasted Cabbage Salad with Brown Butter Croutons
Cabbage, roasted until sweet, and then tossed with golden brown-butter croutons. This inspired salad from Simple Bites has us smitten.
Brussels Sprout Salad with Apples and Cranberries
Shredded Brussels sprouts, tart Granny Smiths, cranberries and a maple syrup dressing make up this easy salad from Rachel Cooks. Plus, with only 15 minutes of prep time required, it comes together in a flash!
Raw Beet and Butternut Slaw
This inventive salad from Apron Springs is made with crunchy matchsticks made with raw butternut squash and beets. Color us intrigued!
Roasted Butternut Squash and Kale Salad with Orange Sage Dressing
With roasted squash, dinosaur kale and honeycrisp apples, this salad is quintessential seasonal fare. The sassy orange-sage dressing seals the deal.