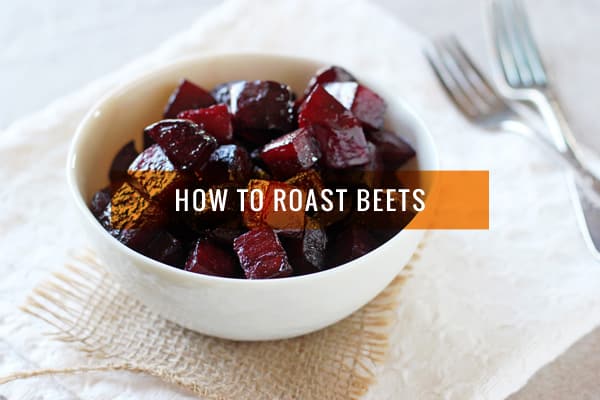 I feel like a bad food blogger admitting that I refused to give beets a try until about four or five years ago. For whatever reason, I would always give them the side eye and question how on earth they could possibly taste good. After a lot of persuasion by my husband, I finally relented and agreed to try a salad with beets at a local restaurant. And of course I loved them.
These days I buy beets on a regular basis and roast them on the weekends to have on hand for meals during the week. Roasting really brings out a sweetness to the beets and makes them nice and tender.
Today I'm going to show you my preferred method for roasting beets. Rather than wrapping in foil and baking them whole, I prefer to peel, chop and then bake. Here's why:
You can enjoy them immediately after they are finished roasting. There is no waiting for them to cool down enough so you can peel off the skin and then chop.
The bake time is quicker. Since the beets are chopped into bite-sized pieces and then roasted, the cook time is shorter than baking a whole beet. This is especially true if your beets are on the larger size.
You can roast other veggies at the same time. I like to chop up other vegetables, my personal favorites being sweet potatoes and onions, and roast them along with the beets.
So let's walk through the process.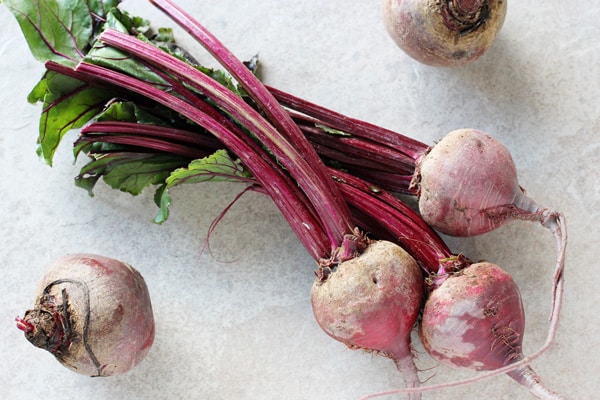 Preheat your oven to 400ºF.
You can buy beets loose or with the greens attached. If your beets have the greens, remove them (you can save these for another use), then wash the beets thoroughly under warm water.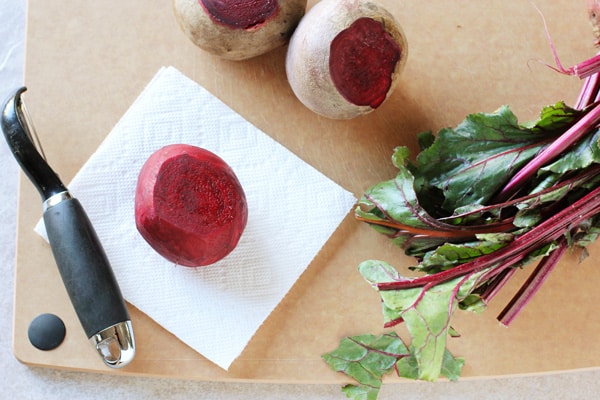 Beets stain your hands very easily, so if desired, wear gloves during this step.
Trim off the tops of the beets and the roots. Using a vegetable peeler, peel off the skin.
Next, chop the beets into chunks, about ¾ to 1 inch in size.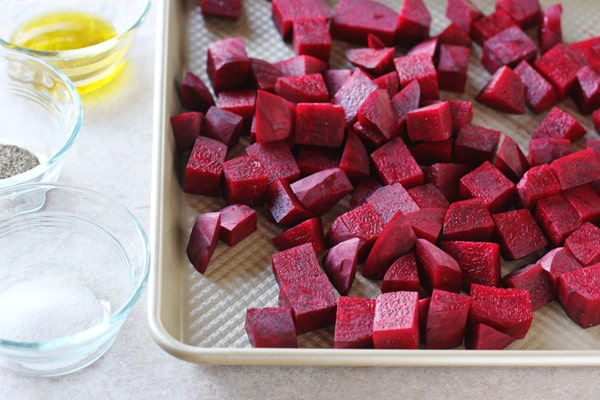 Add the chopped beets to a large rimmed baking sheet, then drizzle with olive oil and sprinkle with salt and pepper. For three medium beets, I use about 1 ¼ tablespoons olive oil, ¼ teaspoon salt and a pinch of pepper, but you can use more or less to taste. Toss to combine and spread in an even layer.
Bake in the preheated oven until tender, about 30 to 40 minutes, stirring once or twice during baking.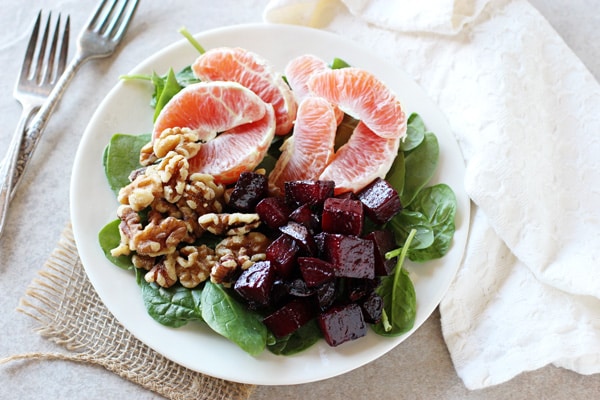 Enjoy the roasted beets immediately or store in an airtight container in the refrigerator for up to one week. You can add them to salads, meal bowls, or simply serve as a side just by themselves.