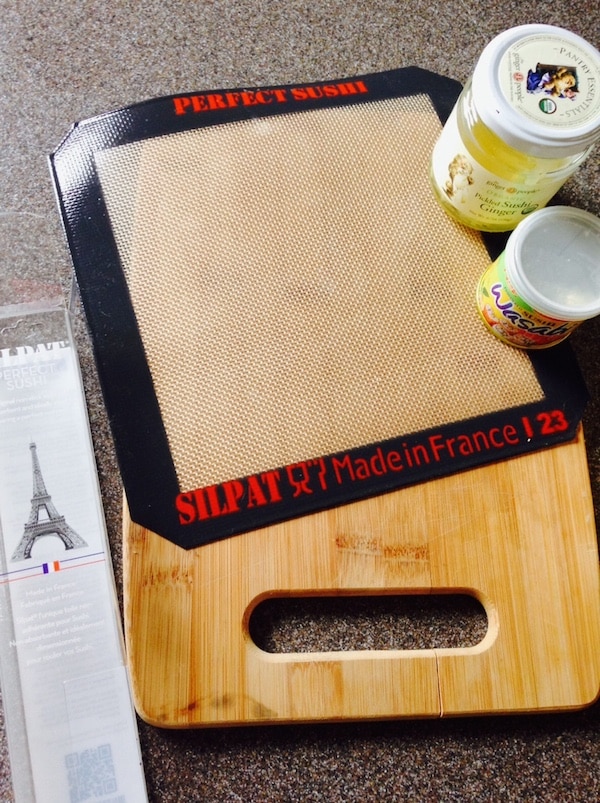 Confession time: I've never made sushi at home before, so I had to enlist my sushi-pro friend Meghan (seriously, the girl's taken community ed classes on sushi!) to help me with this review. The reason this is relevant is because rolling sushi has always seemed way too hard—which is exactly why I've never bothered to make homemade. And always end up spending a small fortune going out for it—or (ugh) settling for grocery-store kappa maki.
But oh, how that's changed with the Silpat sushi mat in my life. It was easy to conquer sushi rice (I adapted the method from this OMV quinoa sushi post) and to master julienning all the veggies, but after using the Silpat mat, I actually feel like I know what I'm doing. Its surface is just sticky enough to help guide your roll, and honestly it's virtually impossible to mess it up as long as you keep your nori sheet tight and don't overfill the rolls. Best of all, the mat doesn't scoot around on the counter or cutting board, so it's easy to keep everything steady. And there's no need for plastic wrap over the mat like you'd do with bamboo—the Silpat is slightly textured so the sushi releases easily, and you can just wash the mat when you're done since there are no nooks or crannies for food to get stuck in.
If you're like Meghan and have made sushi with a bamboo mat before, it is a little different, but she said she preferred the Silpat after she got used to it. It's 9.5"x9.5", so it will be able to handle even the most giant rolls. Everything stayed together perfectly, even with our sub-par chopsticks skills, and we were able to enjoy this lovely candlelit veggie sushi dinner that would have cost a fortune at a restaurant. (Not pictured: The next day when my cat went into a nori rage and ate all my leftovers off the counter while I was in the other room. Yeah.)
If you regularly make sushi at home (or want to start), the Silpat sushi mat makes it way easier than you think. Just work on your julienning skills, and make sure to hide the leftovers from your cat!
how to buy silpat sushi mats
Order online at amazon.com or enter our giveaway here.
Disclaimer: We received a sample from Silpat in order to try the sushi mat, but this had no influence on our opinion and this isn't a sponsored post.