The classic party appetizer goes vegetarian! These tempeh meatballs are made with seasoned tempeh and panko, baked until golden brown and coated in a spicy pineapple-infused sweet & sour sauce. Now that's a reason to celebrate.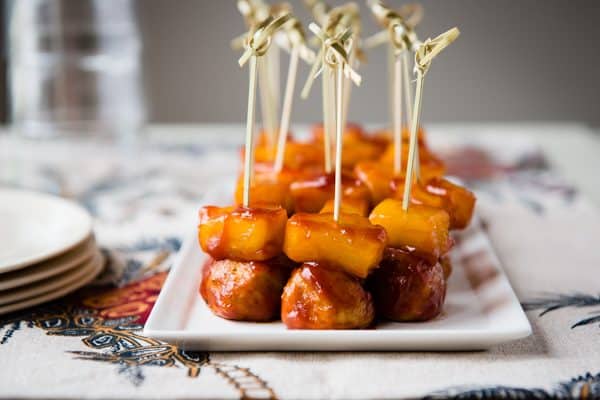 Jump to:
If you've made and enjoyed any of the vegetarian recipes I've created and shared in the past, you can thank meatballs. At least in part.
Meatballs are largely responsible for converting me to a vegetarian diet. You see, I loved to help out in the kitchen as a kid. I also loved to eat meatballs.
When it came to preparing meatballs, there was a little disconnect. The whole messy process of getting to know my food by digging my hands into a bowl full of meatball-to-be mixture just didn't do it for me.
Interestingly enough, meatballs spent a long time on my vegetarian food wish list. Commercial vegetarian meatballs eventually became available, but like lots of meat substitutes, they were a bit... disappointing.
Silver lining: homemade veggie meatballs are incredibly easy to make!
There are a ton of options for replacing the meat part of meatballs, and my general rule is that if it works in a veggie burger, it's at least worth a try in a meatball.
These tempeh meatballs are:
Packed with delicious sweet and sour flavor!
Vegetarian.
Vegan.
Easy to make in 30 minutes.
While you're here, be sure to grab our FREE 5-Day Meatless Meal Plan. It's packed with tasty recipes to make vegetarian cooking easy and delicious!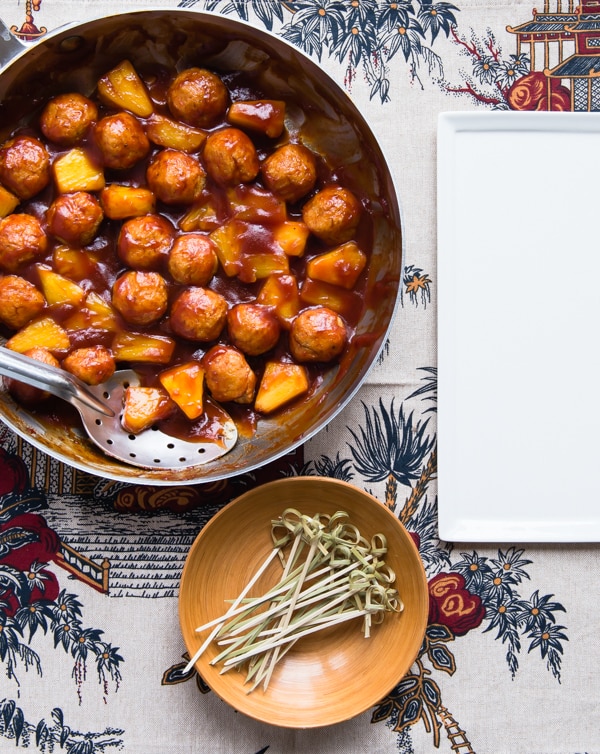 Making Perfect Tempeh Meatballs
These tempeh meatballs would work with most flavors and sauces, but with party season approaching, a pineapple sweet and sour seemed the way to go. (Sorry if you were holding out for grape-jelly meatballs!)
In this recipe, simply throwing some pineapple chunks into the sauce infuses it with loads of flavor. I also added a little Sriracha sauce, because if we're doing sweet and sour, why not go all out and add some spicy to the mix?
Even better, these meatballs are incredibly quick and easy to make. The sauce is of the toss-everything-in-a-pot type, and it simmers for just a short time while the meatballs bake.
These tempeh meatballs can also be made ahead of time. If you opt to go this route, prepare the sauce and the meatball mixture separately, and then just refrigerate everything until you're ready to bake.
When the time comes, roll your meatballs, bake them, and warm the sauce up on the stove just before the baking time is up.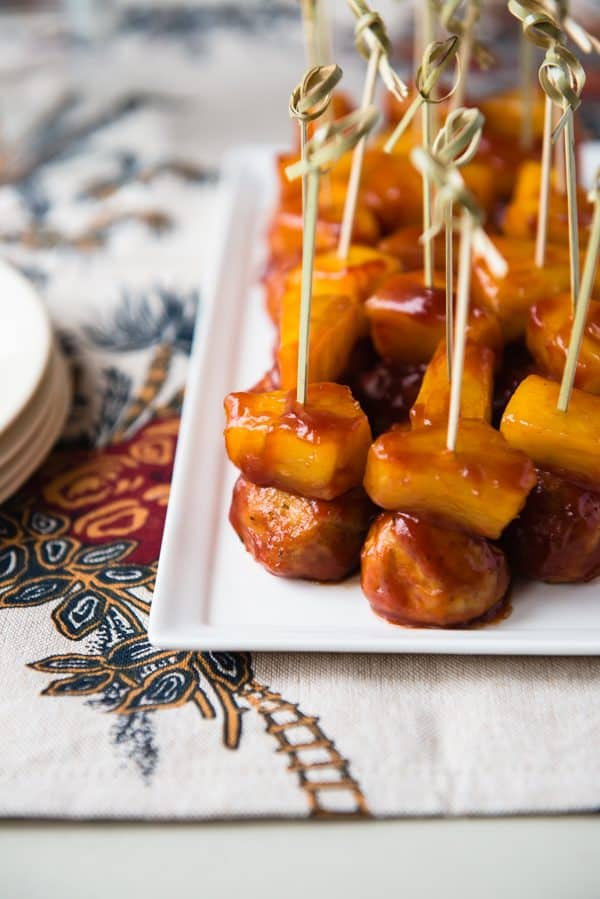 More Ways to Use Tempeh
If you're wondering what else to do with tempeh, don't miss these delicious ideas:
Photos by Lindsey Johnson
Recipe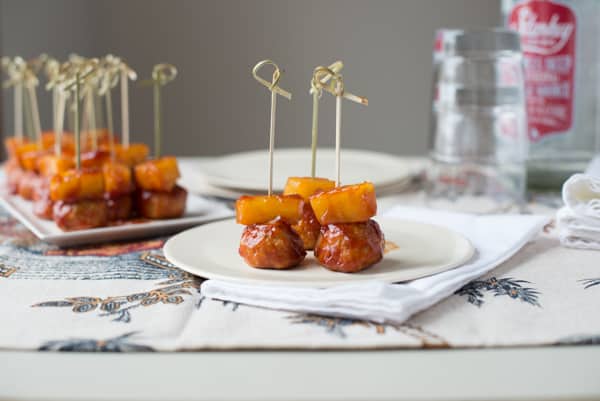 Ingredients
For the tempeh meatballs:
Instructions
Make the meatballs:
Preheat oven to 400°F. Coat a baking sheet or large cast-iron skillet with 1 tablespoon of grapeseed oil.

Place the onion and garlic into the bowl of a food processor fitted with an S-blade. Pulse a few times until coarsely chopped. Add the tempeh and pulse a few more times until finely chopped. Add the remaining 1 tablespoon of oil, panko, milk, soy sauce and pepper. Pulse until mixed, scraping down the sides of the bowl as needed.

Roll the mixture into 20 balls about 1 ½ inches in diameter. Place the meatballs on the baking sheet or skillet and bake, turning twice while they bake, until golden brown, about 20 minutes.
Make the sauce:
Place a medium saucepan over medium heat. Add the pineapple, broth, cider vinegar, brown sugar, tomato paste, soy sauce and Sriracha and stir to combine. Bring to a simmer, then lower heat to maintain the simmer and cook, stirring occasionally, for 10 minutes.

Combine the water and cornstarch to a small bowl and whisk until smooth. Add the cornstarch mixture to the sauce and stir just until combined. Add the meatballs to the sauce and cook, stirring frequently, until sauce becomes thick and coats the meatballs, 1-2 minutes. Transfer the meatballs to a serving platter and spear with decorative toothpicks for serving.
Notes
Tips:
You can dice the pineapple as finely as you like. If you're serving these as an appetizer, you may want to cut the pineapple into about 20 chunks (or as many meatballs as you have) and skewer each chunk to the top of a meatball using a toothpick.
If you begin your sauce about 5 minutes after placing the meatballs in the oven, you should be well timed for the meatballs to go into the sauce right after coming out of the oven.
Nutrition
Calories:
69
kcal
Carbohydrates:
8
g
Protein:
3
g
Fat:
3
g
Saturated Fat:
1
g
Polyunsaturated Fat:
2
g
Monounsaturated Fat:
1
g
Sodium:
156
mg
Potassium:
109
mg
Fiber:
1
g
Sugar:
5
g
Vitamin A:
49
IU
Vitamin C:
2
mg
Calcium:
27
mg
Iron:
1
mg
Craving more veg-friendly recipes?
Shop our collection of vegetarian and vegan cookbooks, including our new Vegan Thanksgiving and Vegan Christmas cookbooks!