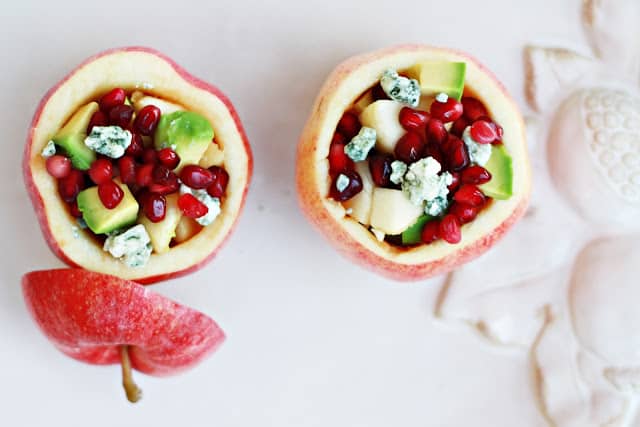 Apples normally make people think of sweet treats like pies and crumbles, but apples make a great addition to savory dishes too. From salads to soups we've rounded up delicious savory apple recipes to try this fall. This round-up includes savory apple recipes that can be used for simple weeknight dinners, entertaining with friends, and fall holidays like Thanksgiving.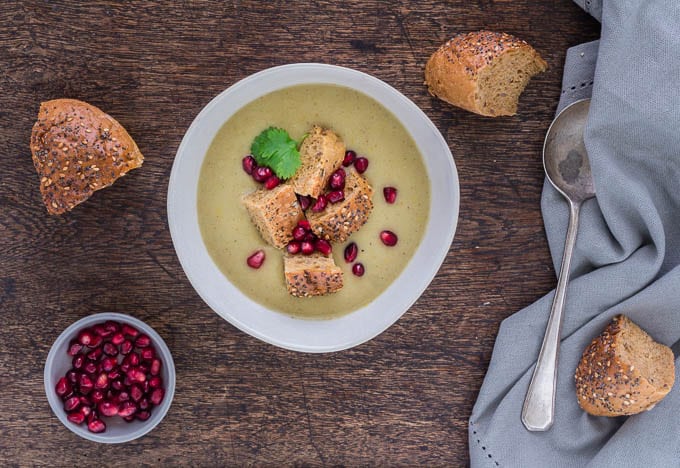 Coconut Parsnip and Apple Soup // This coconut, parsnip and apple soup spotted on Recipes from a Pantry is flavorful and perfect for a light meal. Bonus points for being both vegan and gluten-free.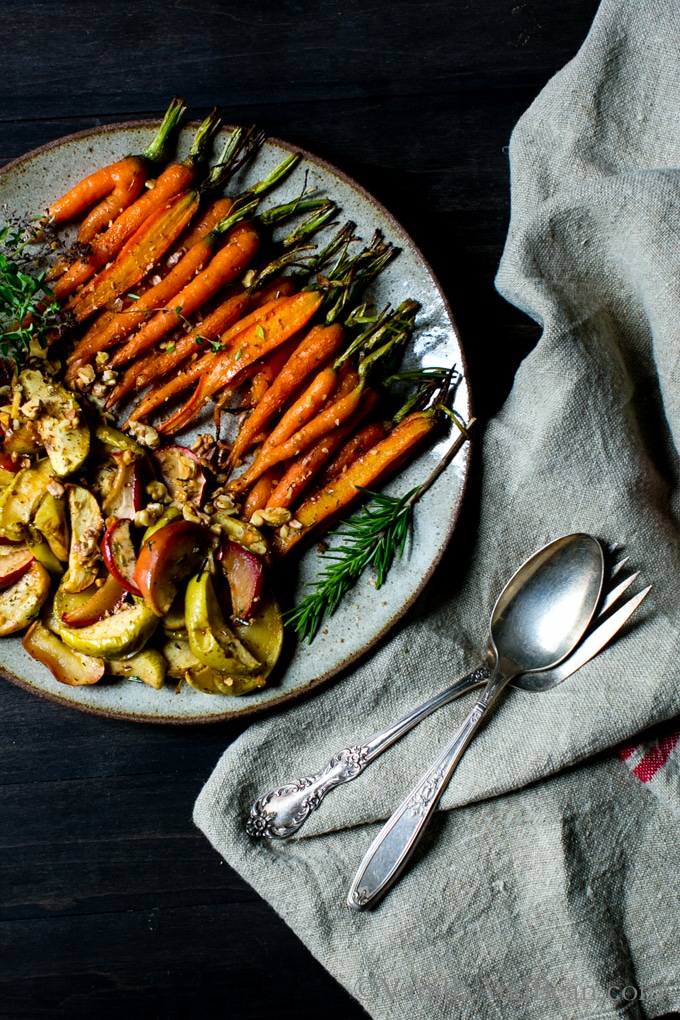 Maple-Roasted Cardamom Spiced Carrots and Apples // This vegan and gluten-free side dish from Vanilla and Bean is an ideal addition to the Thanksgiving menu.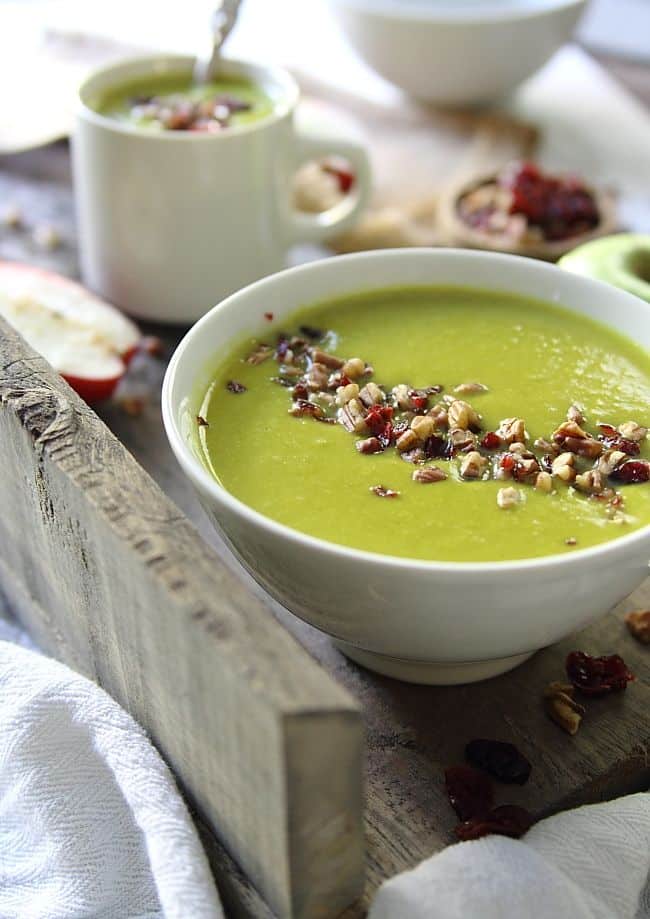 Leek Apple Cheddar Soup // The creamy soup from Running to the Kitchen is a vibrant green color and topped with walnuts and cranberries, making it as beautiful as it is delicious.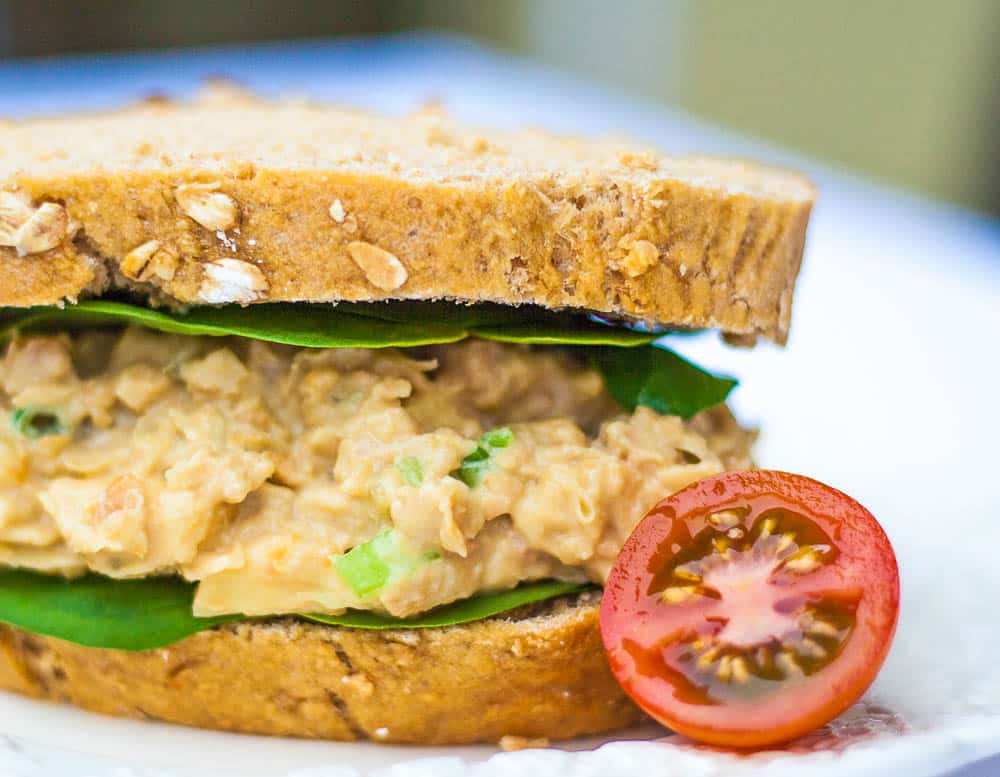 Easy Apple Chickpea 'Tuna' Sandwiches // Apples add the perfect crunch to this chickpea 'tuna' sandwich from Nora Cooks.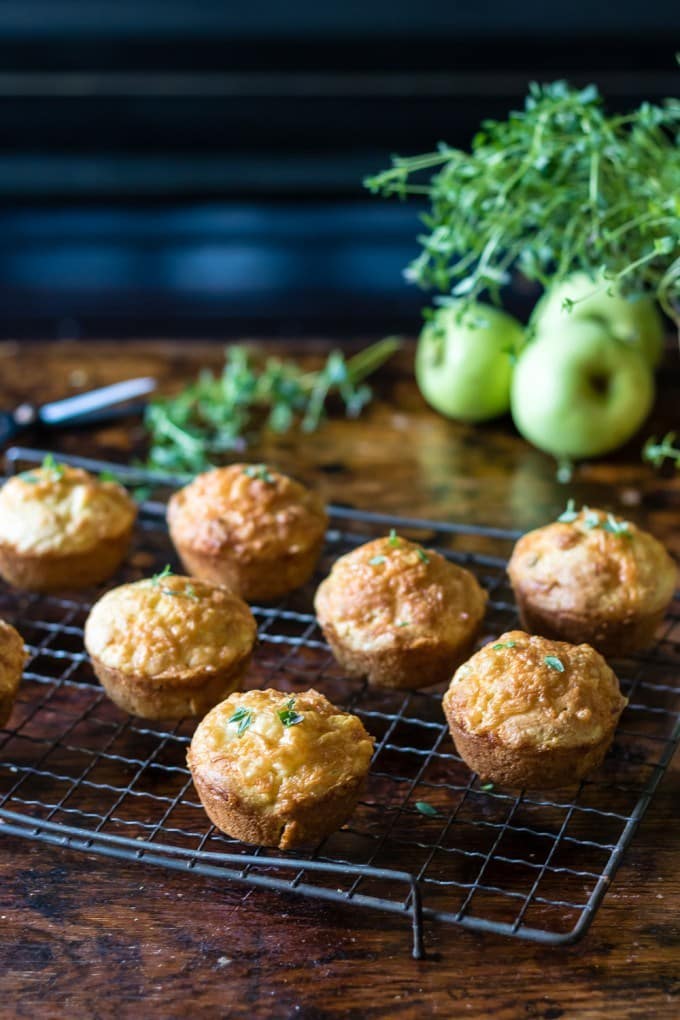 Apple Cheese Muffins with Thyme // These savory apple cheese muffins with thyme from Veggie Desserts are quick and easy to make.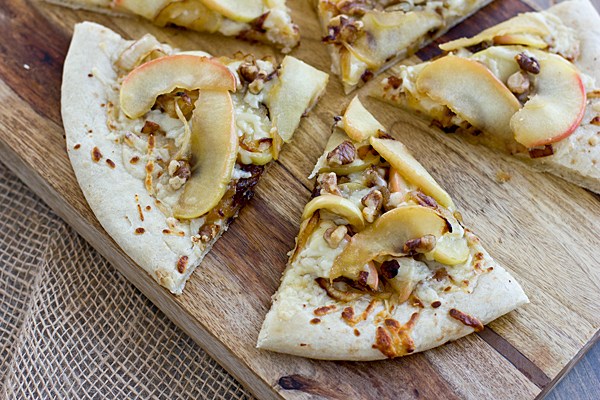 Apple Cheddar Pizza // Apples, cheddar, caramelized onions and walnuts transform this pizza into a sweet and savory dish that will leave you wanting more.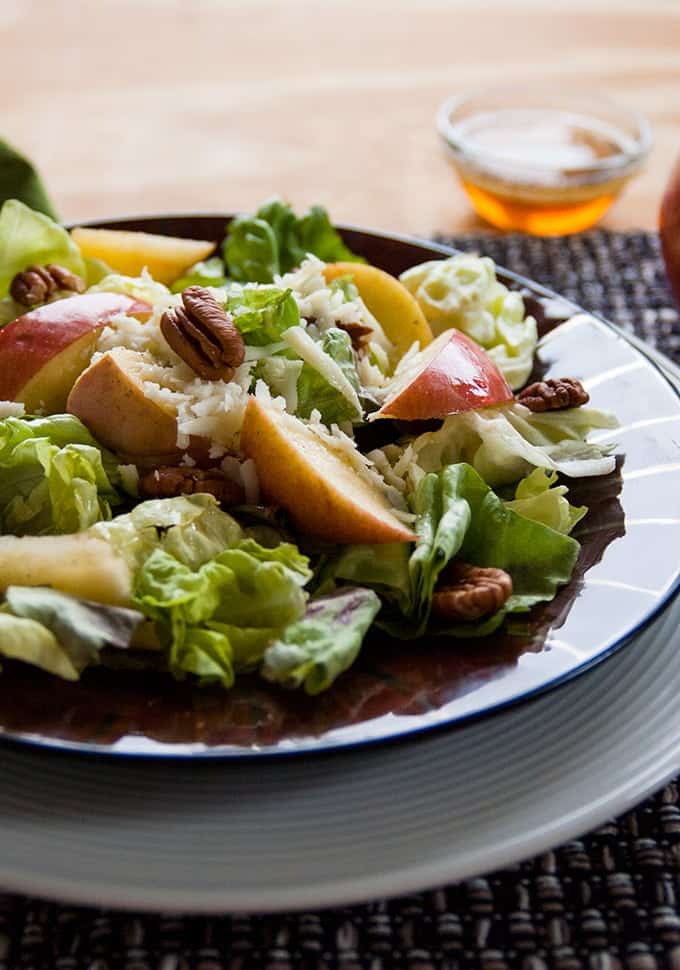 Apple Mozzarella Pecan Salad with Maple Vinaigrette // This no-cook, gluten-free salad from Cooking with Mamma C comes together in just minutes and is a perfect go-to lunch during fall.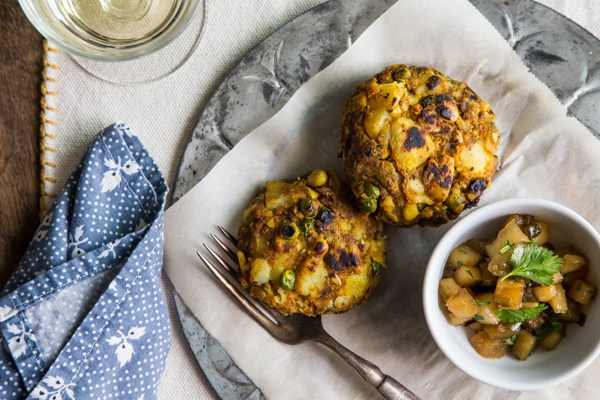 Samosa Cakes with Apple Chutney // These vegan samosa cakes are amazing on their own, but dipped in apple chutney they are out of this world.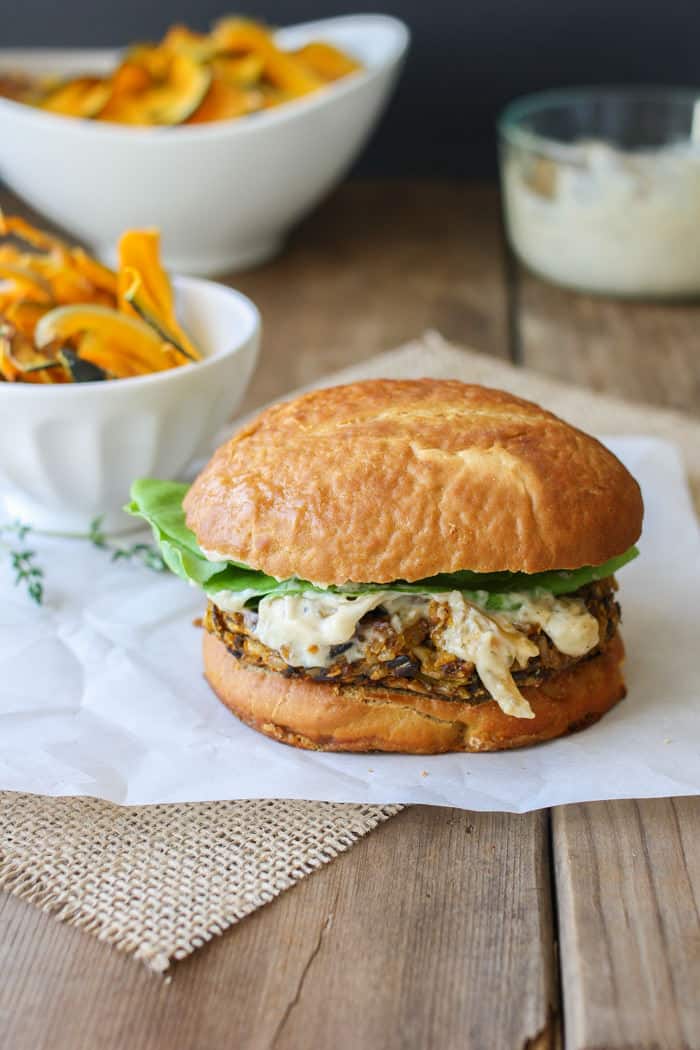 Butternut Squash Apple Burgers // This satisfying veggie burger from Veggies Don't Bite maximizes fall flavors by incorporating butternut squash, apples, shallots and thyme into this mouthwatering dish.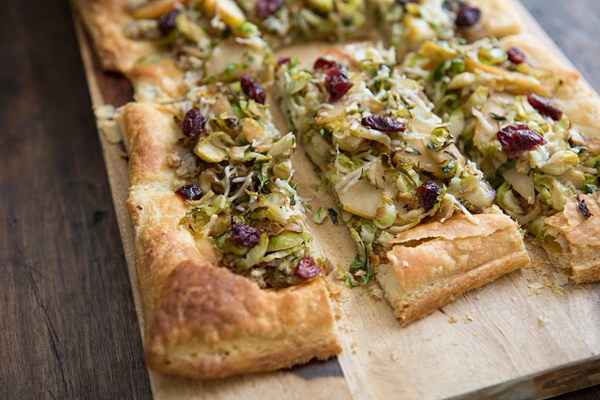 Brussels Sprout and Apple Tart with Walnut Pesto // This tart is loaded with fall vegetables that are combined with a unique pesto sauce and over a delicious puff pastry crust.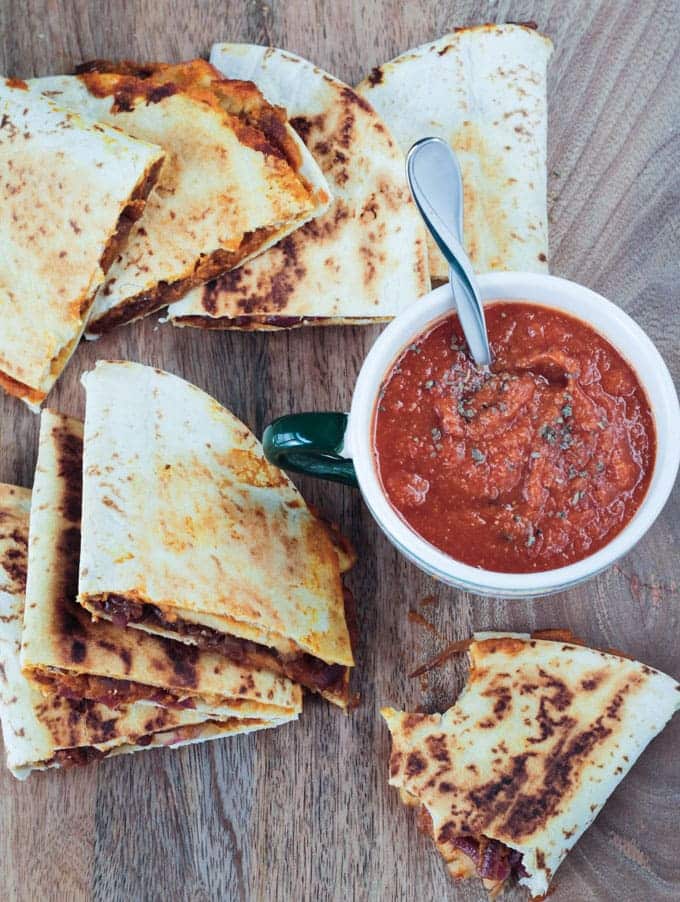 Pumpkin, Apple and Caramelized Onion Vegan Quesadillas // You won't even miss the cheese in this quesadilla recipe from Veggie Inspired because the pumpkins, apple, and caramelized onions are bursting with flavor.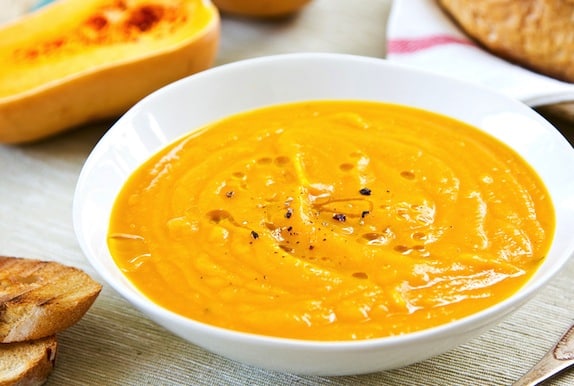 Butternut Squash and Apple Soup // Apples and butternut squash combine to make a perfect fall harvest soup from VegKitchen.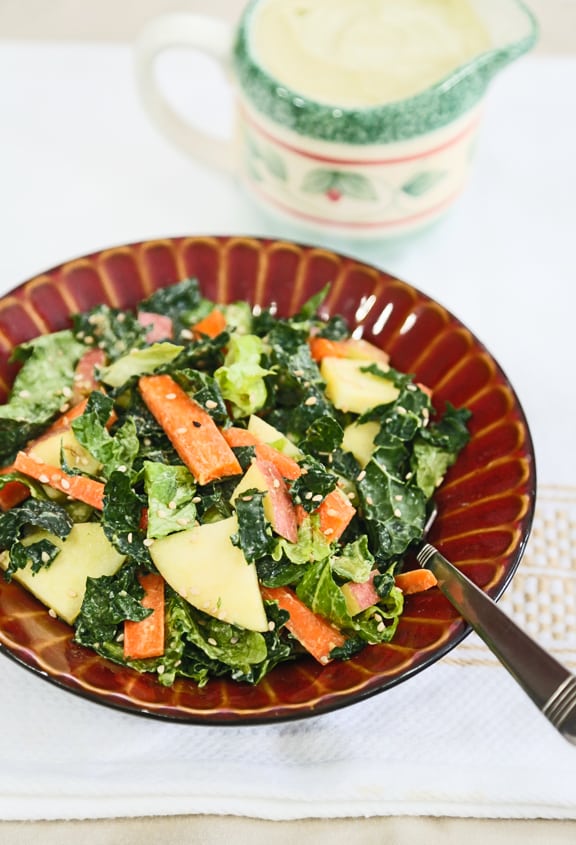 Kale, Romaine and Apple Salad with Sesame Avocado Dressing // Don't skip the step on massaging the kale, it really does help to brighten and soften the kale in this healthy salad from VegKitchen.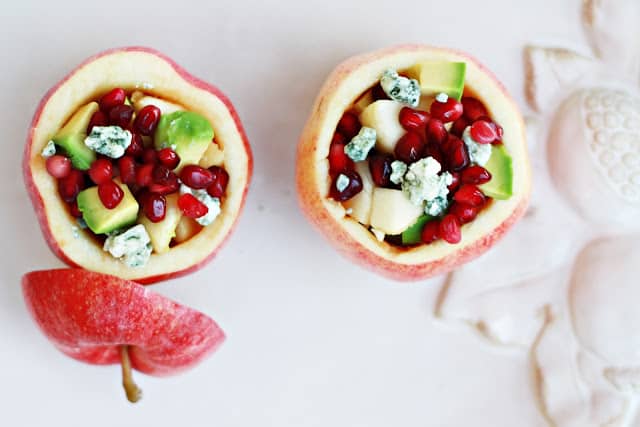 Harvest Apple Salad with Pomegranate, Avocado and Blue Cheese  // Could these hollowed out apple bowls from Yummy Mummy Kitchen be any cuter?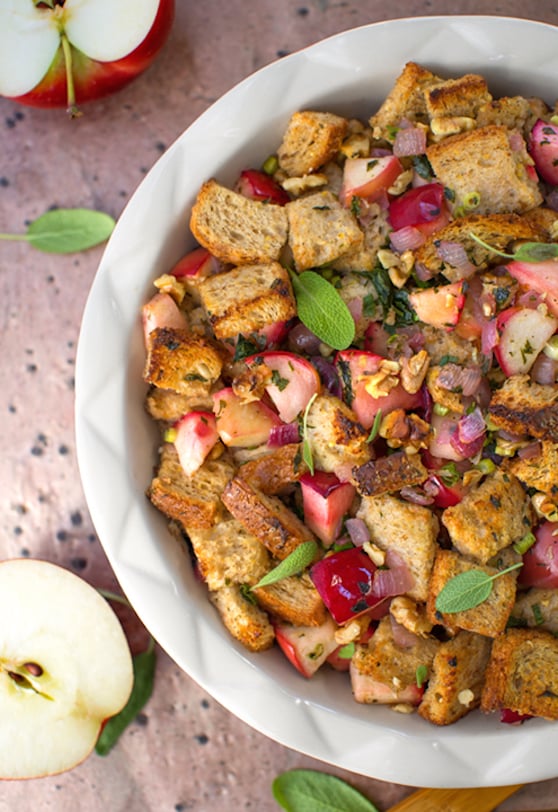 Walnut Apple Stuffing // Who doesn't love stuffing? It is a Thanksgiving classic and with this unique variation from VegKitchen you are going to want to be enjoy it more than just one day a year.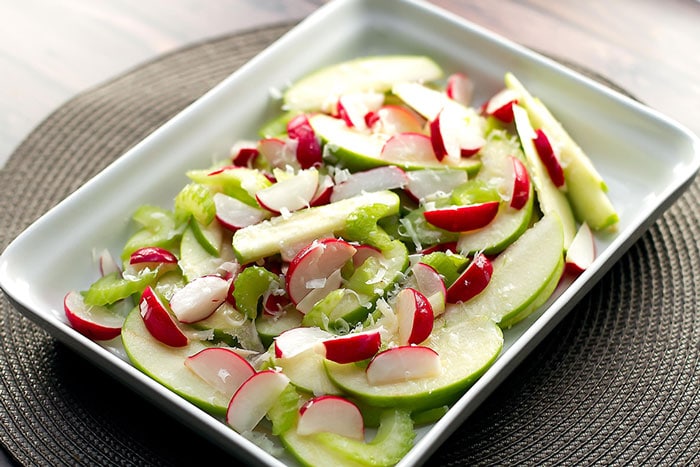 Radish and Green Apple Salad // Raw spicy radish, tart green apple, thinly sliced celery, tangy citrus juice and Parmesan cheese combine to produce this unique and vibrant dish by Girl Gone Gourmet.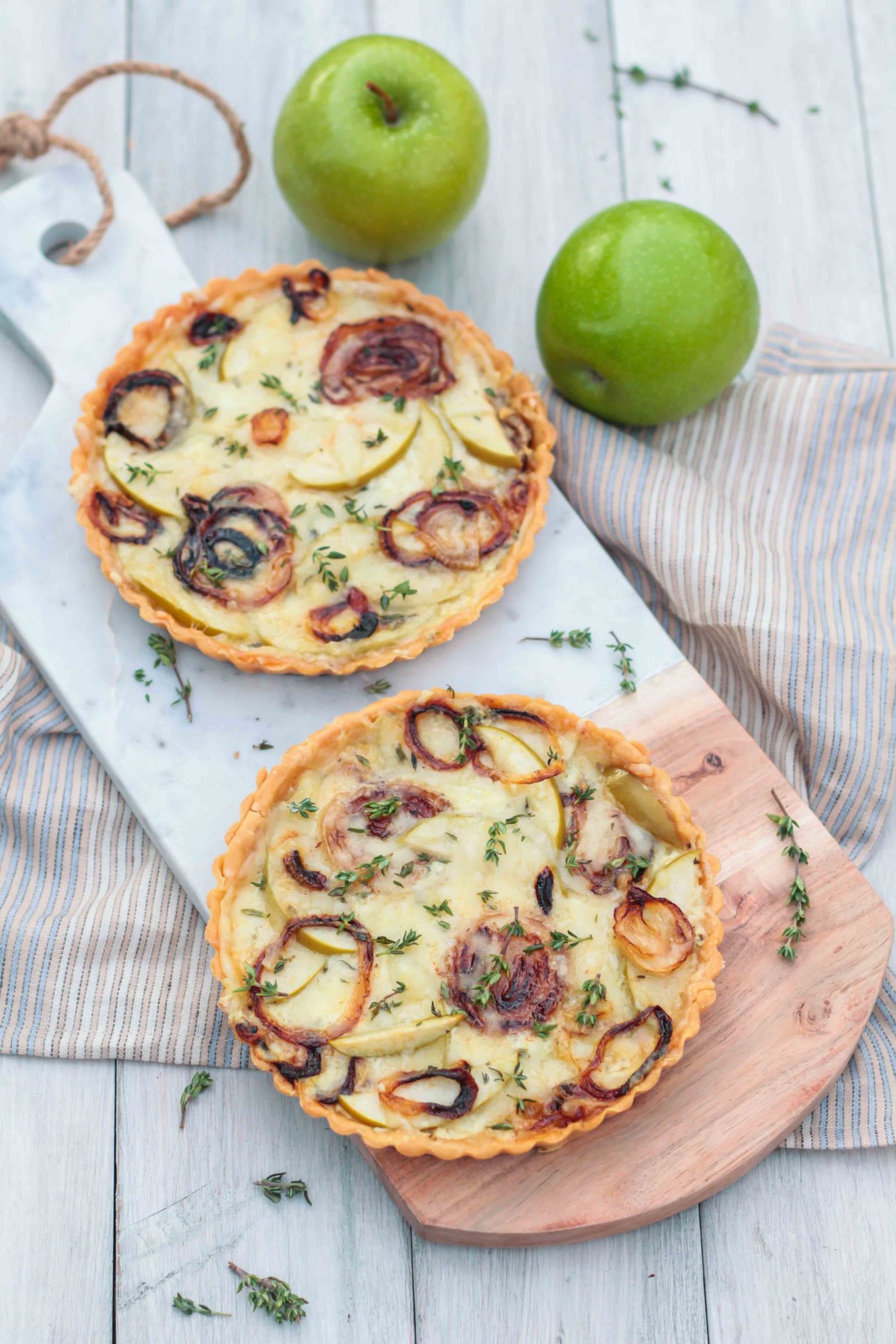 Savory Apple Thyme Tart // Apples, caramelized onions, gruyere and thyme are a winning flavor combination in this delicious tart by Le Petit Eats.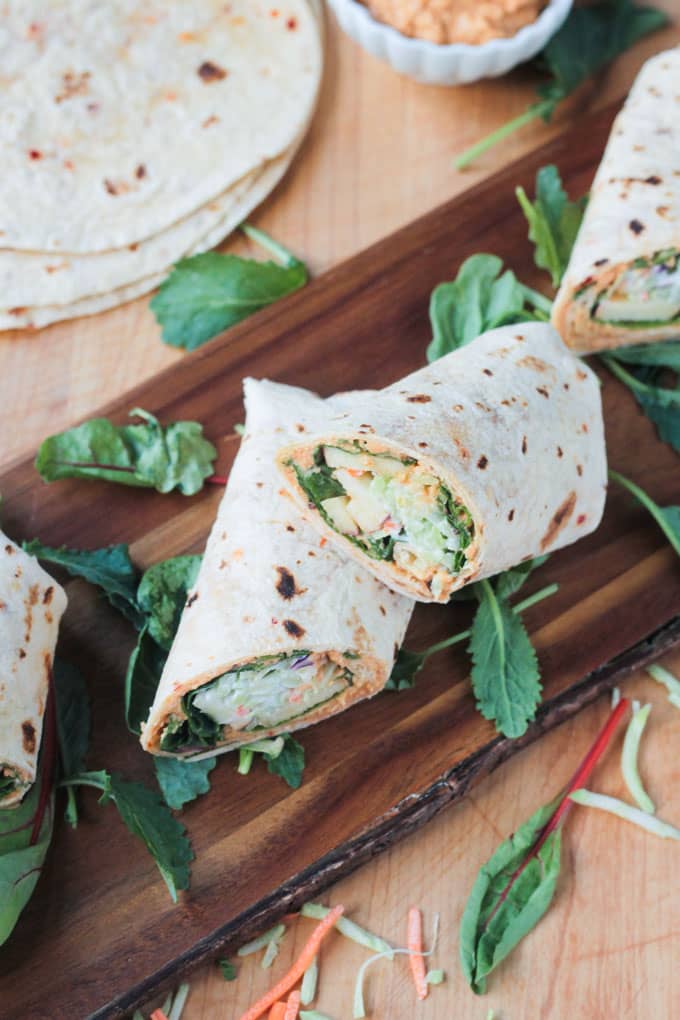 Veggie Wrap with Apples and Spicy Hummus // This veggie wrap from Veggie Inspired is such a simple and healthy lunch!