Photos by Emily Caruso
I love to cook. (I'm sure you've figured that out. I probably wouldn't be writing for this blog if playing around in the kitchen wasn't my idea of a good time.) Like many who love to cook, though, I have my kitchen inhibitions. There are two things that might make me a little reluctant to prepare any given meatless dish: 1) It's loaded with calories, or 2) There's some step involved that's a royal pain.
Unfortunately, one of my favorite Indian snacks hits these two criteria right on the nose: veggie samosas (a.k.a., little pockets of spiced culinary comfort). Samosas are delicious Indian dumplings filled with spicy veggies—usually potatoes and peas, all wrapped up in dough and fried to a crisp. Obviously, with the potatoes and the frying and all, they're pretty calorically dense. Then there's the preparation. Frying with anything more than a coating of oil is a pain if you ask me, and that crispy fried exterior is a dough that you'd normally have to devote time to mixing, rolling and wrapping. And so, my beloved samosas end up right in my "foods to avoid making" category.
Samosas are incredibly delicious though, so these issues were worth solving. How could that be done? The answer turned out to be quite simple: ditch the wrapper!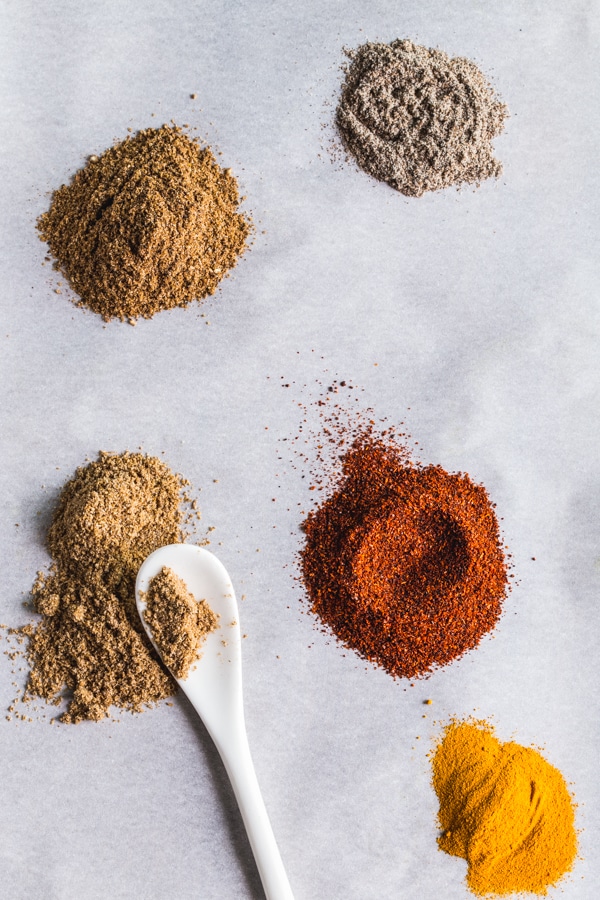 Without the wrapper you're left with just that spicy veggie filling that I mentioned, and since that filling is primarily made from potatoes, it shapes into patties easily. I used traditional samosa spices in this recipe, and added some roasted peanuts, which you'll occasionally find in samosas when dining out—and which give these samosa cakes a bit of crunch. Samosas are usually served with a chutney, and since apples are bountiful and delicious this time of year, I went with a tangy apple chutney.
These were quite fun to make, and pretty painless. They're fun to eat, too; you can pile a couple on a plate as a main course, throw one or two on a bun and eat as a burger, chutney atop, or serve them to your dinner guests as a snack or appetizer, chutney on the side.
Recipe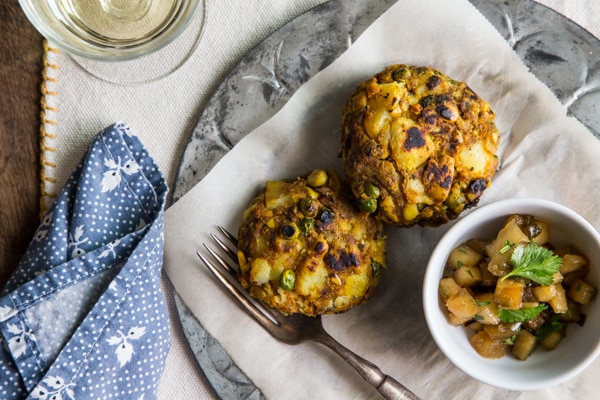 Ingredients
For the Apple Chutney:
1

large tart apple

such as Granny Smith, peeled and finely diced (about 2 cups)

2

serrano peppers

seeds and ribs removed and minced

½

tablespoon

fresh grated ginger

¼

cup

apple cider vinegar

¼

cup

brown sugar

¼

teaspoon

salt

¼

cup

chopped fresh cilantro
Instructions
Make the Apple Chutney:
Combine the apple, chilies, ginger, vinegar, brown sugar and salt in a small saucepan over high heat. Bring to a boil, then lower the heat to a simmer. Allow to simmer, uncovered, until the apple is tender and most of the liquid has cooked off, about 20 minutes, while you begin working on the samosa cakes. Once the chutney is finished cooking, let it cool and then stir in the cilantro.
Make the Samosa Cakes:
Place the potatoes in a large saucepan and cover them with water. Bring to a boil, then lower heat to a simmer. Cook until the potatoes are tender, about 15 minutes. Drain and set aside.

Place 2 tablespoons of oil in a large skillet over medium-high heat. Add the onion and sauté until softened, about 5 minutes. Stir in the garlic and ginger and sauté another minute, until fragrant, and then add the cooked potatoes, peanuts and peas. Sauté until the outsides of the potatoes begin to form a crust in spots, about 3 minutes. Stir in the flour, flax seeds, garam masala, turmeric, coriander, chili powder, salt, pepper, broth, panko, cilantro and lemon juice. Remove from heat.

Allow the mixture to sit for at least 10 minutes, until cool enough to handle.

Use a potato masher to break up any large chunks of potatoes. Shape the mixture into 8 patties, about 3 inches in diameter, pressing firmly into shape.

Wipe the skillet clean, then set it over medium-high heat and coat it with ½ tablespoon of oil.

Arrange patties in the skillet and cook until lightly browned on the bottoms, about 3 minutes. During cooking, use a spatula to gently press down on the top of each patty. If this causes the patty to spread out, use the spatula to draw the sides back in. Gently flip and cook until lightly browned on other side, about 3 minutes more.

Serve with Apple Chutney.
Notes
Handle the cakes gently, as they're vegan and don't contain eggs, which act as binders in many similar non-vegan recipes. The flax and flour, along with the starchiness of the potato, helps with that, but you'll still want to use some caution, particularly when flipping them.
You may want to cook your cakes in batches, depending on the size of your skillet. Be sure to give yourself plenty of room to flip the cakes. If your oil dries up, coat the skillet with another ½ tablespoon between batches.
For a milder version of the chutney, cut back to 1 serrano pepper, or omit the peppers for a no-heat version.
Nutrition
Calories:
253
kcal
Carbohydrates:
36
g
Protein:
6
g
Fat:
10
g
Saturated Fat:
1
g
Polyunsaturated Fat:
5
g
Monounsaturated Fat:
3
g
Sodium:
502
mg
Potassium:
564
mg
Fiber:
4
g
Sugar:
11
g
Vitamin A:
271
IU
Vitamin C:
13
mg
Calcium:
50
mg
Iron:
2
mg
Craving more veg-friendly recipes?
Shop our collection of vegetarian and vegan cookbooks, including our new Vegan Thanksgiving and Vegan Christmas cookbooks!