This warm Israeli couscous salad is packed with healthy flavor from roasted cauliflower and kalamata olives. Yum!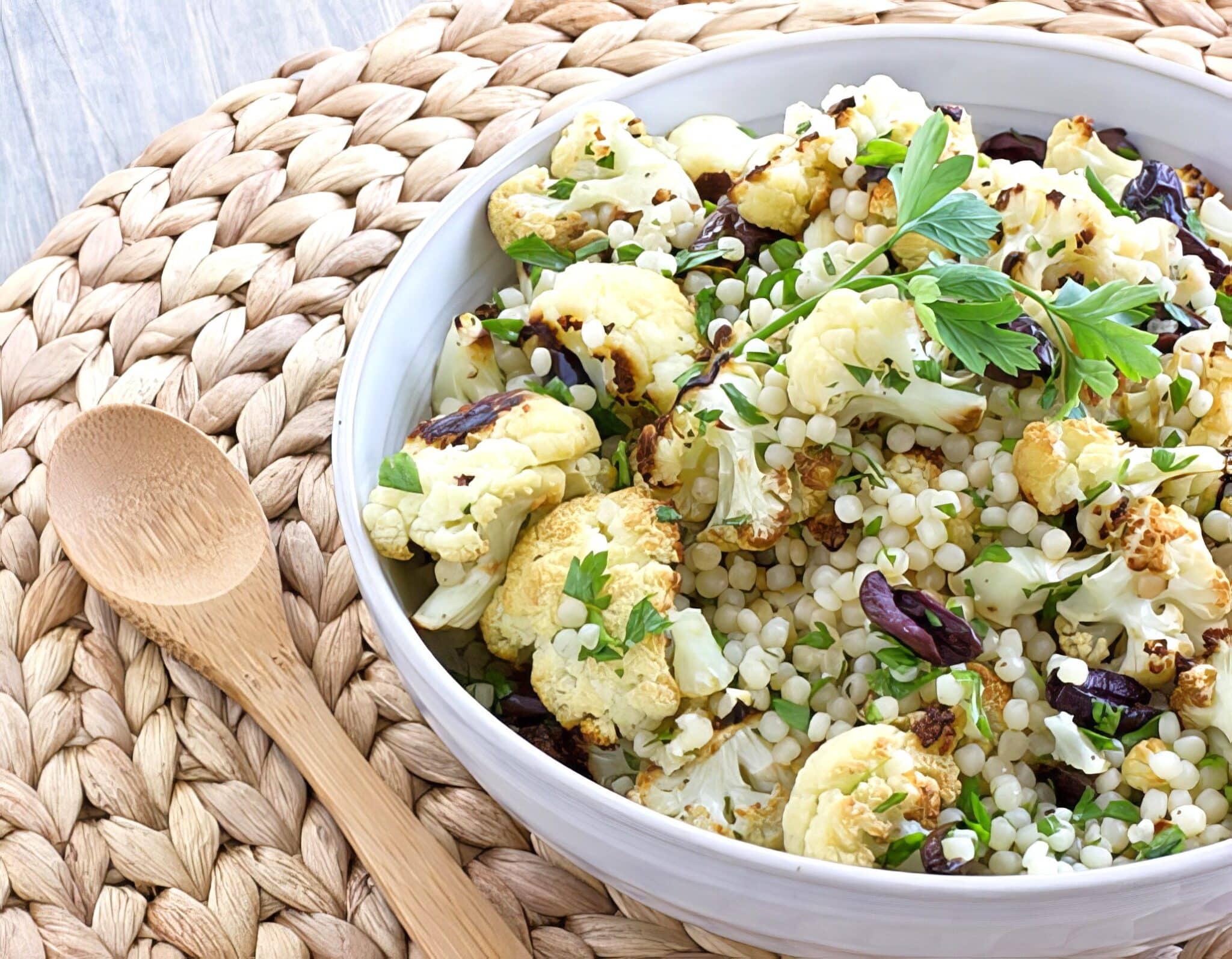 Tomorrow I'm going to be posting about some of the staples I keep in my pantry and how I use them to make quick, easy meals.
(In case you haven't noticed, I'm trying to post more useful things like this in addition to recipes. Have any ideas for a post you'd like to see? Let me know!)
But here's a little spoiler for you: one of those staples that I always have on hand is couscous. Like this kind: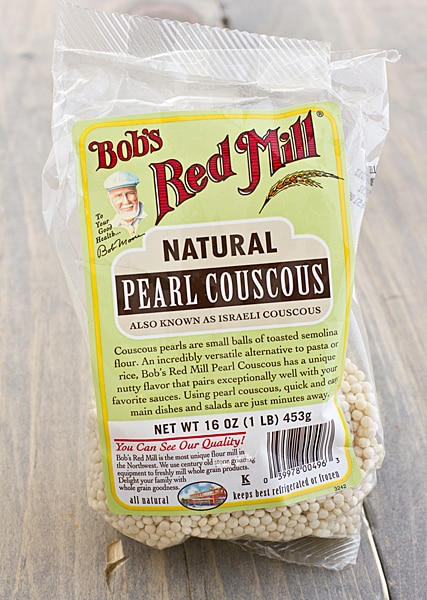 I love regular couscous, but lately I've been using more Israeli couscous. It's larger than traditional couscous and has more of a pasta-like texture to it.
You can use it in place of regular couscous (although they're cooked differently, so be sure to follow the instructions on the package!) and it also makes a good substitute for pasta in a pasta salad (chilled or warm). Note: It's also called pearl couscous - same thing.
I've been trying to work it into a pasta salad-like recipe for a few months now. You know how sometimes you make a recipe and it is so close to being good, but there's always something a little bit off about it? That's what kept happening with this one. And then summer came and it seemed kind of silly to continue working on a cauliflower recipe, so I set it aside until fall.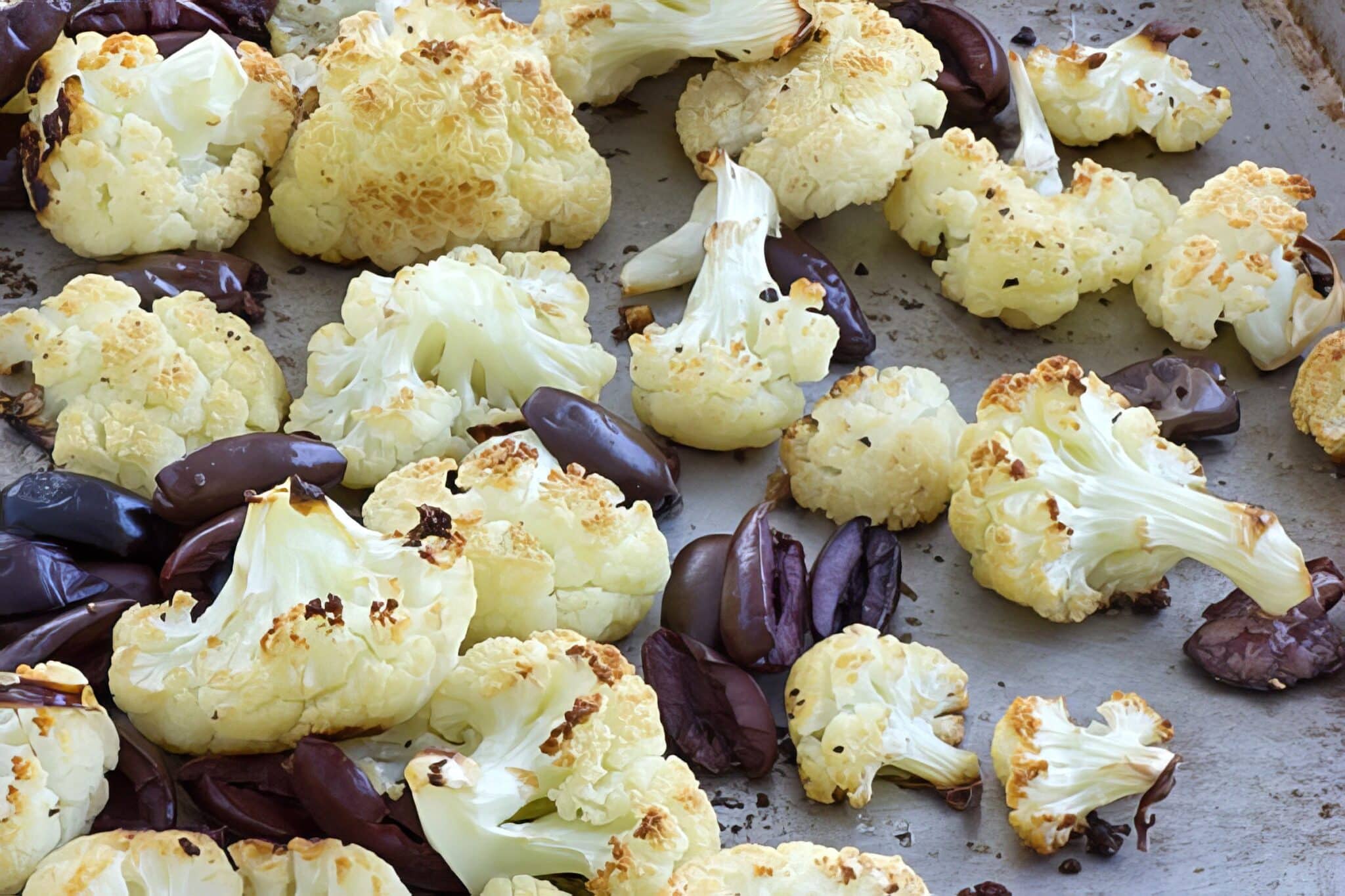 Now that it's (sort of almost) fall, I decided to revisit this recipe again and this time I thought I'd use Israeli couscous. Pasta didn't work and whole-wheat couscous was a disaster, so I was hoping that Israeli couscous would be the solution. And it was!
The Israeli couscous doesn't soak up all of the lemon vinaigrette the way the whole-wheat couscous did (which made the salad way too dry!), but it soaks up more of it than pasta. The lemony dressing adds a bright note of citrus to the otherwise earthy combination of cauliflower and olives.
In short - this couscous salad is a winner! It's perfect for summer potluck parties, a hearty homemade lunch, or even a light dinner.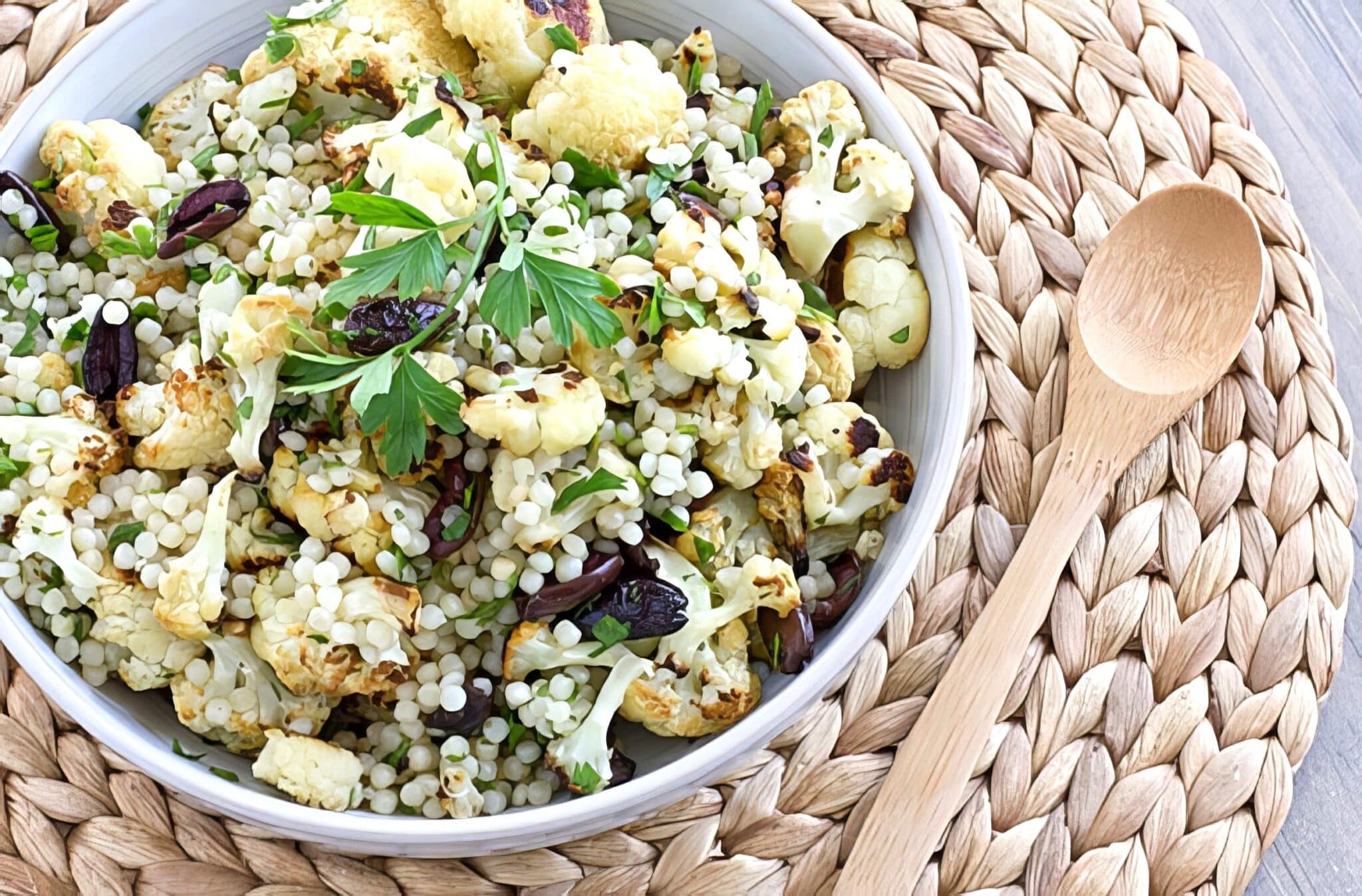 More Tasty Recipes
If you love this Israeli Couscous Salad with Cauliflower, be sure to check out these other delicious ideas:
Recipe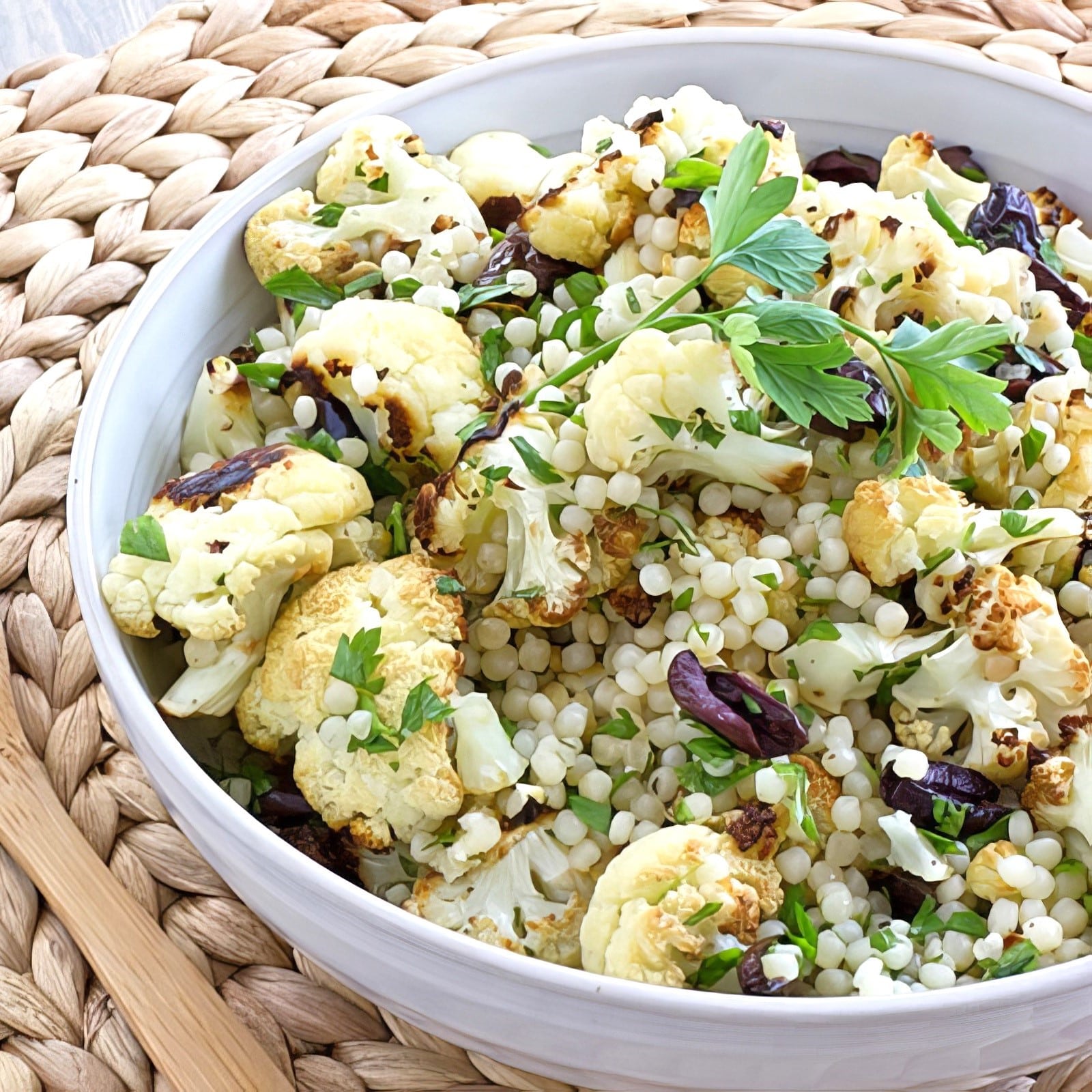 Instructions
Preheat oven to 400 degrees.

Spray rimmed baking sheet with olive oil or cooking spray. Place cauliflower florets on baking sheet; spray with additional cooking spray and sprinkle with salt to taste. Bake for 20 minutes, then stir in kalamata olives. Cook for 15-20 minutes more or until cauliflower is beginning to turn golden brown and olives have started to shrivel.

While cauliflower is roasting, bring water to a boil in a medium saucepan over high heat. Stir in Israeli couscous; return to boil. Reduce heat to low, cover, and simmer for 10 minutes, or until water is absorbed. (Keep an eye on the couscous as it cooks--if you overcook it, it will stick to the bottom of the saucepan!)

Combine cauliflower and olives, couscous, and parsley in a large bowl. In a small bowl, whisk together olive oil and lemon juice. Pour dressing over salad and stir to coat. Add salt and pepper to taste. Serve warm.
Nutrition
Calories:
373
kcal
Carbohydrates:
56
g
Protein:
11
g
Fat:
13
g
Saturated Fat:
2
g
Polyunsaturated Fat:
1
g
Monounsaturated Fat:
9
g
Sodium:
518
mg
Potassium:
630
mg
Fiber:
7
g
Sugar:
3
g
Vitamin A:
1362
IU
Vitamin C:
92
mg
Calcium:
82
mg
Iron:
2
mg
Craving more veg-friendly recipes?
Shop our collection of vegetarian and vegan cookbooks, including our new Vegan Thanksgiving and Vegan Christmas cookbooks!