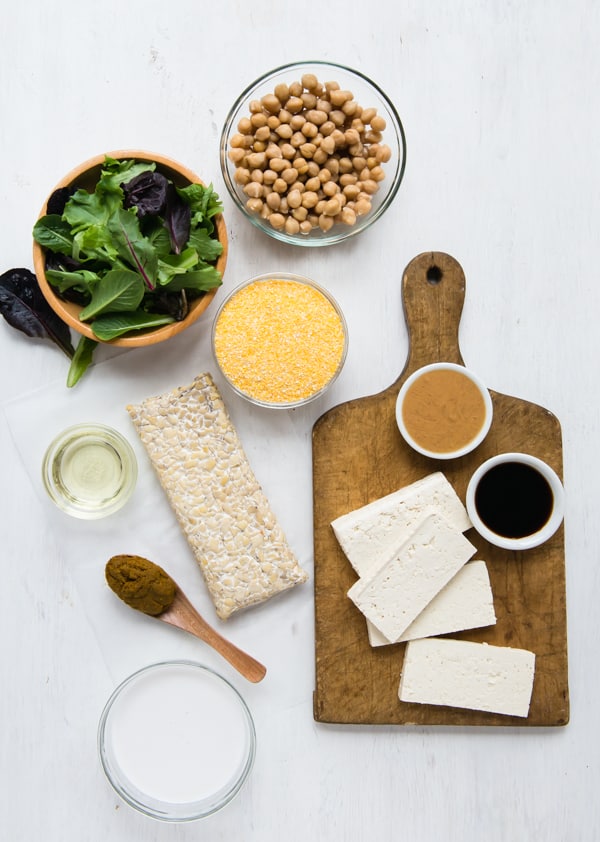 Photo by Lindsey Johnson
A couple of years ago we shared 9 Pantry Staples for Quick + Easy Meals. Today we'll venture out of the pantry, but not too far! I'm rounding up 10 more must-have staples for easy vegetarian meals. The pantry items on this list all have long shelf lives, while the fridge items are things you'll probably use often. Either way, having these staples on hand will make dinner planning easier.
Tofu
Why I Love It: So many recipes can be made meatless simply by subbing tofu for meat. And because tofu is so high in vegetable protein, your meal is filling and you sacrifice nothing by making the swap. Tofu is also incredibly easy to prepare (once you know how), so you don't need to complicate your recipes or devote extra time.
How to Use It: Stir-fries and curries are two of the easiest recipe types for adding tofu. Cube and pan-fry some extra-firm tofu and use it to replace the meat. For a really quick and easy meal, don't even bother pan-frying – just cube and toss it in.
Make This: Cashew Tofu Quinoa Bowls
Peanut Butter
Why I Love It: We all know that peanut butter is delicious as heck. When it comes to meatless meals though, peanut butter adds fat and protein, which means you feel more satisfied and stay full longer.
How to Use It: Whisk peanut butter together with some lime juice, soy sauce and sweetener for a delicious Thai-inspired dressing that you can drizzle over everything from tofu to salads. Use a similar combo to flavor quinoa or rice. Once you're comfortable with peanut butter, branch out into similar sauces using other nut and seed butters, like almond butter and tahini.
Make This: Peanutty Quinoa Bowls for Two
Chickpeas
Why I Love Them: As far as legumes go, chickpeas are my favorite in terms of both flavor and texture. They're also incredibly versatile, easy to use, and available for instantaneous use in a can, or in dried form. Dried chickpeas usually cook up with a bit more texture, and for a quick and easy meal, they can be precooked and frozen.
How to Use Them: Add bulk to soups, stews and curries buy throwing in a cup or two of chickpeas. Do the same for salads by sprinkling a few chickpeas on top, or eat your chickpeas alongside your salad via creamy blended hummus spread over pita bread.
Make This: One Pot Curried Quinoa with Butternut Squash and Chickpeas
Grapeseed Oil
Why I Love It: I started buying grapeseed oil a few years ago when lots of buzz about the health benefits began circulating. It quickly became my go-to sauté oil. It has a mild flavor, which means it works in just about anything. If I've got a recipe that calls for olive oil, coconut oil, or any other oil with a distinct taste, but my stash is dry, I can usually sub grapeseed oil without disrupting the flavor.
How to Use It: Sauté onions, garlic or ginger in grapeseed oil to create a flavor base for soups and sauces, stir fry veggies in grapeseed oil for a super-quick dinner, or whisk it together with some fresh herbs and vinegar for homemade salad dressing.
Make This: Kung Pao Veggies
Tempeh
Why I Love It: I know what you're thinking. But tempeh does not go along with item number 1, I promise! As much as I love tofu, tempeh's got a few things on tofu in the convenience department. First, it freezes, and freezing tempeh does not alter the texture (as it does with tofu). Second, tempeh, assuming it's not frozen, is always ready to go. No pressing required!
How to Use It: Crumble tempeh into sauces, or cube it and stir fry with veggies.
Make This: Veggie Tempeh Sloppy Joes
Salad Greens
Why I Love Them: Salad is what I make when I don't feel like cooking. It's almost a guarantee that a salad will be a quick and easy meal, so when the urge to veg out and declare a salad night hits me, I'm always glad that I have a supply of greens on hand.
How to Use Them: Throw some greens on a plate along with any other raw veggies you've got on hand. Add some protein, like chickpeas or tofu (see above!), dress, and dine. Salad greens also make a great instant side dish. Veggie burger looking a little lonely? A handful of spring mix and some dressing makes it feel more like a meal.
Make This: Greek Fattoush Salad
Curry Paste
Why I Love It: Thai curries are one of those amazing knock-your-socks-off meals that amazingly take minutes to throw together. The reason they're so easy? All the work (and flavor) goes into the curry paste.
How to Use It: Add a tablespoon or two of curry paste to coconut milk. Add your favorite veggies, and maybe some tofu. Simmer and eat.
Make This: Thai Red Curry with Asparagus and Tofu
Coconut Milk
Why I Love It: Okay, so I just mentioned coconut milk in relation to Thai curries. That would be one of many amazing things coconut milk can do. Coconut milk adds flavor and richness, and has a one-up on dairy in that you can store cans of it in your pantry for months on end. That means you can keep an endless supply of coconut milk without worrying about it going bad.
How to Use It: In addition to curries, coconut milk can be used as a creamy base with an unmistakable exotic flavor for soups and stews.
Make This: Sweet Corn and Coconut Milk Chowder
Prepared & Instant Polenta
Why I Love It: Polenta is a great way to switch up things when I get a little bored with rice or pasta. Prepared polenta is conveniently stored in an often shelf-stable plastic tube, which is ready to heat and enjoy; instant polenta takes only a few minutes to cook and it can be cooled and sliced like prepared polenta or served as a creamy base for seasonal vegetables.
How to Use It: Slice it up and bake, grill or pan fry. Top your slices with your favorite sauce, veggies, beans…you name it, if it works with other carb-y bases, it probably tastes good over polenta.
Make This: Mexican Baked Polenta with Salsa Beans & Sauteed Veggies
Soy Sauce
Why I Love It: I used to think soy sauce was a way of adding salt and that it was just for Chinese food. Now that I've worked with it some more, I realize it adds not only salt, but also the infamous umami, or savory flavor that can easily be missed in meatless meals.
How to Use It: Use soy sauce to taste instead of salt in dishes where you're trying to create a savory flavor, particularly in dishes where you're replacing meat with a milder vegetable protein, like tofu or tempeh.
Make This: Cuban Fried Quinoa with Black Beans and Smoky Tempeh