These vegan-friendly Pumpkin Spice Energy Bites are packed with healthy flavor from creamy pumpkin, almond butter, oats, pepitas, and raisins. Yum!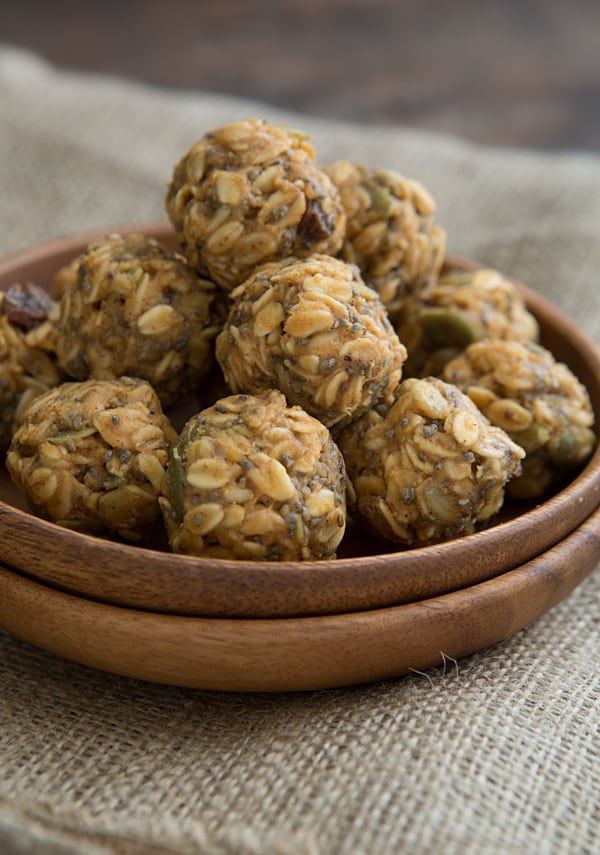 Jump to:
The Pumpkin Spice Bandwagon
Yes, I am jumping on the pumpkin spice bandwagon. I know it's cliché - but give me a break here.
I couldn't resist doing a pumpkin recipe (it is fall after all) and if you do a sweet pumpkin recipe, you have to add pumpkin pie spice, right?
This kind of reminds me of the time I accidentally wore the school colors on spirit day when I was in high school and I had to spend the whole day explaining to everyone that no, I didn't have school spirit, and that the navy blue t-shirt I was wearing was just a coincidence.
"Hey, do we have a quiz today in biology?"
"I DIDN'T MEAN TO WEAR THIS SHIRT TODAY! IT WAS AN ACCIDENT! I HATE THIS SCHOOL!"
That was the worst day.
Now that we have that out of the way - let's get on with the cooking.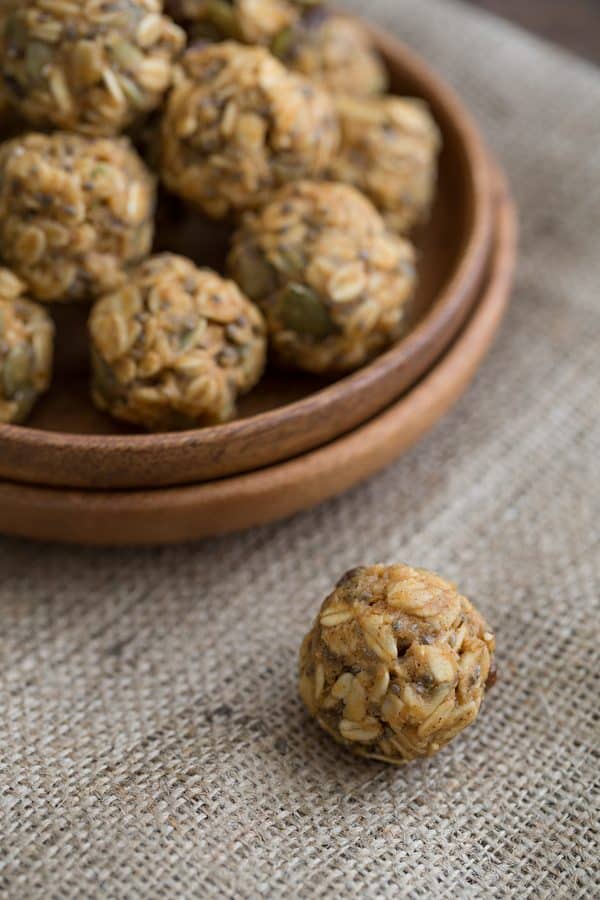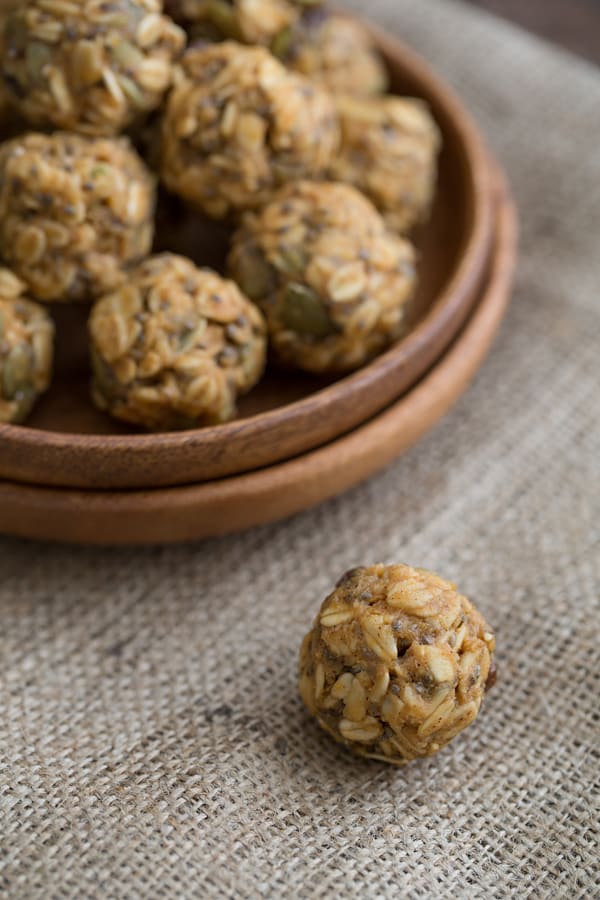 Making Pumpkin Energy Bites
Sometimes I throw things together just to eat, not really intending to blog about it - this is one of those recipes.
I bought an adorable little pie pumpkin and made puree with it for another recipe and had just a little bit left.
So I added a little almond butter and maple syrup, folded in oats and raisins and pepitas, put in a little sprinkle-sprinkle of pumpkin pie spice, and rolled the mixture into balls.
Spontaneous! But they were so good, I decided they were definitely worthy of sharing.
In addition to being delicious, these pumpkin bites will also give you tons of energy. You'll have the strength of a bull, the reflexes of a cat, and the mental acuity of one of those really smart chimpanzees.
Eat these Pumpkin Spice Energy Bites and you will crush your enemies and run a 5K afterwards.
Or not. (Probably not.)
Energy bites aren't exactly Red Bull. But they're healthy and get you over that mid-afternoon hump better than a bag of M&Ms or potato chips.
Every ingredient in these energy bites is good for you - maple syrup is rich in manganese and zinc, pumpkin is full of fiber and Vitamin A, pepitas are high in magnesium, etc. And then there's the pumpkin spice too, which is full of deliciousness. And they're 100% vegan too!
So at the very least - these little pumpkin balls are a guilt-free indulgence.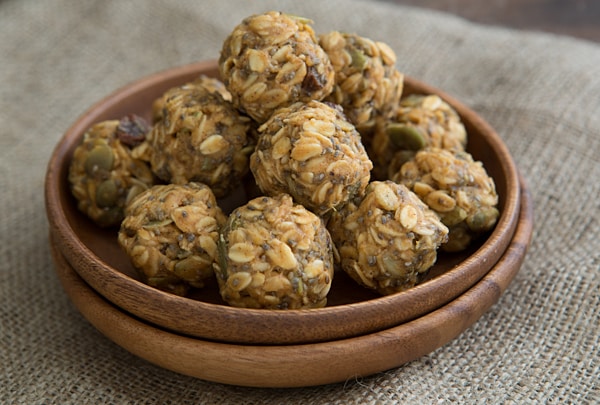 Tips & Tricks
These pumpkin energy bites store well in the fridge for 3-5 days, or you can freeze them for several months. Just defrost and eat!
This recipe is pretty flexible and allows for lots of swaps and customizations. Here are a few that readers have asked me about the most:
If you don't have maple syrup on hand, you can use agave syrup or honey as a sweetener instead. Obviously, these won't be vegan anymore if you add honey.
I've also had readers successfully leave out the maple syrup entirely for a sugar-free version. Or you can plus up the sweetness, by rolling the pumpkin bites in a little cinnamon-sugar coating!
You can leave out the raisins if you're not a fan, or replace them with dried cranberries, dark chocolate chips, or a handful of your favorite nuts. Pecans would be a nice addition.
Peanut butter (or any nut butter of your choice) can be used in place of the almond butter.
The pepitas add a nice crunch - but you can get the same effect with sunflower seeds too.
More Recipes
If you love these pumpkin energy bites, be sure to check out these other delicious recipes:
Recipe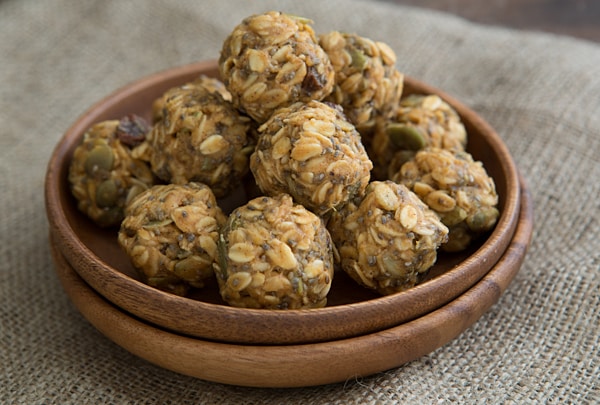 Servings:
25
energy bites
Instructions
Combine the pumpkin puree, almond butter, maple syrup, and pumpkin pie spice in a large bowl and stir until smooth.

Fold in the rolled oats, pepitas, raisins, and chia seeds. Cover the bowl with plastic wrap and refrigerate for about 2 hours, or until the mixture is chilled and easy to work with.

Roll the mixture into balls. (If you have a small cookie dough scoop, that works perfectly!) Store the balls in the refrigerator or freeze and thaw for a few minutes before eating.
Notes
Prep time doesn't include the refrigeration time.
Nutrition
Calories:
73
kcal
Carbohydrates:
9
g
Protein:
2
g
Fat:
4
g
Saturated Fat:
1
g
Polyunsaturated Fat:
1
g
Monounsaturated Fat:
2
g
Trans Fat:
1
g
Sodium:
2
mg
Potassium:
98
mg
Fiber:
2
g
Sugar:
2
g
Vitamin A:
764
IU
Vitamin C:
1
mg
Calcium:
32
mg
Iron:
1
mg
Craving more veg-friendly recipes?
Shop our collection of vegetarian and vegan cookbooks, including our new Vegan Thanksgiving and Vegan Christmas cookbooks!