These smashed fingerling potatoes are crispy on the outside, creamy on the inside, and packed with flavor. An easy and versatile veggie side dish!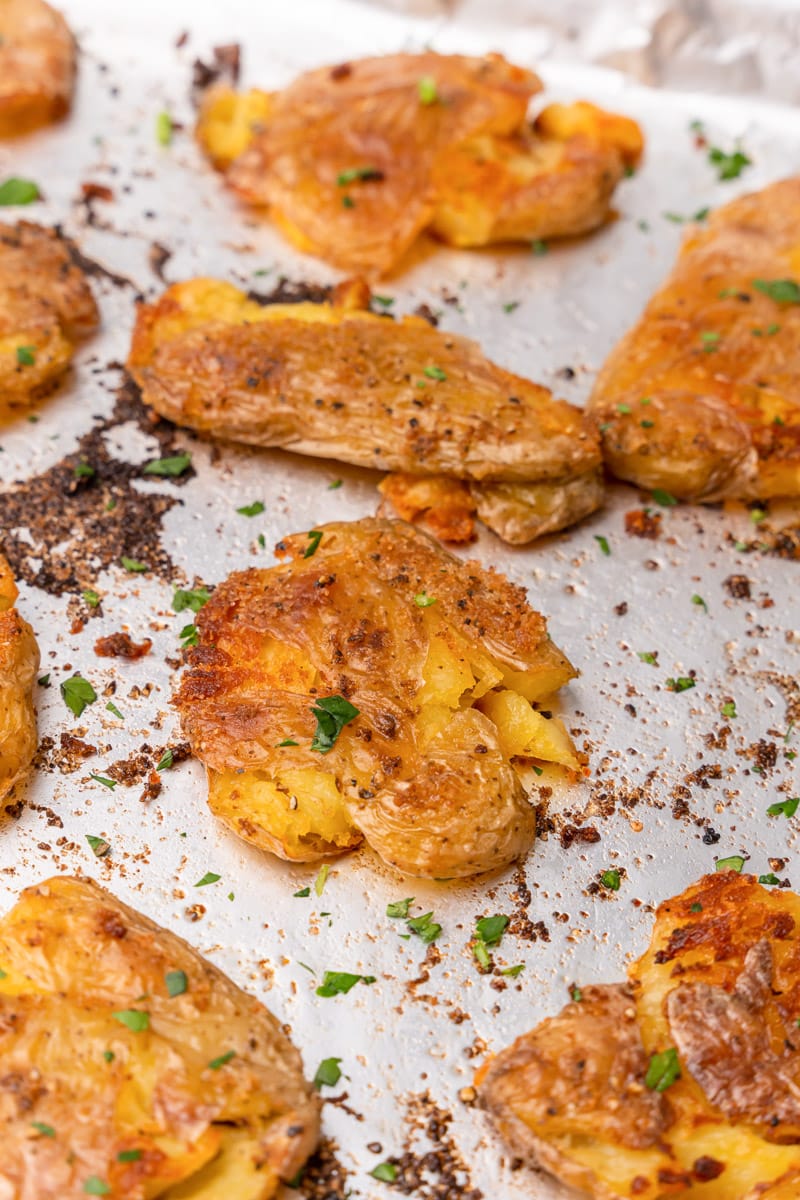 Jump to:
These smashed fingerling potatoes are one of my favorite vegetarian side dishes - they go well with some many different types of dishes! And they couldn't be easier to make.
This Smashed Fingerling Potatoes are:
Crispy outside, yet tender and fluffy inside.
Made with fingerling potatoes. 
Simple ingredients needed. 
An easy side dish.
Family friendly! 
Try pairing them with these chickpea veggie burgers or my popular vegan chicken nuggets. 
How to Make Smashed Fingerling Potatoes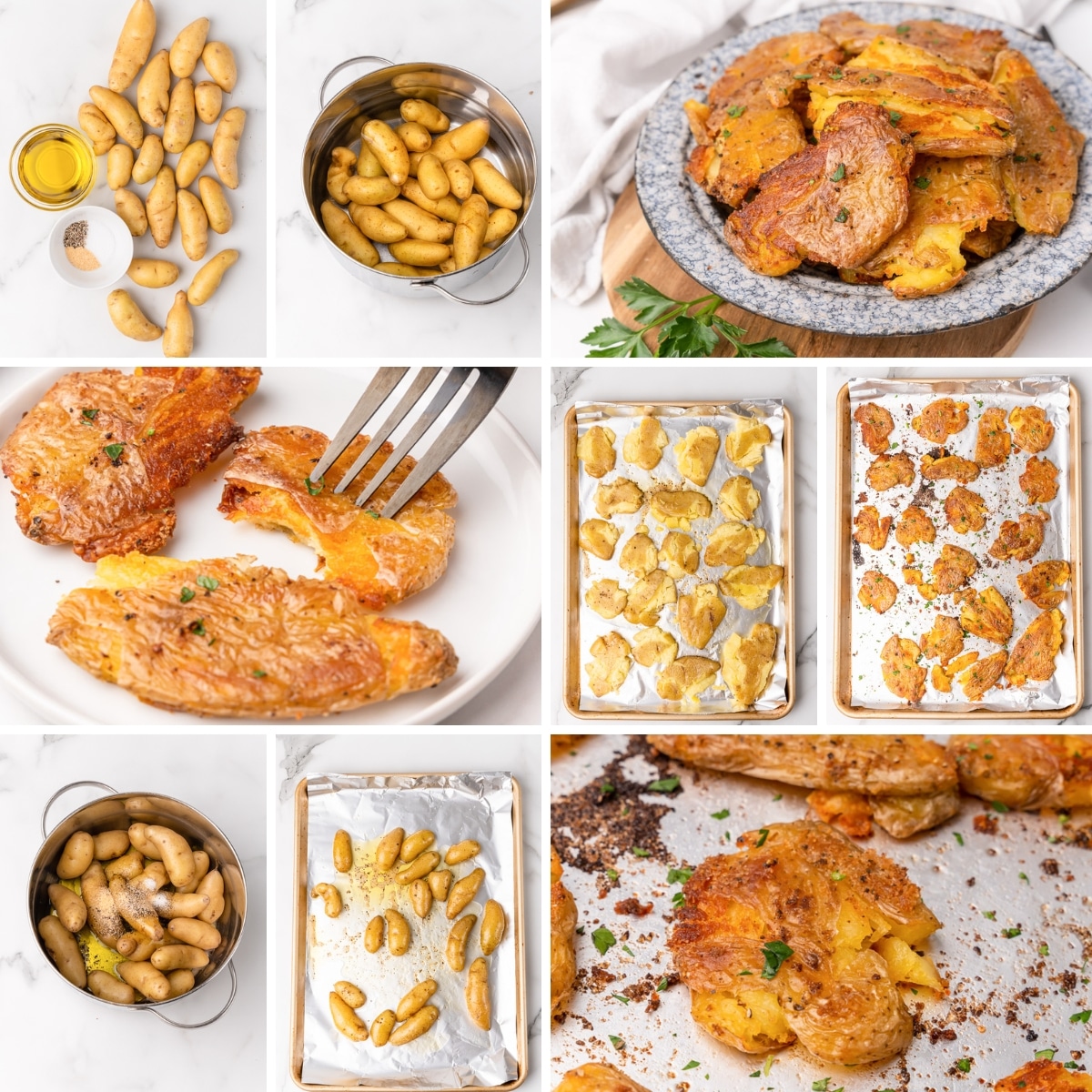 Full steps on how to make fingerling smashed potatoes are in the printable recipe card. This is a quick walk through.
Preheat the oven and prep the baking dish.
Boil the potatoes until they are fork tender.
Drain and then toss the potatoes with oil and seasonings once drained.
Squish on a baking sheet. Then toss in the oven and bake till crispy.
Garnish and serve hot.
Tools You'll need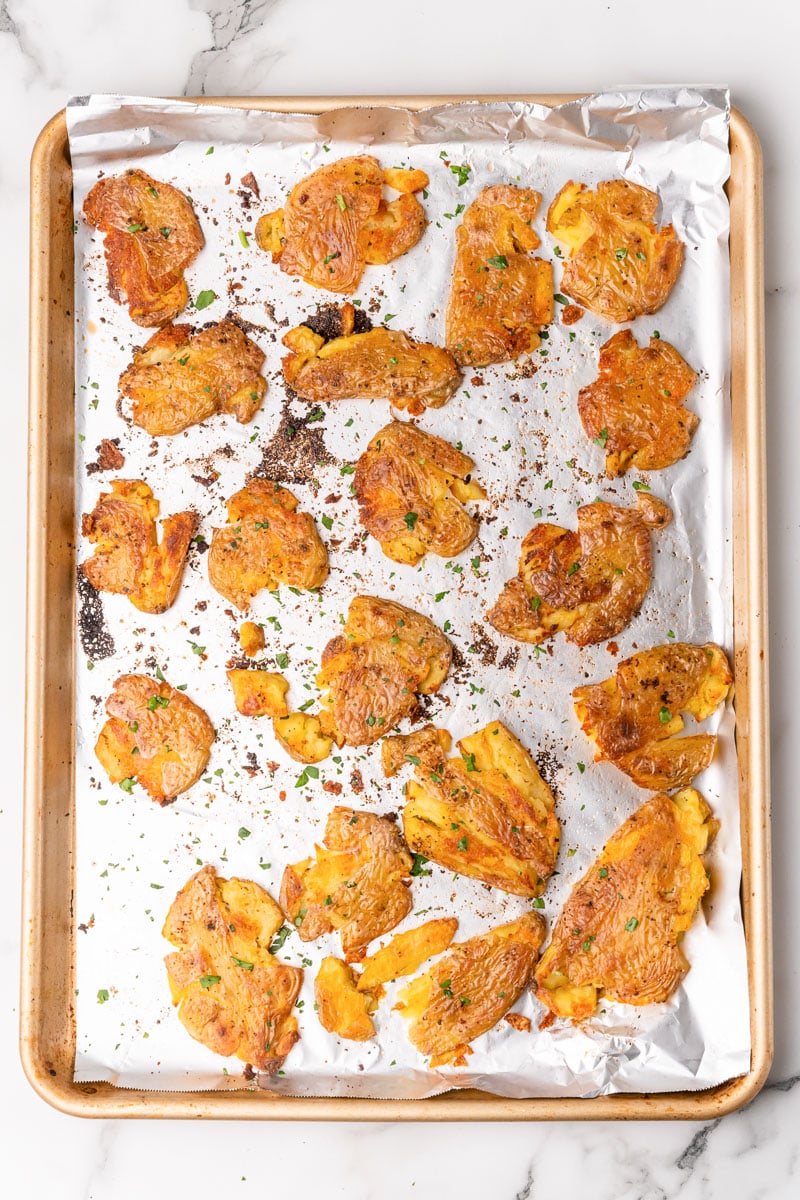 Baking Sheet
A rimmed baking sheet works best for making these smashed potatoes. Or you can use a 9" x 13" baking dish, you just need to make sure there is enough space so the potatoes do not overlap. 
Drinking Glass or other Flat Object for Smashing
I used the bottom of a drinking glass for smashing my potatoes. Creative, huh? You could also use a flat spatula with no holes. Anything that you can press on the potatoes to get them to spread out on the pan will work fine.
Recipe Tips & Variations
Don't Overlap the Potatoes 
Make sure that when you are placing your potatoes on the pan to roast, they do not overlap. They should be arranged in a single layer. If they overlap, you will find some areas don't crisp up properly.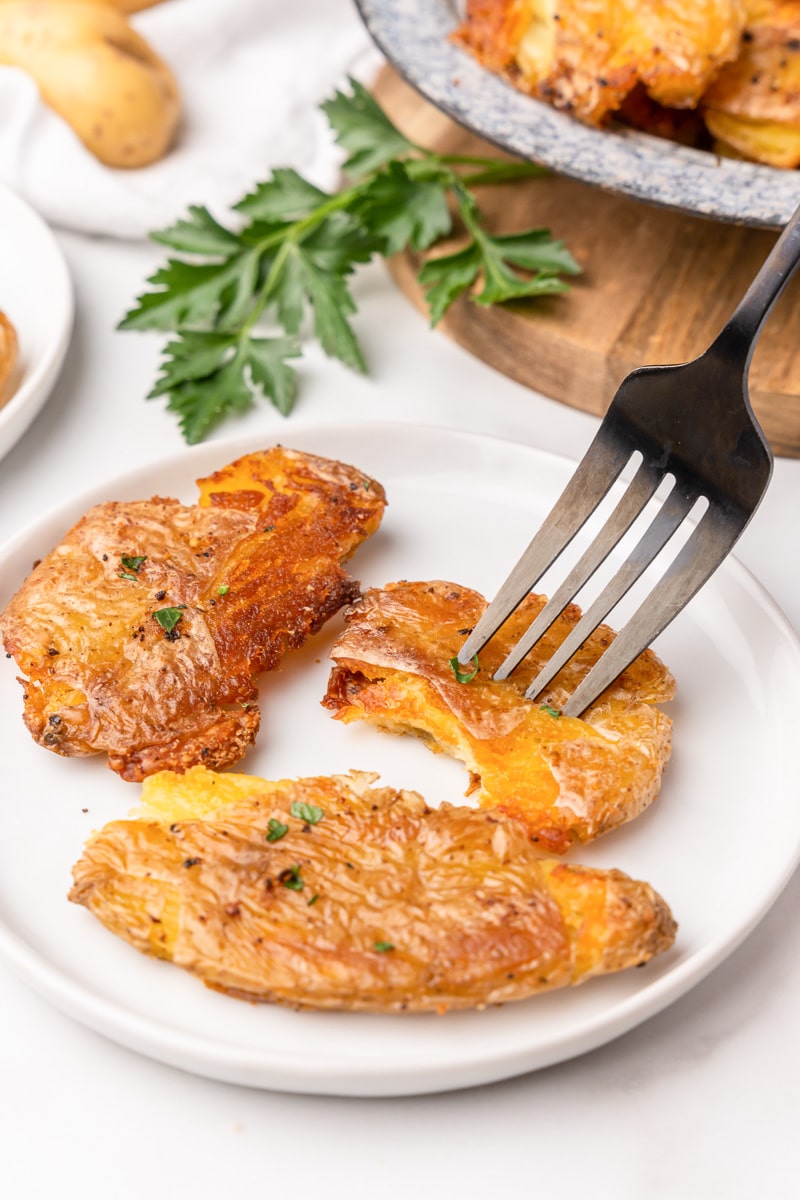 Mix up the Seasonings 
You can use any type of seasoning you wish on these potatoes. I did a simple mixture of salt, pepper, and garlic. But feel free to reach for your favorite spices for a whole new spin on this recipe. Cajun seasoning, lemon pepper, or even a Fajita seasoning are all great choices.
Add a sauce.
For a fancier dish, drizzle the smashed potatoes with a favorite sauce like pesto, aioli, or romesco sauce. Or check out these vegan smashed potatoes with avocado sauce. Yum!
Choice of Oils
I used olive oil - which is my default cooking oil - for this recipe. But you can use canola, vegetable oil or even an avocado oil. Each oil will flavor the potatoes slightly differently.
Other Potato Varieties
I used fingerling potatoes for this recipe, but you can also use the small red or yellow potatoes. If the potatoes are too large, just slice them in half when you cook in the water. Then they will smash nicely. 
Smashed Fingerling Potatoes FAQs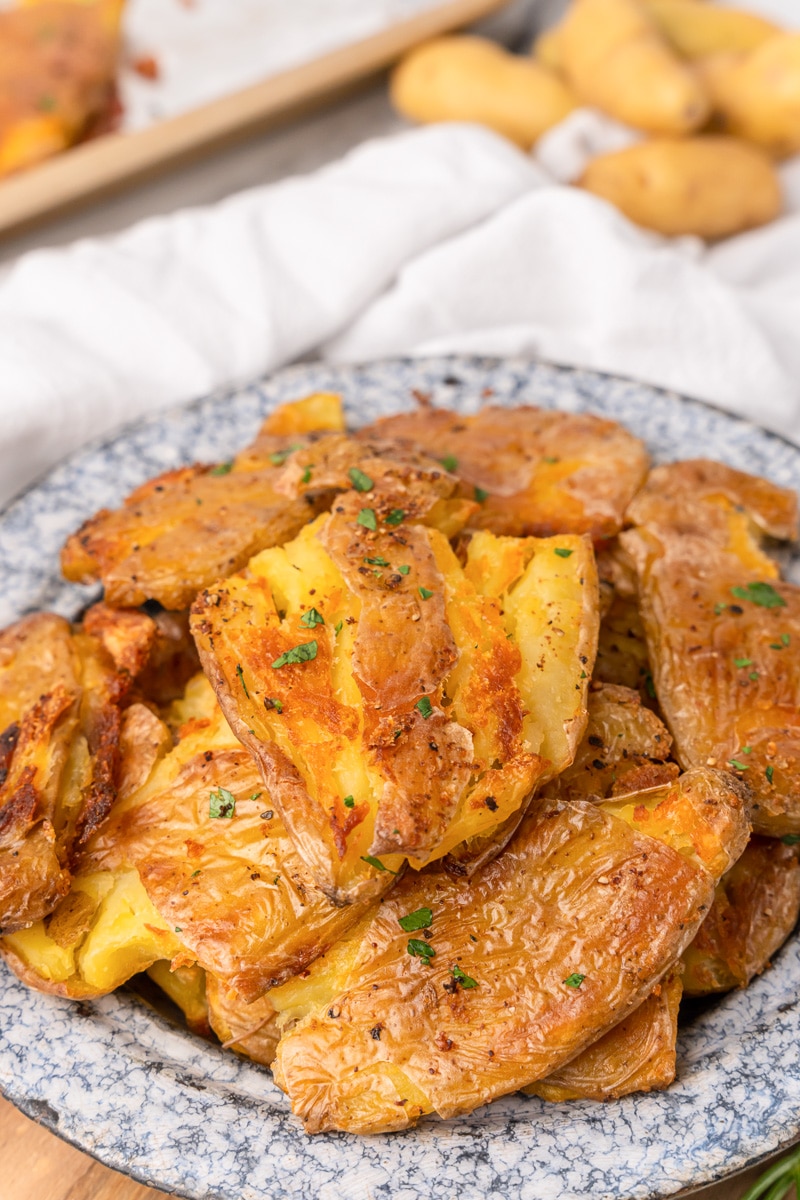 How are fingerling potatoes different from other varieties?
Fingerling potatoes are a type of potato that are thinner and more elongated in shape than traditional baking potatoes. They are typically 2 - 4 inches long and 1-2 inches in diameter, and they come in a variety of colors, including yellow, red, and purple.
Why are my smashed potatoes falling apart?
If you cook your potatoes for too long, they may become too soft and fall apart when you smash them. To avoid this, make sure to cook your potatoes until they are fork-tender but not falling apart.
How do you know when potatoes are cooked and ready to be smashed?
To check if the potatoes are done, insert a fork into the center of the largest potato. If the fork slides in easily and the potato feels tender, it's ready to be smashed. If the potato is still firm, let it cook for a few more minutes and test it again. When the potatoes are fork tender they are ready to be drained and smashed.
How do you store leftover smashed potatoes?
Allow the smashed potatoes to cool to room temperature before storing. Once the potatoes have cooled, transfer them to an airtight container. Place the container or bag of smashed potatoes in the refrigerator. Smashed potatoes can be stored in the refrigerator for up to 3-4 days.
More Tasty Ideas
If you love these smashed fingerling potatoes, be sure to check out these other delicious ideas:
Recipe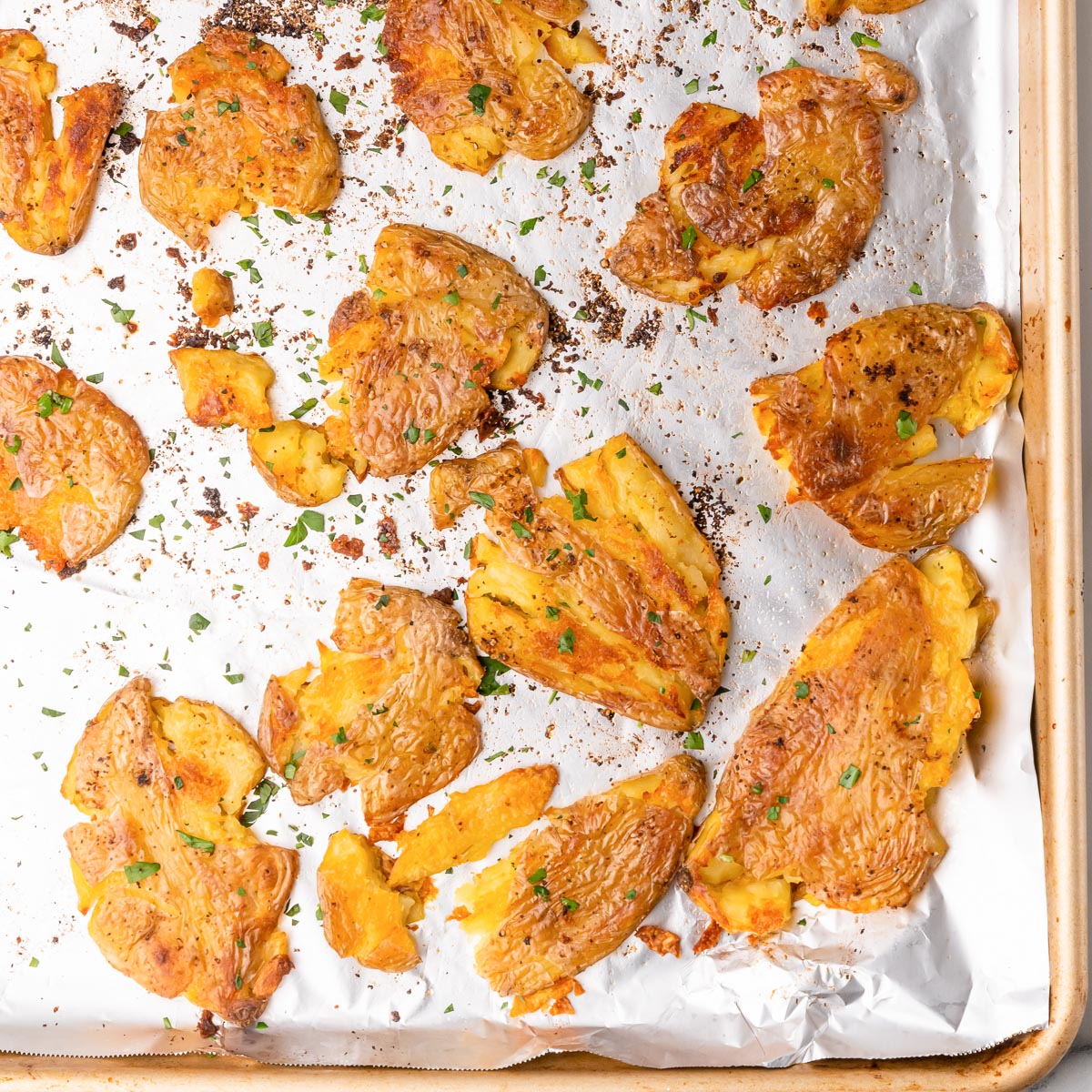 Equipment
drinking glass

or other flat bottomed object
Instructions
Preheat oven for 450 F, line a baking sheet with foil for easy clean up and set aside

Place potatoes into a medium pot, then fill pot with water and bring to a boil

Allow potatoes to cook until tender and easily pierced with a fork, about 20-25 minutes

Toss the potatoes with the oil and seasonings, then transfer to prepared baking sheet

Squish the potatoes down using the bottom of a glass

Cook the potatoes in the preheated oven for 20-25 minutes, flipping once if desired, or until the potatoes are crispy

Garnish with parsley and serve warm
Nutrition
Calories:
194
kcal
Carbohydrates:
30
g
Protein:
3
g
Fat:
7
g
Saturated Fat:
1
g
Polyunsaturated Fat:
1
g
Monounsaturated Fat:
5
g
Sodium:
592
mg
Potassium:
721
mg
Fiber:
4
g
Sugar:
1
g
Vitamin A:
3
IU
Vitamin C:
34
mg
Calcium:
21
mg
Iron:
1
mg
Craving more veg-friendly recipes?
Shop our collection of vegetarian and vegan cookbooks, including our new Vegan Thanksgiving and Vegan Christmas cookbooks!