These Vegan Chicken Nuggets make a great quick lunch or dinner. They're extra crispy on the outside and taste great dipped in any of your favorite sauces.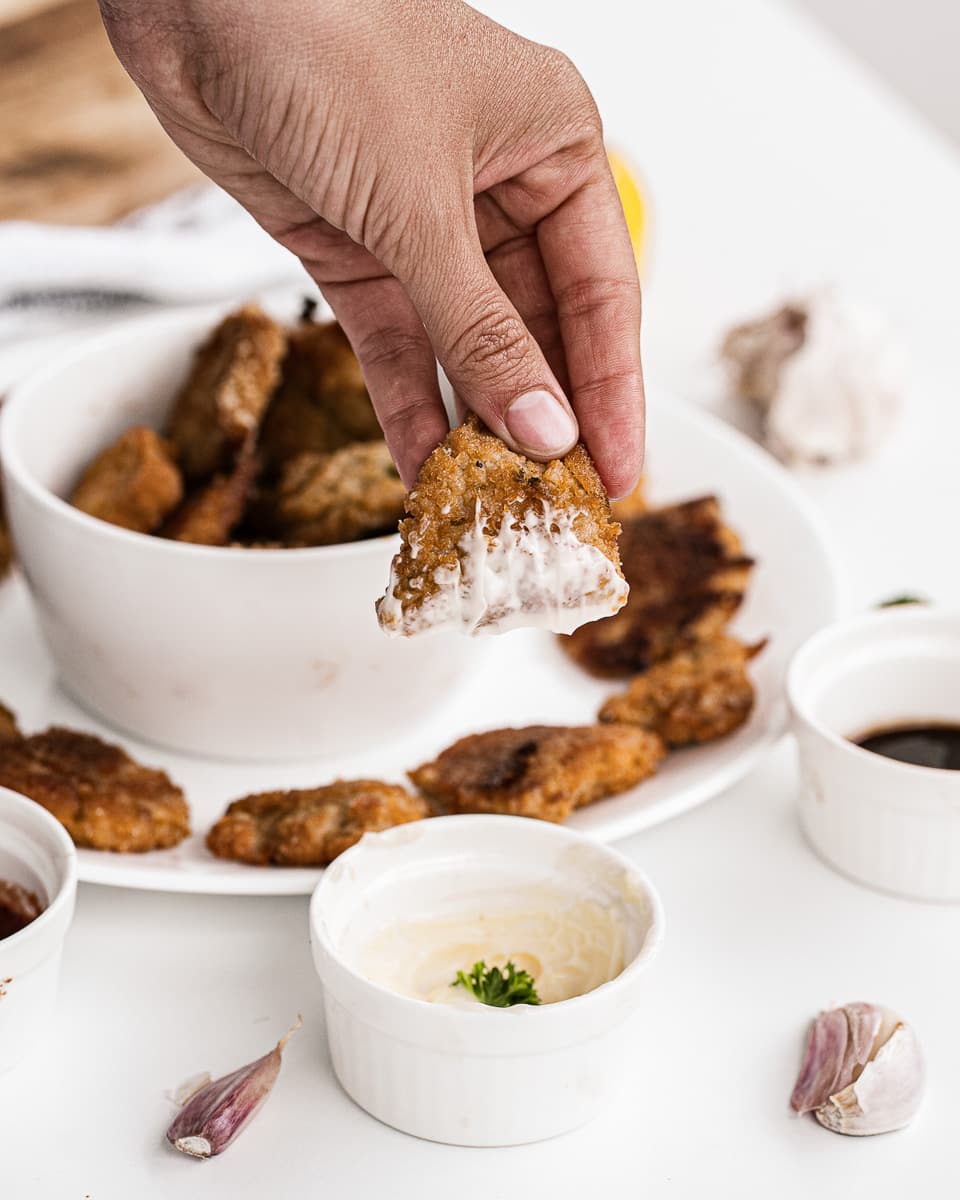 Our Vegan Chicken Nuggets are actually cauliflower florets that are seasoned and dredged in breadcrumbs. Even non-vegans will gobble up these flavorful cauliflower nuggets.
Cauliflower is so versatile so I knew using it as the base to make nuggets was a must. You can also try cauliflower in patty form, in tacos, in fried rice, and even in place of cooked chicken!
Why You Will Love Vegan Chicken Nuggets...
7 ingredients
Simple
Vegan
Vegetarian
Healthy
Freezer-friendly
How to Make Vegan Chicken Nuggets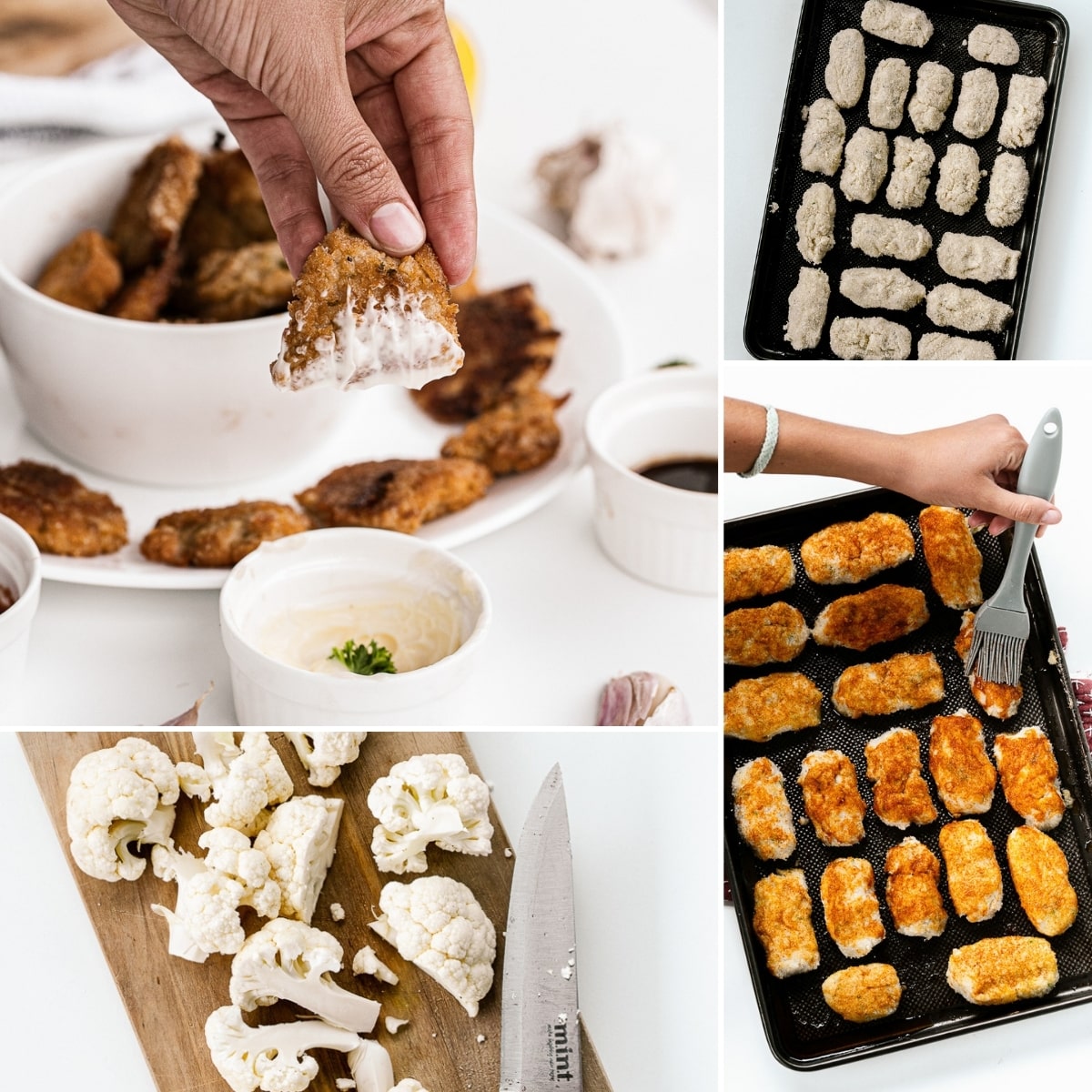 Spray the baking sheet and preheat the oven.
Chop up and steam the cauliflower.
Add your softened cauliflower, seasonings, and flour into a food processor. Mix till combined.
Allow the mixture to cool, then shape into nuggets.
Dredge chicken nuggets in breadcrumbs and place on a baking sheet.
Bake as directed and then serve with your favorite dipping sauces.
Tips and Tricks for Vegan Chicken Nuggets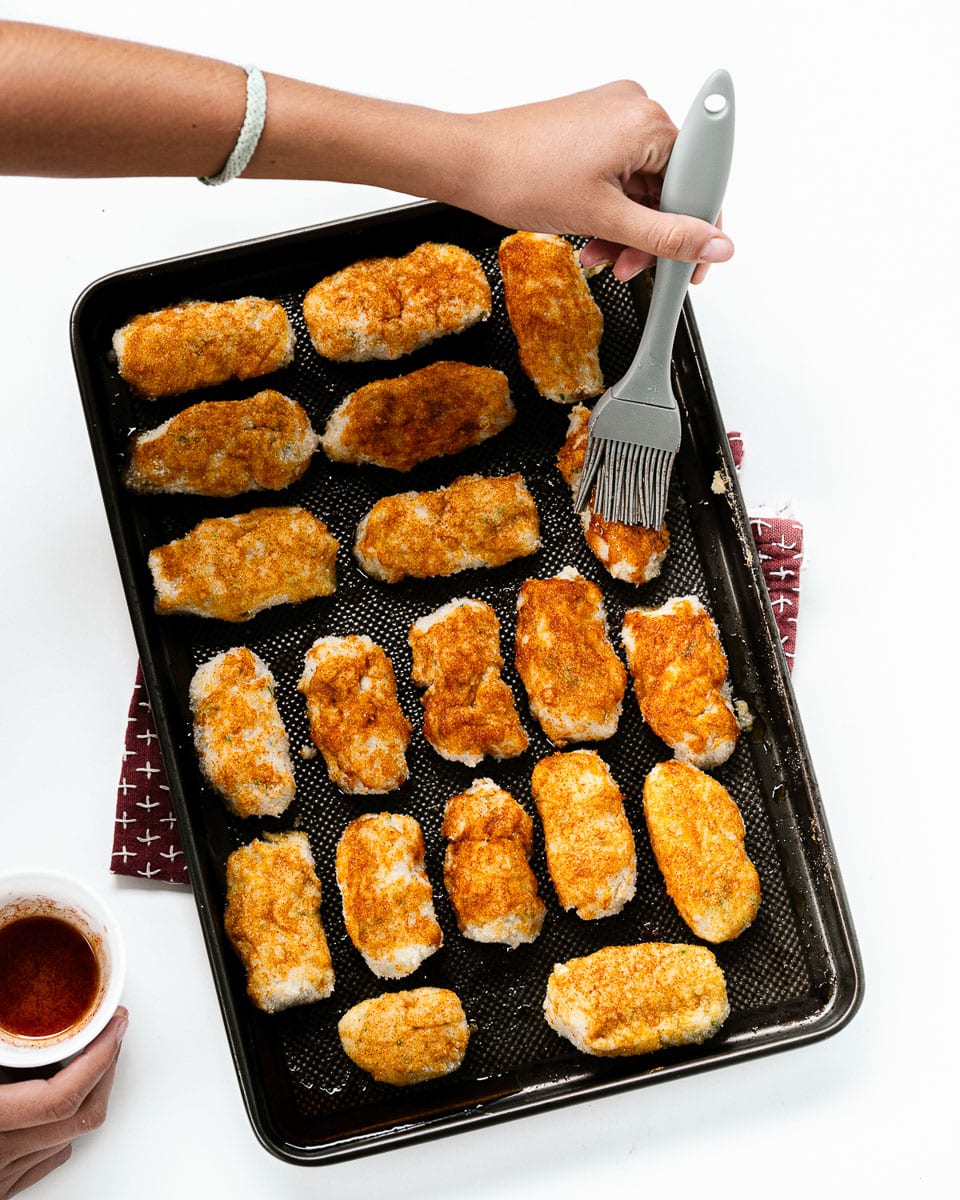 Allow Mixture to Rest
Once you remove cauliflower mixture from the food processor, allow the mixture to cool a bit.
Allowing the mixture to cool will help the cauliflower nuggets to form better. It will dry them out a bit while keeping the mixture moist.
Optional Flavorings
Try mixing oil and paprika together to brush on top of the nuggets for added flavoring.
The oil will help to give the nuggets a golden crust, as well.
Variations to Vegan Chicken Nuggets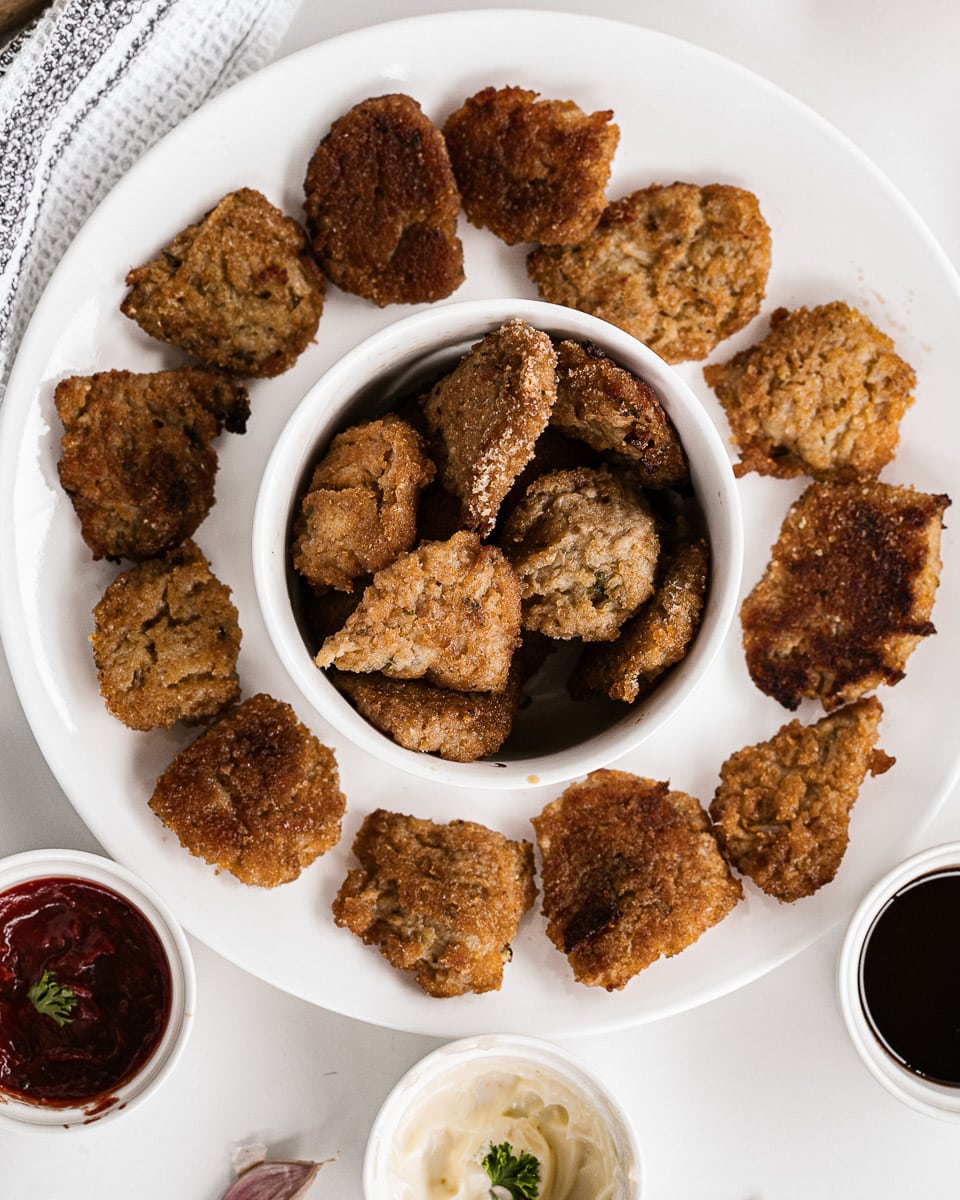 Gluten-Free
To make these nuggets, use a gluten-free flour blend and gluten free breadcrumbs. This will make your nuggets gluten-free with minimal changes.
Different Spices
You can, of course, change the flavor of the nuggets by changing the spices you use. Use the spices you like to use often if you choose to change it up.
Cauliflower Nuggets FAQs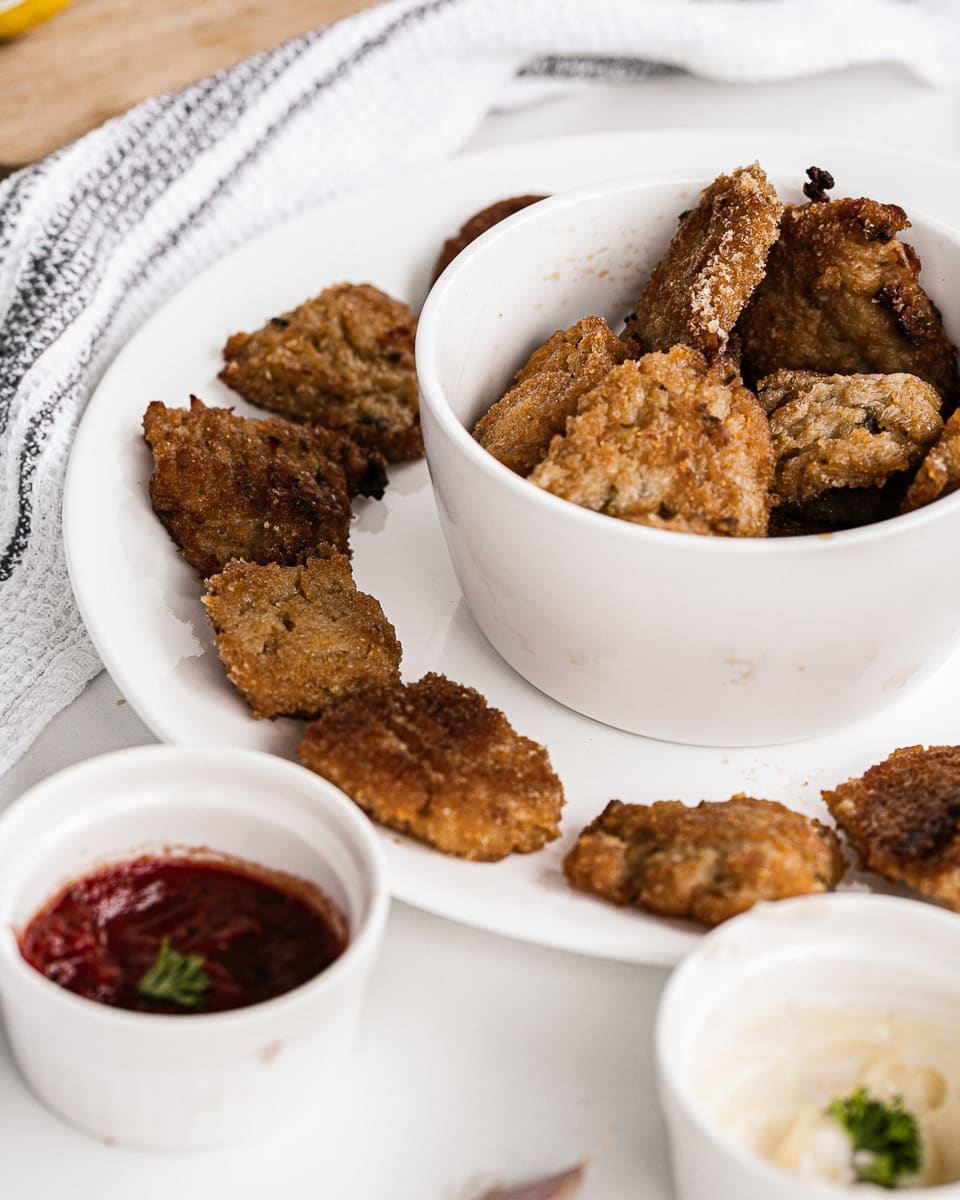 How long will cauliflower nuggets store for?
You can store your cooked chicken nuggets in the refrigerator for up to a week. Then just reheat as you go.
Microwaving will work for reheating your nuggets, but reheating in the oven will offer the best texture.
Can I use cauliflower rice for chicken nuggets?
Want to skip using a fresh head of cauliflower? Go right ahead and reach for cauliflower rice.
Steam as directed. Then toss in the food processor and continue with the recipe.
Can you freeze cauliflower chicken nuggets?
If you want to meal prep and stock your freezer with nuggets, go ahead. Simply cook your nuggets then let them cool. Place your nuggets in an airtight container or sealable freezer bag.
Freeze the nuggets for up to 3 months. Then reheat from frozen in the oven until warmed through.
Can I air fry cauliflower chicken nuggets?
Instead of baking, you can air fry your chicken nuggets. Just preheat the air fryer at 365°F. Cook nuggets 4–5 minutes, then flip and continue cooking till brown.
Recipe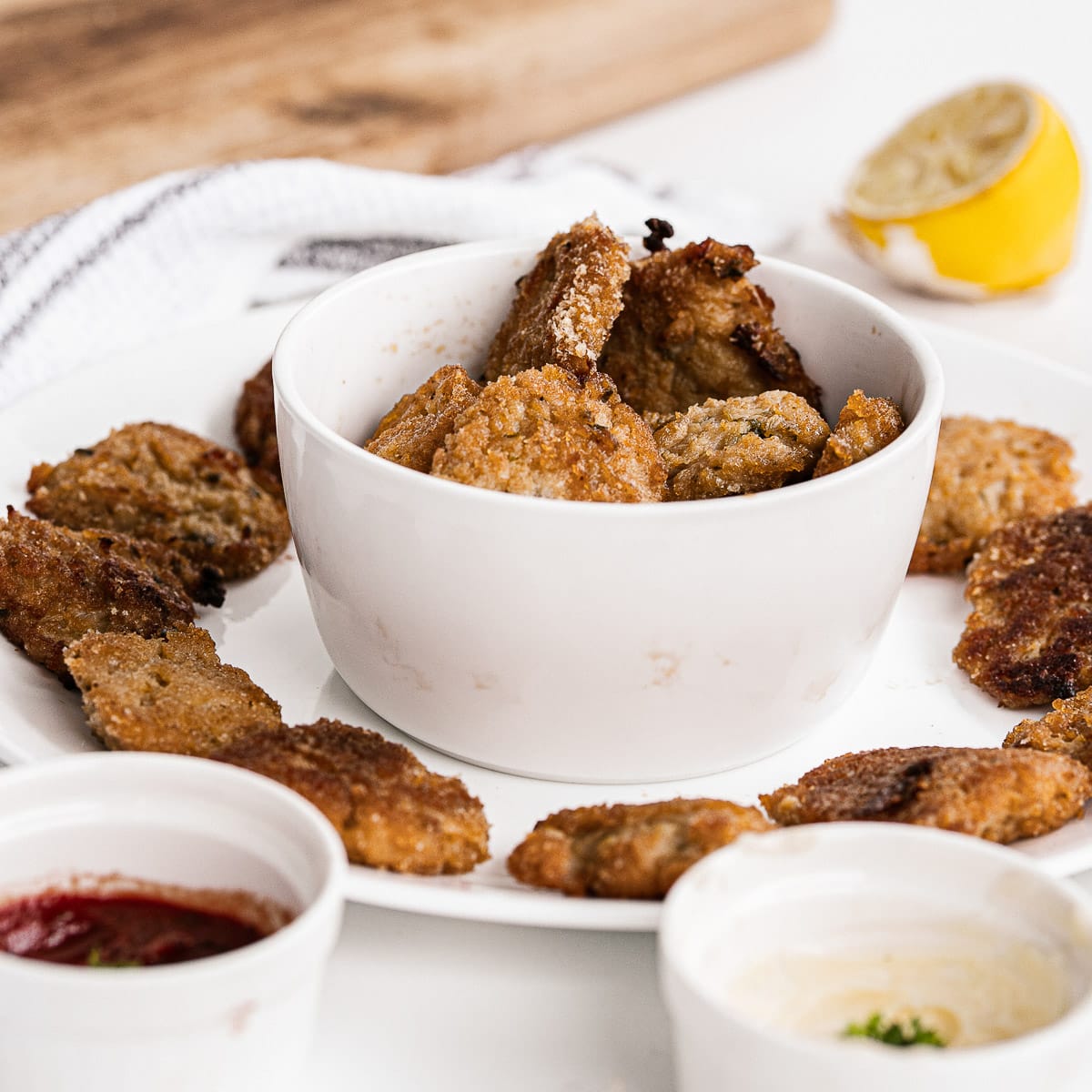 Equipment
Large pot with a lid

Steamer basket
Instructions
Spray a baking sheet lightly with cooking spray.

Chop the cauliflower head into florets. Set a steamer basket over a large pot with a lid. Fill the pot with enough water to reach just below the basket. Add the cauliflower into the steamer basket. Bring the water to a boil. Reduce to a simmer, cover, and let the cauliflower cook for 10–15 minutes, until fork tender.

In a food processor, combine the cauliflower, flour, parsley, salt, baking powder, and garlic powder.

Allow the mixture to cool for a bit. It will harden up a bit, but remain moist.

Pour the breadcrumbs into a small bowl.

Using your hands, shape the cauliflower mixture into nuggets. Small ones work best. Roll each nugget in the breadcrumbs.

Spread the nuggets on the baking sheet, leaving one inch of space between them as they will spread a little.

Optional: Whisk 1 tbsp of olive oil with 1 tsp of smoked paprika, and brush over the top of the nuggets.

Bake for 15 minutes on each side (total 30 minutes), or until their edges begin to brown.
Notes
Keep these nuggets in the fridge, in a covered airtight container, for up to one week.
Nutrition
Calories:
232
kcal
Carbohydrates:
46
g
Protein:
9
g
Fat:
2
g
Saturated Fat:
1
g
Sodium:
931
mg
Potassium:
545
mg
Fiber:
5
g
Sugar:
5
g
Vitamin A:
562
IU
Vitamin C:
74
mg
Calcium:
150
mg
Iron:
3
mg
Craving more veg-friendly recipes?
Shop our collection of vegetarian and vegan cookbooks, including our new Vegan Thanksgiving and Vegan Christmas cookbooks!